Hiking the limestone rocks of Bobotov Kuk-the highest peak in Montenegro- at the heart of Durmitor National Park is one of the best ways to explore the Dinaric Alps. Here is everything you need to know about the iconic Bobotov Kuk hike from Sedlo pass.
Boasting Unesco heritage status, Durmitor National Park is home to many fantastic treks and Bobotov Kuk is definitely one of the best climbs you can do in Montenegro. The jaw-dropping vistas are at every step and corner, making it incredibly hard to put your camera away.
The biggest reward and sense of achievement for this strenuous hike is at the 2523 meters (8200 feet) summit of Bobotov Kuk. From here all Montenegro is laid out in front of you with the views stretching even further to neighboring Albania and Bosnia & Hercegovina.
In this post, I share everything you need to know about how to hike to Bobotov Kuk peak starting from Sedlo pass. Here you will find how to get to the starting point, which routes to take (there are 4 of them leading to the summit), distance, difficulty, the time needed, where to be based, and how to prepare for the best trekking experience while conquering the highest peak in Montenegro.
Disclaimer: This post contains affiliate links, which means that I may earn a commission if you make a purchase by clicking a link (at no extra cost to you). This helps to keep my blog running and grow by creating more awesome free content for you.
Bobotov Kuk hike: All You need to know before summiting the highest peak in Durmitor National Park, Montenegro
Bobotov Kuk Hike Overview
Summary: extremely picturesque route featuring earthy mountain paths winding through green pastures and rolling hills, mountain lake, followed by boulders and most challenging part of a very steep ascend over rocky terrain with parts of scree slopes, a few technical sections with metal ropes installed for assistance.
Distance: 6 km (3.72 miles) one way from Sedlo pass, 12km (7.44 miles) return the same route.
Duration: 3 hours to summit, 5 to 6 hours total.
Difficulty Level: moderately difficult to difficult.
Minimum and Maximum Elevation: 1900 M (6233 ft) and 2523 M (8277 ft).
Elevation gain and loss: 730 M (2395 ft) and 160 M (524 ft).
Mobile network and Internet connection: no internet signal throughout the hike, except on the summit.
Is a guide needed? optional (advisable for the first-timers).
Minimum water requirement: 3 liters.
Kids friendly? no for young kids, yes from +10 years old.
Bobotov Kuk is officially the highest peak in Montenegro located in the center of Durmitor National Park and is part of the dramatic Dinaric Alps. Interestingly, there are three higher peaks shared with Albania on the border, but Bobotov Kuk is still considered the highest point in Montenegro.
RELATED READS: Planning a trip to Montenegro? Check my 2-week road trip itinerary to Montenegro HERE.
Bobotov Kuk hiking routes
While planning my hike to Bobotov Kuk, I have discovered, that there are four different trails leading to the summit.
The longer and more challenging route starts northeast at Crno Jezero (Black Lake) in Zabljak town. While 3 other routes, namely Sedlo, Dobri Do, Skrka, start from the south and west side of Durmitor National Park. 
The latter 3 routes merge at Zeleni Vir lake and continue as one trail up until Velika Privija pass. Here the Zabiljak trail joins from the other side of the mountain. The final stage of the hike has only one steep and rocky path leading all the way up to the summit of Bobotov Kuk. 
All 4 paths can be combined for more trekking variations or done individually as return the same way routes. Be informed, though, that accessibility of some of them might be limited due to the season and weather conditions.
Note: routes are clearly marked by red circles with a white center sprayed on the rocks. Also, main intersections and merging trails are clearly indicated. Metal signposts at the crucial parts of the route indicate distances left and time needed to complete it.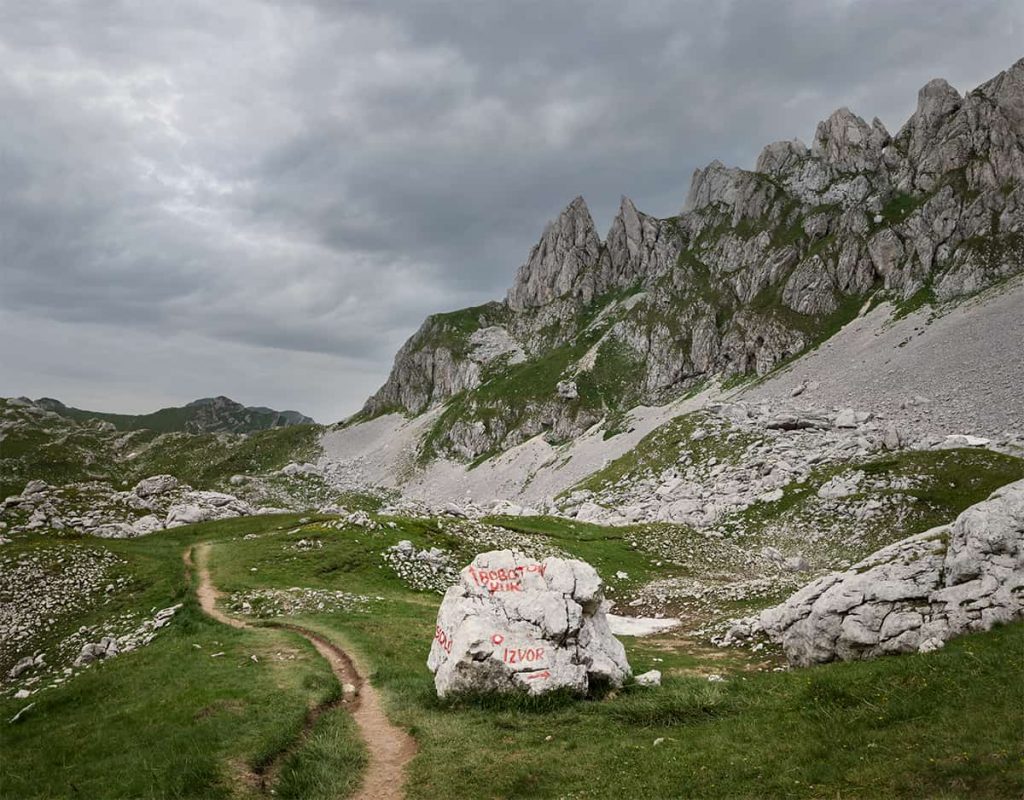 Hiking Bobotov Kuk from Sedlo Pass
The most popular and easiest (but still very challenging) way to approach the mighty Bobotov Kuk peak is from Sedlo Pass. After doing my own research, for starters, I opted for the easiest option (which wasn't that easy after all). Therefore, in this post, I share information about this particular route. 
What is the best base for Bobotov Kuk hike? Where should you stay?
Žabljak is the base town for most of the hikes in Durmitor National Park, including Bobotov Kuk. There are plenty of accommodation options available: from mountain huts, hostels, to villas, hotels and private apartments. 
I stayed in a one-bedroom apartment for a couple of nights, in the center of Žabljak town. It was also a convenient place to stock up for supplies for the hike. In general, there are plenty of great accommodation options for relatively low prices. Check links below where I have picked a few nice options for staying in Žabljak.
How to get to the starting point of the Bobotov Kuk hike at Sedlo Pass
Sedlo Pass is located around 12 km from Žabljak on the scenic P14 route, marked as Prevoj Sedlo on Google maps. The exact point on Google Maps here.
If you drive a rental car, it is very easy to get to Bobotov Kuk's starting point. Also, plenty of parking spots are available (not official parking, just sandy spots on the side of the road).
Looking for a car hire in Montenegro? Check Localrent which offers the best rates for renting a car in Montenegro.
If you are not driving, then you can take a taxi from Žabljak town. Taxi costs around 20 Eur one way. On your way back from the hike, though, you may have to ask other hikers to give you a lift back to town or hitchhike passing by cars. However, if you are not able to catch a lift, you can walk down the Sedlo pass road towards Žabljak to the sideroad bar. There you can ask them to call a taxi for you.
For the matter of logistics when not driving, you could also consider taking a more challenging and longer route starting in Sedlo pass and returning back down to the Black Lake in Žabljak. Make sure the weather conditions are suitable for this route if you are hiking in shoulder season.
I drove my rental car, therefore, it only made sense to hike to the summit and come back the same way. 
The trailhead of the hike is marked by a wooden sign "Surutka Bobotov Kuk". It might not be immediately noticeable when you drive as it is placed a bit higher up the hill. 
Durmitor National Park Entrance Fee
Before you start hiking, you must pay a 3 EUR national park fee to the guard. There is no official gate or a "checkpoint" though. A guard will approach you once they see you starting your hike. Be aware though, even if you are not hiking, you might be charged for taking pictures around the Sedlo Pass area. I saw two people who climbed up the hill for a photo and they were asked to pay. 
Budget tip: if you are spending a few days in Žabljakk and Durmitor National Park, get a 3-day pass for 6 EUR instead. It allows you to also visit Black Lake and do other hikes in the area. 
RELATED READS: If you are planning you trip to Montenegro, here are my TOP 25 things you should know before you go travelling in Montenegro.
When is the best time to attempt Bobotov Kuk trek? 
The hiking season in Montenegro starts late May and lasts until October. The best time to attempt the Bobotov Kuk hike is from mid-June to mid-September. 
Be mindful of the weather in Montenegro which changes rapidly in the mountains. The day can start with a sunny morning and end up with storms. Heavy fogs and snow are also very common, even during the early summer months. 
Before hiking Bobotov Kuk outside the peak season, it is advisable to check beforehand if trails are accessible. This can be done in Žabljak at the tourist information center.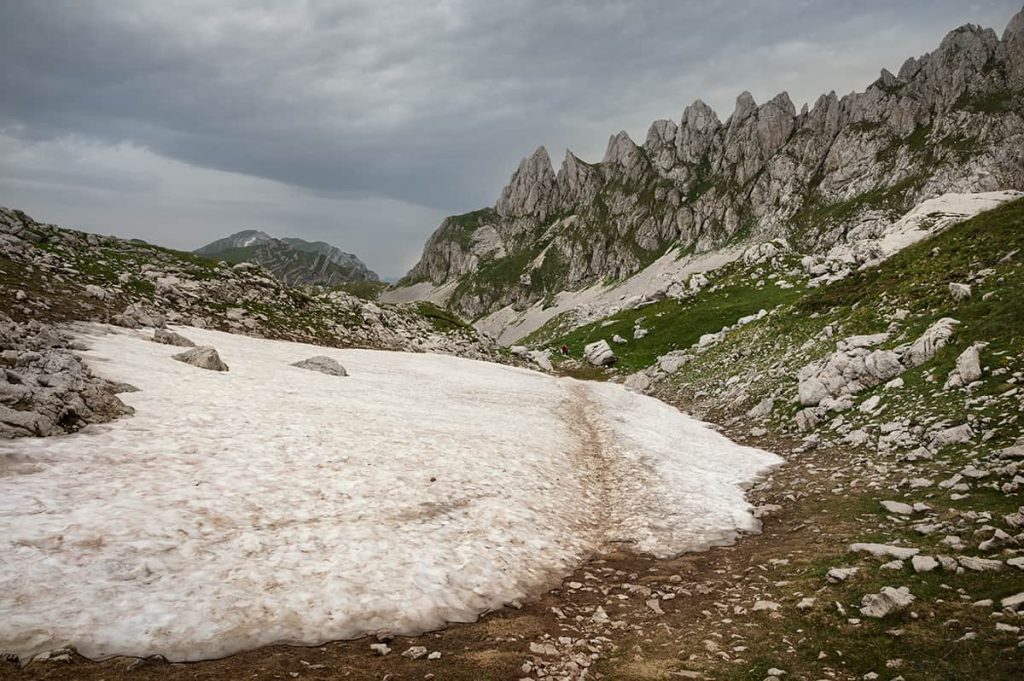 How difficult is the hike to Bobotov Kuk summit? 
Bobotov Kuk hike is considered to be moderately difficult. Sedlo pass trail distance is 12 KM return and is supposed to take 3 hours one way and 5-6 hours return.
After my 20km Valbona-Theth hike in Albania, I felt confident that conquering the highest peak in Montenegro will be a piece of cake. My blissfully ignorant assumption and self-confidence quickly vanished as soon as I started the final stage of the hike-the grueling incline to the summit.
This hike should by no means be underestimated, as it requires good stamina. Moreover, you should be comfortable climbing around exposed edges and using pre-installed metal ropes. Although using those ropes is not a must. They are installed to assist while climbing but you can also hold on to the rocks.
I can't stress enough, if you are scared of heights, you might consider hiking until the Zevir Lake only. To this point, the trail is easy plus/ moderate level, and anyone with reasonable fitness can do it.
The toughest part starts after the mountain lake where the incline is steep, rocky, and even has an open scree slope closer to the top.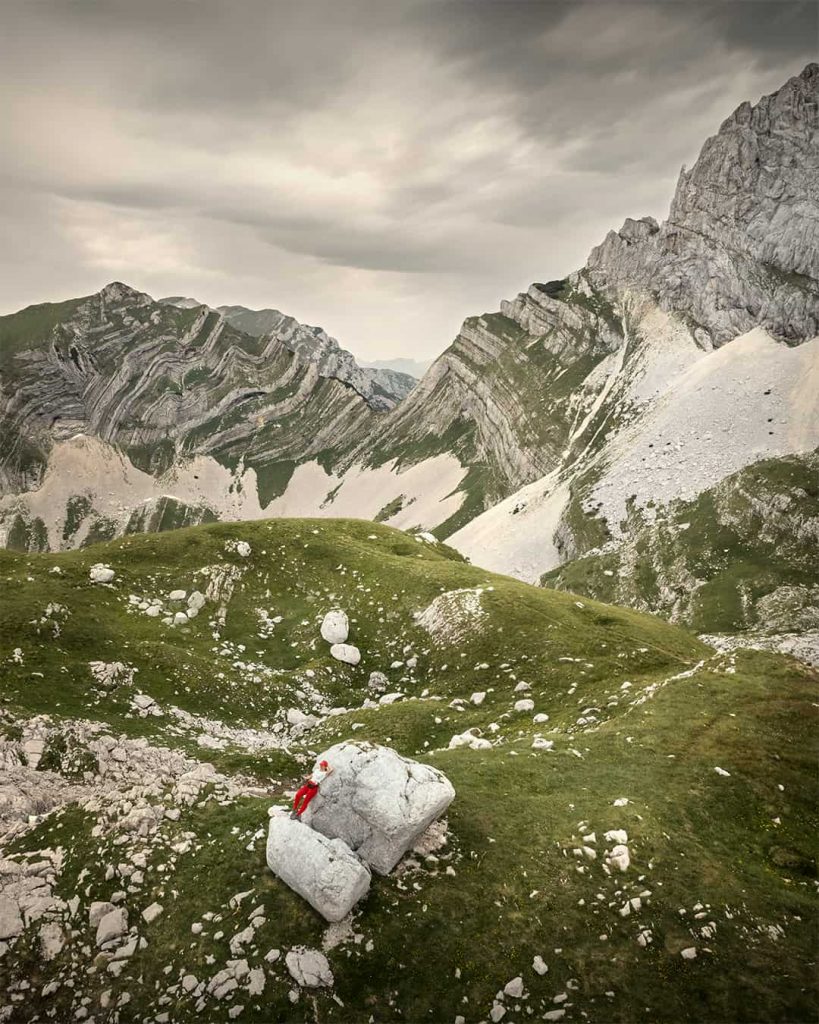 A side note about my personal experience hiking Bobotov Kuk
I am used to hiking the rugged mountains in the UAE, where huge boulders, scree slopes and burning sun are common features of nearly every moderate trail. Therefore, I was expecting Bobotov Kuk to be only easy plus compared to rocky UAE hikes.
I have completely underestimated the Bobotov Kuk trail. I was so chilled to the point that I even forgot my food supplies in the car. I noticed it only after a few kilometers into the hike. Coming back to pick them up was not an option if I wanted to complete the trail.
On top of that, the water I took from the tap at Žabljak accommodation was undrinkable. Please don't make this mistake- tap water is no go in Žabljak. I ended up "drinking" snow which was still present in the middle of the summer.
It was not a surprise that without food and drinkable water I found this hike very difficult and exhausting. Yet, I was committed enough and managed to complete it. Beautiful views definitely helped as a distraction.
Note: the elevation gain in this hike is reasonable- only 760 m, although the peak is at 2523 meters (as the trail starts at 1900 meters above sea level). This elevation is close to the point where some people may feel a lack of oxygen. I am suspecting that I could have been affected by the altitude as well. That is another reason why this hike can be more difficult than it looks.
How long does it take to hike the summit of Bobotov Kuk? 
It takes 3 hours to reach Bobotov Kuk summit from Sedlo pass, 5-6 hours round trip. It took me 6 hours to complete the hike without food and drinkable water. My hiking time included many photo stops and 30 min spent at the summit.
At what time to start trekking Bobotov Kuk?
It is advisable to start hiking Bobotov Kuk early morning at around 8 am or earlier. The weather is usually better in the mornings, and it can change quite quickly. What starts as a sunny day, can end up in storms. Also, it gets quite hot in summer, therefore trekking in the morning will help to avoid the heat.
I did a Bobotov Kuk hike in the middle of the summer. It was an overcast day with a beautiful sunset at the end.
I have started quite late- around noon. By the time I reached the summit, all the other hikers were already returning back. I was the last person to reach the top of Montenegro and had the peak all by myself.
If you love the sense of adventure and don't mind solo hikes, this can be an amazing experience.
Note that Bobotov Kuk is one of the well-known hikes in Durmitor National park. Therefore, you can expect to see a lot of hikers. The peak itself doesn't have much space and can get crowded pretty fast.
Bobotov Kuk hike from Sedlo Pass divided into sections
Section 1: Sedlo Pass-Surutka (~30 min)
The Bobotov Kuk hike starts with a short but relatively steep incline. Then the path continues as an easy walk through a grassy plateau while scaling the edge of the mountain around the saddle (1km). 
Here you will be enjoying an easy stroll with gentle elevation gain. Take your time admiring Sedlo Pass and surrounding Durmitor park mountains from a higher perspective.
After around 30 min of hiking, you will approach a 2.5 meters vertical rock with pre-installed metal ropes. At this point, serious hikers are filtered out from the rest. If you are not comfortable with this section, you have 2 options: 1) turn back and cut the hike short; or 2) still make through it but hike only to the glacier lake (Zeleni Vir). Note that the steep part leading to the summit will be way scarier.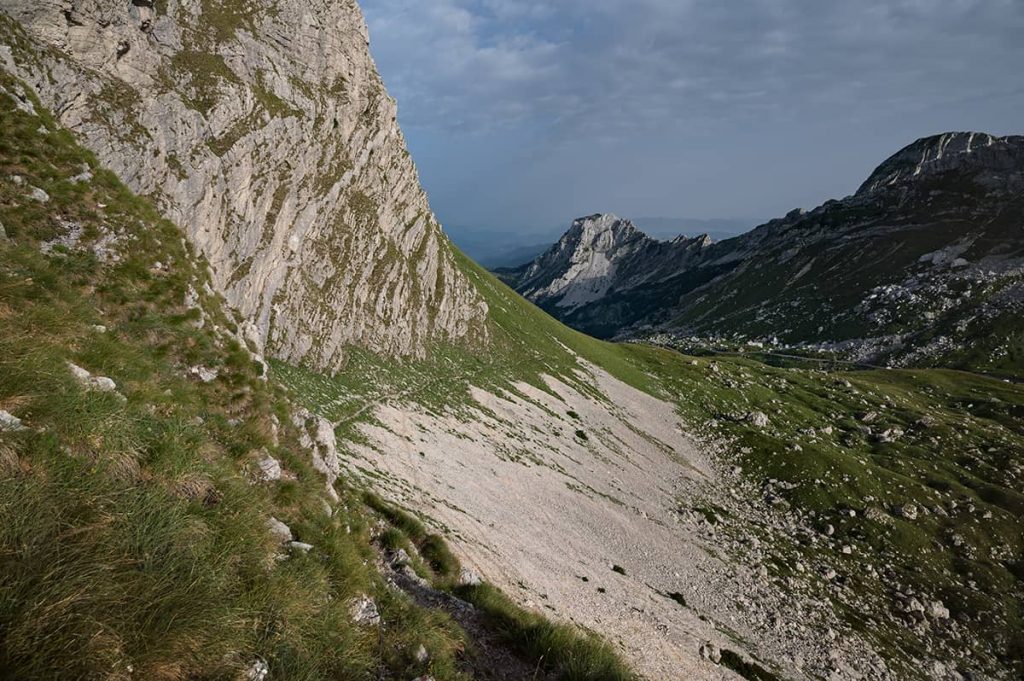 Section 2: Crossing plateaus down the rolling hills to the valley and Zeleni Vir lake (~ 30 min)
Get ready for the extremely photogenic section. Limestone peaks, velvet grass carpets with seldom patches of the snow, and flowers blossoming all year round-. It almost feels like you are in a fairy tale. 
It is an easy part of the hike just following the sandy paths over the rolling hills. Yet it is impossibly beautiful. Therefore, it is well worth making an effort just for this section of the hike on its own.
Along the way, you will see markings towards other trails. Just follow Bobotov Kuk's direction.
Once you reach the Zeleni Vir glacier lake at the foothills of Bobotov Kuk mountain, know that the game begins from here. Take a break and get mentally ready for the real hike.
Section 3: Base of the Bobotov Kuk to Velika Privja Pass (~ 1 hr)
The easy part of the hike finishes by the glacier lake. The other 2 routes also merge here. 
Continuing further, you will soon come across the sign saying that only 1 KM is left to the summit and the time required is 2 hours. I didn't take that seriously at first but people returning from the peak confirmed that it is absolutely accurate. Looks like the climb will be steep, slow, and grueling.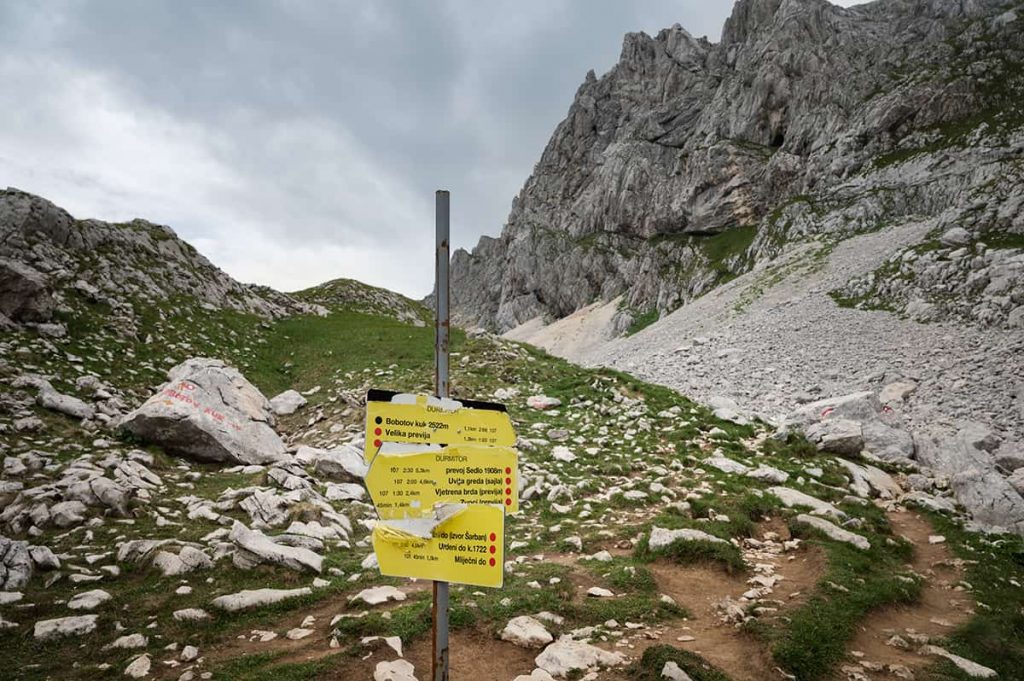 Around 300 meters of the incline is a mixture of rocky terrain, lots of grass, and some scree. 
You will be heading towards the 500 meters vertical boulder peak – that is where the Bobotov Kuk summit is located. 
This section ends at Veliki Privija Pass where the northeastern trail from the Žabljak side merges. You will be facing the mighty Bobotov Kuk itself from close up. 
Section 4: Veliki Privija Pass to Bobov Kuk summit (~1 hr)
From Veliki Privija Pass you have around half a kilometer left to reach the summit. This will be the steepest section with the fastest elevation gain.
First, you will have to conquer a steep 100-meter incline with lots of open scree. That is why it is important to do this hike when it is dry, as this section can be particularly dangerous when it rains.
After conquering the scree slope, some of the best views of the hike open up revealing the beautiful Skrka valley which harbors two deep blue color lakes. This is a perfect place to catch your breath and soak up the jaw-dropping views before the final and probably mentally the most challenging part of the hike.
The trail for the last 400 meters is slightly technical. The path is narrow, steep and some scrambling as well as using preinstalled metal ropes is required. This is the part that not everyone is comfortable doing. However, if you have done similar hikes before, you should be totally fine. 
On the contrary, those of you who suffer from vertigo might consider stopping at Veliki Privja pass, or even earlier at the Zeleni Vir glacier lake.
SAFETY NOTE: do not rely on preinstalled ropes solely. You can use them as extra help. Even on the narrowest part I found just holding onto the rocks seemed safer than completely relying on the metal ropes. The rocks are solid and there are plenty of cracks and holes where you can grasp on firmly.
In general, approach the last part with caution. There is no rush to climb, take it slowly and carefully, and you will safely reach the summit. The last exposed part before the summit plateau is very short- only maybe 5 meters or so. However, if there are lots of people climbing at the same time, it is safer to wait until the path is clear, as there is not enough room to pass each other.
Bobotov Kuk summit
Congratulations for making it this far in reading my post and hopefully you will make it to the summit. Standing at Bobotov Kuk summit feels like being on top of Montenegro. If you are lucky to be there on your own, it will be a sensational feeling. I was the last person to reach the peak. The only couple who was already there, left just a few minutes after, leaving me to enjoy the vastness of the scenery in complete silence. It was simply epic.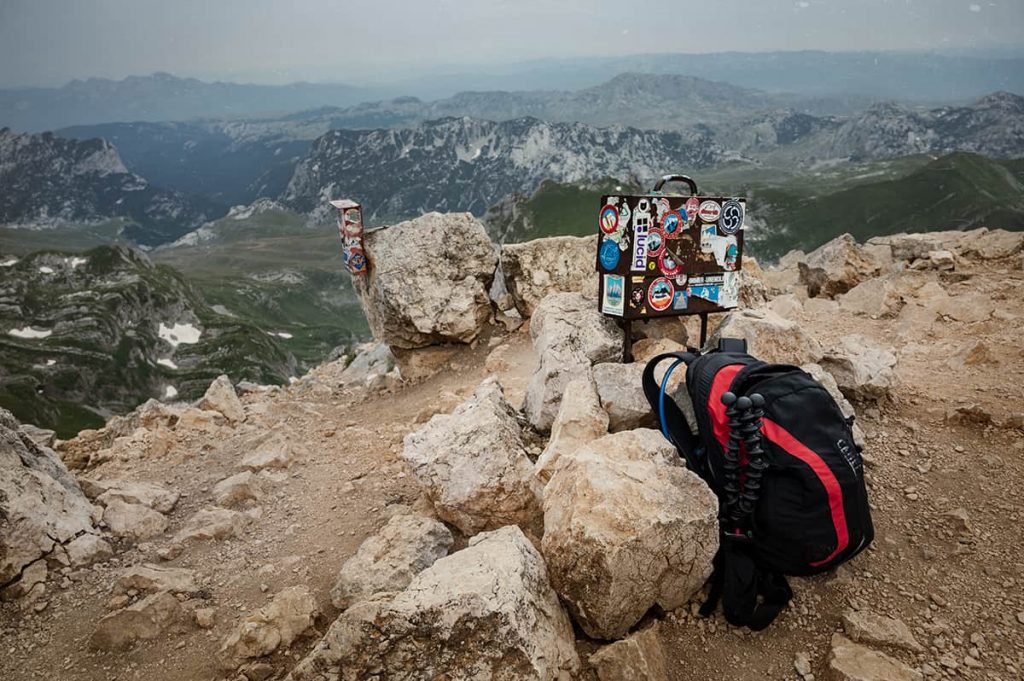 Is the Bobotov Kuk hike suitable for kids? 
I would advise against this hike to kids below the age of 10. I saw people with very small children trying to go on the hike and then turning back at the very first section. 
Is Bobotov Kuk trek dog friendly? 
I don't think this hike is suitable for dogs. The only reasonable option would be hiking to Zeleni Vir lake and back. Later the trail is too steep and the dog must be super fit. The last bit to the summit requires using both hands, and I cannot imagine it being safe doing it with a dog.
My 6 main tips for Bobotov Kuk hike
If you have rental car, start your hike at Sedlo Pass and return same way. Otherwise, you can take a taxi to Sedlo pass and, instead of returning same way, follow the trail down towards Black Lake in Žabljak . Note that it is a longer and more challenging route (it can take around 10 hours to complete). 
Check the weather before going. The ever changing mountain weather might not always be suitable to hike to Bobotov Kuk summit. Don't hike when it is raining or in winter. In any case, it is good have a little bit of flexibility in your Montenegro travel itinerary for unexpected weather conditions. 
Start your hike early enough to safely complete the hike in the daylight.
Wear sturdy hiking boots, ideally with mid-ankle support.
Take plenty of water (at least 3 liters) and power snacks like protein bars, bananas, dates, nuts, and at least one electrolyte drink to restore the lost minerals. Stock up in Žabljak as there is no food shops at the trailhead.
Take a headlamp or a torch light just in case you run into darkness for whatever reason.
I hope you found this Bobotov Kuk hiking guide useful! Do you have more questions about traveling in Montenegro? Feel free to comment or drop me an email!
Essential Montenegro Travel Resources for Your Perfect Trip
MY TRAVEL PHOTOGRAPHY GEAR
Here is all the gear that I have used to capture the beauty of Montenegro!