UAE hiking trails: Hebs village hike in Ras Al Khaimah. // Jebel Jais area in the United Arab Emirates has many great treks scattered over the Hajar mountains. One of my recent discoveries is a beautiful trail leading to the ancient Hebs village complex. Starting with the man-made stairs at the foothills of the Wadi Bih, this hiking trail in the UAE is very well-laid and easy to follow. Its starting point is 1.5 hours away from downtown Dubai and is accessible by sedan car. 
This hiking trail in the UAE is a true hidden gem. I would rate this route as one of the best beginners to the intermediate level hikes in Ras Al Khaimah, and it is definitely a new favorite. My hiking partner and I have already gone there twice, and I am sure we will be going again on this unforgettable hiking route in the UAE very soon.
Make sure you get your camera's battery fully charged because the scenery of the Hajar mountains here is one of the best you can find in the UAE.
RELATED READS: If you are a beginner hiker, or just want to go on an easy but very beautiful trek, you should check my post about other TOP 5 Easy Hikes in the UAE. One of the most popular ones is Wadi Shawka Dam to Pools hike which is only 1 hour away from Dubai, and Al Rabi Tower Trail in Khor Fakkan, near Fujeirah.
Note: This post contains affiliate links, which means that I may make a small commission at no extra cost to you if you make a purchase by clicking a link. This helps to keep my blog growing and filling up with detailed honest travel advice for you. 
All You Need to Know About the Hebs Village Hiking Trail in the UAE, Ras Al Khaimah
Here I have put all the information and shared my experiences that you might find useful when hiking to the Hebs village in the UAE, Ras Al Khaimah.
Since this UAE hiking trail is less known than its neighboring hikes in the Ras Al Khaimah area, you might be the only trekker even on a Friday. However, we saw quite a lot of fresh footsteps. This brought us the question of why we haven't met a single person during the hike? You will find the answer later in this post.
Meanwhile, the main road was jammed with cars coming back down from the Jebel Jais mountain after the sunset in December. Winter is the most popular time for outdoor activities in the UAE. Therefore, the most well-known and easily accessible places get packed with hundreds of visitors who come from all over the Emirates and even abroad.
That being said, finding a quiet trail like the Hebs village hike which is located a few steps off the main Jebel Jais road was a pleasant surprise.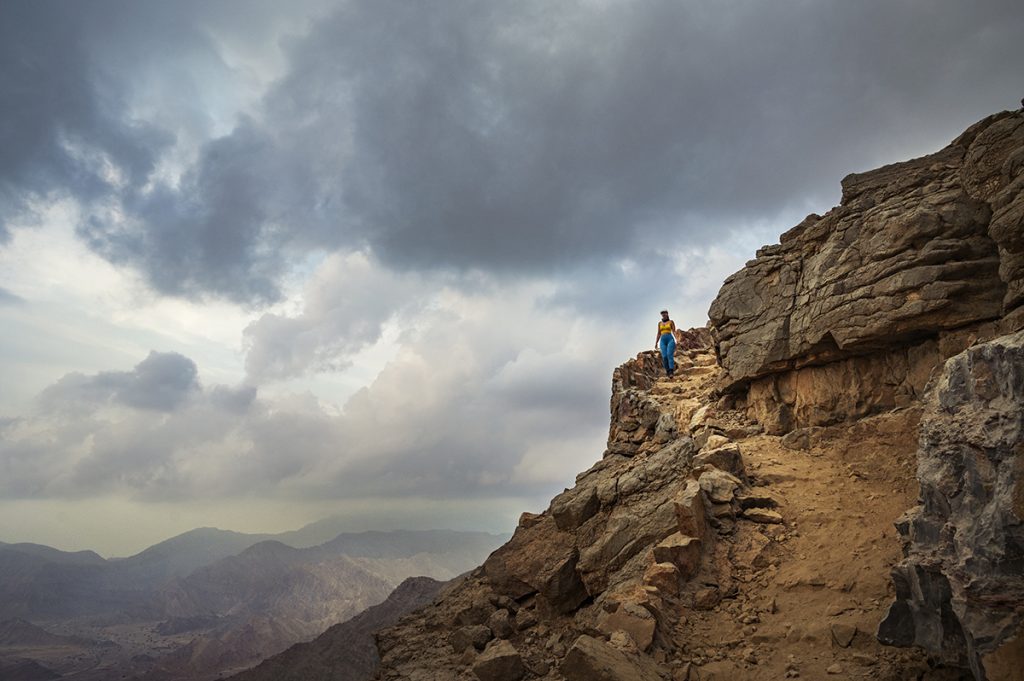 The Hebs village trek in the UAE is also suitable for beginners who have a good fitness level. You will need some stamina as the elevation gain is quite rapid. Therefore, your legs and lungs will get a decent amount of exercise. Also, as mentioned before, the Hebs trail is not marked but very clear and it would be difficult to get lost.
RELATED READS: Other great hikes in Jebel Jais, Ras Al Khaimah area you may want to check out are Wadi Shah and Leopard Canyon. Those UAE hikes are similar in length but more physically challenging. Definitely worth giving a go!
Hebs Village Hike Overview
HEBS VILLAGE HIKING TRAIL IN THE UAE HIGHLIGHTS / Immediate incline following the staircases carved into the mountain path will soon reward you with fantastic mountain views. After the staircases, you will follow a clear sandy mountain trail, steep at first and then leveled most of the time. It crosses a few plateaus, winds around the face of the mountain, and reaches ancient Hebs village. Hajar mountain views on this easy to moderate difficulty level trail are incredible.
Summary: A moderately challenging hike to ancient Hebs village with incredible Hajar mountain views.
Distance: ~15 KM.
Duration: 5-6 HRS walking at a slow to medium speed (start early at 7-8AM if going for a full trail).
Difficulty Level: moderate but suitable for beginners with a good fitness level.
Minimum and Maximum Elevation: 145 m and 800 m respectively.
Elevation gain and loss: approx. 300 m.
Mobile network and Internet connection: Interrupted internet service is available, sometimes switching to Oman telecom.
Is a guide needed? optional (advisable for the first-timers). Trails do not have official markings.
Minimum water requirement: 4 liters.
Kids friendly? 8+ years old.
Dogs friendly? yes, but the elevation gain is quite fast at the beginning of the trail.
Camping? Possible at the first mountain settlement, or Hebs village.
What to wear on this hike: Hiking boots with good grip and medium raise ankle are recommended. Backpack with water bladder like Osprey or similar for a day hike. Sunscreen and cap, there is barely any shade throughout the whole hike.
This fantastic hiking route in the UAE goes all the way up to an elevation of 800 meters. It can be divided into multiple sections: 1) steep stairway hike to the first mountain settlement; 2) sandy path along the ridge via beautiful plateau up to the second mountain house; and 3) the long gradual mountain trail to the ancient village close to Oman border.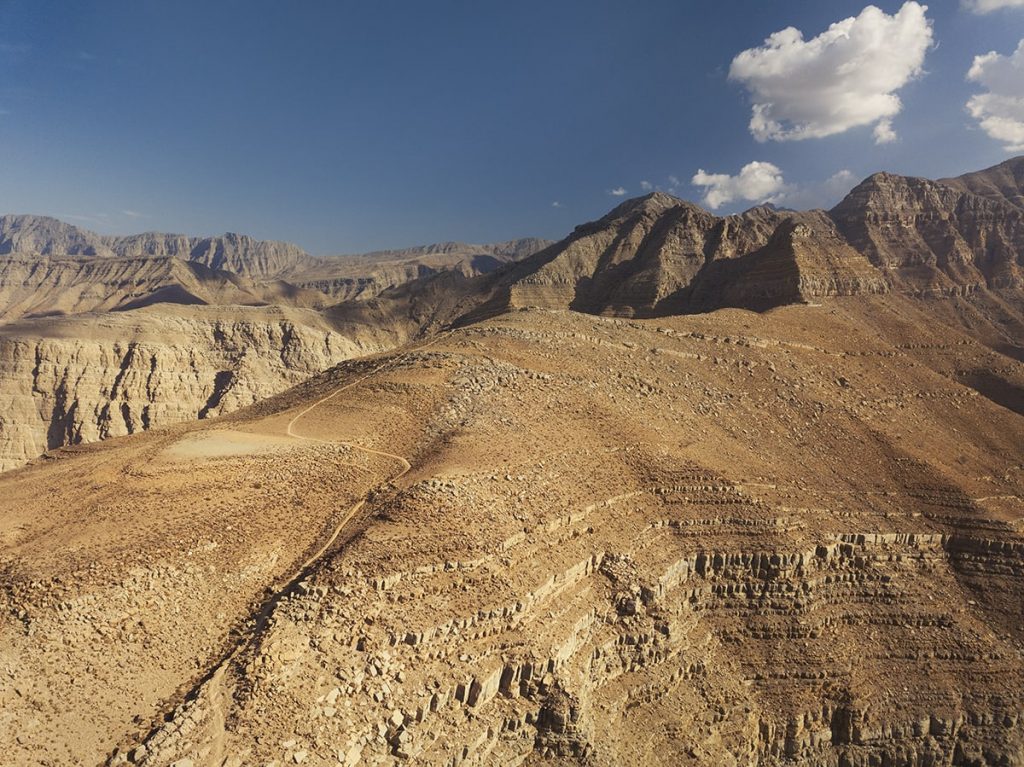 It is up to you how far you are willing to go. The total trail distance is 15km round trip. The ultimate destination is the Hebs village (Deira Al Hebsi in Arabic). You can't continue further as there is an Oman border behind the settlement. 
1. Climbing 1000 stairs to the first settlement of the Hebs village hike in the UAE
The Hebs village hike in the UAE starts with a rapid incline through the man-made stairs carved into the mountain. Get ready for the first part of the leg workout. Soon at the very beginning of the staircases, you will see them splitting in two ways. You can choose whichever side you want to follow as those merge into one path later. The left side is shorter but much steeper than the right one.
Within approximately 20 minutes of climbing, you will get a chance to take a break at a beautiful valley with the majestic mountain backdrop.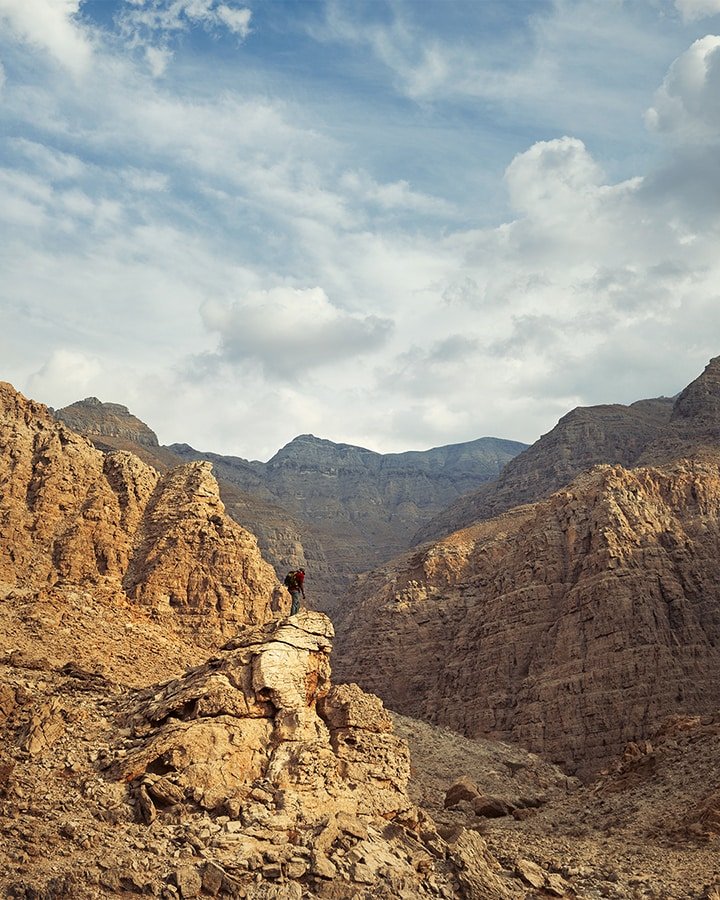 Then get ready for the second part of a bit tougher leg workout. Follow the leveled mountain trail on your left for a couple of hundred meters before you approach the other part of the man-made stairs.
At a first glance, it might seem like a vertical climb, but those are actually well-built stairs that will take you all the way up to the first mountain settlement at 500 meters above sea level. Here, you will approach a recently built house with satellite plates (you probably already noticed it from afar). Also, there will be some old terraces and a few ruins of the former mountain village that takes you back in time.
If you want to call it a short hiking day, you can always chill at the first settlement and return back. That would make around a 3 km round trip trek. 
Also, if you are willing to camp, this is a great spot to stay overnight. The exact Google coordinates for the camping option are 25.806487, 56.121750.
Otherwise, catch your breath, and then continue towards the left following the sandy mountain path. More exciting things are waiting for you. 
2. Sandy path along the ridge via beautiful plateau up to the second mountain house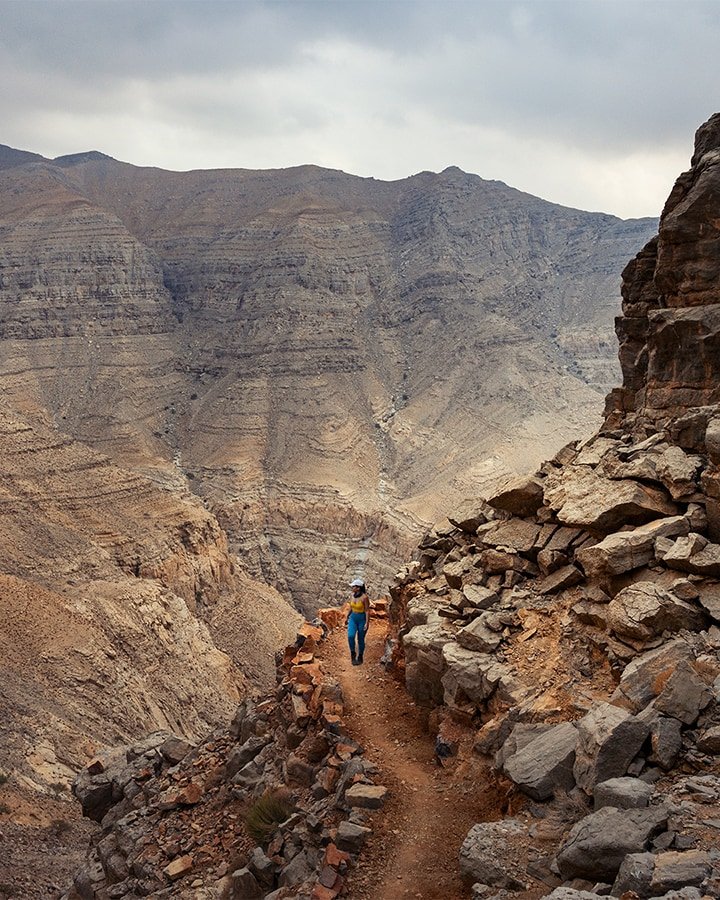 The sandy mountain path on the left-hand side zigzags up revealing spectacular mountain views on every turn. The climb might seem steep but it won't take you too long to reach the first plateau at the top of the mountain. In less than an hour you will be at 750 meters above sea level.
Just a few deep breaths and you can congratulate yourself. You have just completed 3 kilometers of the hardest part of the hike. From here the rest of the trail is a mostly leveled walk with a few minor inclines and declines going all the way up to the Hebs village.
Once at the plateau you will have 360 degrees mountain views. If you are hiking in winter, you may find yourself surrounded by the blanket of clouds. That being said, we were really lucky with the weather and hiked on a mysteriously cloudy evening. As soon as the sun set, wind started blowing wildly at the top of the mountain. It felt like traveling back in time to the medieval ages of Vikings somewhere in the North of Europe. It was like a fantasy movie set up.
I loved this surreal experience that made it hard to believe we are still hiking in the UAE.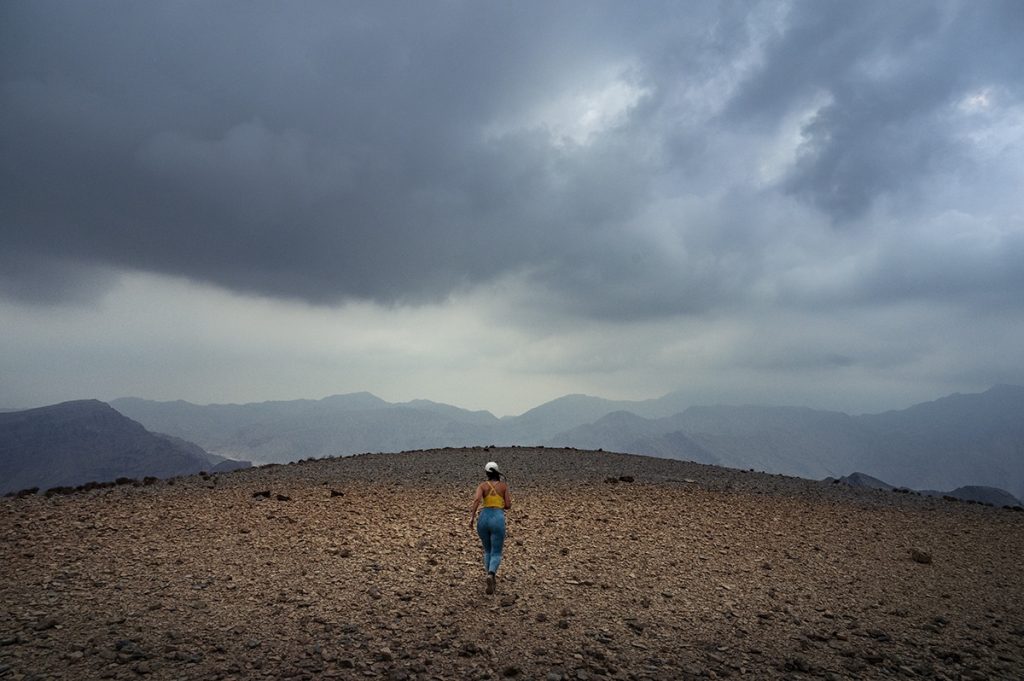 As I have mentioned before, we hiked this trail twice. The first time an initial plan was only to climb up the stairs and return. Therefore, we started late in the afternoon. As soon as we reached the first settlement, we discovered that the trail continues further. However, we only had time to get to the plateau described above. From here we could see the path continuing miles ahead and disappearing behind the mountain. Therefore, we had to return another day to explore further (finish the unfinished business with this hike).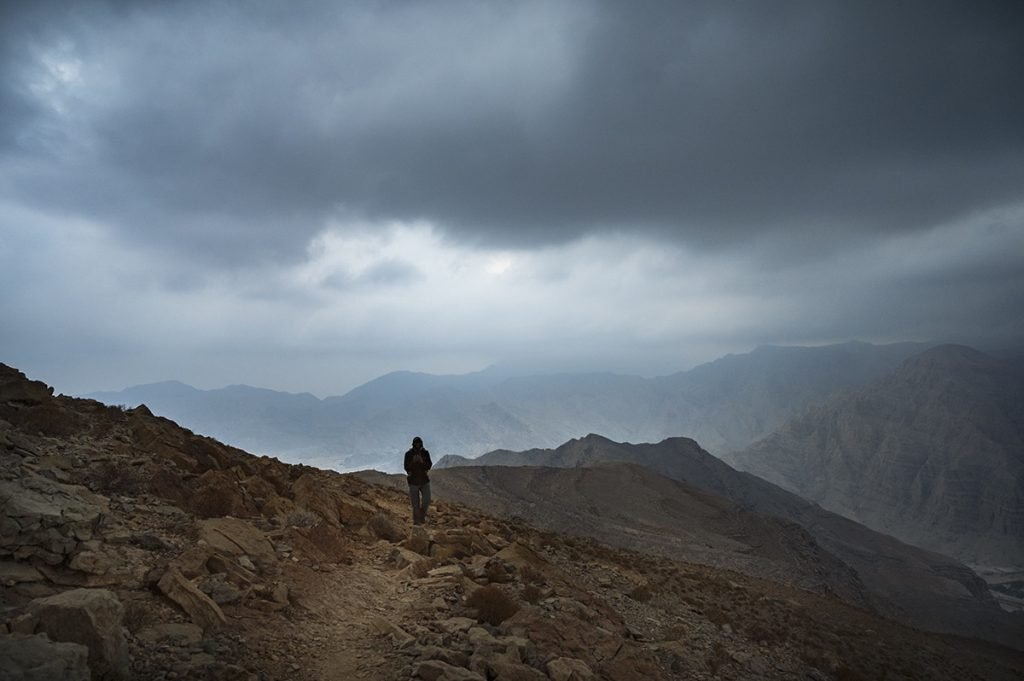 3. The long gradual mountain trail to the ancient Hebs village
Continuing further, in approximately 700 meters, you will reach the second mountain house built at the bottom of a triangular shape mountain peak. Continue to the left-hand side of the house and follow the trail that you can see winding around the mountain face.
It seems like the trail never ends. Indeed, this is the longest part of the hike. Luckily there is no extreme elevation gain ahead, only a fantastic panorama of the mountains.
So pace yourself and enjoy beautiful valleys and plateaus backed by majestic Hajar mountains that get painted in orange by the setting sun. 
After a few turns, following this long never-ending but beautiful path, you will be able to finally see the mysterious Hebs village far at the top of the mountain. It might be tempting to turn around and head back, but trust me, it is well worth making your way there. It is closer than it looks. And it will be the last short steeper incline to the summit of the Hebs village hike.
Total distance to Hebs village is 7.5 km. Take your time and wander around the village soaking up beautiful mountain scenery and possibly interacting with locals.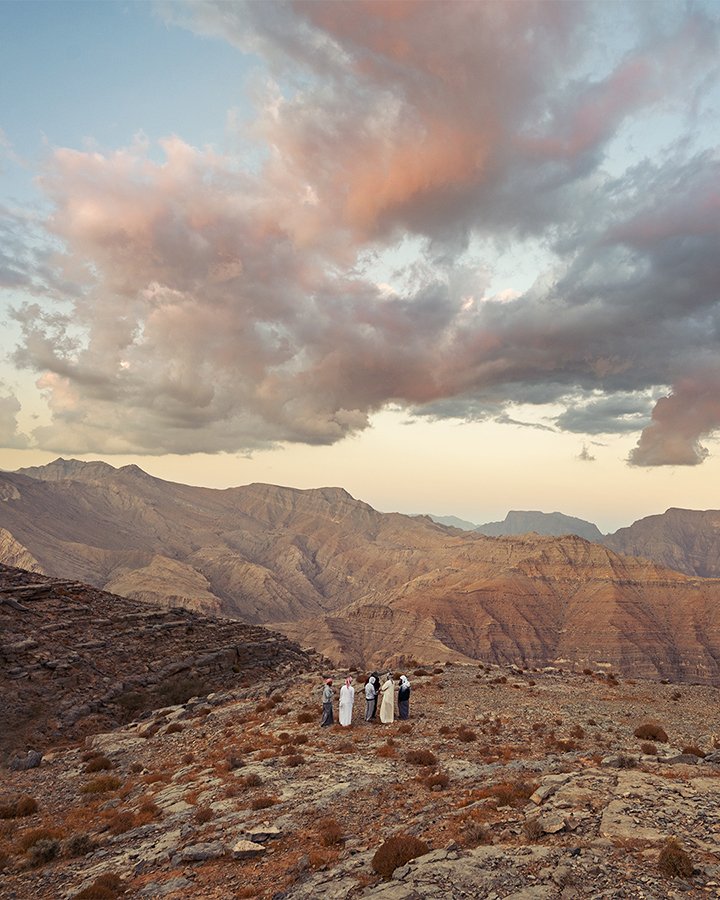 People in the village showed us a shortcut back to the sandy mountain path. Note that it was a steeper way, but you can always return the same way as you came.
Experience the local culture of the mountain life
Al Hebsi ancient mountain village is currently used by Emiratis as their winter getaway. It belongs to Al Hebsi tribe, and its new generation continues to look after the settlement.
The village is very well maintained. It has a complex of new houses built following principles of traditional architecture. Also, some of the old ruins dating back hundreds of years are kept as relics of the ancestors.
It is very likely for you to meet the owners of the village if you are hiking on a weekend. Don't be surprised if you get approached and invited for a coffee. The hospitality of the Emirati people is admirable. We had an unexpected great cultural experience when interacting with local people. They were happy to share the knowledge about life in the UAE mountains back in the days of their grand grandparents. Some of the traditions of house building and rainwater collecting and distribution systems are still used today.
We also learned that the remains in the village date back up to 500 years or even more. Also, we got to see some images of the mysterious Arabian Leopard that used to live in the mountains of the UAE. Now, there are only myths about this wild animal and a hike named in honor of- Leopard Canyon Hike (another great but a bit more challenging trail in the UAE you should check as well).
Watch my short film showcasing highlights of the Hebs village hiking trail in the UAE.
How to get to the starting point of Hebs hiking trail in the UAE, Ras Al Khaimah
Hebs village hiking trail is 1.5 hours away from Dubai in Ras al Khaimah, Jebel Jais area. Google coordinates for the starting point are 25.806622, 56.112798, and can be accessed by a sedan car.
Note that there is a right turn on the main road which is not very obvious. The time we went there was construction on the road, so this turn changed the second time we came. I have marked a spot where you should be looking for the right turn to the gravel road. It will be only a 1km drive alongside the small wadi to where the hike starts. You will pass some buildings and a yellowish color camera station (not sure what to call that object but it does look like some sort of a camera behind the fence). You can park next to some building immediately after it.
Access to the starting point can be a little tricky as you will have to find the right turn off the main Jebel Jais road. There was construction on the road when we visited and they changed the access the second time we went. So once we turned right, we had to drive back towards Dubai side on the dirt road until we found a left turn continuing further to our destination.
I have marked a spot where you should be looking for the right turn into the dirt road. It will be only 1km drive alongside the wadi to where the hike starts. You will pass some buildings and a yellowish color camera station (not sure what to call that object but it does look like some sort of a camera behind the fence). You can park next to some building immediately after it.
If you have Wikiloc app, you can easily follow the trail that I have recorded. I have marked out the main waypoints for you to refer to.
Can I camp at Hebs village?
There are a few potential camping spots on this hike. The first one would be where the first mountain house is. Then you can find lots of space at the higher at the first plateau but I would not recommend it as it might be very windy over there. You can also camp at the Hebs village itself which might be a great experience with a chance of waking up above the clouds.
How to prepare for the Hebs village hike in the UAE?
The key factors you must always consider when preparing for hikes in the UAE are hot summer temperatures, cold winter nights, unforgiving rough terrain, and your experience and knowledge about a similar environment.
Taking the above into consideration, make sure you come well prepared for any hike in the UAE. It is a must to wear hiking shoes with a good grip and higher ankle. Also, breathable dry-fit clothing,  leave enough time to complete the route in daylight, bring enough water, have a GPS device or an app that helps navigate the trail, and torch lights if it gets dark while still on a hike.
Here is my checklist of what I personally bring to each of my hikes
How much water and food to take for a hike in the UAE?
Plenty of water, no compromising on that. For this hike, I would suggest taking at least 4 liters of liquids if it is a hot day. For example 3 liters of water and 1 liter of hydration drinks.
Make your hike easier and plastic-free and get yourself a water reservoir/bladder. It keeps water cool for a long time and has a readily accessible straw, so you can hydrate while walking. It also keeps water evenly distributed inside the backpack as opposed to bulky plastic bottles. I use a 3LT water reservoir by CamelBak on all of my hikes.
Power snacks and hydration drinks (electrolyte, sports drink, or hydration tablets helps to keep the energy levels up). From my personal experience, the best are protein bars, some salty crackers, dates, nuts, snickers chocolate, bananas, Pocari Sweat, or Gatorade which works wonders to kill hunger and give you an energy boost.
Pro Tip: freeze your Pocari Sweat (or any hydration drink of choice) a night before you go. Add some ice cubes into your water reservoir. This will help to keep the water cooler for an even longer time.
What to wear for the hike?
Hiking shoes with a good grip. It is arguably the most critical part of your hiking attire. The best are mid-ankle boots. It will keep your foot more stable than low-ankle ones and gives more movement flexibility than high-ankle. I have bought a second pair of these Columbia Hiking Shoes that proved themselves on UAE hikes as being comfortable and long-lasting.
Comfortable hiking bag with adjustable straps around the waist and chest. Your shoulders and lower back will get tired from carrying lots of water, snacks, a sweater, a camera, a drone, etc. (that is what I have in my backpack). Therefore, you should have a bag that is designed to adjust to your body and sit properly on your back so the weight load is distributed equally. On one-day hikes, I only take a medium-sized backpack that also has a compartment for my water bladder separated from the main section. The bag I own is similar to Osprey 22L backpack in size and design.
Hiking clothes with breathable material will make your hike much more enjoyable. All that quick-dry stuff feels much nicer than a regular cotton t-shirt that gets soaked in sweat in no time and stinks like hell. Consider wearing something with longer sleeves for better sun protection. And do yourself a favor- leave your jeans for a city walk. Long hiking pants are advisable. Although, I often go wearing gym leggings.
Sunglasses and a cap– there are some shaded areas along the way, but there is a load of sunny ones too. Save yourself from sunstroke by wearing a cap.
SPF 50 sun cream- don't forget your ears- they get burned quite often.
Fleece sweater for winter months as it gets really cold in the evenings. I love my lightweight and super warm Columbia Fleece.
Slippers for after hike– your feet will thank you.
What are other must have items for a safer hike?
Collapsible Trekking Poles are recommended to significantly reduce the load and impact on your hips, knees, and ankles, especially when descending. The best are foldable lightweight (~300-600grams, varies per brand/model) polls that can fit into the hiking bag easily in case you need both of your hands to be free.
Torchlight or a head-light in case you hike into the darkness. Choose a good long-lasting torchlight- it can literally save your life.
Personal first AID kit (Advil, band-aid, antiseptic, hand sanitizer, wet wipes, etc.)
Power bank for your phone
GPS device or a Wikiloc app where you can find an accurate trail recording that will help you navigate.
Last but not least- let someone from your family or friends know that you are heading out for a hike. Give them the location details. Also, inform them when you are starting the hike and when you expect to return.
PLEASE, RESPECT THE NATURE AND KEEP IT CLEAN!
ENJOY YOUR HIKE!
More UAE travel blog posts
Dubai, UAE travel essentials & useful links
Planning your trip to Dubai, United Arab Emirates soon? Below are some useful links to essential travel resources and services I always use that may help organize your trip.