UAE hiking trails// Wadi (a dry river bed) Naqab in Ras Al Khaimah Emirate is an ultimate hiking destination in the United Arab Emirates (UAE). Just a moment ago it used to be a remote location deep in Hajar mountains, and only a few people knew about it. Today, Wadi Naqab attracts a number of adventure lovers- hikers, off-roaders, camping enthusiasts.
This Hajar mountains area in the UAE features scenery like nowhere else in the Emirates. You will be surrounded by surreal jagged orange peaks, climbing massive boulders, splashing seasonal pools scattered along the narrow gorge of Koob, and exploring mysterious mountain villages.  There are multiple hiking routes to choose from in Wadi Naqab, UAE. Both beginners and experts will find exciting trails to explore. It is also a great place for off-roading and overnight camping.
In this post, I am sharing my recently discovered fantastic hiking route in Wadi Naqab, UAE. The trail starts in Wadi Naqab, continues through narrow Wadi Koob which features amazing seasonal pools, and makes a loop back through an abandoned Al Sanat village situated at the top of the mountain.
This 14 KM loop type hiking trail in the UAE can be divided into 3 sections: 1) Wadi Naqab pass the Red Wall 2) Wadi Koob UAE flag to pools, and 3) Up to Sanat Village (2 ways are possible).
You can choose to complete one, two, or all three of the trail sections. It depends on your fitness level and how experienced you are in hiking the UAE mountains. Keep on reading this post to find all the information you need before you go on this UAE hike in wadi Naqab.
Pressed for time? Sign up HERE to receive a FREE downloadable quick guide about hiking Wadi Naqab to Wadi Koob and Al Sanat village.
---
RELATED READS: There are many exciting hiking trails in the UAE in the Ras Al Khaimah area. Make sure to check the other fantastic intermediate level hike to Leopard Canyon. Or, if you prefer something light, head to my post about 5 Easy UAE Hiking Trails.
---
All You Need to Know about Hiking from Wadi Naqab to Wadi Koob pools and Al Sanat Village
My partner and I went to wadi Naqab hikes in the UAE multiple times. While looking for the new routes, I have mapped out Al Sanat village on Google satellite view.
The first time we tried reaching the village wasn't successful. We had a very ambitious camping attempt in the middle of the summer (it was 40+ Celsius). However, due to late start and unbearable heat, we had to cut our trail short, and leave further exploration for the cooler days. Instead, we ended up spending a night in the middle of the gorge on a boiling hot rock surrounded by crazy bats screaming above our heads. An experience to remember, but not to repeat.  
To make sure you don't end up as we did, I have prepared all the information you need in order to have a smooth hike in wadi Naqab. Make sure you read all the post as there are parts in this hike which have to be approached with caution.
That being said, the full loop trail is advisable for people who already have experience hiking in similar terrains, and aren't afraid of heights, exposed ledges, and know how to trace unmarked trails. If you are a fit beginner, you can still explore the signposted parts of this trail and enjoy fantastic scenery like nowhere else in the UAE.
Wadi Naqab Hike to Wadi Koob and Al Sanat Village Overview
Wadi Naqab Hiking Trail in the UAE Trail Highlights/ A moderately challenging loop type of trail that goes through a majestic Wadi Naqab, reaches spectacular narrow wadi Koob with clusters of season pools, then goes up to and loops around an abandoned Al Sanat village on the top of the mountain. The trail involves a good amount of bouldering, walking on the narrow mountain balconies, crawling under the rock, passing a short exposed ledge, climbing up the mountain through a scree slope and loose rocks. And all this is packed into ~14 KM route.
DISTANCE / ~14KM
TIME/ 5-6 HRS walking at a slow to medium pace (start as early as 8 am to complete this hike in the daylight)
MAX ELEVATION/ 720 M
MIN ELEVATION / 250 M
ELEVATION GAIN/LOSS/ 515 M
DIFFICULTY/ Intermediate with parts suitable for beginners at a good fitness level
PREPARATION / Hiking boots with good grip and medium raise ankle are highly advised. No sneekers! Backpack with water bladder like Osprey or similar for a day hike. Although there is a lot of shade on this trail, sunscreen and a cap is recommended. Hiking Polls can be useful to reduce load on your joints.
GPS, CELLULAR, AND DATA SERVICE/ Poor to no connection (both data and GPS) in the Wadi, but available on the top of the mountain.
CAMPING/ A few possible camping spots along the Wadi Naqab but the best overnight camping place is at Al Sanat village.
---
CLICK THE BUTTON BELOW TO RECEIVE A FREE DOWNLOADABLE MINI GUIDE FOR THIS HIKE! Map and coordinates included for your reference.
---
RELATED READS: If you are excited and keen to go on the other intermediate level trail in Ras Al Khaimaih, Hike to Wadi Shah near Jebel Jais is a great trail to add to your "must do hikes in the UAE" list. Read my post about this hike here.
---
How to get to the starting point of Wadi Naqab trail (directions)
Wadi Naqab can be reached by driving either sedan or 4×4 and it takes around 1.5 hour to get to the starting point from Dubai Downtown.
The closest you can drive to is the parking space where a sign marking the start of trail is displayed on the rocks (Google Maps coordinates: 25.721215, 56.124656).
The good news for those who do not own 4×4 is that the road to wadi Naqab has been extended tremendously and became accessible for sedans. A massive chunk of extra walking (~6 KM!) before the actual hike starts is now cut off the old trail. However, a part of me wishes they haven't gone wild with digging this road. The former boulder path, although not easy, but was untouched by civilization and no cars could enter (unlike today). Not to worry though, there is a lot of challenges ahead on this spectacular trail in the UAE. Let's go over it step by step to get you prepared.
If you are Wikiloc app user, you can save my trail and follow it later HERE.
When to hike Wadi Naqab?
The best time to hike wadi Naqab in the UAE is during the winter months (December to February) when the temperatures are pleasantly low. Although for a shorter morning trails mid-October to mid-March is also suitable.
The advantage of hiking in wadi Naqab is that there is surprisingly lots of shade, so even if you go in spring, you can still manage to survive shorter hikes.
As mentioned before, we hiked in June once, starting late afternoon, but it wasn't a good idea at all. The heat was notorious and it was dangerously tiring. We were not able to hike up the village as it was physically challenging to keep up with crazy heartbeat rates. I used to think I can handle the heat very well until I tried trekking the mountains in the UAE in summer.
CAUTION: Don't attempt hiking in wadi Naqab (as well as other wadis around UAE) when it is raining, or there are clear signs of rain coming up soon. The floods are deadly in this region wiping cars off the road. 
Do I need a guide to hike Wadi Naqab?
If you are a beginner hiker willing to complete the full loop of this trail, I strongly recommend doing it either with a guide or a group of people who know the way well or have experience navigating similar paths. It is a fairly long hike of almost 14 KM which is not a straight easy stroll. Therefore, estimate your fitness level before going.
Intermediate level hikers who understand UAE terrains and have former experience following poorly marked trails, should be okay to do the full hike on their own.
---
RELATED READS: If you want to start with an easy hike where you don't need a guide? Al Rabi Tower Trail in Khor Fakkan or Wadi Shawka Dam to Pools loop would be perfect routes to warm up.
---
Step by Step: Wadi Naqab to Wadi Koob to Al Sanat Village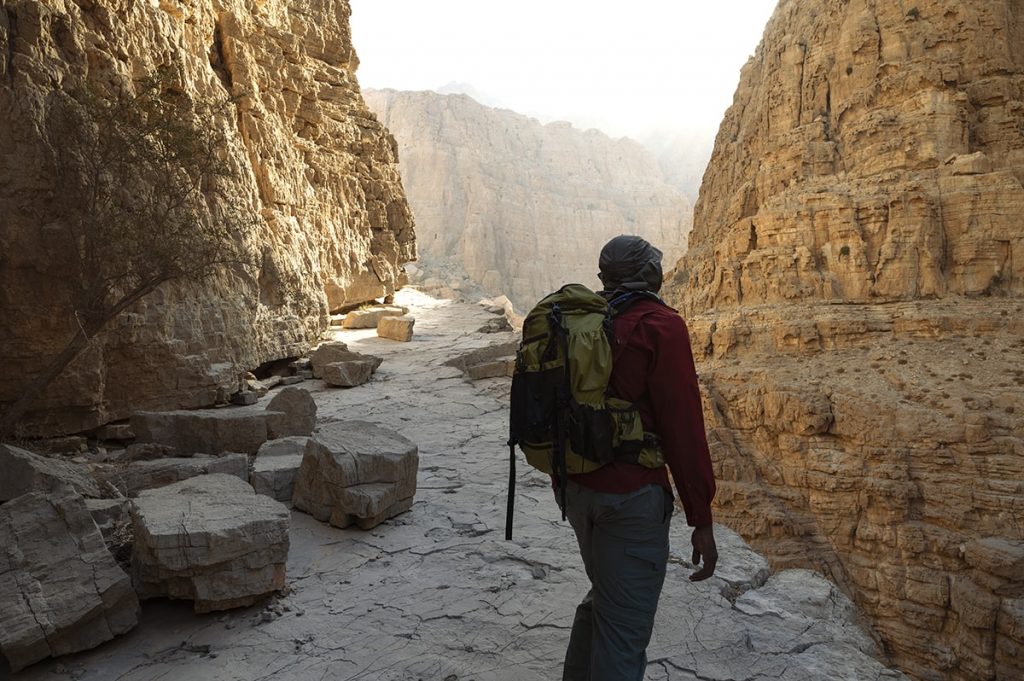 1. Wadi Naqab pass the Red Wall (4KM)
Total distance from starting point at wadi Naqab to the next section that starts at the UAE flag in wadi Koob is ~4 KM one way.
The first part of this trail in Wadi Naqab can be attempted by beginners who have good fitness level, and those who aren't scared of walking over a narrow balcony around the mountain face. The path features lots of smaller, bigger, and some massive boulders. Not to worry though, they are all passable, and no extra equipment is needed.
Also, there are signboards displayed along the way. Those are helpful to navigate your way. However, not all the path is straightforward. Therefore, I will point out specific spots to pay attention to.
LOOK FOR THIS! You will start with a wadi walk that involves quite a bit of jumping over the boulders for around 2 kilometers. Soon you will reach a massive rock with red Arabic text sprayed on it. At this point look to your left for the signs (new signboards and yellow or red sprays on the rocks) pointing the way up onto the balcony. You must take this path in order to pass a dead end of a RED WALL.
If you have time, you can still continue straight following the wadi. In around 300 meters, there you will bump into a massive pile of giant rocks that form a sort of an orange color wall (hence the name -RED wall). Passing those without equipment is impossible. However, it is a great spot to witness and have some cool photos taken. Afterward, you can head back and take the path up to the before-mentioned balcony path.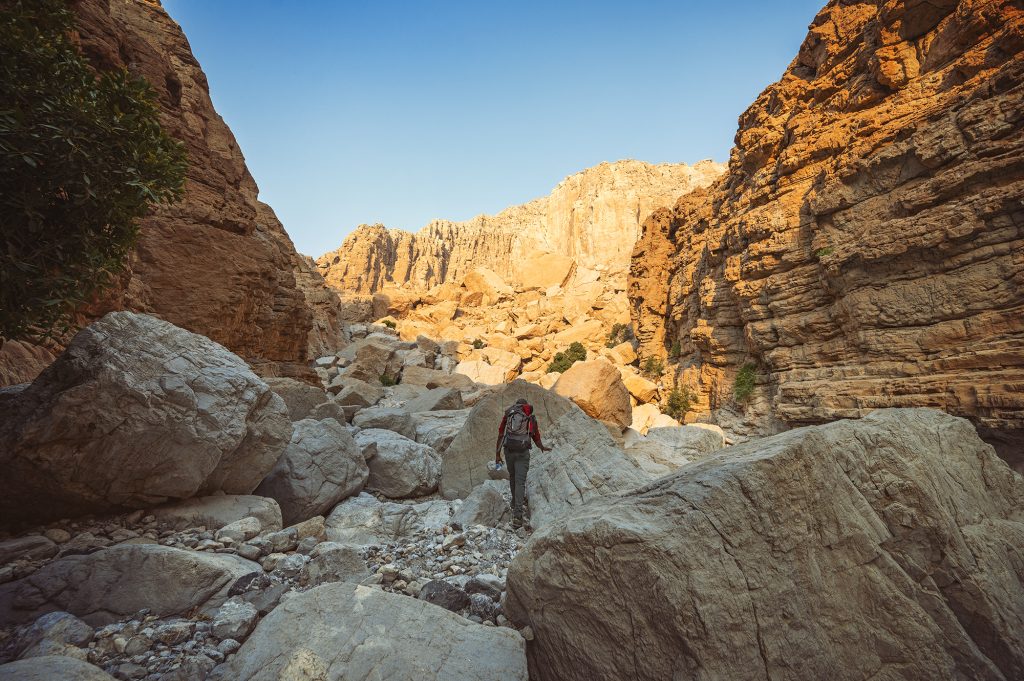 ---
RELATED READS: I wrote about hiking towards the RED WALL and beyond. Check this post too if you are planning a shorter hike.
---
There will be a little bit of scrambling until you reach a wide platform/balcony. Continue until you approach a vertical 2 meters stone wall/staircase (it will be marked by a signpost). It will take you to the path higher up. From there, the trail, which is quite narrow at some points, will take you around the mountain and then down to the valley. This balcony walk is one of my favorite parts of the trail. Here fantastic views of the Red Wall open up.
It may, as well, be a little challenging for those people who suffer from the fear of heights. We met hikers along the way who were terrified by this relatively easy part of the hike. This is due to the narrow passages as not everyone has the same tolerance for walking across the ledges. However, it is not a complicated part if you go slowly, stick closer to the mountain and watch your steps.
As soon as you reach a wide valley, leaving the Red wall behind, you will have another couple of kilometers of bouldering through the wadi until you reach a part with much bigger rocks (Google coordinates: 25.722818, 56.138963). This brings us to the second part of the hike.
2. Wadi Koob from UAE flag to seasonal pools (2 KM)
The distance from UAE flag spot in wadi Koob till the last pool is 2KM. It makes a total distance of 6 KM from the starting point at wadi Nagab to the end of seasonal pools
From here hike gets even more exciting, but at the same time, it also adds a few challenging moments. Therefore, I would strongly suggest making sure that you are confident with crossing one short but very narrow ledge and even crawling under the rocks.
Once you approach the point with massive boulders which seem to be blocking the way, look to you right for the cairns and a big tree- this is the way to follow.
Once you pass the boulders, in a couple of hundred meters you will notice that the trail goes even higher up. In order to continue, follow the signs to your left- you must climb up to the path going around the mountain if you want to continue further.
NOTE: on the right-hand side, although not immediately noticeable, there is a sign marking the way up to Al Sanat village (Google coordinates: 25.722344, 56.139684). However, I advise you to continue further ahead into the wadi Koob and explore seasonal pools first. There is another way to reach Al Sanat village at the end of wadi Koob. I will explain it in the next chapter.
As soon as you climb a bit higher on the left-side ledge, you will see that terrain transforms into a path of one solid smooth whitish rock with huge holes in the middle of it. Those are the seasonal pools, and it is very likely that they are filled with water during the winter months. Also, the gorge here becomes narrow and even more mysterious. A famous sight is a UAE flag hanged on the rock where hikers like to take a picture at. Don't get carried away though, the deeper into the wadi you go, the better scenery you get.
WATCH OUT FOR THIS! Before getting to the spot with the UAE flag, you will have to pass a very narrow ledge which can be quite scary to some. However, there is a metal rope attached to the rocks to assist you in passing as safely as possible.
To me, although very short, but it was the most challenging part the whole hike as I do not like narrow exposed ledges and neither do I trust man-made ropes. I had no choice though, there was one step that I had to take on that ledge, where holding onto the rope was a better way than trying to hold onto the rocks. The good news is that it is just a very short section of maybe 3 meters in length to deal with.
In a couple of hundred meters after the UAE flag, the wadi trail turns right. At the turn, there is a slightly challenging short stretch you have to pass in order to get to the top. You will see a big white boulder wall. However, this is easier than it looks and way less scary than the before described narrow ledge. Look out for the way up on your left-hand side. After you go up on the boulder, you will have to crawl a narrow gap in the mountain to get back to the wadi. It is not complicated, just a lot of goat poop adding some flavor for the experience.
Also, besides the crawling method, that I described above, there is a black rope attached to assist in getting higher up. Not recommended if you do not have experience in climbing with ropes.
Congrats! You have successfully made it to one of the most magnificent places in the UAE- breathtaking wadi Koob with its seasonal pools. I hope at the time you hike there is water in there (instead of goat poop).
Continue following the trail for another kilometer and a half until you reach a place where the gorge becomes even narrower. You will end up stopping at a small pool filled with water all year long (not so clean one though, so swim at your own risk). Here you can't pass further without additional equipment (Google coordinates: 25.722103, 56.145845).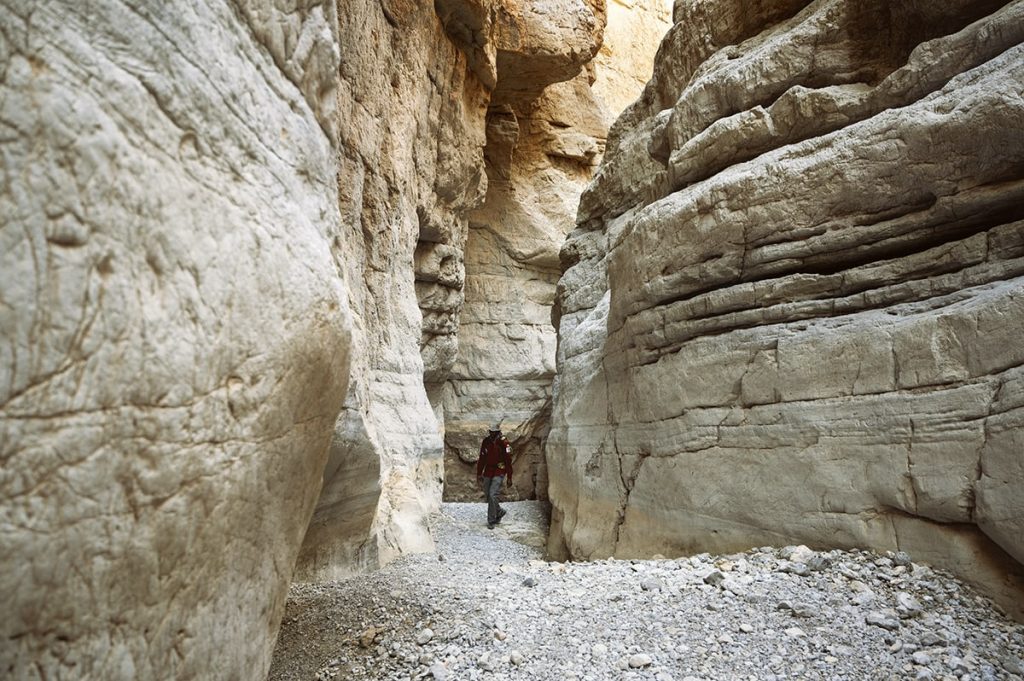 3. Climb up to Al Sanat Village (1.5 KM)
The climb distance from the end of wadi Koob to Al Sanat village is around 1.5 KM. Total distance from the starting point of the hike in wadi Naqab, going through wadi Koob and then up to Al Sanat village is around 7.5 KM. The way down from Al Sanat village is less than one kilometer and brings you back to wadi in front of the UAE flag point.
This part of the hike is not recommended for beginners unless they are being guided, are fit, and not afraid of heights. You will have to climb up the mountain often scrambling through some loose rocks. There is no clear path and only a very few cairns help navigate your way up. Therefore, if you are going on your own, you must be able to trace mountain paths and find safe ways to get around. 
Coming back at where we stopped- once you reach the dead-end water pond, you might wonder, how on earth you are supposed to reach the village. Don't worry, I got you covered.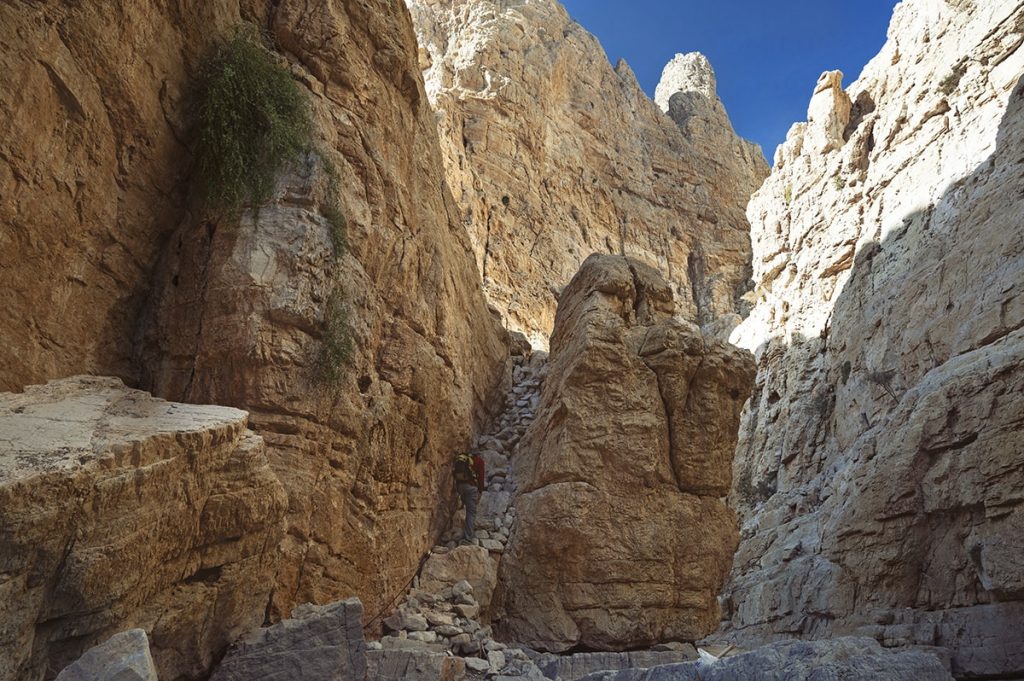 You now have to turn around and go back for a couple of hundred meters until you see a narrow man-made stone staircase and black ropes hanged across the rock on the left-hand side (Google coordinates: 25.722338, 56.144884). Those ropes will assist you to pass the trickier part of the trail which goes all the way up to the mysterious Al Sanat village. You don't have to use the ropes, but at a few points they are a handful and it is safer to hold on to them when trekking around the ledge.
The ledge turns right, continue following the way straight up, and bear in mind that the village is on your right. You will be able to spot some cairns along the way, even a faded donkey trail. The elevation gain here is fast and it will take you around 45 minutes (depending on your speed) to reach the mountain village. Aim for the Google coordinates at 25.719930, 56.143455.
Welcome to the ancient village of Al Samat! Surrounded by jagged Hajar mountain peaks and overlooking the West side of wadi Naqab, Al Samat village is one of the most beautiful mountain villages I have seen in the UAE. It is also a perfect camping spot with spectacular sunset views.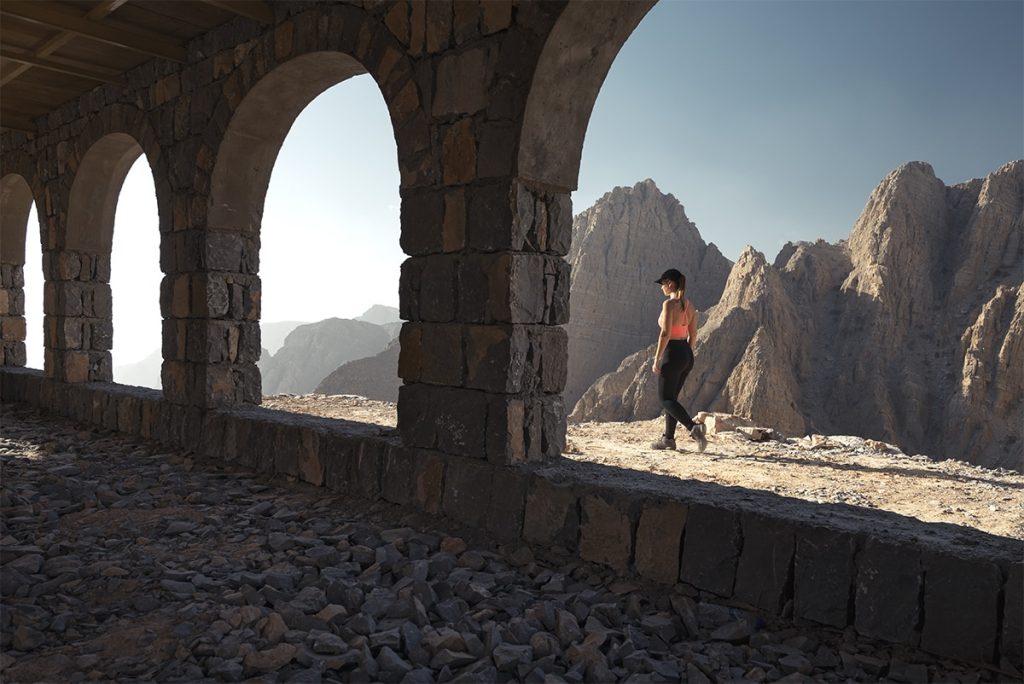 Although there is one recently built house with arches, the rest of the village clearly dates a few hundred years back. The remains of old houses are scattered over the traditional terraces which cover in green grass during the rainy season. Watch out for deep old water well (it's easily noticeable and hard to miss but not covered)!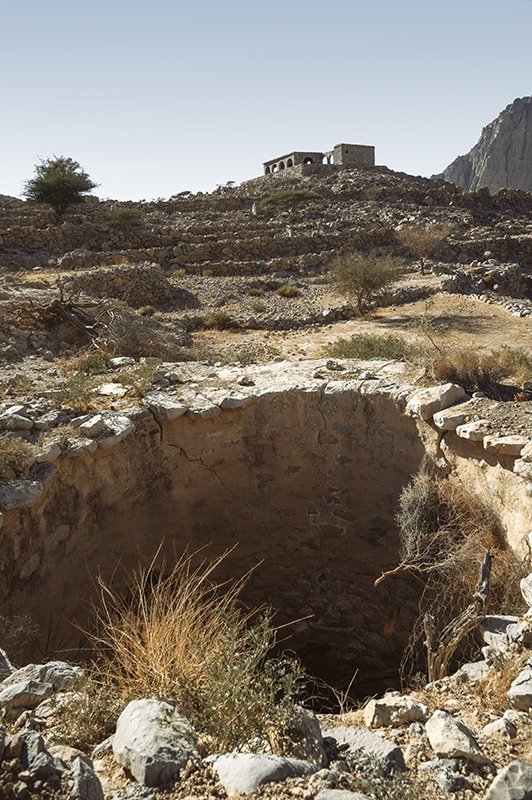 Also, some places looked like graveyards (with stones aligned in an organized manner). Those are another proof of the mountain life that existed back in the old days of the UAE.
We spent some time exploring the village and had a snack while looking at the incredible wadi Naqab panorama. It felt that we are miles away from civilization. As the sun was soon setting down, we had to make our way back to the wadi.
While crossing the village, you will see a ridge with a torn UAE flag in the middle. Aim to reach that ridge- the path down is on the right-hand side of it (Google coordinates: 25.719483, 56.140035).
If you have time and aren't terrified of walking on a high narrow path, you can go up to the old flag- sunset views from the were magical. We caught the last sunrays on the ridge, and had to come down using flashlights. I wouldn't recommend doing that if you never hiked at night before. The path down is a mix of sand and scree and is around 750 meters long. It is not difficult to follow though, as there is a path zigzagging down, but can be tricky at night.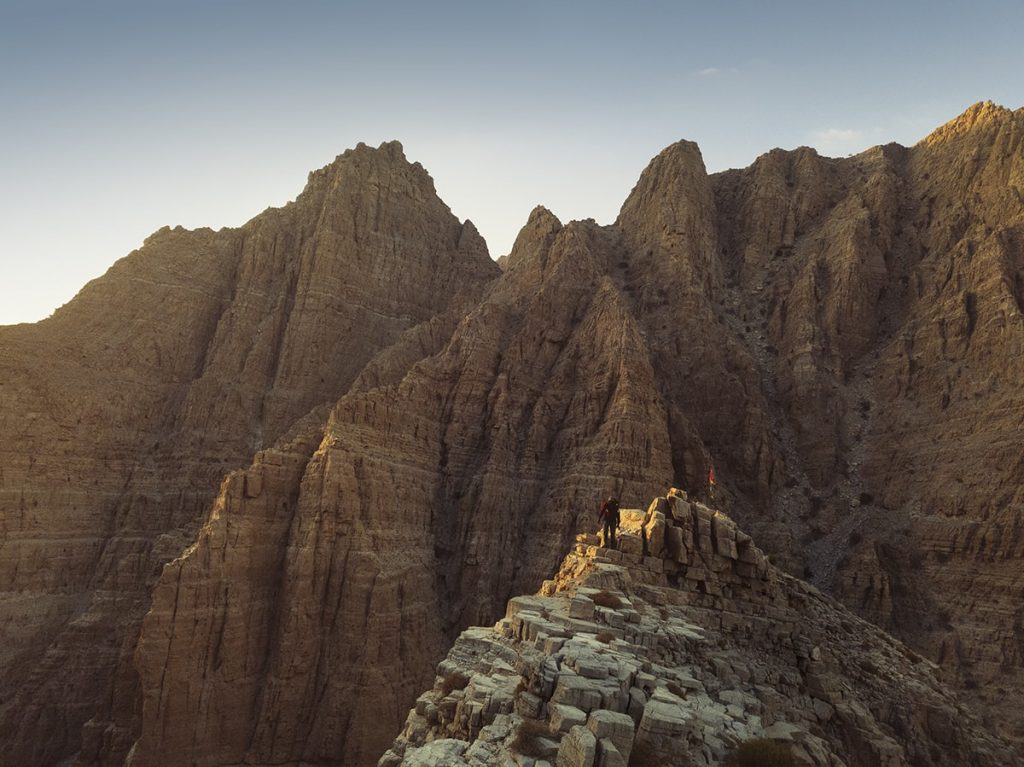 ---
RELATED READS: If you loved this trail and are looking for more hidden gems in the UAE, then Al Hebsi village hike is an absolute must-do. Check my blog post about this beautiful trail in the UAE here.
---
Where to camp at Wadi Naqab trail?
Wadi Naqab offers some great camping spots. This particular trail is no exception. However, the best spot for camping on this route is at the top of the mountain at Al Sanat village (Google coordinates: 25.718927, 56.142316).
 The other option would be the wadi Naqab itself, however, you would have to look for a spot that is convenient for setting up a tent and is not too close to the gravel road. The hiking part of the wadi isn't suitable for camping because of the massive boulders- there is no flat ground to set up your tent. Also, there are snakes in the wadi as well (we saw them once, they most active at night), and, according to local people, even Jinns. Not to spook you out, but I have heard many stories about this mysterious supernatural creature, that loves wadis and valleys and doesn't like to be disturbed. Therefore, I would avoid staying overnight in the wadi, just to be on the safe side.  
How to prepare for the Wadi Naqab hike in the UAE?
The key factors you must always consider when preparing for any hike in the UAE are hot summer temperatures, cold winter nights, possibility of rain, unforgiving rough terrain, and your experience and knowledge about a similar environment.
Taking the above into consideration, make sure you come well prepared. It is a must to wear hiking shoes with a good grip and higher ankle. Also, breathable dry-fit clothing for more comfort and long pants to prevent small scratches are advised. Moreover, leave enough time to complete the route in a daylight. Bring enough water, have a GPS device or an app that helps navigate the trail, and torch lights if it gets dark while still on a hike.
Here is my checklist of what I personally bring to each of my hikes
How much water and food to take for a hike in the UAE?
Plenty of water, no compromising on that. For the hike in wadi Naqab, I would suggest taking at least 4 to 5 liters of liquids if it is a hot day. For example 4 liters of water and 1 liter of hydration drinks.
Make your hike easier and plastic-free and get yourself a water reservoir/bladder. It keeps water cool for a long time and has a readily accessible straw, so you can hydrate while walking. It also keeps water evenly distributed inside the backpack as opposed to bulky plastic bottles. I use a 3LT water reservoir by CamelBak on all of my hikes.
Power snacks and hydration drinks (electrolyte, sports drink, or hydration tablets helps to keep the energy levels up). From my personal experience, the best are protein bars, some salty crackers, dates, nuts, snickers chocolate, bananas, Pocari Sweat, or Gatorade that works wanders to kill the hunger and give yourself an energy boost.
Pro Tip: freeze your Pocari Sweat (or any hydration drink of choice) a night before you go. Add some ice cubes into your water reservoir. This will help to keep the water cooler for an even longer time.
What to wear for the hike?
Hiking shoes with a good grip. It is arguably the most critical part of your hiking attire. The best are mid-ankle boots. It will keep your foot more stable than low-ankle ones and gives more movement flexibility than high-ankle. I have bought a second pair of these Columbia Hiking Shoes that proved themselves on UAE hikes as being comfortable and long-lasting.
Comfortable hiking bag with adjustable straps around the waist and chest. Your shoulders and lower back will get tired from carrying lots of water, snacks, a sweater, a camera, a drone, etc. (that is what I have in my backpack). Therefore, you should have a bag that is designed to adjust to your body and sit properly on your back so the weight load is distributed equally. On one day hikes, I only take a medium-sized backpack that also has a compartment for my water blader separated from the main section. The bag I own is similar to Osprey 22L backpack in size and design.
Hiking clothes with breathable material will make your hike much more enjoyable. All that quick-dry stuff feels much nicer than a regular cotton t-shirt that gets soaked in sweat in no time and stinks like hell. Consider wearing something with longer sleeves for better sun protection. And do yourself a favor- leave jeans for a city walk. Long hiking pants are advisable. Although, I often go wearing gym leggings.
Sunglasses and a cap– there are some shaded areas along the way, but there is a load of sunny ones too. Save yourself from sunstroke by wearing a cap.
SPF 50 sun cream- don't forget your ears- they get burned quite often.
Fleece sweater for winter months as it gets really cold in the evenings. I love my lightweight and super warm Columbia Fleece.
Slippers for after hike– your feet will thank you.
What are other must have items for a safer hike?
Collapsible Trekking Poles are recommended to significantly reduce the load and impact on your hips, knees, and ankles, especially when descending. The best are foldable lightweight (~300-600grams, varies per brand/model) polls that can fit into the hiking bag easily in case you need both of your hands to be free.
Torchlight or a head-light in case you hike into the darkness. Choose a good long-lasting torchlight- it can literally save your life.
Personal first AID kit (Advil, band-aid, antiseptic, hand sanitizer, wet wipes, etc.)
Power bank for your phone
GPS devise or a Wikiloc app where you can find an accurate trail recording which will help you navigate.
Last but not least- let someone from your family or friends know that you are heading out for a hike. Give them the location details. Also, inform them when you are starting the hike and when you expect to return.
PLEASE, RESPECT THE NATURE AND KEEP IT CLEAN!
Are you thrilled about your next hike yet? PIN this post for your future reference. And make sure to subscribe to receive more detailed guides to other fantastic hikes in the UAE!
ENJOY YOUR HIKE!
 Disclosure: Please note that some of the links above may be affiliate links, and at no additional cost to you, I earn a commission if you make a purchase. I recommend only products and companies I use and the income goes to keeping this site growing.