Planning a road trip in Italy but not sure where to go? Here I share 15 most beautiful road trip in Italy routes that you can pick from. Duration, driving distance, the best time to go, what to see on the way, and where to stay as well as car rental in Italy tips are also included.
It is not a secret that everyone falls for Italy, making it one of the most visited destinations in Europe. The boot-shaped country is a perfect place to embark on a road trip. Beautiful from head to toe, Italy will seduce you with untamed landscapes, fairy-tale small towns, azure coastlines, architectural wonders, and, of course, food impossible to resist.
I have visited Italy countless times and my love for this country only grows stronger. In my experience, the best way to explore Italy is by going on a road trip. Once you hire a car in Italy, you will be able to travel at your own pace and explore beyond the famous destinations (such as Rome, Florence, or Venice).
Hence, in this post, I share not only classic routes (Amalfi Coast or Tuscany road trip) but also less-known places in Italy to visit in a rental car.  From the stunning coastlines of Sicily to the misty mountain peaks of the Dolomites, to storybook medieval small towns and colorful coastal villages, pick the Italian road trip affair your heart longs for the most.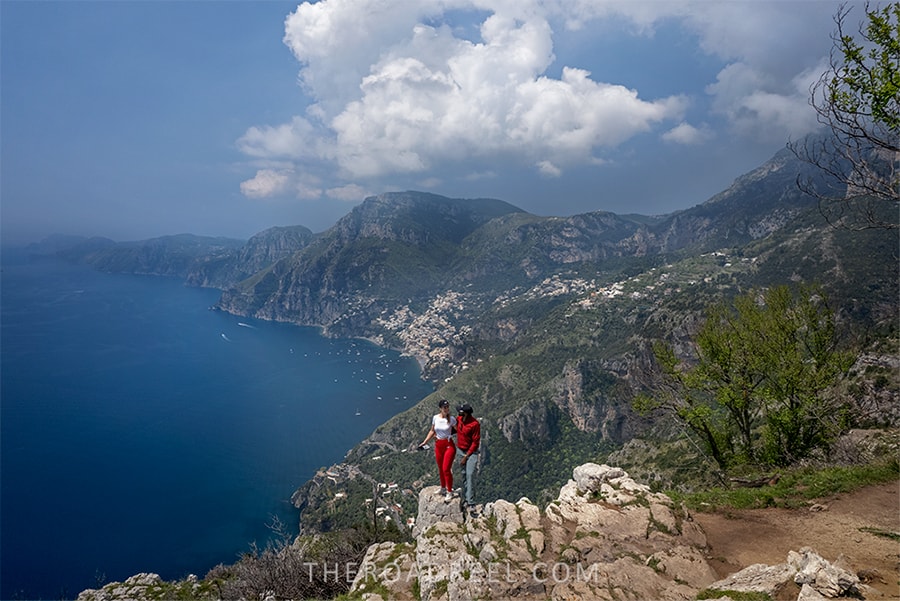 Disclosure: This post contains affiliate links, which means that I may make a small commission at no extra cost for you if you make a purchase by clicking a link. It helps to keep my blog growing and filling up with detailed honest travel advice for you. 
Renting a car in Italy for a road trip
The first step before embarking on a romantic road trip in Italy is renting a reliable and easy-to-drive car. I personally use the DiscoverCars search aggregator to find the best deal for car rental in Italy.
DiscoverCars offers car hire across international car rental companies at very competitive rates compared to many other car search sites online. You can filter vehicles by size, price, transmission type, etc.
A small deposit is always required to reserve a car. However, 48 hours free cancelation policy applies for the majority of the bookings. If you have to cancel, the deposit will be returned as a credit which you can use for your future booking. You can check the full terms & conditions HERE.
Documents you will need for hiring a car in Italy
Valid driving license.
International Driving Permit (IDP) if your driving license is not from the European Union or the UK. It also must be translated into English if it is not in English. Note that IDP is a supporting document and must be accompanied by an original driving license. More info here about IDP for US-Americans.
A credit card in the driver's name with enough balance to block a security deposit (it will be returned upon returning the rental car).
Quick tips for renting a car in Italy and driving rules
The most convenient and often cheapest places to pick up your rental car from are the largest international airports. Whether you land in Rome, Naples, Venice, Palermo, or any other bigger airport, that is where you are likely to get the best deals.
Most of the rental cars in Italy are in manual transmission and are cheaper than automatic ones. If you only drive the latter, filter automatic cars before booking. If the cost difference is not huge, automatic cars are much easier to use, and I would recommend going for automatic mode.
Choose the smallest car possible that will fit all passengers and the luggage. Roads in Italian villages are narrow, and so are the parking spaces. Thus, having a small vehicle is a big advantage and will make driving in Italy much easier.
Be aware of ZTL (Zona Traffico Limitato) zones- those are historic town areas where driving is only allowed for residents. There are cameras that catch violators and fines are quite steep (I personally got one and had to pay 200 EUR in fines for entering (unknowingly) a ZTL in Orvieto). The fine came a year later after my trip (this is pretty normal in Italy).
Pick up and return the car to the same place. That being said, the majority of the suggested Italy road trip routes in this post are designed as a loop. Returning the car to a different location will add transfer costs which often double the total rental price.
Some of the roads on the suggested road trips in Italy have tolls, however, they are not that costly (except the Dolomites), as in, for example, Portugal, or Greece. Make sure to always have some cash for tolls in case cards are not accepted.
If you are traveling off-season in Italy (talking November, December, January, February, and March), DiscoverCars offers some dirt cheap deals for as low as 5-7 euros per day for a one-week car rental!
If you are planning your Italy road trip in popular months like June, July, and August, make sure to reserve a car several months ahead to get the best rates.
What is driving in Italy like?
Don't get intimidated by horror stories about driving in Italy- it is much easier than many people like to paint it. Yes, cities like Naples, Rome, or Palermo are hectic, but routes in this post are focusing on the countryside and coastal roads which are much quieter than city streets.   
Even driving in Sicily is pretty smooth once you are out of busy towns of Palermo or Catania.
The only route suggested in this post that I consider challenging is Amalfi Coast because of narrow windy roads and lots of traffic during the high season and peak hours. If you are a novice driver, you might find mountain roads in Northern Italy a bit of a task as well. Nonetheless, go slowly and enjoy the romantic scenery of Italy with your loved one.
15 Best Road Trips in Italy: from North to South of Italy by Road
1. Along the Tyrrhenian Sea- Naples to Calabria road trip
Distance and driving time: 980 KM, 12.5 HRS.
Pick up your rental car in Italy at Naples International Airport.
How many days? 10-12 days.
Highlights: authentic off-the-beaten-path Italy, romantic coastal villages, white sand beaches with impossibly blue waters, nature escape, vibrant city of Naples, and the best pizza in the world.
Best time to go: the end of April, May-June, or September for great weather and fewer people.
This road trip in Italy takes you from Naples in Campania, through the coastal side of Basilicata, all the way south to the tip of the boot in the Calabria region.
Start your South Italy road trip in, at first glance, not so romantic rough around the edges and chaotic Naples. Yet, the charms of Naples lie in its rigid personality. Give it a day or two, and your heart will eventually melt like mozzarella cheese on the best Naples pizza. This culturally rich town is well worth exploring before you and your loved one embark on a road trip south to wonderfully authentic and often overlooked Calabria, Italy.
ALSO READ: 17 Must-Know Tips for Renting a Car in Naples and Driving in South Italy
This less-known road trip in Italy route further follows the coastal road along the Tyrrhenian Sea with stops at several small quaint coastal villages. The route offers stops at wonderful wild beaches like Capo Vaticano and the spectacular cove of Grotta dell'Arcomagno.
The first stop on the Tyrrhenian coast is the colorful hilltop village of Maratea known as the Pearl of Tyrrhenian. It is the only town in the Basilicata region that has access to the coast.  Impossible to miss is a giant marble statue of Christ situated at the highest point overlooking the village. Maratea is relatively unknown to foreign visitors and seems to stay suspended in time. It is worth a night or two to relax at its rocky beaches, or get active hiking the surrounding hills.
Just a short drive from Maratea, Rivello is a byzantine town scenically set on the verdant hills, and worth the visit for the views alone.
Venturing south you are bound to swim in some of the most beautiful azure waters in the region. A unique Tropea is the Pearl of Calabria. It not only offers some of the best beaches in the area but it will also awe you with the view of pastel-colored houses "growing" off the cliffs.
ALSO READ: The best things to do in Tropea, Italy
Meanwhile, Scilla, the southernmost and most charming fishing village on this road trip, is known for its velvety coast and the houses built on the shores of the sea. Its historic district of Chianella is a treat to wander around and experience Italy as authentic as it gets.
ALSO READ: A Guide to Visiting Scilla & Chianalea- the most beautiful seaside towns in Calabria, Italy.
Don't miss a brief stop in Pizzo- another nice coastal town close to Tropea. Make sure to try tartufo– an ice cream with chocolate filling- it is a local specialty not to be missed.
Travel Tip: for this road trip, I recommend picking up your Italy rental car once you are ready to leave Naples, as driving in this city and parking situation is a nightmare. The airport car rentals are conveniently located just 15 minutes away by public bus from central Garibaldi station.
ALSO READ: How to spend 1 day in Naples: an easy Naples itinerary.
2. Matera to Castelmezzano – hidden gems of Basilicata road trip
Route: Matera-Pisticci-Rotondella-Craco-Castelmezzano-Pietrapertosa-Matera.
Distance and driving time: 305 KM, 5 HRS.
How many days? 4-5 days.
Where to stay: base towns Matera and Castelmezzano or Pietrapertosa.
Highlights: cave towns, ghost towns, incredibly beautiful mountain villages, hiking Dolomiti Lucane mountains, off-the-beaten-path Italy.
Best time to go: April-June, September-November.
One of the most beautiful road trips on this list winds through the often-overlooked Basilicata region. The only famous stop here is the cave town of Matera (thanks to social media).
To embark on this road trip in central-south Italy you will have to pick up your rental car either in Naples or Bari international airports- both are located almost the same distance from the start of the route. If you arrive from Bari, then start this road trip route from Matera. If you are arriving from Naples, then start in Castelmezzano.
This Basilicata road trip focuses on unique mountain towns and experiencing the local south Italian countryside lifestyle.
First on the list is the impressive brown-hued cave town of Matera, with Sassi di Matera being the main attraction and a UNESCO heritage site. Your best bet is to use Matera as a base and do a day trip to picture-perfect Pisticci and the nearby ghost town of Craco. You can also visit Rotondella- a weirdly shaped hilltop town that reminds me of Gangi in Sicily. All 3 towns can be visited in a long full day trip from Matera.
Following is the best part of this road trip- the otherworldly Castelmezzano and its twin town Pietrapertosa. Located in the Dolomiti Lucane mountains, these towns are like nothing you have seen before (refer to the images above). Stay in either of them for a couple of nights, explore the tiny streets, admire panoramic views, go hiking, and take a romantic zip line ride connecting two mountain towns (two people can fly together).
Read more about visiting Castelmezzano and Pietrapertosa in my travel guide.
3. From Sorrento to Salerno – Amalfi Coast road trip in Italy
Route: Salerno-Vietri Sul Mare-Erchie-Atrani-Rovelo-Amalfi-Fiordo di Furore-Positano-Sorrento.
Distance and driving time: 57 KM, 2 HRS 7MIN.
Pick up your rental car in Italy at Naples International Airport.
How many days? 4-5 days.
Where to stay: base towns Salerno, Atrani, alternative Agerola (located higher in the hills), Sorrento.
Highlights: beaches, beautiful coastal towns, hiking, and boat rides.
Best time to go: April, May, mid-September-October, for perfect weather and fewer crowds, winter (off-season) with a minimum number of tourists.
The Amalfi Coast road trip will take you to some of the most captivating and romantic places in Italy. Although it is a famous romantic destination in Italy, "La Dolce Vita" of the Amalfi Coast is undeniable. The landscapes are of unparalleled beauty with movie-like scenery at every turn. 
Be warned though that Amalfi Coast drive via a narrow windy road sandwiched between the cliffs and the sea is not for the faint-hearted. However, it is Italy's most iconic road trip worth taking at least once in a lifetime.
The distance from Salerno in the east to Sorrento in the west of Amalfi Coast looks deceivingly short- just below 60 kilometers. Hence, it is a slow yet very scenic drive (ideal for a romantic ride in a vintage convertible car).
Start your romantic Amalfi Coast road trip at the easternmost Salerno which serves as a great base for one night before embarking early to nearby Vietri Sul Mare, known for colorful ceramics, and one of the less touristy towns on this list.
Moving forward drive to Amalfi, the coast's main hub. On the way, there are a few small lesser-known coastal villages like Cetara and Erchie you may want to stop by.
Pick your next accommodation in a more picturesque and much less touristy, Atrani town (just 10 minute's walk from Amalfi town). Atrani is a good base for a couple of nights to explore close by mountain town of Ravello, visit Fiordo di Furore, or go on a hike to the Sentiero degli Dei (The Path of Gods) trail.
The next is Positano-the star and the postcard child of Amalfi Coast. The view of sherbet-colored cliffside homes is what attracts an unbearable number of tourists. That being said, Positano is best to be observed from the boat (also you get a better view of it) or admired from the top of the hill while hiking.
The final stop is Sorrento– the town of sirens and unbeatable sunsets. Sorrento is a lively resort town with a beautiful old town. It is also a great jump-off point for visiting the famous island of Capri (although I would recommend going to a less touristy candy-colored Procida instead).
Travel tip: Amalfi Coast together with Venice is possibly THE MOST popular romantic destination in Italy on this road trip list and both barely see an off-season time. To enjoy this beautiful romantic place in Italy with fewer crowds, choose to come in April or October. The weather will be pleasant for swimming and hiking. If you do not care about suntanning, you might even consider coming in March or November.
Accommodation tip: Amalfi is extremely pricey. Booking in advance is necessary. For cheaper alternatives in Amalfi Cost, you can pick Agerola– a village situated in the hills. It is located midway on the Amalfi coast and it takes less than 20 minutes to drive down. Also, the trailhead of The Path of Gods- one of the best things to do in Amalfi- will be within walking distance.
Don't miss the boat: one of the most romantic things on this road trip is, ironically, to park your car and take a boat ride along the cliffs of the Amalfi Coast.
Read my 2 Day Amalfi Coast itinerary.
4. Palermo to Trapani- west coast of Sicily road trip
Route: Palermo-Cefalù-Castellammare del Golfo-Lo-Zingaro Nature Reserve-Erice-Trapani with Favignana Islands
Distance and driving time: 355 KM, 5 HRS 30 MIN.
How many days? 8-10 days.
Where to stay: base towns Palermo, Cefalù, Castellammare del Golfo, Trapani.
Highlights: unspoiled beaches, street food, hiking coastal trails, medieval hilltop towns, coastal villages, islands, and Sicilian culture.
Best time to go: mid-April to May, and September to mid-October.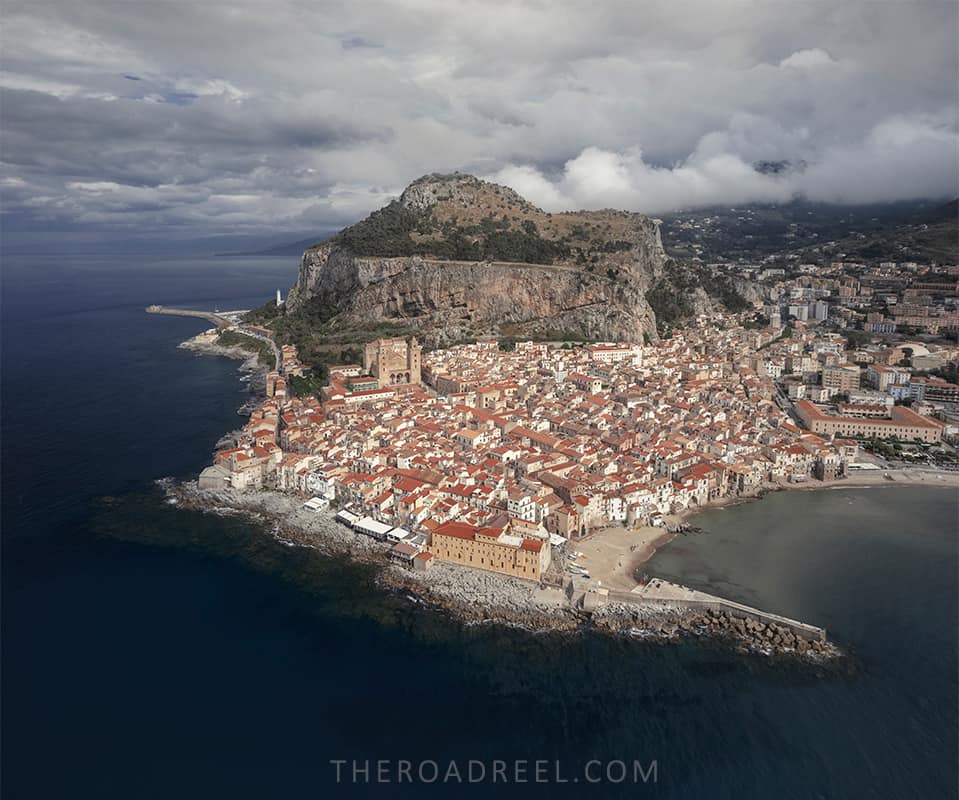 Sicily is one of the most charming and unique places in Italy to visit on a road trip. Although many myths surround driving in Sicily, I found road-tripping around the island one of the most rewarding experiences.
On this Sicily road trip, you will explore the West coast of the island. It has the best beaches with the most spectacular scenery (I have been all around Sicily, thus I can confirm it to be true).
Start your visit in charismatic Palermo, the capital of Sicily, famous for unbeatable street food (don't miss arancini and cannoli), chaotic and colorful Ballaro market, spectacular cathedrals, and pallazi. Just like in Naples, you do not need a car to explore Palermo, which is very walkable (base yourself in the city center).
Start your road trip after spending at least 2 nights in Palermo. Before heading west side, pay a visit to Cefalù, located on the east coast of Palermo.  Cefalù is a historic port town and postcard child of Sicily. For less touristy beach towns on the way to Cefalù or back, stop in Aspra, and Santa Flavia.
Continuing further, the best is yet to come. Book a place to stay in Castellammare del Golfo– a local beautiful harbor town. From here you can easily drive to Lo Zingaro Nature Reserve– an unmissable piece of paradise in Sicily. Pull out your hiking shoes, sunscreen, and through a towel in your backpack. In Lo Zingaro you will have a wonderful day in the wilderness hiking along one of the most beautiful coasts and stopping at pretty pebbly coves along the way.
The final base of this road trip is Trapani– the west port town in Sicily. From here you can visit the medieval fairy-tale-like hilltop town of Erice and take a day trip to Favignana island. Monte Cofano Natural Reserve and a lively San Vito Lo Capo located northeast of Trapani make a great day trip from Trapani as well.
5. Sicily southeast- exploring baroque gems and conquering volcano
Route: Catania-Syracuse-Ortygia-Noto-Modica-Ragusa- Caltagirone-Piazza Armerina-Mount Etna-Taormina-Catania.
Distance and driving time: 346 KM, 5 HRS 30 MIN.
Pick up your rental car in Sicily at Catania International Airport.
Duration: 7-10 days.
Where to stay: base towns Catania, Siracuse, Noto, Ragusa, Piazza Armerina.
Highlights: culture, street food, baroque architecture, hiking volcano, charming mountain towns.
Best time to go: April, May, late September, or October.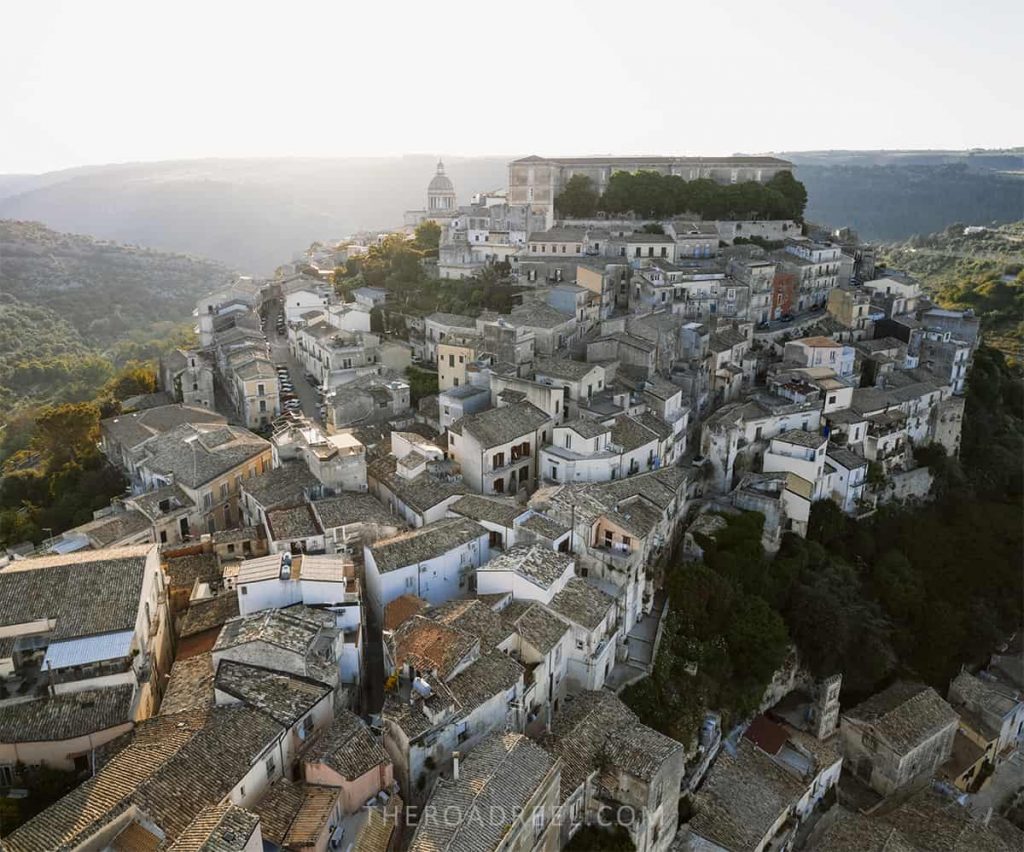 If architectural wonders are your cup of tea, the East of Sicily is abundant in Baroque masterpieces. Start your journey in Catania, the second largest town in Sicily. The city of lava is rival to Palermo for its renowned street food. Meanwhile, the morning fish market is not so romantic but one of the best local experiences in town, especially for street photography.
Just as in Palermo, driving in Catania is not the best idea, thus if you are planning to visit the city, it is better to pick up your rental car a day or two later once you are ready to hit the road.
Driving southeast of Catania, your next stop is Syracuse with adjacent Ortigia (Ortygia) island- a gem of Sicily. The architecture in Ortigia is exemplary and dates back to Greek times. Surrounded by the sparkling Ionian sea, Ortigia is one of the most romantic places in Sicily.
Meanwhile, some of the most culturally rich experiences await moving inland to explore Baroque wanders in Val di Noto- a complex of UNESCO-protected towns. Unmissable are Noto and Ragusa, the latter being my absolute favorite of all of the towns on this East Sicily road trip list. You can base yourself in Ragusa for 2-3 nights and visit Noto and Modica as day trips.
Heading up North, stop in Caltagirone-the town of ceramics, famous for its colorful- tiled staircase. Meanwhile, Piazza Armerina is a pretty mountain town, known for Villa Romana del Casale holding some of the best preserved and largest collections of Roman mosaics in the World.
If you are adventurous souls, then the mighty volcano of Etna will be the highlight of this trip. Visiting one usually requires joining a tour. Navigating Europe's most active volcano independently is only recommended to expert hikers.
If you don't mind touristy places, I must mention Taormina– the most famous hilltop town and resort in Sicily. We skipped it because it is very touristy (think Positano on Amalfi Coast). We prioritize places off-the-beaten path. Yet, Taormina is considered as one of the most beautiful must-visit places in East Sicily.
6. Puglia & Apulia- the heel of the boot
Route: Bari-Poligano a Mare- Monopoli-Ostuni- Martina Franca-Locorotondo-Alberobello-Parco Nationale del Gargano-Vieste-Bari
Distance and driving time: 557 KM, 8 HRS.
Pick up your rental car in Italy at Bari International Airport.
How many days? 7-10 days.
Where to stay: base towns Monopoli, Ostuni, Martina Franca for budget option close to Alberobello, Vieste.
Highlights: beaches, charming white-washed villages, local food, Trulli stone houses, and south Italy culture.
Best time to go: mid-April to June, and September to mid-October.
On this road trip in Italy, you will be exploring the heel of the boot- the Puglia region and a slice of less-known but very romantic Apulia. Chalky houses and crystal-clear Adriatic Sea water, olive trees, delicious local food, and characteristic houses of trulli are some of the gems you will find in this rustic corner of South Italy.
Pick up your car in Bari, the biggest town in Puglia, and drive along the coast to your base in Monopoli– an atmospheric medieval harbor town by the Adriatic Sea. Settle down for a couple of knights to explore the coastal area. One of the early mornings, go to Poligano a Mare– a scenic town set on limestone cliffs.
Poligano a Mare is one of the two most famous destinations on this road trip. That being said, the most touristy. You might recognize Poligano a Mare from the picture of the busy pebble beach framed by the Ponte Borbonico di Lama Monachile bridge.
The next stop is the unmissable white city of Ostuni surrounded by a sea of olive groves. This picturesque town is planned like a labyrinth, making finding your way around a fun thing to do and also worth spending a night in. Driving up north into Valle d'Itria, you can choose Martina Franca as a base from where you can explore Alberobello– a town famous for cone-shaped trulli houses.
Tip: that insta-famous Alberobello is actually tiny and you better come extra early to visit without the crowds.
Do not miss Locorotondo-one of the prettiest towns on this Italy road trip and in Valle d'Itria. As the name implies it is a crazy planning of white-washed houses stuck together in a circular manner. You can see it from the areal perspective.
At this point, if you have more time for your romantic road trip in Italy, I suggest heading to the less-known Apulia region, situated north of Puglia. Often overlooked by an ordinary visitor but mind-blowingly beautiful Gargano National Park offers an array of things to do. Base yourself in the scenic and romantic fishing town of Vieste. From here you can visit the Pizzomunno limestone monolith, and the broad Spiaggia di San Lorenzo beach -some of the most impressive and definitive natural landmarks in the Apulia region.
7. Road trip around Lake Garda
Route: Sirmione-Malcesine & Mount Baldo-Riva del Garda-Tenno&Lake Tenno-Limone sul Garda-Gargnano-Salo-Sirmione.
Distance and driving time: 150 KM, 3 HRS 20 MIN.
How many days? 5-7 days.
Where to stay: suggested base towns Malcesine, Limone sul Garda, and Salò.
Highlights: beautiful lake towns, incredible mountainous scenery, water activities, culture, relaxation, cycling, and boat rides.
Best time to go: April-May, September-October.
Italy's largest Lake Garda is a perfect place for a romantic road trip in Northern Italy. Straddling Veneto, Trentino, and Lombardy regions, Lake Garda will offer you an unforgettable drive along the scenic lakeside and through the rock-carved tunnels with plenty of stops in manicured waterfront towns. Visiting Lake Garda is also a more price-friendly but no less beautiful alternative to the fancier counterpart Lake Como. In a way, Lake Garda's scenery reminds me of Boka Bay in Montenegro.
You can pick up your rental car at any of the bigger airports, depending on where you are landing in Italy. Milan and Bergamo's airports are great for cheaper car rental deals, meanwhile, the closest place to Lake Garda is Verona International airport, but car rent there is more expensive.
On your route around Lake Garda, you will visit Sirmione– a classic and the most touristic stop on this itinerary. Jumping into the boat and seeing the town from the water perspective is a great idea.
Moving east-north of the lake, a great base for a couple of days is the picturesque town of Malcesine. Built at a higher elevation, this pretty town is characterized by a maze of medieval alleyways and is different from the rest of the towns on this list. The most prominent landmarks are the castle of Malcesine and Mount Baldo. To visit the mountain Baldo, you can either get active and hike or take a cable car to the top.
Riva del Garda– an unofficial capital of Lake Garda is a very popular water sports destination. The favorable windy weather conditions make it a perfect spot for windsurfing. The panoramic views of the hilly landscape are no less fantastic.
Once on the northern side of Lake Garda, why not take a side trip to nearby Lake Tenno? It is an off-the-beaten-path detour with the reward of beautiful lake scenery.
Limone sul Garda or simply Limone is a town proud of its lemon produce and is possibly one of the most scenic waterfront villages on Lake Garda. You can either choose to stay a night there or visit on a boat trip from Malcesine.
Circumventing further around Lake Garda, you will come across a smaller and less touristy but absolutely charming  Gargnano lakeside town.
Finish off your loop around Lake Garda in Salò- one of the bigger towns known for incredibly delicious cuisine. Salò is more peaceful and less touristy than a well-known Sirimone, therefore might be a great base for a night or two on the southern banks of Lake Garda.
Travel tip: windy 2 lanes only road around Lake Garda might get congested during peak times and summer. Allow yourself plenty of time to travel slowly and consider having several bases during your trip instead of trying to visit all the towns as day trips.
8. Italian Riviera- Portofino to La Spezia- one of the most romantic road trips in Italy
Route: Genoa-Camogli-Santa Margherita Ligure-Portofino-Cinque Terre—La Spezia-Portovenere-Lerici.
Distance and driving time: 165 KM, 3 HRS 40 MIN.
Pick up your rental car in Italy at Genoa.
How many days? 5-7 days.
Where to stay: base town Genoa, Camogli or Santa Margherita Ligure, La Spezia.
Highlights: colorful coastal towns of Liguria, sailing, hiking between Italian riviera villages, history, culture, and beaches.
Best time to go: mid-April, May, September, or October.
One of the most romantic destinations in Italy, rivaling the famous Amalfi Coast is Italian Riviera located in the Liguria region. For the Italian Riviera road trip, you will pick up your rental car in Genoa, and drive down south along the Ligurian Sea coast. I suggest a couple of base towns to explore the region – Camogli, Rapollo, or Santa Margherita Ligure on the north side of the Riviera and La Spezia on the south side.
On this itinerary, the rich and famous playground of Portofino and the magnificent 5 coastal villages of Cinque Terre do not need an introduction. Those are the most touristy places in the Liguria region. Nonetheless, they are so pretty it is hard to ignore their charms. That's why they top the most romantic places in Italy charts. Nonetheless, you will also have an opportunity to visit less-known yet very picturesque places on the Ligurian coast.
Start your trip in the multi-layered port town of Genoa. Untouched by mass tourism this a unique historical town to explore in a day or two if you have time. Otherwise, pick up your rental car and head south to Camogli– a beautiful pastel-colored seaside town.
A close by Santa Margherita Ligure is an enchanted waterfront town where you can spot lots of "trompe l'oeil" (a highly realistic optical illusion of three-dimensional space and objects on a two-dimensional surface).
Tip: to visit a nearby luxurious Portofino take a long 1-hour walk along the stunning coast. Cars are not allowed to enter the center of Portofino, there is no train, and buses are always packed. If you do not want to return the same way, you can take a ferry back from Portofino to Margherita Ligure.
The next stop on your romantic road trip in Italy will be in La Spezia– a base jump-off town to visit Cinque Terre towns ( Riomaggiore, Manarola, Corniglia, Vernazza, and Monterosso). It is not wise to try driving between 5 famous villages as parking is very limited. Thus, leave your car in La Spezia and take regional trains to those towns.
The most rewarding way to experience the beauty of Cinque Terre is to go hiking a well-marked trail between villages. Dedicate a full day with stops in each of the seaside towns. If you get tired, you can always jump on the train in any of the towns.
Close to La Spezia, another charming port town is Portovenere with its imposing castle. It makes a great half-day trip. If you want to get an even more off-the-beaten-path in Liguria, head to Lerici. Due to its beautiful bay, Lerici is also called a Poets Gulf and is a beloved place by painters.
9. Tuscany loop – Florence to Siena
Route: Florence- San Gimignano-Siena- Val d'Orcia-Montepulciano- Radda in Chianti- Panzano in Chianti- Florence.
Distance and driving time: 312 KM, 6 HRS.
Pick up your rental car in Italy at Florence International Airport.
How many days? 6-8 days.
Where to stay: base towns Florence, Siena, Montepulciano, and Panzano in Chianti.
Highlights: Tuscany landscapes of rolling hills, vineyards, cypress grooves, medieval towns, Renaissance art, and local food & culture.
Best time to go: April-May, September-October.
The cinematic Tuscany region is characterized by green rolling hills, cypress trees perfectly lining the dusty roads, mysterious medieval towns, and the beating heart of Renaissance –Florence. What can be more romantic than picking up a convertible and setting off on a road trip through the Tuscan countryside?
Tuscany is compact and easy to navigate, which makes it one of the most popular road trips in Central Italy.
Start your romantic vacation in Florence– the birthplace of Renaissance art. Spend a day or two soaking up all the magnificent artistic things. Then pick up your rental car (you won't need it while in Florence), and head south to the medieval town of San Gimignano.
Famous for its well-preserved medieval tower houses, and thus referred to as a City of Fine Towers, and even "a Manhattan of the Middle Ages", San Gimignano will take you back in time. The town view from the road with dozens of towers peaking is also impressive, especially at sunset and dusk. Although it gets quite busy during the day, San Gimignano streets are empty at dusk and are the quietest at dawn, making them perfect times to explore.
Only an hour away from San Gimignano, you will be wandering the maze of steep medieval streets and admiring one of the most beautiful plazas in Tuscany in the town of Siena.
As you may have noticed, I haven't included Pisa in this itinerary, which I believe is heavily overrated. I still remember my Italian friends telling me about Siena and how it is much more exciting to visit than Pisa. Indeed, I consider Siena one of the most beautiful towns in all of Italy I have ever visited.
Heading south of Siena you will be driving through Val d'Orcia- the most iconic valley offering romantic scenery of Tuscany. Spend a night in Montepulciano– a stunning medieval town perched atop the hill. Finish off your road trip by heading back north following the roads winding through picturesque Val in Chianti valley all the way to Florence. Two stops along this way are Radda in Chianti are Panzzano in Chianti medieval towns. You can also detour to one of the local wineries for a wine-tasting experience in the area.
Tip: when you set your Google Maps departing from Florence, make sure to choose "avoid highways" so that navigation takes you through the beautiful countryside instead.
10. Umbria road trip- the green heart of Italy
Route: Perugia-Gubbio-Assisi&Spello-Bevagna & Montefalco-Todi-Orvieto-Civita di Bagno Regio.
Distance and driving time: 220 KM, 4 HRS.
Pick up your rental car in Italy at Rome Fiumicino International Airport.
How many days? 7-9 days.
Highlights: authentic Umbria region for Italy off-the-beaten path, medieval towns, green rolling hills, charming historical buildings, Renaissance architecture, local food, and culture.
Best time to go: April, May, September, or October.
This itinerary in Italy follows the roads of Umbria. The green heart of Italy, and one of the most untouched regions, is often overlooked in favor of the more famous Tuscany. Being less visited, but just as beautiful and romantic as Tuscany, Umbria is a perfect region in Italy to experience the local lifestyle without crowds of tourists.
Pick your rental car in Rome Fiumicino Airport and head to Perugia– the capital of Umbria. Note that roads in Umbria are less well maintained than in Tuscany, thus the drive between towns can be slower at times.
Capital Perugia is a wonderful ancient city situated on a hill and characterizes by many steep staircases.
Gubbio is a trapped-in-time stone town that appears to be carved into the mountain. Spend a day in Gubbio and then continue your road trip to Assisi– a UNESCO-protected mountain town and possibly the most famous one in this itinerary.
Just 15 minutes away from Assisi, Spello is a charming village characterized by pink limestone buildings, terracotta rooftops, and flowers at every doorstep and balcony. Spello has been selected as one of the most beautiful Italian villages (Borghi piu Belli del'Italia).
Next on the list are Bevagna and Montefanco medieval towns which can be visited in one day. Montefanco is a walled city also called the balcony of Umbria due to its position high atop the hill and boasting splendid vistas over the Clitumnus Valley.
Continuing southwest of Umbria, the pretty town of Todi can serve as a great midway stop and a base for one night.
The best stops on this Umbria itinerary are left for the last- Orvieto and Civita di Bagnoregio. If you have less time to spare in Umbria, those towns should be at the top of the list. Orvieto is known for its breathtaking and one of the most beautiful in the world gothic cathedral. The first Etruscan town in Italy, Orvieto is over 3000 old. It is a marvelous place to wander around and admire its flower-filled ancient streets and noble palazzi.
Base yourself in Orvieto or around in the countryside not far from the town.
As a day trip from Orvieto, visit the mysterious and fascinating town of Civita di Bagnoregio, known as "a dying town". Sitting atop steep tufa rock in a vast canyon, Civita seems to be suspended in the air. The town is accessible through a pedestrian bridge rising steeply to connect to the city walls.
Tip: be mindful of ZTL zones when in Orvieto, I entered the old town as I was not aware of the ZTL many years ago, and I did get a 200 euro fine (after one year of my trip).
11. Madonie mountains Sicily
Route: Cefalù-Castelbuono- Gangi-Sperlinga-Agira-Gagliano Castelferrato-Petralia Soprana &Petralia Sottana.
Distance and driving time: 200 KM, 4 HRS 40 MIN.
Pick up your rental car in Sicily at Palermo International airport or Catania.
Recommended number of days: 5 days.
Highlights: medieval Madonie mountain villages, hiking, nature, relaxation, local food and traditional Sicilian culture, authentic Sicily, charming seaside town of Cefalù.
Best time to go: April, May, June, September, or October.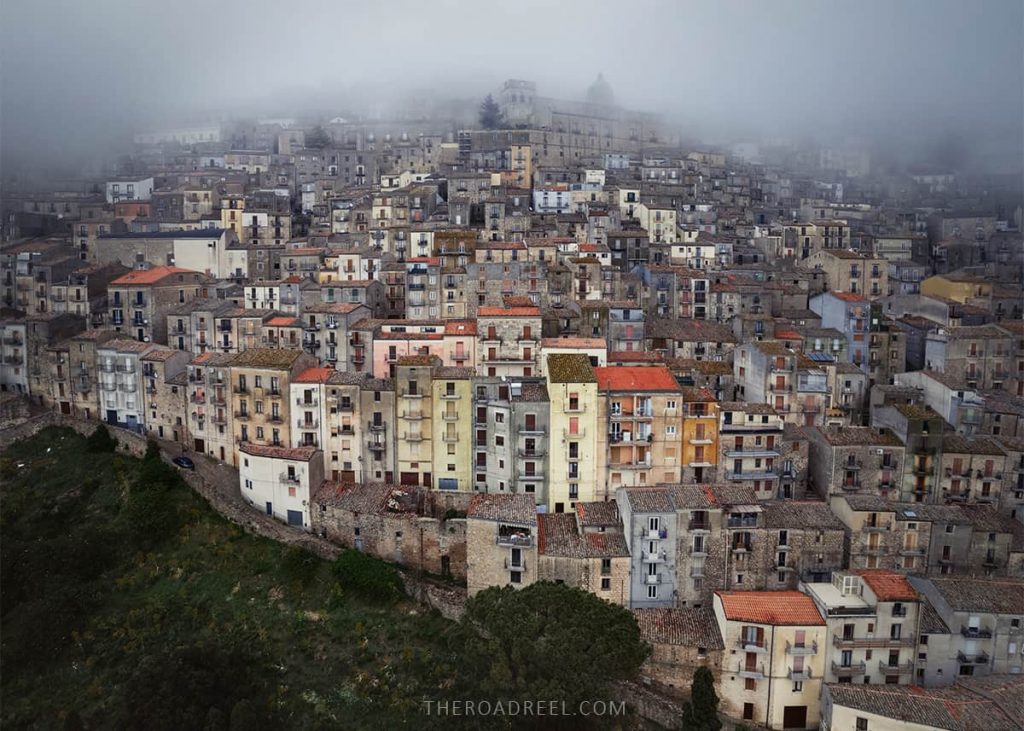 If remote mountains are a definition of romance to you, then the hinterlands of Sicily is where you should go on a road trip next. Madonie mountains in Sicily offer a secluded, authentic, and romantic escape into nature and back in time. A number of medieval Madonie mountain villages suspended in time make it for a perfect road trip. Hikes are also there if you crave to stretch your legs from the drive.
Pick up your rental car in Palermo, and before heading to the hinterlands, stop in Cefalù. Cefalù, mentioned in the West Coast Sicily itinerary, is one of the most well-known scenic old harbor towns in Sicily and is well worth a stop. It might get quite touristy though but you can't blame it- it is just so romantic and a one-of-a-kind seaside town in Sicily.
The remaining of this road trip is focused on visiting authentic Madonie mountain villages. I recommend Gangi town as a base. Gangi is one of the most mysterious mountain towns in Sicily, famed for the 1 euro houses. It is scenically perched on a cone-shaped hill with numerous 2-story stone houses glued to each other like in a lego game. From Gangi, you can take a day trip to the sister towns of Petralia Soprana and Petralia Sottana. Next day, drive to Sperlinga– a cave town that is a very different and unique ages-old settlement.
The furthest town on this list is my discovery I am proud of- Gagliano Castelferrato, a town glued to the rock. It is a reminiscing of Castelmezzano in the Basilicata region, Italy.
You can also choose to stay in Agira, which is just 6 kilometers away from Gagliano Castelferatto. Agira is the mythological hometown town of tyrant Agyris. It is a lovely hilltop town with lots of tiny streets to wander around. Don't miss trying Agirian cassatele– a pastry filled with chocolate and almond mix.
12. From Venice to Verona- the most romantic cities in Italy
Route: Venice- Vicenza-Padua-Verona.
Distance and driving time: 150 KM, 2 HRS 15 MIN.
Pick up your rental car in Italy at Venice or Verona International Airport.
How many days? 4-5 days.
Highlights: romance, Veneto region in North Italy, gondola rides, incredible architecture, food, and culture.
Best time to go: February, March-May, October.
I could not complete this romantic road trip in Italy list without adding a ride to the two most romantic towns in Italy- Venice and Verona.
Venice does not need an introduction- it is a masterpiece of romantic towns and a place like no other on the planet. It was the town I visited first on my very first trip to Italy and it was love at first sight, no questions asked.
Nowadays Venice is extremely touristy, yet still worth visiting at the right time. To me visiting in February was the best time- all crowds were gone, the town was sinking in fog, and the atmosphere incredibly mysterious and romantic. Moreover, visiting Venice during Valentine's Day might be a perfect plan. Make sure to add colorful Burano and Murano islands to your Venice itinerary.
Note: you cannot drive inside Venice's old town. Thus, if you are starting and ending your road trip in Venice, I recommend picking up your car either later or dropping it off early.
Before heading to Verona- the hometown of Romeo and Julieta, make a stop in Padua and Vicenza towns. Vicenza is known for its 16th-century elegant buildings and dramatic mountainous backdrops. Meanwhile, Padua is an old student town with many architectural monuments to explore.
Finish your road trip to Verona- the city of love in Italy. The famous Romeo and Julieta balcony is overrated, but the town of Verona is beautiful. Head to Giardino Giusti for a romantic picnic and sweeping views over the city (especially during sunset).
If you have more time than 4 or 5 days in Italy, you can look up for Lake Garda road trip (described above in this post) to extend your itinerary in Italy.
13. Northern Sardinia – the most romantic island road trip
Route: Alghero-Porto Conte National Park—Stintino-Castelsardo-Costa Paradiso-Capo Testa-Maddalena Islands- Sassari-Alghero.
Distance and driving time: 400 KM, 7 HRS.
Pick up your rental car in Sardinia at Alghero International Airport, or Olbia International Airport.
How many days? 7-9 days.
Where to stay: base towns Alghero, Stintino, Castelsardo, La Maddalena.
Highlights: Secluded beaches, coastal hikes, colorful small towns, historic sites, island life, and local food.
Best time to go: April-May, September-October.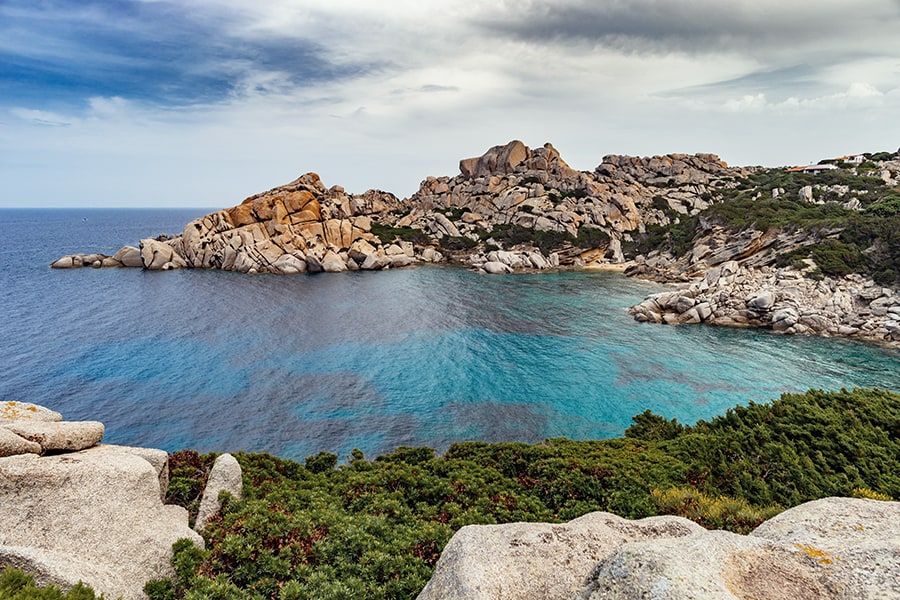 Sardinia is the most romantic Mediterranean island in Italy. Surrounded by turquoise waters and paradisical beaches, the road trip around Sardinia is perfect for a romantic summer vacation in Italy. If you love countless untouched beaches, then Sardinia is your destination.
Although Sardinia appears pretty small at first glance, moving around the island is slow. Thus, this itinerary in Sardinia covers only the Northern side of the island. Start your journey either in Alghero or Olbia- both towns have international airports and are perfect locations to rent a car at.
I have been to Alghero twice and I recommend spending there a couple of nights enjoying the atmospheric coastal historical town vibes. City beach is there as well, but don't rush to lay your towel just yet. The best awaits once you start driving North.
Porto Conte National Park is famed to be one of the most beautiful places on the island, thus you may want to spare a couple of nights in that area. The nearby fishing village of Stintino can serve as a base for a night or two.
Continuing up North of Sardinia, Castelsardo is a pretty small seaside town characterized by colorful houses cascading down the hill with the medieval castle of Doria overlooking the town. Recommended Castelsardo as a stopover before continuing beach hopping further up north.
Unmissable are Isola Rossa (pink rock beach), Costa Paradiso (paradise coast), and Capo Testa.
On this route, make sure to catch a boat to La Maddalena island. The ferry departs from the Palau harbor and can ship your rental car as well.
On the way back from Palau to Alghero, you can cut through the land with a brief stop in Sassasi, and visit the town's handsome historic center.
Tip: make sure to book accommodation early if you are traveling during the summer season. Note that wild camping is not legal (according to my Italian friend who still does it regularly but packs up the tent early morning in order not to get caught).
14. Bologna to San Marino road trip
Route: Bologna-Ferrara-Ravenna-San Marino-Dozza-Bologna.
Distance and driving time: 345 KM, 5 HRS.
Pick up your rental car in Italy at Bologna International Airport.
How many days? 5 days.
Highlights: gems of Emilia Romagna region, Renaissance art, and architecture, mosaics, castles, a country within a country.
Best time to go: April-June, September-November.
This brief road trip over the Emilia-Romana region in Italy includes 3 fantastic cities and a country within a country (yes, you read it right).
Start off your journey in Bologna, the capital of the Emilia-Romagna region, a town of crooked towers and a university city. Bologna is filled with impressive sights, live and likable, and also less busy than Florence. Quite underrated, making Bologna keep its authenticity intact and streets less touristy. Thus, Bologna makes a great destination for a romantic city getaway.
You can also base yourself in Bologna and complete this itinerary by day tripping to other destinations on this route. Although, if you prefer not to drive back and forth, accommodation in Ferrara and Ravenna is available. I would suggest not staying in San Marino- a day trip from Ravenna or Bologna is a better idea.
On this route, Ferrara is one of the culturally most important Renaissance cities in Italy. At its golden age, Ferrara used to be a cradle for some greatest artists and writers.
Meanwhile, Ravenna is called the world's capital of Mosaics. The fairly compact town is filled with architectural wonders and UNESCO-protected mosaic treasures dating back to the 5th and 6th centuries A.D. Ravenna is also a resting place for Italy's greatest poet and philosopher Dante Alighieri.
Continuing to your final destination on this itinerary- San Marino. With a petite old town majestically enthroned on the top of Monte Titano, San Marino is a microstate surrounded by Italy. No surprise the beautifully unique San Marino is also a UNESCO World Heritage site.
Also, the oldest republic in the World, San Marino is a unique place to visit in Europe. A word of warning though, the old town of San Marino is heavily catered to tourists. Thus, the charm of this micro republic lies in the vistas opening up from the castle's defense walls and three towers.
There are two ways to get to San Marino- drive up towards the old town and park in parking P9. Or park in the Municipality of Borgo Maggiore in P11 parking. Then take a funicular up to the old town.
Tip: there are no borders separating San Marino and Italy, but if you are a stamp collector, for 5 euros you can get your passport stamped validating your visit to San Marino.
15. Dolomites road trip
Route: Bolzano- Lago di Carezza – Cortina d'Ampezzo -hiking Tre Cime di Lvadero – Lago di Braies-Paso Gardena -Ortisei- Hiking Seceda-Alpe di Siuzi & Val di Fune-Bolzano.-
Distance and driving time: 300 KM, 7 HRS 30 MIN.
Pick up your rental car in Italy at Bolzano, Venice, or Milan International Airport.
How many days? 7 days.
Where to stay: base towns Bolzano, Ortisei and Cortina d'Ampezzo.
Highlights: Italian Alps, the best mountain scenery in Italy, nature, hiking, mountain lakes.
Best time to go: mid-June-mid-October (except July and August).
Last but not least is the most epic road trip in Northeastern Italy winding through the Dolomites. The drive from Bolzano to Cortina d'Ampezzo via Granade Strada della Dolomiti is one of the most exhilarating and absolutely breathtaking. It will take you 3 hours in total between the two towns. On the way make sure to pay a stop at Lago di Carezza nestled in Val d'Ega Valley. Also referred to as a "rainbow" lake, in reality, an emerald green lake is one of the most beautiful in the Dolomites.
Cortina d'Ampezza is your base town for hiking iconic Tre Cime di Lavadero. An unmissable 10 kilometers loop of medium difficulty is a must on any Dolomites itinerary.
While in Cortina d'Ampezzo, you may want to include a half-day trip to the most intsagrammable lake in Italy-Lago di Braies. The famous lake is very touristy though and if you want to enjoy it in peace and quiet, go very early for sunrise. Renting a wooden boat to paddle around the lake is a nice activity in Lago di Braies.
The next stop is the alpine town Ortisei/St. Ulrich. Before reaching it, you will drive through Paso Gardena– another scenic high pass in the Dolomites of the South Tyrol. Make sure to put Gardena Pass on your google maps to follow the correct route.
Ortisei serves as a popular jump-off town to gorgeous Alpe di Siusi (or Val di Siusi) and Val di Fune with its famous little churches (Santa Maddalena and St. John in Ranui) as well Sucede ridge hike. Dedicate two to three days- one for the hike and one or two to visit both valleys.
Note: The most famous valley in the Dolomites is Alpe di Siusi. It is forbidden to drive through the valley unless you are staying in a hotel. To get to Alpe di Siusi, you can take a cable car which operates daily from 8:30 AM to 6 PM (also subject to the season). Alternatively park in Compatsch and hike for an hour to the famous viewpoint of the valley.
Before your road trip to the Dolomites, depending on where you land, you have options to pick up your rental car in Italy either at Venice International Airport, Milan International Airport, or Bolzano town.
I hope you enjoyed reading this post and got inspired to rent a car in Italy and go on a romantic road trip around this passionate, beautiful, and unforgettable country in Europe! If you have any questions regarding the routes or car rental in Italy, please do not hesitate to comment below and I will get back to you.
More blog posts on my Italy travel guide
Italy Travel Essentials & Useful Links
Here are links to essential travel resources and services I always use when organizing my trips.