Are you planning to visit Sicily for the first time? Here I am sharing my curated list of the best must-visit places in Sicily for nature, history, and culture.
The number of interesting and beautiful places to visit in Sicily is countless. Deciding where to go in Sicily and which are the best places to see might be a tough task. At least it was a challenge for me when I was putting together my 2-week Sicily road trip itinerary. 
From azure beaches and atmospheric coastal towns like Cefalù, to the finest baroque architecture of Val di Noto towns, chaotic but charming streets of Palermo and Catania, mysterious medieval mountain villages like Gangi, to hiking spectacular natural reserves like Lo Zingaro, or even scaling the crater of the active volcano Etna, just to mention a few of the must-see attractions in Sicily. Add Aeolian and Egadian islands, and you immediately realize that even one month in Sicily may not be enough.
The question is which ones out of the many wonderful things to do and places to see in Sicily to include in your trip? Depending on how much time you have for visiting Sicily, where in Sicily you land, and also your area of interest, you can choose a few or even all of them.
To help you make your pick, I have listed 21 top places to visit in Sicily. My ultimate Sicily bucket list covers a mix of cultural and natural sights- gorgeous Sicilian towns, beautiful beaches, historic sites, pretty islands, and mountain villages. I also share suggested interesting things to do and places to stay, as well as some logistic tips that are useful when planning your own itinerary.
In this the best places in Sicily guide, I included both- famous attractions for those of you who want to tick off some or all the most important sights in Sicily, and several less-visited places in Sicily that are perfect for those of you who are looking for going a little off the beaten path and getting acquainted with local Sicilian life.
Disclaimer: This post contains affiliate links, which means that I may earn a commission if you make a purchase by clicking a link (at no extra cost to you). This helps to keep my blog running and growing by creating more awesome free content for you.
Top 21 must-visit places in Sicily: things to do and must-see attractions
Here is a list of the best places to see and things to do in Sicily for the first time.
1. Palermo- the charming capital of Sicily
Visit Palermo for an unfiltered street life experience, the best street food in the world, historical monuments, and culture.
No Sicily trip can be complete without getting to know its charismatic capital, Palermo- a must-visit place in Sicily. Recognized as the most conquered city in history, Palermo boasts an incredible wealth of historical sights, countless impressive churches, and monuments, many of which are UNESCO listed. Also known as the number one place for street food in the world, Palermo is gritty, rough around its edges, raw, and laud.
Within its textured walls you will encounter a mixture of people from different continents, colorful markets, gold-plated churches, and grand palaces, always bustling Quatri Canto, a lively Mondelo beach set against the Pellegrino mountain. In short, Palermo is a complete contrast to everything else you will see in Sicily.
I recommend spending at least 2 days in this fantastic city. But if you have only a day, some must-sees in Palermo are Palermo Cathedral, The Norman Palace, The Ballaro open-air market, Quattro Canti, Fontana Pretoria (known as a fountain of shame), and, of course, street food.
Logistics: located Northwest of Sicily, Palermo airport is a popular entry point to Sicily. Capital Palermo is perfect for starting your west Sicily itinerary. Also, it is a great base for day trips to close-by attractions like Mondelo beach, Monreale Cathedral, or Cefalù seaside town.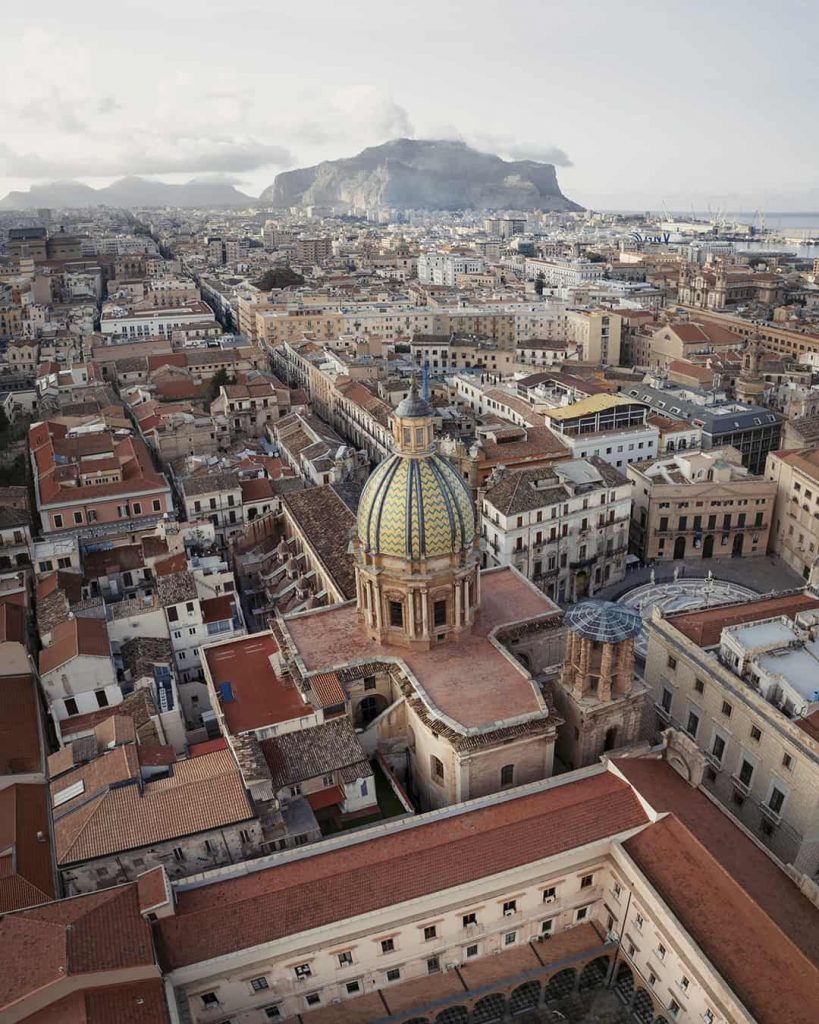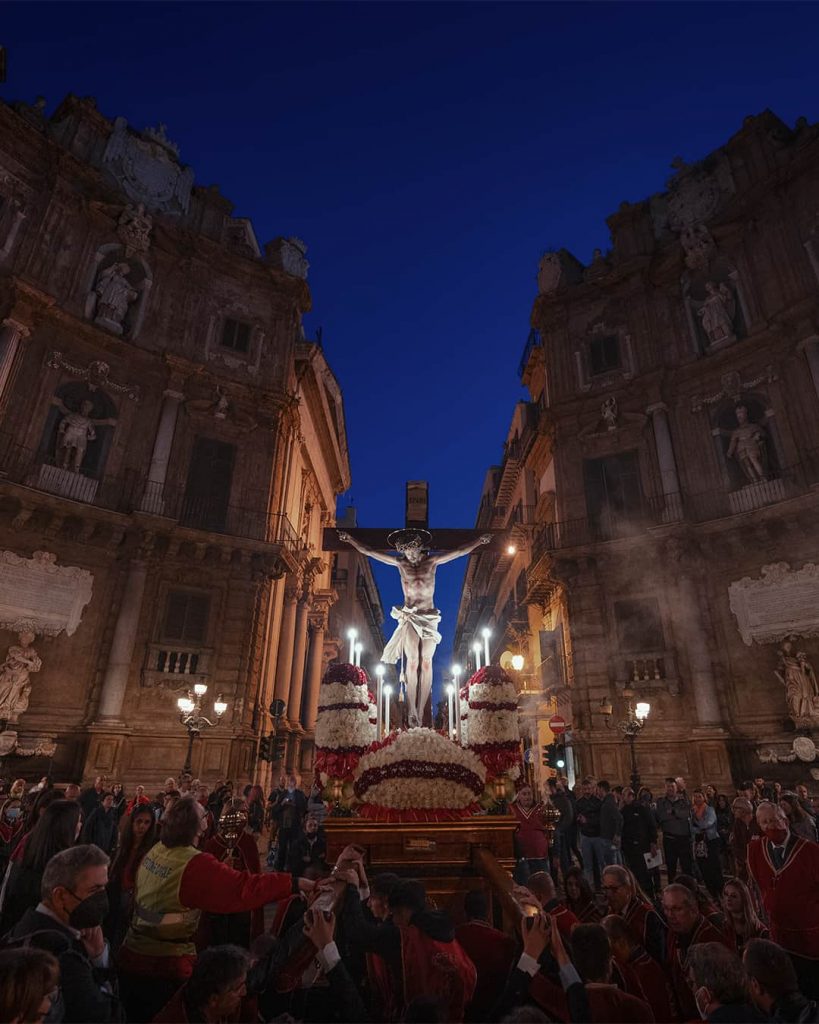 2. Etna- the highest and the most active volcano in Europe
Visit Etna for outdoor adventure, nature, hiking, and mountains.
Europe's most active and one of the World's most active volcanoes, Etna is a must-visit attraction in Sicily. The most prominent natural landmark rising at 3295 meters (10810 feet) height, Etna dominates the landscapes of Eastern Sicily. Its snow-capped peaks and on the active days-flowing lava accompanied by black fumes are visible from many surrounding towns, like Taormina, or Catania.
Regularly erupting every year, Etna is responsible for several fatal events in Sicily's past.
However, on Etna's quiet days, the best way to get acquainted with this mighty giant is to go on a hike through the lava fields and take a closer glimpse at its craters.
To do so, the best way is to join one of many one-day or half-day guided tours which usually depart from Catania or Taormina. Some of them provide pick-up from the hotel service in their 4×4 cars. Or if you have a car, it is possible to drive up to the base camp at Rifugio Sapienza, which is a usual meet-up point for the group tours.
It is also possible to visit Etna on a self-guided trek but you have to be experienced in similar hikes and have the right equipment. 
The best Etna guided tours: You can find great tour options starting from 55 USD per person on GetYourGuide. Note that most of the tours do not include an obligatory 30 EUR cable car fee (it is unavoidable unless you are doing a grueling 1400 meters self-guided climb).
This 6-hour tour will guide you through lava fields at 3000 meters height and includes helmet and hiking shoes if you need them. Starts at the base camp of Etna. For more info and availability click HERE.
This 6-hour customizable small group or private light trekking tour offers a pick-up service from any accommodation in Catania, and also includes a tasting of regional Sicilian specialties. For more details, availability and bookings click HERE.
To pick the best option according to your needs (price, time, group size, pick-up service), check the full list of Etna tours HERE.
Logistics: Etna is located in East Sicily, and is a must-visit on any eastern Sicily itinerary. Catania is a convenient base for visiting Etna on a day tour. It takes 1 hour by car to reach Etna's base camp from Catania.
Where to stay: beautiful Living Suite Catania Pacini in Catania
Alternatively, choose fantastic Agriturismo accommodation at the foothills of Etna: Pietra dell'Etna in Raglana village, just half an hour away from the base camp of Etna.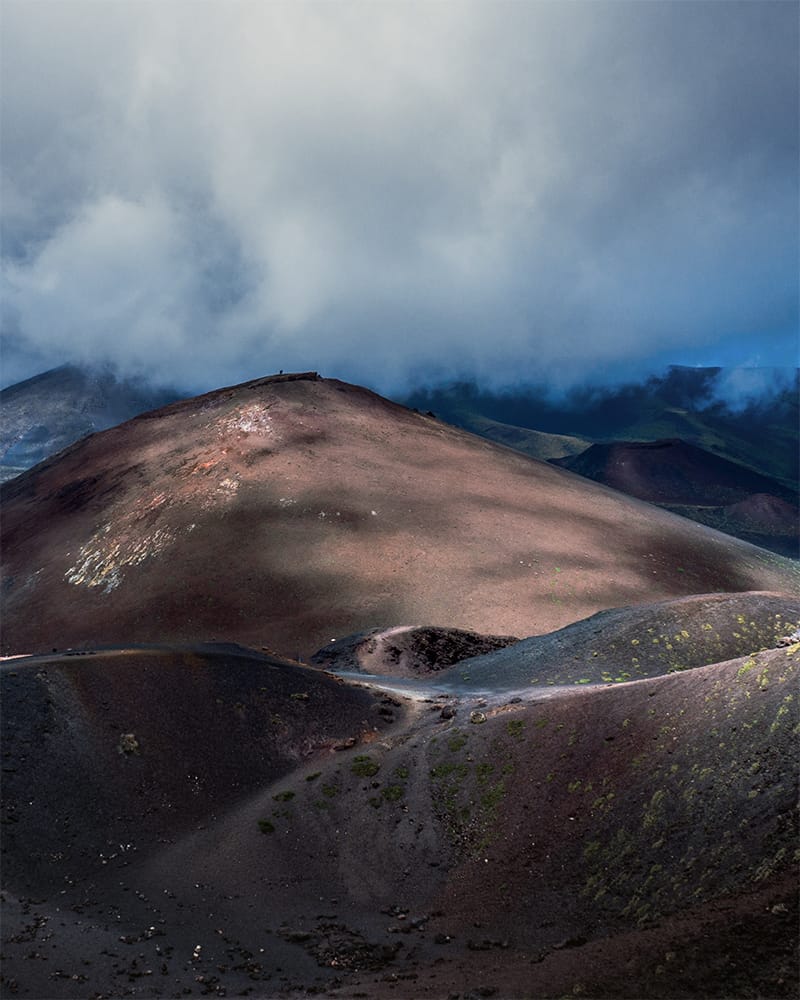 3. Cefalù– the postcard child of Sicily
Visit Cefalù for beautiful seaside views, beach holidays, time in nature, and romantic old town walk.
Let's continue this Sicily bucket list with Cefalù. Cefalù is one of the most beautiful seaside towns in North East Sicily and an absolute must-visit if you love idyllic harbor towns. Chances are you might have seen images of the postcard-perfect small sandy beach set against crumbling old town walls with an imposing rock in the background.
Yep, this is Cefalù -the picturesque coastal town in Sicily. Just to keep your expectations leveled, once a sleepy fishing village, Cefalù now is one of the most popular destinations in Sicily. It gets particularly busy in summer. Therefore, to enjoy it with relatively fewer tourists, the best time to come is in late spring or early autumn. Cefalù can be visited as a day trip from Palermo, or as a longer multiple-day stay. 
Things not to miss in Cefalù: old harbor with the best views of Cefalù waterfront, atmospheric streets of the old town with its many restaurants and shops, Cefalù Norman Cathedral, if you have time- climb to the top of La Rocca for more spectacular views of the town and the coast.
Logistics: 1-hour drive east of Palermo. Perfect for northwest Sicily itinerary.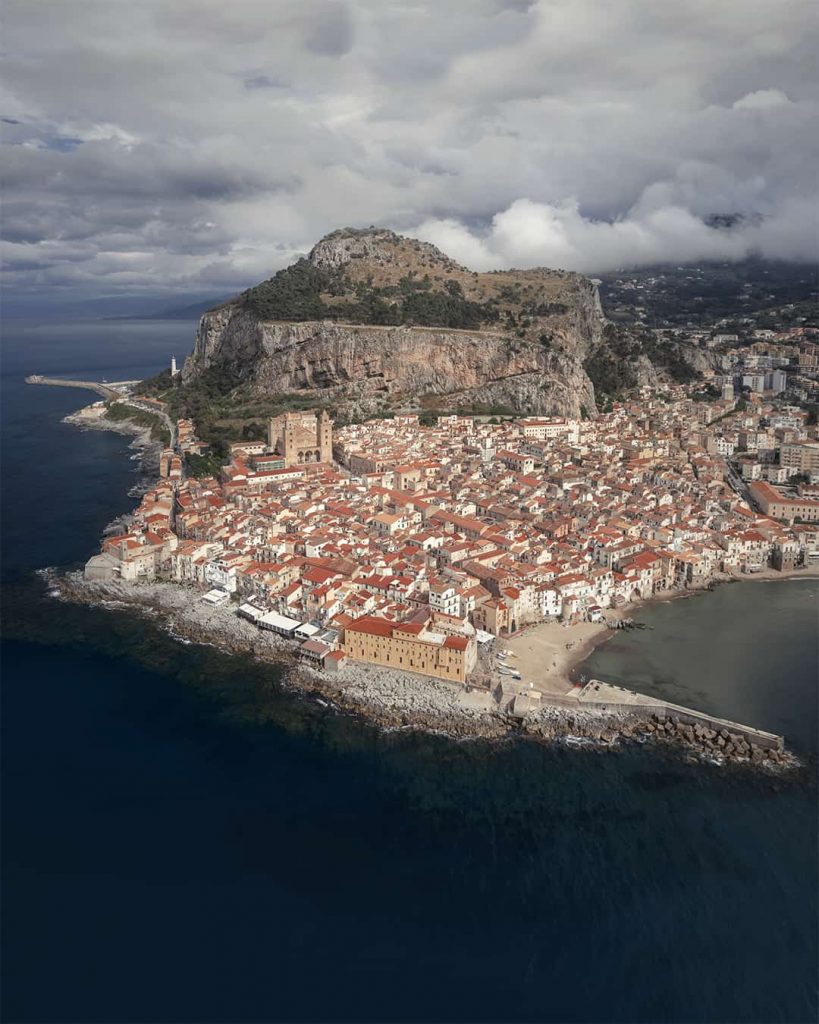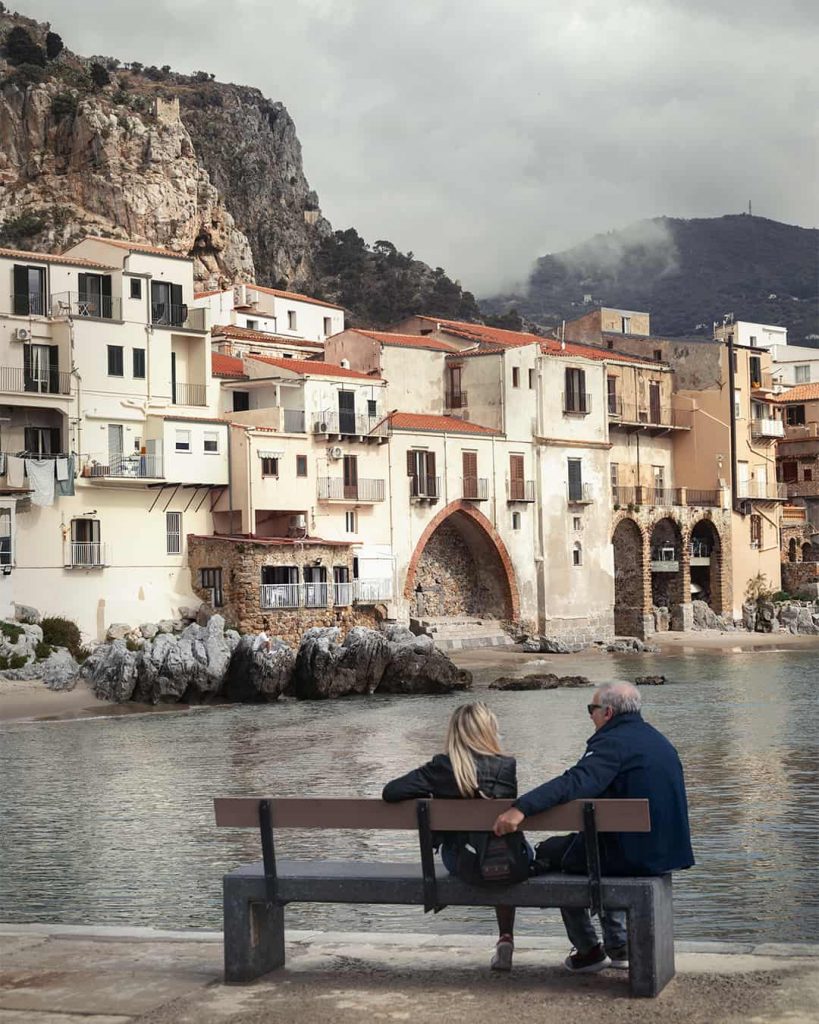 4. Taormina-the Pearl of Sicily, the most famous hilltop town
Visit Taormina for beautiful coastal views, an antique amphitheater, a holiday in a historical resort, shopping, and people-watching.
Renowned for its Greek-Roman Amphitheatre overlooking the rolling hills dropping into vast waters of the Ionian Sea, Taormina is the most well-known and popular hilltop town located in East Sicily.
In terms of fame, it is equivalent to Positano on the Amalfi coast. 
As a must-visit in Sicily, perched on the slopes of the hill Taormina seduces its visitors with a pretty old town. Meanwhile, at the bottom of the town, a tiny island and mini-nature reserve Isola Bella also contributes greatly to Taormina's fame.
Due to its beautiful setup and historical value, Taormina has been a popular Sicily resort since the 19th century. It naturally evolved into a destination that currently receives one of the largest amounts of tourists during the peak season. Throw in the crowds from cruise ships, and it can get overwhelming.
Still, if you are routing East Sicily, and can handle busy places, you should definitely pay a visit to Taormina. To explore Taormina with fewer tourists, come early or stay until late evening. However, the best time to visit this Sicilian highlight is off-season, which is late autumn and winter.
Things to see in Taormina: Teatro Antico di Taormina, Isola Bella, beautiful views of Etna from Piazza IX Aprile, stroll Corso Umberto, climb 300 steps to Madonna della Rocca Church for more elevated views.
Logistics: located in East Sicily, 50 min drive from Catania. Suitable for East Sicily Itinerary.
5. Catania- the lava city in East Sicily
Visit Catania for city life and historical monuments.
Catania is the second biggest city after Palermo and a popular entry point to East Sicily through its international airport. Catania also called the city of lava is set at the Ionian sea in close proximity to Etna volcano. As a city, it is less polished than other smaller towns and villages. Nonetheless, Catania has its own charms and a fair share of beautiful historical sights.
Catania being raw and bustling, will definitely offer an authentic Sicilian city life experience. If you are landing at Catania airport, make sure to spend at least a day exploring the best of Catania.
Main things to see in Catania: Piazza del Duomo with its Fontana dell'Elefante, Duomo di Catania, lively and smelly fish market, Via Etnea- street with Etna views, try street foods which are also known to be very good. Cyclops rocks (Faraglioni) in seaside resort Aci Trezza, located 35 minutes away from Catania.
Logistics: Located in East Sicily, Catania airport is probably the most common entry point to Sicily. Thus, Catania is a perfect place to start your eastern Sicily itinerary. Also, Catania is a great base for day trips to nearby attractions such as Etna volcano, Taormina, Syracuse, and Ortigia Island.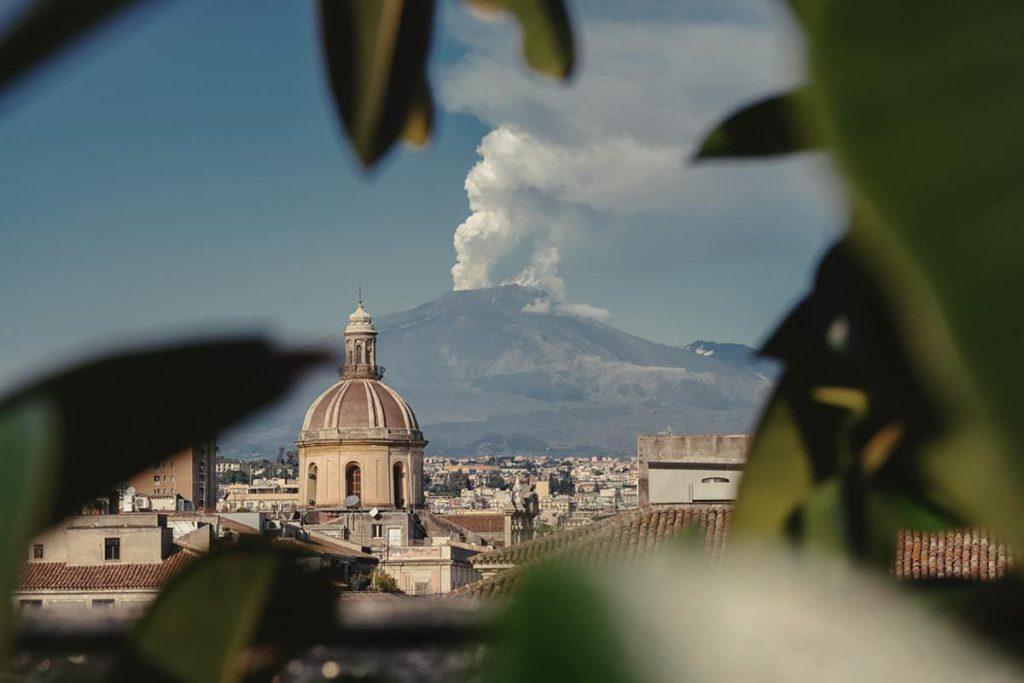 7. Syracuse and Ortigia Island- a gem of Greek architecture in Sicily
Visit Syracuse and Ortigia Island for beautiful Greek-influenced architecture, archeological sites, and some of the best ice cream in Sicily
Syracuse with its charming historical center Ortigia Island located on the east coast of Sicily is a highlight not to be missed.
Known as a marvel of Greek architecture, UNESCO-listed Ortigia Island will awe you with its elegant piazzas, enchanting churches, and monuments, all scattered around and in between the maze of white-washed houses. Meanwhile, Ortigia's waterfront promenade is dotted with romantic restaurants overlooking the crystalline sea. 1 kilometer long and 600 meters wide Ortigia (or Ortygia) Island is the best to be explored on foot.
Some of Ortigia's main attractions include Piazza del Duomo, The Castello Maniace, the Arethusa fountain best enjoyed at sunset, and the waterfront.
Meanwhile, the modern part of Syracuse, the birthplace of Archimedes, is mainly known for the Neapolis archaeological park featuring a Roman amphitheater, Greek theatre, and the Ear of Dionysius.
Logistics: located on the East coast of Sicily, Syracuse and Ortigia is a top place to add to your East Sicily itinerary. Can be visited as a day trip from Catania, or stay a night or two.
Where to stay in Ortigia: Il Duomo-it is better to stay in Ortigia island for a more atmospheric experience than in Syracuse.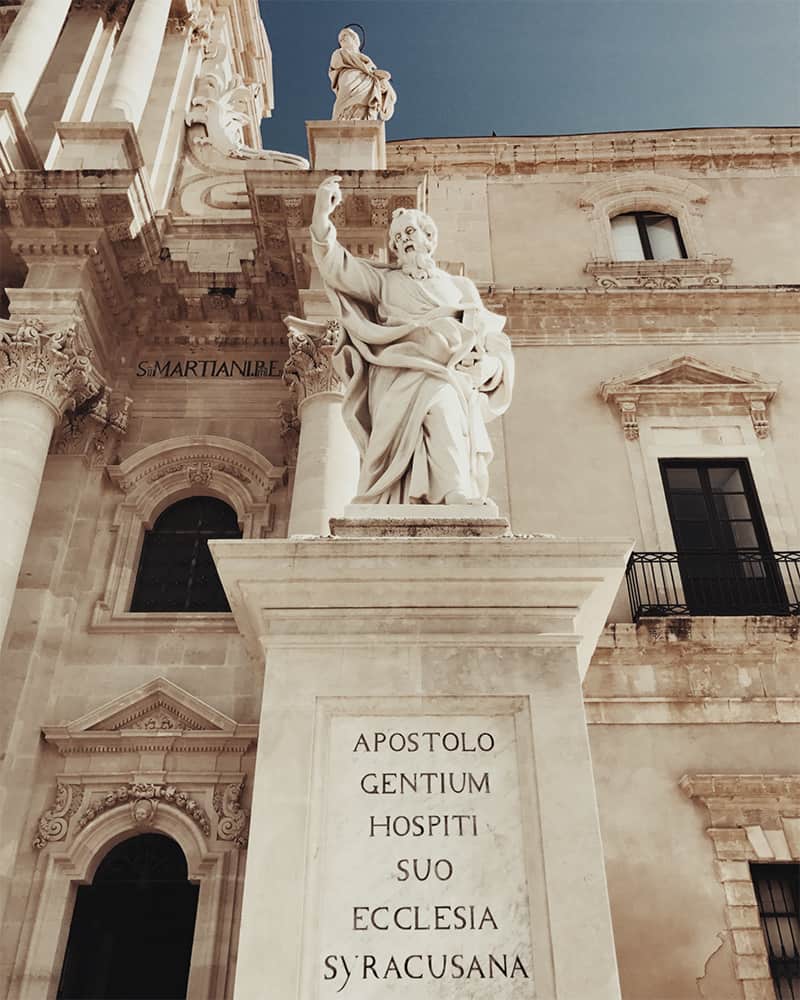 8. Val di Noto towns Ragusa, Modica, Scicli, and Noto- Baroque architecture treasure in Sicily
Visit Val di Noto- Ragusa, Modica, Scicli, and Noto for fantastic baroque architecture, a slow small hilltop town lifestyle, and an authentic Sicilian experience.
The UNESCO-protected towns of Val di Noto are the best places in Sicily known for incredible Baroque architecture. The Baroque architecture masterpieces can be explored in several inland towns in southeast Sicily.
The sad historical fact uniting all of the towns is that they were completely destroyed by a disastrous earthquake in 1693. However, like a phoenix, all 8 towns that comprise today's Val di Noto were rebuilt following the late Baroque architectural style which we can admire today.
The most well-known and must-visit baroque towns in Sicily are Ragusa Ibla, Modica, Scicli, and Noto. One or all of them should definitely be included in your itinerary.
If you had to only pick only one, then you must go visit Ragusa Ibla (the old part). Perched atop the lush green mountain, Ragusa boasts some awe-inspiring views points of its old town, many cobblestone streets to get lost in, majestic duomo di San George and much exquisite Baroque architecture detailing.
Read my full guide to Visiting Ragusa: Sicily's town of two faces.
Modica, along with its architecture, is famous for its granulated chocolate. Head to the oldest chocolate factory –Dolceria Antica Bonajuto and try some of the internationally renowned finest local dark chocolate.
Scicli is the smallest of all but an equally atmospheric baroque town. It is internationally known for the Inspector Montalbano TV detective series where the show was filmed.
Noto is the biggest in the Val di Noto and is known for its grand buildings' facades being "painted" in burning gold during the sunset hour- a magical time to visit the town.
Logistics: Val di Noto is located in the southeast of Sicily, therefore perfect to include in the East Sicily itinerary. Can be easily reached by car from Catania (1.5-hour drive) or Syracuse (1 hour 20-minute drive). I recommend spending at least a couple of nights in Ragusa, from where you can also visit other Val di Noto towns (Modica, Scicli, and Noto).
Where to stay in Ragusa: Amaca Iblea is a self-contained apartment in a historical building. Beautiful Ragusa Ibla views open up from the apartment's balcony.
9. The Valley of Temples- the most important archeological site in Sicily
Visit the Valley of Temples for archeological wonders and history.
The Valley of Temples (Valle dei Templi) can be found in Agrigento city South of Sicily. A complex of Hellenic architectural monuments is the most important testimony to the ancient culture in Sicily.
Charmingly blending with the natural environment, the Valley of Temples is an exciting playground for history and ruin lovers. Apart from many remains which were heavily worn out by ruthless time, 2 out of 8 temples are still very well preserved. Those are the temple of Concorde and the temple of Hera.
Being the most important archeological site in Sicily, the valley of temples is a must-visit site if you are touring the southern part of the island.
Logistics: Valley of Temples is located in the South of Sicily and can be combined as part of the eastern Sicily, or western Sicily itinerary. Agrigento is roughly a 2-hour drive from all directions- Trapani town in the west, Palermo in the northwest, and Catania in the east.
Guided tours from other towns to the Valley of Temples:
Where to stay in Agrigento: B&B Villa San Marco this rustic-style accommodation is just 500 meters away from the Valley of Temples and features one of the Greek temple views.
10. Madonie mountain villages- the medieval heritage of Sicily
Visit Madonie mountains for a nature escape in the mountains, agrotourism, authentic Sicilian life, scenic medieval towns, and hiking.
Madonie mountains dominate the northwestern side of Sicily and are home to dozen small medieval towns, many of which are UNESCO heritage listed and considered the most beautiful villages in Italy. Visiting mountain villages in the Madonie mountains offer an unconventional yet authentic Sicily experience where you can go back in time and enjoy slow-paced travel.
My favorite of all is the mysterious Gangi which fell under the international radar because of the abandoned 1 EUR houses sold by the Italian government in exchange for renovation. Meanwhile, Gangi got my attention when I saw some fantastic drone shots of bright-colored houses glued side to side and stacked in layers on top of each other like a Lego constructor game.
RELATED READS: Check my complete guide to Gangi mountain town in Sicily, Italy.
Other charming Madonie towns to pay a visit to are: Sperlinga, Petralia Soprana, Petralia Sotana, and Castelbuono. You can easily drive around them all in a couple of days. That being said, you must have a car to visit those remote places. Finally, Madonie mountains are a great nature escape with a number of hiking trails. 
Logistics: Madonie mountains are located northwest of Sicily, therefore will fit into the West Sicily itinerary. You must have a car to easily reach mountain villages.
Where to stay in Madonie mountains: RESIDENCE VENTIMIGLIA self-contained apartment and a great base for a couple of nights in Gangi.
11. Lo Zingaro Nature Reserve- a must-visit place in Sicily for untouched nature
Visit Lo Zingaro Reserve for nature, the best beaches in Sicily, trekking, and scenic coastal views.
Lo Zingaro Nature reserve is one of the most spectacular natural places in Sicily located on the northwest coast. A version of paradise on earth, Zingaro Nature Reserve nearly escaped a motorway being constructed over it. Since 1981 Zingaro gained the status of a protected natural area and offers a few well-marked hiking trails with access to impossibly beautiful wild pebble coves which are some of the best-unspoiled beaches in Sicily.
The most popular hiking trail in Lo Zingaro is an easy 7 km one-way (14km return) trek. Along the way, you will enjoy fantastic coastline views and swim in the crystal clear blue sea accessible through 6 secluded beaches. Lo Zingaro is simply a perfect day trip in nature.
Entrance to the Reserve costs 5 euros. Bring your own food supplies and enough water (3 liters) if you are planning to hike the full route. 
Logistics: Perfect for the western Sicily road trip, Zingaro Reserve is located between Castellamare del Golfo and San Vito Lo Capo towns. It is around a 1 hour and 20-minute drive from Palermo and around a 55-minute drive from Trapani. The easiest way to get to the reserve is to drive your own car.
Where to stay near Lo Zingaro Reserve. Atrium in Castellamare del Golfo seaside town is a perfect base for a night or two. You can find plenty of options for small hotels and self-contained apartments in the town.
RELATED READS: Make sure to check my complete guide to Hiking Lo Zingaro Nature Reserve in Sicily, Italy.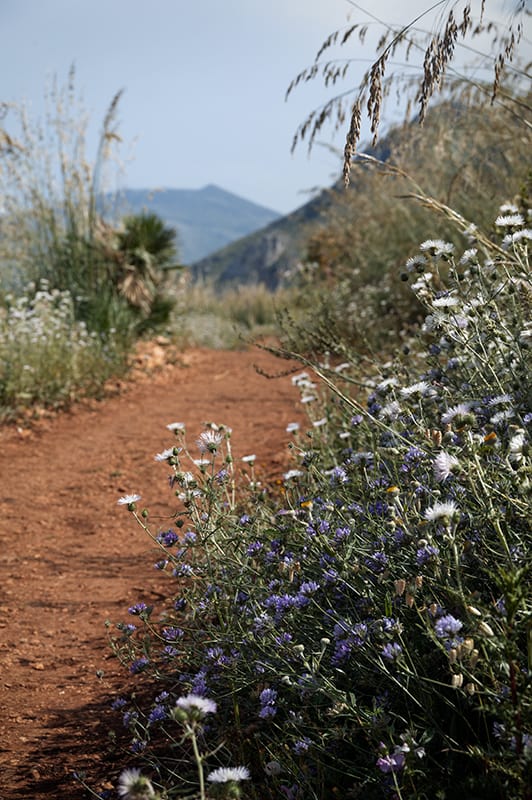 12. Erice- charming medieval hilltop town with fantastic coastal views
Visit Erice for an atmospheric old town with stunning views and history.
Perched atop the 750 meters height hill, rising above its personal cloud, Erice is a frozen-in-time medieval town. Erice is an absolute must-visit in western Sicily.  Located 30min away from Trapani, it is reachable either by a twisty mountain road or an equally scenic funicular ride.
In Erice, you will be spoiled by many fantastic viewpoints overlooking San Vito Lo Capo on one side, and Trapani on the other. Erice, as expected from an ages-old town, features many atmospheric narrow streets, a few castles, beautiful churches, and as a treat for a hilly walk-many typical pasticcerias, with Maria Grammatico being the most well-known amongst all.
In summer, make sure to arrive early before the tour buses flock to the town, or stay late for the unset after they all leave.
Logistics: perfect for West Sicily itinerary, a 30-minute drive from Trapani town, also accessible by cable car which costs 9 EUR return per person.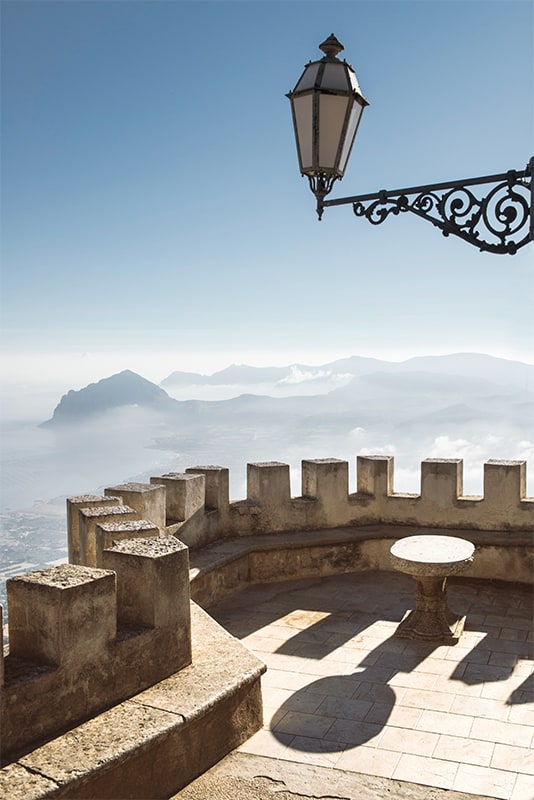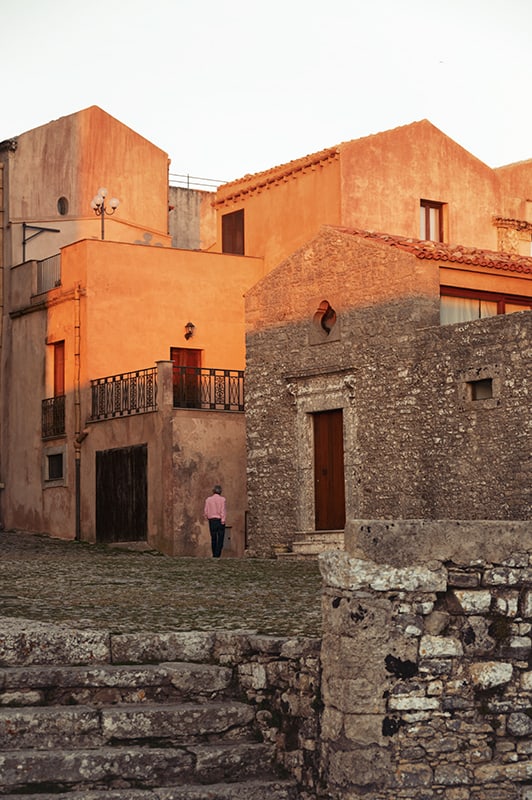 13. Trapani – the West port town in Sicily
Visit Trapani for a historical town and as a base to visit other surrounding attractions.
Trapani is a port town in western Sicily. It has a small beautiful old town and is a perfect base for exploring several attractions in the western part of Sicily. It also serves as a jump-off point to Egadi islands.
Trapani's historic town can be visited in half a day. The most atmospheric part is its west-facing waterfront dotted with dated buildings.
As mentioned above, you can base yourself in Trapani for a few days and visit other surrounding places as one-day or half-day trips to Erice, San Vito Lo Capo, Favignana, and other Egadi islands, Marsala Salt Pans, and Temple of Segesta. 
Logistics: Trapani has an international airport and serves as a great base to visit other important places on the west Sicily itinerary.
14. Favignana and Egadi islands-the most beloved islands in Sicily
Visit Favignana and Egadi islands for nature, beach and swimming, easy cycling, chilling, and family vacation.
Only 30 minutes by hydrofoil off the West coast of Sicily the wild and rugged butterfly-shaped Favignana island is a beloved summer destination between foreign sunseekers and local holidaymakers.
Part of the Egadian archipelago, Favignana is the biggest out of the three main islands and is the most popular choice for a day trip from the coastal town of Trapani. The two smaller islands Levanzo and Marretimo are also equally stunning but a little bit more off-the-beaten path and are usually chosen either as part of a guided tour or included in several days' stay on the route of the Egadi Islands.
If you only have one day to devote to the Egadian islands, I would recommend visiting Favignana.
In Favignana, many visitors opt to rent a bicycle. Peddling its dusty paths is the easiest way to see the island. The flat roads are easy to ride, except for a few potholes and bumps here and there. Therefore, in just over an hour you can circle half of the Favignana's terrain at a relaxed pace. But account for much more time as the true delight is swimming in kaleidoscope blue waters sheltered by the beautiful rugged coves. There are at least 4 or 5 worthy swim stops on the route.
Logistics: Favignana is 30 minutes by ferry from Trapani in West Sicily
RELATED READS: Make sure to also read my Guide to Visiting Favignana and Egadi Islands, Sicily for all the details.
15. San Vito Lo Capo- the white sand beach town
Visit San Vito Lo Capo for beach and swimming, family and friends' vacation, and nature.
San Vito Lo Capo is known for its 1-kilometer-long stretch of white sands that slope into the turquoise waters of the Tyrrhenian sea. The idyllic coast sheltered by Monte Monaco and complete with palm trees reminds me of a mini version of the famous postcard beach in Rio de Janeiro, Brazil.  
San Vito Lo Capo is an ultimate vacation destination in Sicily loved by locals and visitors, both young and old, families and friends. Considered one of the best beaches in Sicily, Spiaggia San Vito Lo Capo is a must-visit for the lively beach scene in West Sicily.
There is a public free section and a private beach section which include umbrellas in your day access fee. That being said, during the peak summer months of July and August, the rainbow-colored blanket of sun umbrellas completely covers the white sands of San Vito beach. Yet the beach is huge enough to always find a sandy spot for your towel.
The town of San Vito Lo Capo doesn't have historical interest but it serves as a great seaside vacation base with plenty of accommodation options, which by the way get booked out in summer.
As expected, there is no shortage of bars and restaurants just a step away from the beach. If you love a lively beach scene, which has plenty of amenities, and fun things to do like volleyball, then San Vito Lo Capo should definitely be on your Sicily itinerary. 
Logistics: located at the westernmost tip of Sicily, San Vito Lo Capo is great for the west and northwest Sicily itinerary. Can be visited on a day trip from Trapani (a 45-minute drive).
16. Aeolian Islands- Sicilian Paradise
Visit the Aeolian Islands for wild nature, beaches, hiking, and boat trips.
A pristine archipelago of Aeolian islands is a UNESCO heritage site located on the Tyrrhenian Sea north coast of Sicily. Called Sicily Paradise, the Aeolian islands are an unconventional destination to visit in Sicily. Although to explore all of the islands you would need a separate at least one-week trip, visiting one or two of the archipelago islands as a day trip is pretty easy. You can reach Aeolian islands by Liberty lines hydrofoil either from Milazzo or Messina ports in northeast Sicily.
The Aeolian archipelago is also known as a fancier (and very different indeed) option compared to Egadi islands on the West coast of Sicily. 7 main islands and 5 smaller form the Aeolian archipelago.
Although each island has a distinct character, all of them share the same volcanic origin.
Lipari is the biggest historical island in the group, while Salina, Vulcano, Stromboli, and Panarea are other popular ones, with Alicudi and Filicudi being the most remote.
The most popular is a combined excursion to Stromboli and Panarea islands. In Stromboli, you can climb an active volcano in the morning, and then watch its lava flowing at night and spend a day in Panarea. You can join a guided tour to both islands from Milazzo port town in North Sicily, click HERE for more details and availability. For more guidance on the Aeolian islands, check this post. 
Logistics: Off the north coast of Sicily, accessible via ferry from Messina and Milazzo, suitable for Northeast Sicily itinerary.
17. Monreale Cathedral and its incredible gold mosaics
Visit Monreale for history and culture, architectural treasures, and panoramic hilltop views.
Just 10 kilometers inland south of Palermo, you will find a pretty little hilltop town of Monreale famous for the tastiest bread in Sicily and for its architectural masterpiece- Monreale Cathedral dating back to the Middle Ages.
Granted UNESCO World Heritage status and considered the finest example of Norman architecture, Monreale Cathedral is a must-visit on any north Sicily itinerary. The Cathedral is adorned with worldwide renowned 130 shimmering Byzantine gold mosaics covering an area of over 6000 square meters. 10 years of scrupulous work of art finished in 1184 depicts the 42 episodes of biblical tales from the creation of man to the Assumption. The mosaics have to be seen to believe- it is incredibly beautiful and you can't wrap your head around it how it is even humanly possible to create something extraordinary like it.
Although mosaics are the biggest draw of the Monreale Duomo, adjacent to the Cathedral there is an entrance to the no less impressive cloister which is built in Middle Eastern architectural style. The detailing of the slender 228 columns supporting 26 elegant arches is a fine example of Arab artistry. While a luxuriant garden blooms at the heart of the tranquil courtyard.
There is much more to be explored in Monreale Cathedral, therefore make sure not to miss it and dedicate at least half-da-day for your visit.
The ticket price for visiting the whole complex was 13 EUR at the time of our visit.
Opening hours: 9 AM-12:45 PM and 2 PM- 5 PM daily.
Logistics: 25-minute drive down south from Palermo in Monreale town. Public bus 389P runs daily from Palermo Indipendenza Palazzo Reale bus station.
Guided tour: 6-hour tour from Palermo to Monreale Cathedral and Cefalu
18. Monte Cofano Nature Reserve- a hidden natural hem of Sicily
Visit Monte Cofano for unspoiled nature, hiking, mountains, and beach.
Halfway between Trapani and San Vito Lo Capo, Monte Cofano Nature Reserve is a rival to the more popular Lo Zingaro. Monte Cofano's limestone monolith soars to 659 meters above sea level and can be hiked to.
Rightfully considered one of the most beautiful corners of Sicily, Monte Cofano Reserve's panoramic view can be seen from Erice hilltop town.
To explore the reserve up and close, there are a few trails that you can follow. One of them is a relatively easy 11-kilometer coastal circular route that runs around the mountain, while the other 7-kilometer trail leads to the summit and is considered difficult.
If you aren't up for hiking, then you can visit a cave village called Grotta Mangiapane. Here you can discover a very unique tiny stone town made up of single-story orange and maroon-colored houses. Today this rural settlement is an open-air museum where you can glimpse inside the rooms of the old houses.  It is located on the west side of Monte Cofano Reserve towards the town of Custonaci. Entrance fee- donation of your choice, open daily from 10 AM to 6 PM.
Also, don't miss a delightful Macari beach located on the east side of the reserve, just 4 kilometers before San Vito Lo Capo. Macari beach is a true hideaway compared to the more popular and always busy San Vito Lo Capo counterpart.
Logistics: 30-minute drive from Trapani to the west side and 30-minute drive from San Vito Lo Capo on the east side. You need a car to reach the reserve. Perfect for the western Sicily itinerary.
19. Selinunte Temples – one of the largest archeological parks in Europe
Visit Selinunte for history, culture, archeology, day out in nature.
Located on the southwestern coast of Sicily on a high plain, Selinunte temples literally overlook the sea and are a must-see on your Sicily route. Founded by Doric Greek colonists from Sicily's Megara Hyblea around 650 BC, Selinunte is one of the largest and most beautiful Greek sites in Europe. Isolated Selinunte ruins have stood abandoned for most of their history.
There are two entrances to Selinunte's archaeological site: on the east side of Marinella di Selinunte and on the west side of Triscina.
Note that Selinunte park covers a large area and you may need 3 to 4 hours to explore. It can be a great excuse for a nice walk combining time spent in nature and exploring impressive historical sites. Make sure to wear comfy shoes. If you have time, staying overnight in the Marinella di Selinunte and catching a sunset at the archeological park can be a great idea too.
Logistics: 1-hour drive from Trapani, perfect for the western Sicily itinerary.
20. Segesta Temple
Visit Segesta temple for history, culture, archeology, and day out in the countryside.
The last archeological site on the places to visit in Sicily list is the Temple of Segesta, located a 30-minute drive east of Trapani. A very well-preserved sand-color Doric Temple of Segesta pops out in the gorgeous lush green countryside surroundings. Segesta temple and the theatre are the remains of a former ancient city founded by Elymes around 400 years BC.
The visit to Segesta will cost you roughly 12 EUR. There is a separate fee for the shuttle bus taking visitors to the site. You must leave your car at a paid parking and also pay a 6 EUR entrance fee for visiting the temple and theater.  Note that the theater is located a little bit higher up on the northern slope of Mount Barbaro 400 meters above sea level and takes 20-25 minutes to walk. If you are not keen on walking, there is a separate shuttle bus for 1.5 EUR one way which can take you to the amphitheater.
Logistics: 30-minute drive east from Trapani, 20-minute drive south from Castellamare del Golfo.
21. Salt Pans of Marsala and Trapani
Visit salt pans for culture, sunset, bird watching
Cultural heritage and a hugely important commodity in food preservation is salt which has been produced for centuries in Western Sicily with a production peak in the 1860s.
The postcards of windmills and white cones of salt depict Salinas- the oriented reserve of the Salt Pans located near Trapani and Marsala.
The hot windy climate and shallow sea coast created perfect conditions to produce the highest quality salt in the region. The artistry of salt making is present and follows ancient tradition till today but at a smaller scale catering only to the niche markets swearing by the salts' unique qualities.
Today salt pans attract visitors and especially photographers due to their photogenic attributes- old crumbling windmills, cones of salt, and spectacular sunsets- a perfect combination for a postcard shot.
You can visit salt pans in two places: The salt pans of Nubia next to Trapani, and the Saline of the Lagune Marsala close to Marsala town. The second one is grander and more popular, but both have something unique about them. Guided informational tours are also available there but are overpriced and not well-rated by visitors.
Be aware though that salt extraction is seasonal and the salt cones you may have seen in pictures are not always present. On my visit to Salinas in mid-May, there were none, so it was a bit of a disappointment.
Logistics: 10-minute drive from Trapani to Nubia salt pans, and a 20-minute drive from Marsala to Marsala Lagune.
And that's a wrap of this must-see places to visit in Sicily list. I hope that you found some great places to add to your own Sicily itinerary. If you have any questions or even suggestions of something that deserves a place as a must-visit for first-timers in Sicily, please let me know in the comments below. 
Have an exciting journey in Sicily!
Sicily Travel Essentials
Here are links to essential travel resources and services I always use when organizing my trips.
MORE SICILY TRAVEL GUIDES