This guide to the best photo locations in Meteora reveals the most epic locations to photograph Meteora monasteries from. 
Meteora is a surreal masterpiece created in collaboration between nature and humans. With its iconic centuries-old monasteries teetering on tall pillars of rock Meteora is a photographer's wildest dream. 
Gorgeous from many angles, Meteora offers countless places to be photographed from. But where to find the best photo spots in Meteora?
To help you save some time trying to figure out where and when to set up your tripod, I share the best viewpoints in Meteora for photography.
I also added a map with exact pinpoints of Meteora photo locations and lookouts, as well as the best time of the day to photograph each of the monasteries. I also share some handy tips for both ground and drone photography in Meteora. Thus, let's take look at those amazing photography locations in Meteora!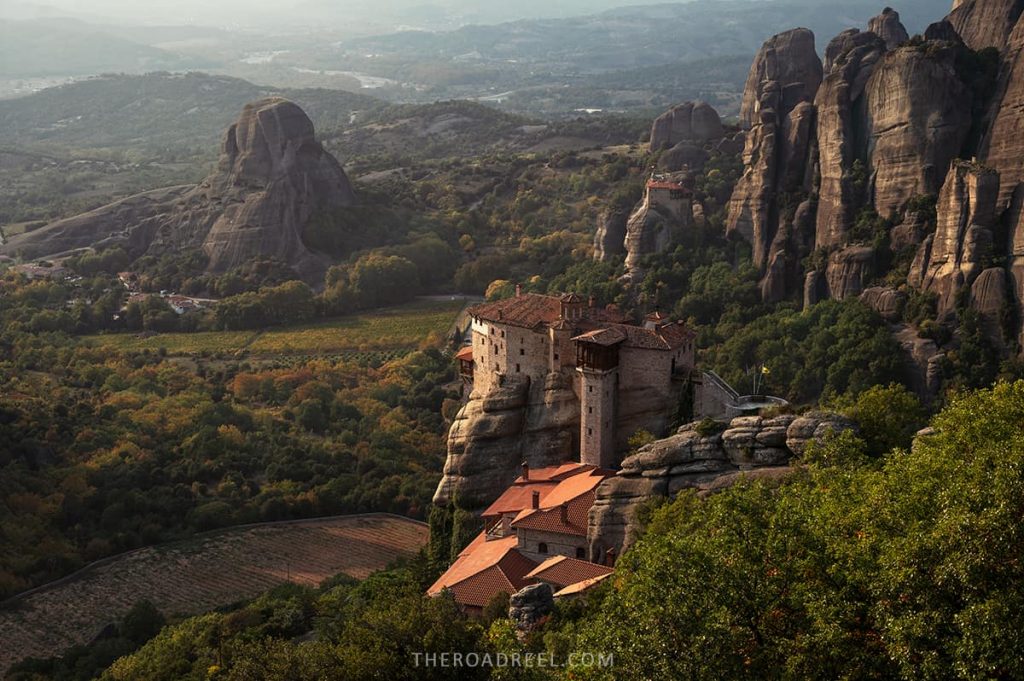 Disclaimer: This post contains affiliate links, which means that I may earn a commission if you make a purchase by clicking a link (at no extra cost to you). This helps to keep my blog running and growing by creating more awesome free content for you.
A guide to the best photo locations in Meteora, Greece
Getting around Meteora (how to find photography locations)
Photography spots in Meteora are spread out all over the area. Thus, the fastest and most convenient way to get around Meteora is by car or motorbike. You can drive between different lookout points in minutes. The maximum amount of time you need to drive from one end of the road to the other is around 15 minutes.
Having your own motorized vehicle will allow you to capture several viewpoints of Meteora and its monasteries during the most flattering but extremely short golden hour. 
In Greece, you can get crazy cheap deals for your rental car. I managed to find a bargain for as low as 10 EUR per in October. It can be even less if you travel off-season and are renting a car for at least a week! 
I found the best car rental offer from Athens Airport (35 euros for 7 days, I know crazy) for my one-week Greece road trip with Discovercars!
It is also worth taking a look at Localrent and Rentalcars to compare the prices.
It is also possible to walk between all photo locations in Meteora. But have in mind this will take significantly longer as some of the monasteries and viewpoints of Meteora are a few kilometers away from each other. To get to the main road above Meteora valley, I would recommend taking a taxi from Kalambaka or Kastraki if you do not have your own vehicle. The taxi should not cost more than 5-7 EUR.
Make sure to read my Easy Guide to Visiting Meteora Monasteries in Greece to help you plan your trip.
The best photo spots in Meteora
1. Sunset rock (or Psaropetra lookout)
Sunset rock (also called Psaropetra viewpoint), as the name suggests, is an epic place to photograph Meteora and its monasteries surrounded by impressive cliffs at sunset. The Sunset rock allows for unobstructed views over the Meteora valley. You can also see four monasteries on your right-hand side with picture-perfect Roussanou situated the closest.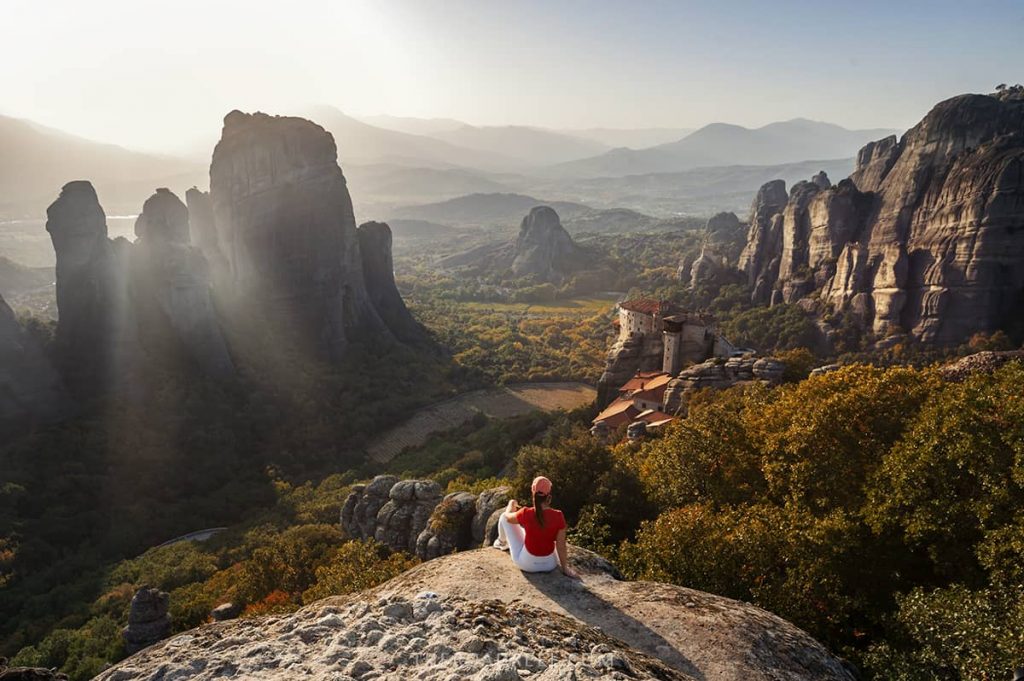 Psaropetra lookout is definitely one of the most well-known and popular places to watch the sunset over Meteora. It is also pretty small and can get packed before and during sunset hours. Thus, you must arrive earlier if you are planning to set up your tripod for photographing the sunset in Meteora from Sunset Rock.
Pro Tip: there are several boulders at different elevations you can climb on for the views. The best photography spot with Roussanou Monastery in front is located at the very edge, slightly lower, on the right-hand side, immediately below the most popular area (where every tourist snaps a pic). To access this spot, you have to go around the boulder on the right-hand side. Not many people dare walk there because of the dead drop below. Although there is enough space, approach with caution.
Location: Sunset rock photo location is next to the main road (Epar. Od.Meteoron Kallitheas) at the top of Meteora valley. There is a small parking lot available, but people tend to park on the side of the road if it gets packed. Note that you will have to climb a medium-sized boulder to get to the Sunset rock viewpoint (nothing technical, as long as a person doesn't have movement impairments).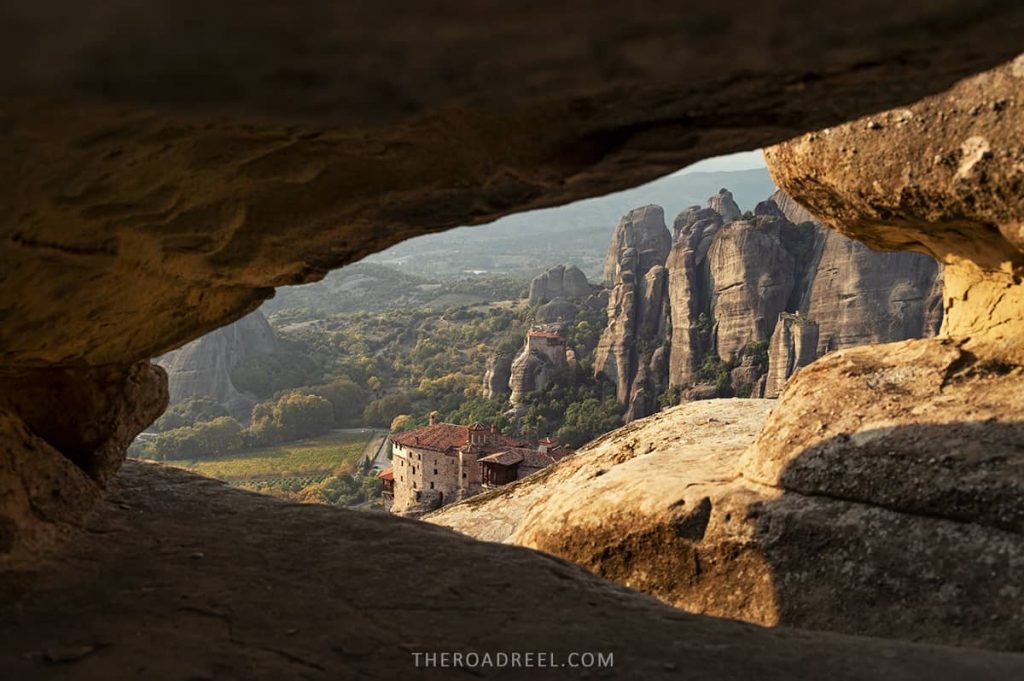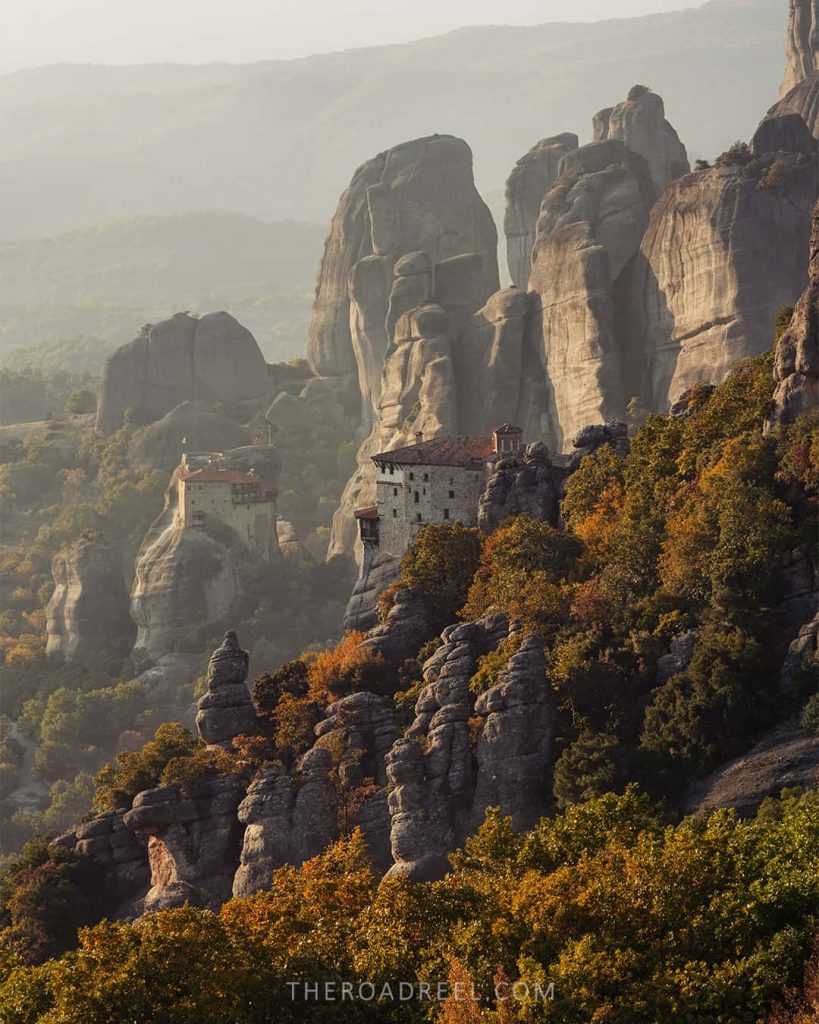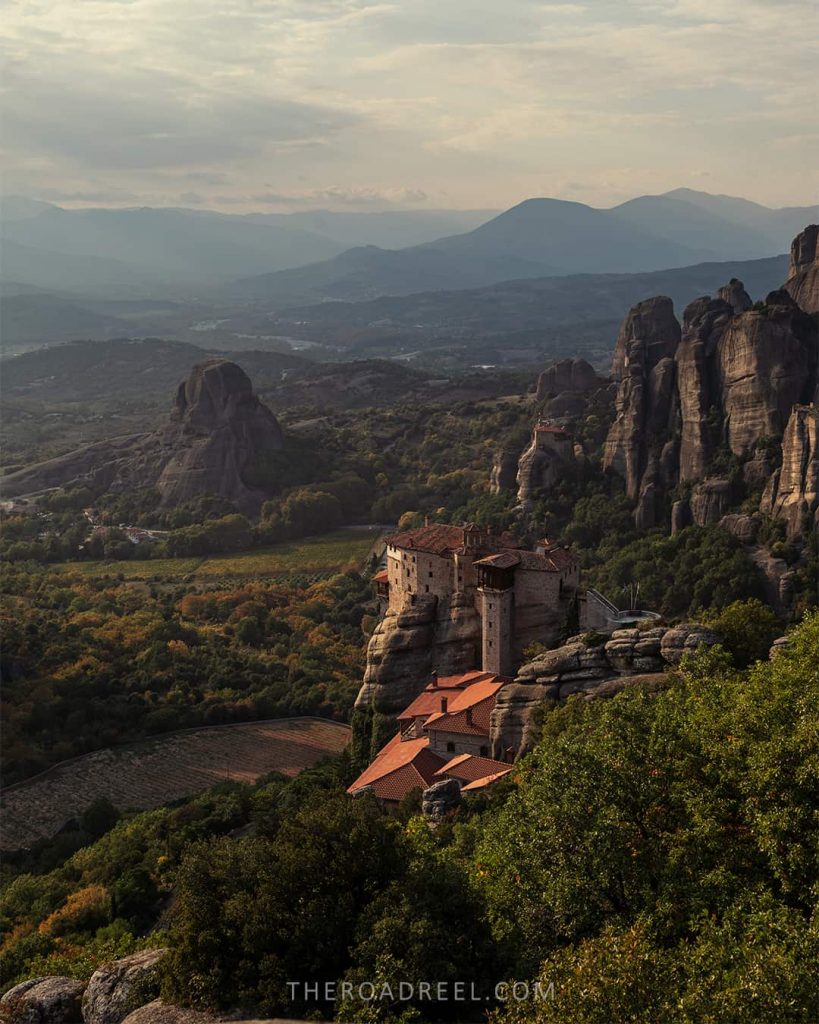 2. Main Observation Deck of Meteora
Pinpointed on Google Maps, the Main Observation Deck of Meteora is THE MOST popular viewpoint over Meteora valley (especially during sunset). It is definitely the best lookout point offering a top-down view and revealing the vastness of the Meteora rocks complex. Also unofficially named Sunrise Rock, it is a perfect location for photographing Meteora at sunrise. Luckily you will find this wonderful Meteora photo spot less busy at sunrise than at sunset. Yet make sure to arrive during the blue hour to take advantage of photographing the awakening valley in a different mood.
Location: Main Observation Deck of Meteora (or sunrise rock) is located just a minute drive (400 meters south) from Sunset rock and is clearly marked on the map. There is a small parking lot, which gets filled up pretty quickly as it is also used by big tour buses. Again, people tend to park on the side of the road when it is busy.
3. Viewpoint of Holly Trinity Monastery
Holly Trinity monastery is perched atop a giant monolith cliff and backed by a dramatic mountain range visible from the north side when looking towards Kalambaka town. The best place to photograph this spectacular work of art created by humans and nature is from the main road. Holly Trinity is one of the monasteries to receive the first rays of sun in the morning, thus sunrise is a perfect time to photograph it. Nonetheless, don't ignore the backlight of the evening, as it gives a mysterious silhouette to the rock formation and monastery atop.
Pro tip: to make your shot more impactful, use a telephoto (zoom) lens which will allow creating more depth with the mountainous backdrop appearing closer and bigger behind Holy Trinity Monastery.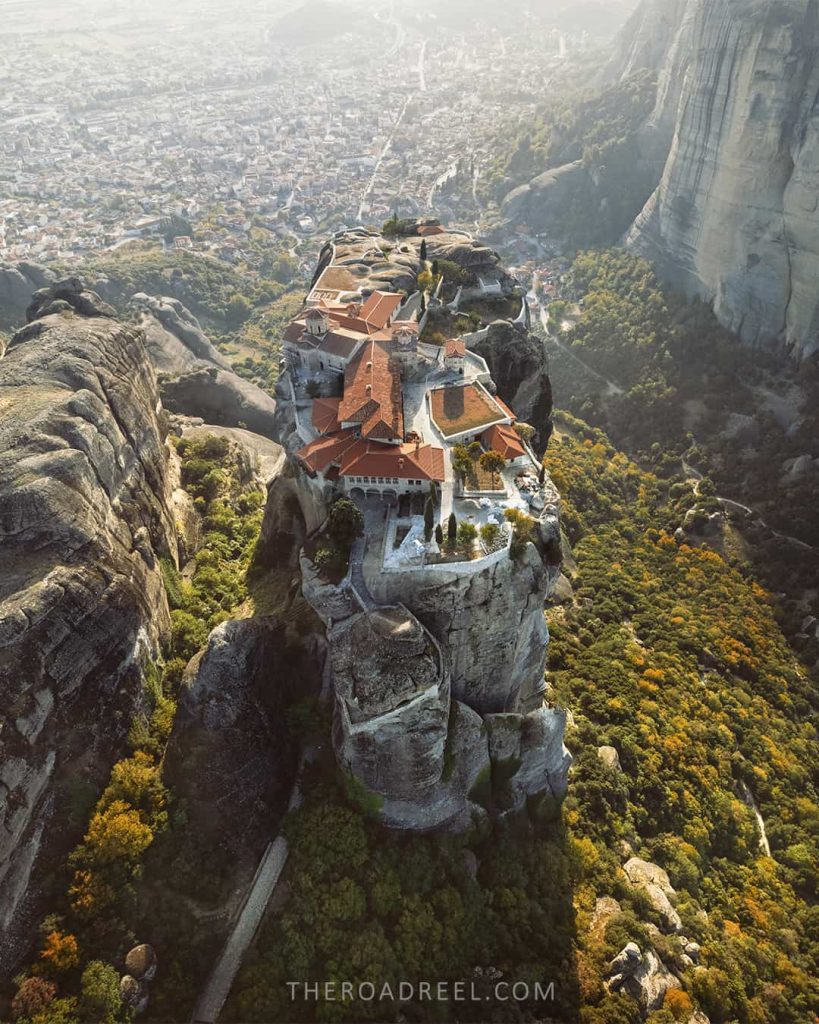 Location: Continuing south and east along the main road from the Main Observation Deck, you will find a small lay-by where you can pull over your car (marked on the map).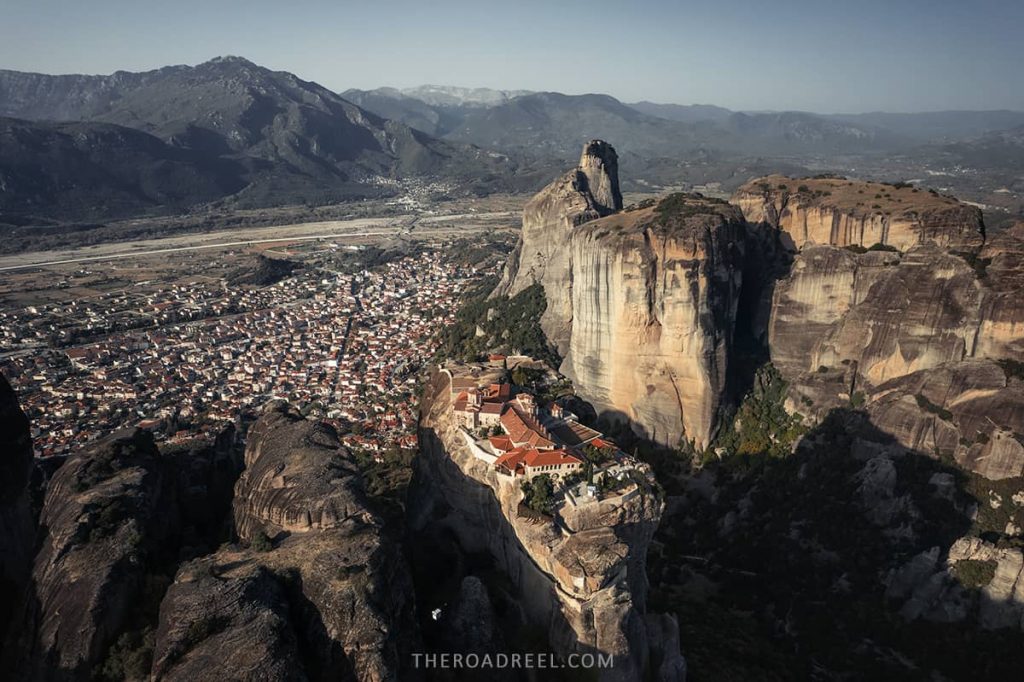 4. Roussanou monastery viewpoint from the roadside
Roussanou is not only arguably the most photogenic monastery but is also perfectly positioned in a way that you can get many outstanding shots of it from quite a few different angles. Only steps away from Sunset Rock, on the roadside, you will find one of the best spots for photographing the Roussonou monastery. From here you have a straight view toward the entrance of the Roussanou monastery with fascinating towering rocks in the background. St. Nickolaos Anapaufas monastery also appears on the far-right-hand side. If you are not afraid of scrambling uneven ground, you can even hike a few meters up above the main road to get an elevated view over the valley.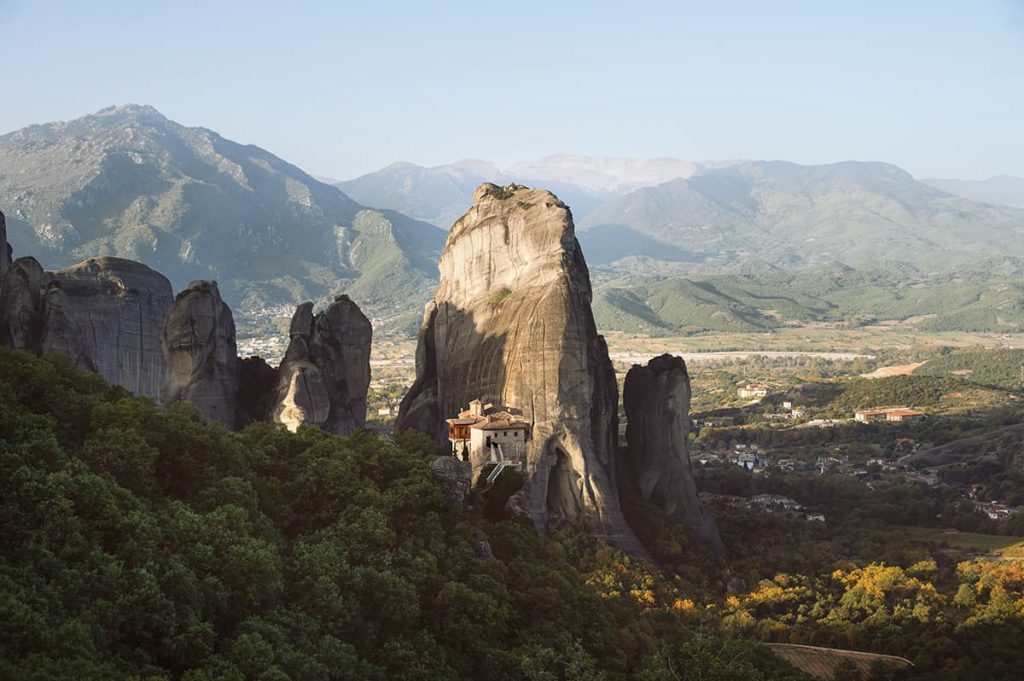 Top tip: this view is stunning any time of the day, but the most magical is toward sunset or early morning after sunrise when the sun's rays illuminate the monastery and surrounding trees with a magical sparkling light.
Location: a couple of hundred meters down the road from Sunset rock. There is a small parking area available which fits 3-4 cars on the right-hand side next to the hill.
5. Roussanou monastery and Meteora rocks vantage point in front of Varlaam
This is another unique viewpoint of Roussanou and its supporting rock with beautiful Meteora rocks in the background. The light here is especially flattering during the sunset. You might also find yourself experimenting with different angles and some cool shots of the rocks alone. Since you are already there, notice that the Varlaam monastery behind can also be captured from a few nice angles.
Top tip: if you are visiting during the day, make sure not to go to the entrance of Varlaam monastery. Continue through the gate inside until you reach a small bridge. Here is another beautiful Roussanou monastery photo spot. You do not need to pay an entrance fee at this point.   
Location: Follow the main road winding down the valley from Sunset rock towards Kastraki. When you approach the T-junction, take the road on the right going up to the Great Meteoron monastery. Soon after a few hundred meters the road splits again, keep left and pull over the sandy pit, from where you can access this wonderful viewing platform.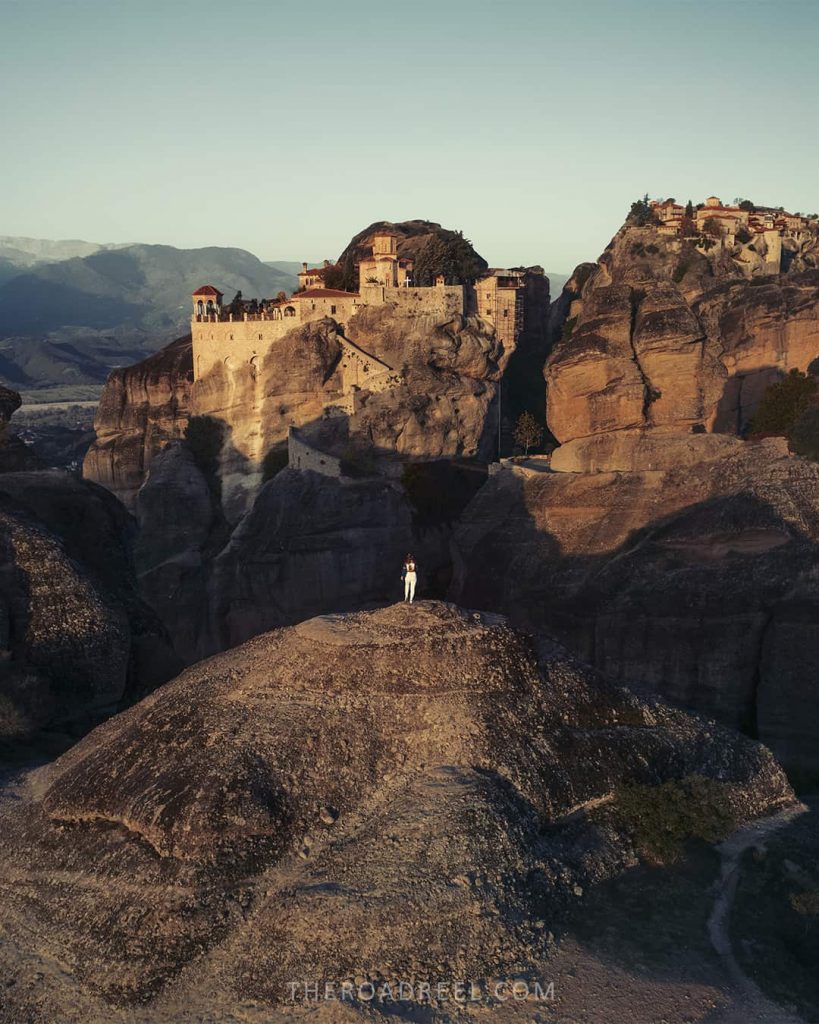 6. Varlaam monastery lookout point
This is a way less busy fantastic lookout point overlooking the north side of Varlaam monastery and Russanou nunnery at a distance. It offers a few great perspectives from different angles. From here you can also capture a different cluster of imposing Meteora rock formations. Northside Varlaam monastery viewpoint is great for sunsets and sunrises.
Location: park at the Great Meteoron parking lot and walk down the road. Look for small stone steps leading to the right-hand side where you can access a set of large rocks. Wander around, and make sure to go further down behind the trees where you can find a perfect spot for capturing Varlaam monastery and the rocks.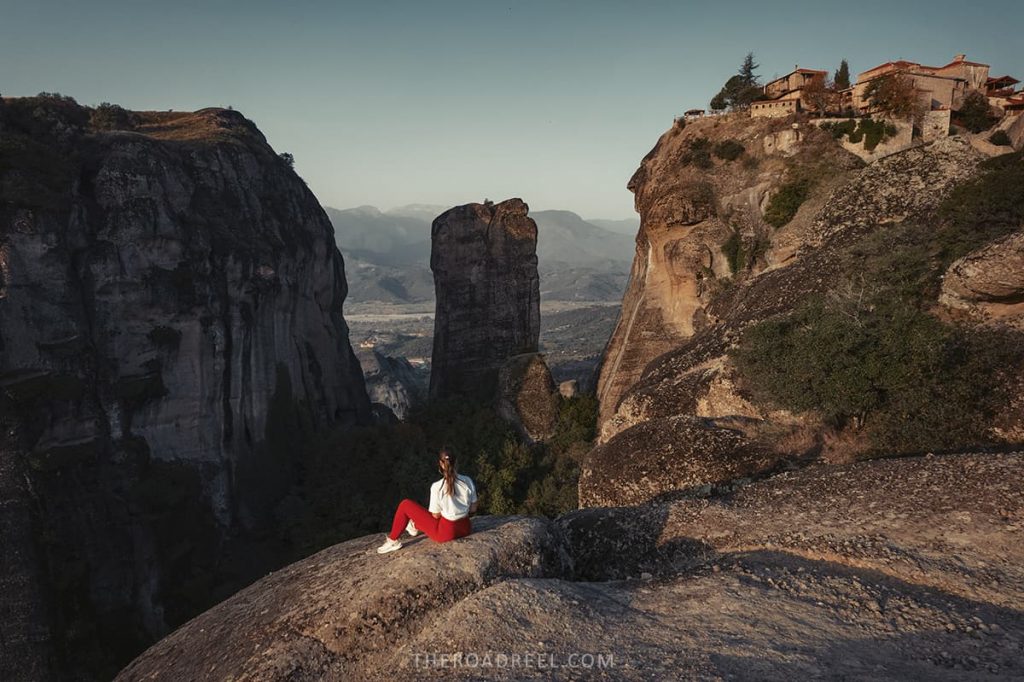 7. St. Nickolaos Anapafsas Monastery
The tiny Saint Nikolas (or Nickolaos) Anapafsas monastery sits at the lowest elevation on an 80 meters tall lonely rock. This petite monastery is best photographed from the road winding down from the Roussanou parking lot. That being said, you can pull over at Russanou's entrance to capture Saint Nikolas's monastery.
However, for more creative shots at less popular spots continue down the road and keep an eye out for the openings between the trees. You will find quite a few photo opportunities. But you have to stop on the road and jump off to take a picture fast as there is no parking. Alternatively, visit Roussanou monastery from where you can also capture fantastic views of Saint Nikolas Monastery. A zoom lens will be useful for a closer shot.
Pro tip: many angles were already taken of this beautiful small monastery. To capture something slightly different aim for a blue hour just before or after the sunset.
Location: Roussanou monastery parking lot and anywhere following the road down to Kastraki.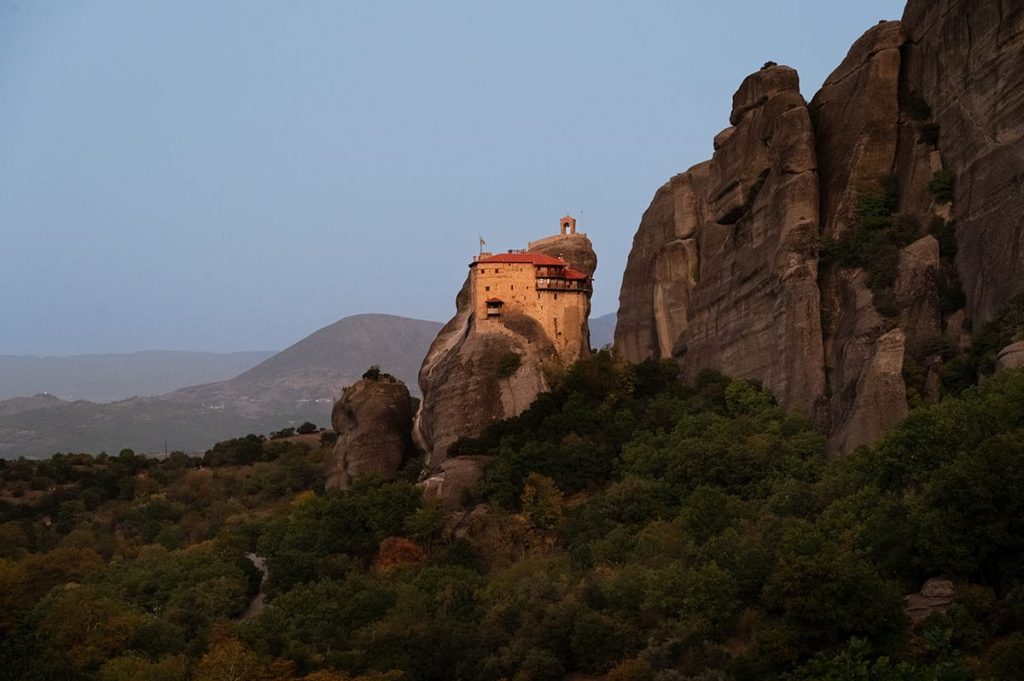 8. Great Meteoron monastery viewpoint
To photograph the Great Meteoron monastery you will have to do some climbing (unless you have a drone to fly). There are a few hiking trails winding above the Great Meteoron parking lot which you can follow to have an elevated view of the biggest monastery of Meteora. The best time to shoot would be during sunrise.
Location: park in the Great Meteoron parking lot and walk down the road, shortly you will see sandy paths leading up the hill on your left. Follow them to climb up until you get the perfect spot to shoot from.
9. Viewpoint over Kalambaka and Meteora valley from Holy Trinity monastery
Although many great viewpoints are opening from the main road, there are some that you can only get if you visit the monastery. One of the best views over Kalambaka town and Meteora valley opens up from Holy Trinity monastery. The stone path leading toward the monastery is also beautiful. Note that you can only get inside the monastery during its opening times.
Location: Terrace of Holly Trinity Monastery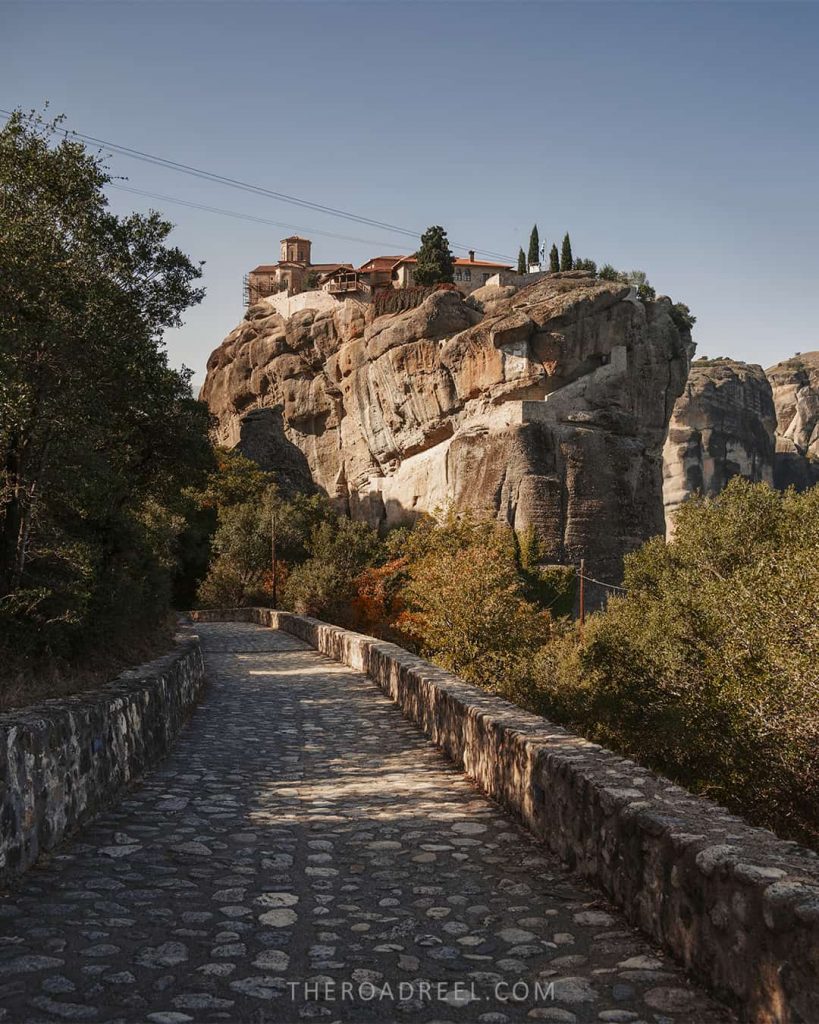 10. Perspectives from Saint Nikolaos Anapafsas terrace and balconies
Saint Nikolas Anapafsas monastery is overlooked by many tourists because of the many steep steps that lead to it. However, it was one of my favorite monasteries which also surprised me with beautiful views from the terrace and a small balcony. Here you will be able to photograph the valley of Kastraki town, Roussonau from a different perspective and even catch a small element of Varllam "squeeze" between the monolith rocks.
Map of the best photo spots in Meteora
Click here to open and save my viepoints of Meteora map which point out exact photo locations in Meteora.
Gear used for Meteora photography
For my ground Meteora photography, I used
Using those two lenses I had the flexibility to capture Meteora from different perspectives. I would strongly recommend not limiting yourself just to wide-angle lenses only for landscapes but also playing around with zooms for variety. I have not used any gradient ND filters but those are useful to even out the light.
The gorilla pod and a small Manfrotto travel tripod came in handy during the low light and for merging exposures as well as for taking timelapse. Hardcore landscape photographers would want to bring a bigger sturdy tripod that is essential during the windy day (you don't want your camera teetering on the edge of the rock).
For aerial photography, I used:
Photographing and filming Meteora monasteries by drone
Photographing and filming Meteora monasteries by drone was probably one of the most exciting creative moments. Needless to say, aerial photography revealed Meteora from angles you will not physically be able to access.
However, if you decide to fly your drone in Meteora, be very mindful of keeping a safe distance from the monasteries, and people around.
It is not completely clear if flying the drone in Meteora is allowed or not (or if an official permit is required). I was getting warning signs on the remote controller about an enhanced warning zone and had to tick the box to accept full responsibility for whatever may have happened during the flight.
Thus, I tried to minimize my droning time in Meteora as much as possible. Got the shot I wanted and packed my drone up.
I did read online that some people got in trouble for flying drones in Meteora. Nonetheless, the reason was not stated. That being said, although there are no official signs against flying the drone in the area, approach it with caution.
Quick tips for photographing Meteora monasteries
To wrap up this Meteora photography guide, here are some useful things to take into consideration when preparing for your Meteora photography adventure. 
It is very easy to reach the viewpoints from the main road winding above the Meteora valley. Every bend and curve offer a beautiful photo opportunity, thus be ready to safely pull up your car along the way.
Some of the lookout points require climbing up the boulders and hills. Wear shoes with a good grip to safely move around.
Apart from the listed best photo spots in Meteora, hiking well-laid trails around Meteora valley will give you plenty of different perspectives to photograph the monasteries.
Stay a few nights if you can to have enough time to take advantage of photographing Meteora and its monasteries at different times of the day, especially at sunrise and sunset, and even in different weather conditions. On my trip, I only had two nights to spend in Meteora and both days were very sunny. Some may think it is great for sunrise and sunset which is true but it is terrible during the day. That being said, I was actually wishing for some dramatic clouds and even fog. Luckily on our way back from Kastoria, we passed through Kalambaka again and it was a beautiful cloudy afternoon. Thus, I decided to skip another town in Greece and stay for another half a day in Meteora just to shoot it in a completely different mood. 
Stay longer after sunset or before sunrise to capture the blue-hour views. In fact, this is my favorite time when the colors are settled and the sky is painted in beautiful deep blues and purples.
Although many fantastic spots are easily accessed from the main road, do go inside the monasteries for different vantage points.
Bring a range of lenses, from wide-angle to zoom, to be able to get different perspectives of the Meteora valley and monasteries. If you only have space for one lens in your bag, then go with something a little versatile like 24-70 mm, but 12-24 mm, or 14-30 mm is what you would need if you are aiming for wide panorama shots.
Be careful when flying a drone in Meteora. It is not completely clear whether it is legal or not to fly drones around the monasteries. I personally did not have any issues but I have read online that some people got in trouble with the police (a reason why is unknown).
Make sure to read my Easy Guide to Visiting Meteora Monasteries in Greece to help you plan your trip.
Where to stay in Meteora
You can base yourself in either Kastraki or Kalambaka during your trip to Meteora. It is equally easy to drive to Meteora monasteries and rocks from both towns. The differences between the two are that Kastraki is smaller and quieter (we preferred staying there), while Kalambaka is slightly bigger and livelier with lots of restaurants and bars to choose from. However, when it comes to accommodation, you can find good options in both towns. Below are my recommendations for where to stay in Meteora.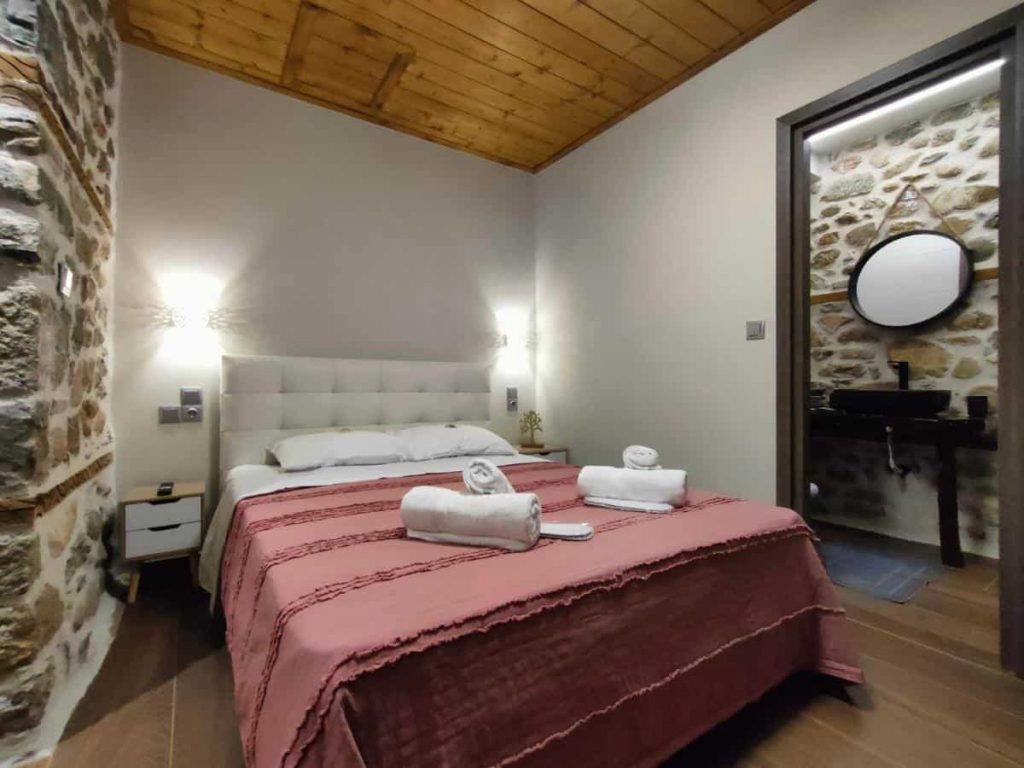 Dream Nest Meteora $$. We stayed in this cozy immaculately clean and tastefully furnished one-bedroom apartment. This family accommodation has two apartments located in beautiful surroundings at the foothills of Meteora. The host was kind enough to refund one night's stay on my non-refundable booking when my flight got delayed for a day.
Hotel Doupiani House $$. Well-furnished rooms with balconies opening to fantastic views over Meteora, as well as a common terrace area to have excellent breakfast and a drink at an on-set bar in the evening. Saint Nikolas Anapafsas Monastery is located steps away.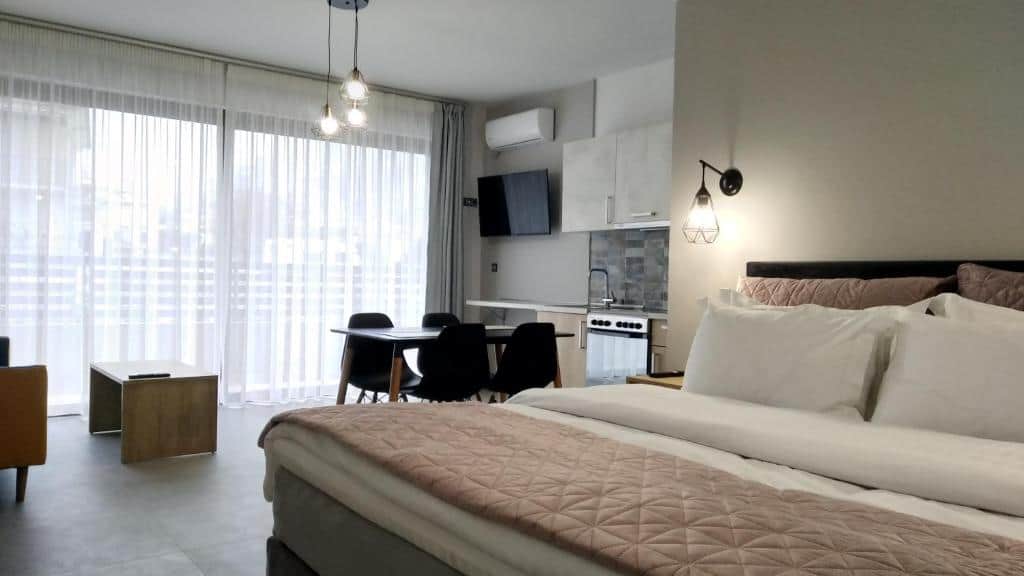 Psammites $. This affordable and brand-new minimalistic studio apartment offers a comfortable stay in the quiet surroundings of Kalambaka. It also has a patio, a terrace with a seating area, and a garden.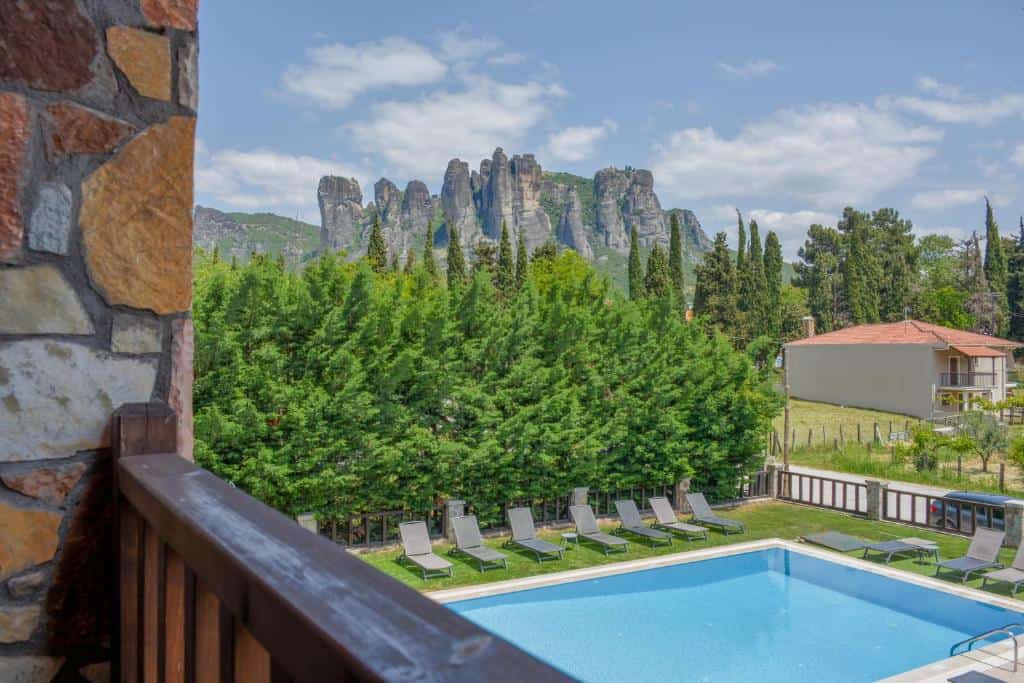 Monastiri Guesthouse $$. Located 200 meters away from Kalambaka town center and close to the train station, this guesthouse has a variety of expressively decorated rooms with frescoes and wooden floors, a big garden with a pool open to Meteora views. Great breakfast is also included, and room service is available upon request.
Did you find this best photo location in Meteora guide useful? Leave your comment below to share your experience.
Greece travel essentials & useful links
Here are links to essential travel resources and services I always use when organizing my trips.
More articles on my Greece travel blog