From the pristine beaches of Tropea and San Nicola Arcella, the old-world charms of Scilla, and the melting chocolate flavors of Pizzo, to name a few favorites, in this post I share the most beautiful coastal towns in Calabria, Italy. If you are yearning for a truly authentic South Italian experience, I will take you along the top beach towns in Calabria and charming villages on the Tyrrhenian Coast that I personally visited. 
Calabria, nicknamed the "toe of the boot," is one of the very few regions in Italy that hasn't been swamped by international tourists yet. It pulsates with that real, local vibe that gives you a culturally enriching experience, as well as a true sense of tranquility that you can find in the dreamy seaside villages. Add fantastic food, friendly locals, the beautiful landscapes of green cottony hills, and the dizzying blues of the Tyrrhenian Sea, and you will have more than one reason to visit at least a few of those best coastal towns in Calabria, south Italy.
When putting this list together, I included the seaside towns in Calabria that are all different and unique in their own way. That being said, if you are planning a south Italy itinerary and are looking for top Calabria beach towns for swimming, romantic seaside escape, family vacation, or simply exploring some of the most charming Calabrian coastal villages, I got you covered.
I walk you through the most scenic beach towns in Calabria that might be well-known for locals but are true hidden gems if you are a visitor from abroad. I also share a location map and a few practical tips, including how to get there and accommodation suggestions for each of them.
Disclosure: This post contains affiliate links, which means that I may make a small commission at no extra cost for you if you make a purchase by clicking a link. It helps to keep my blog growing and filling up with detailed honest travel advice for you.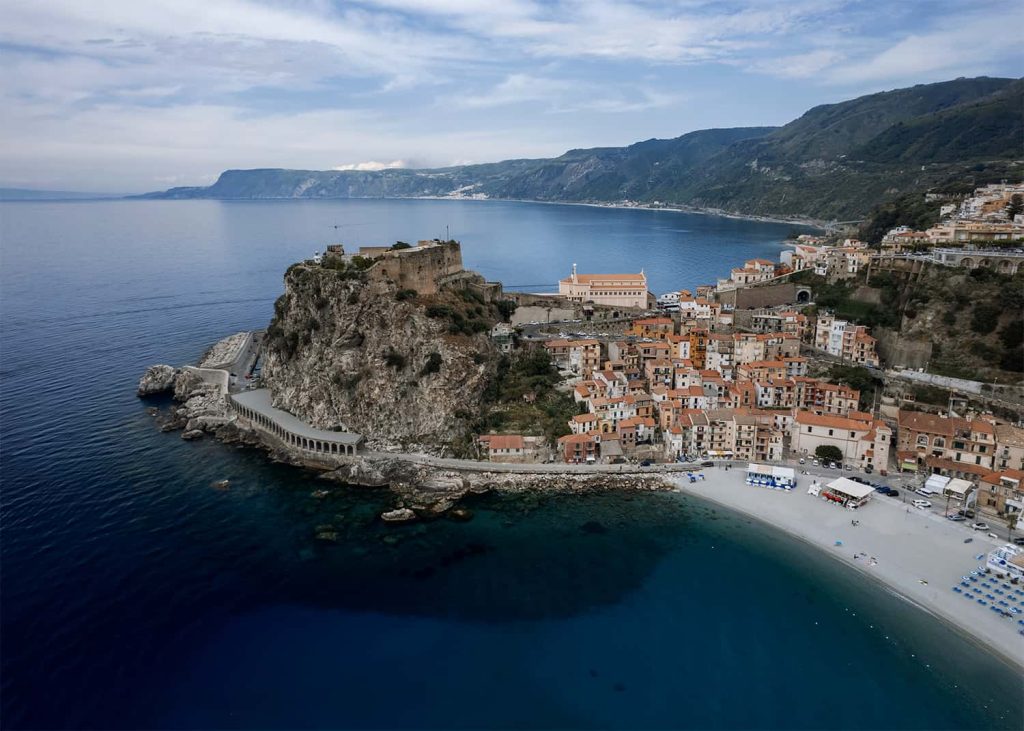 How to visit coastal towns in Calabria: practical info
While all of the Calabria coastal towns mentioned here can be accessed by train, the most convenient way to get around the region is by car.
Self-driving allows you to easily reach some of the best beaches in Calabria, especially the remote ones located away from the main towns. Moreover, you can also explore some of the amazing hilltop towns in Calabria which are practically impossible to reach by public transportation.
I visited Calabria beach towns listed here with a rental car during my 2-week Calabria road trip. A car gave me the freedom to move around easily and follow my own schedule. Therefore, if you are planning a Calabria trip, I highly recommend hiring a car and driving around to be entirely independent.
For my trip to Calabria road trip in Italy, I used the Discovercars search aggregator which offers the best car rental rates in the market. We picked up our rental car in Rome, however, there are convenient pick-up locations in the bigger towns of Calabria (Lamezia Terme, Reggio di Calabria, Cosenza). You can also drive to Calabria from Naples, or take a ferry from Sicily.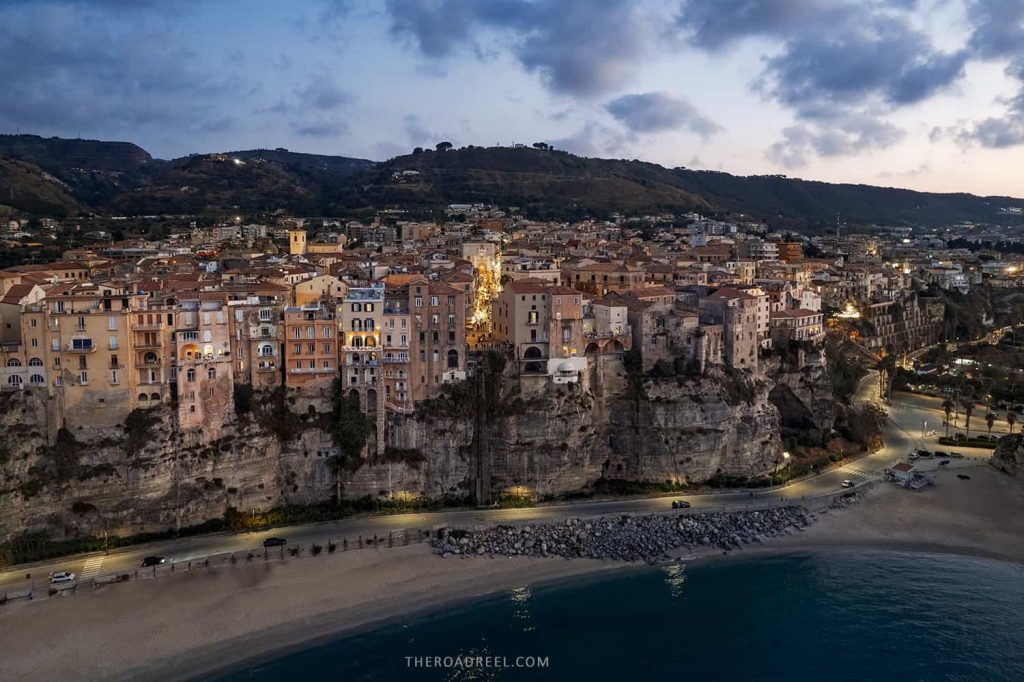 10 top beach towns in Calabria on the Tyrrhenian Coast
1. Tropea – the Pearl of Calabria, Italy
The first on the list is Tropea, the Pearl of Calabria. It is perhaps the most popular and surely one of the most impressive coastal towns in Calabria. Very well-known for Italian holidaymakers, and a few international visitors, Tropea is renowned for its stunning beaches, where powdery white sands meet the azure sea. I dare to say, Tropea beats most of the overpriced Amalfi Coast towns as a seaside holiday destination.
What sets Tropea apart from many beach towns in Calabria and Italy, is its striking waterfront, featuring pastel-shaded stone houses emerging from the dramatic cliffs that plunge into the crystalline waters of the Tyrrhenian Sea. The town perched atop these cliffs offers spectacular views of the azure sea. Meanwhile, Tropea's historic center, characterized by narrow cobblestone streets with many artistic details, well-preserved architecture, and local trattorias hidden within small piazzas, is a romantic place to spend an evening.
Besides the lively historic center and beautiful beaches that are part of the Costa degli Dei (Gods Coast) of Calabria, one of the most famous landmarks in Tropea is the Sanctuary of Santa Maria dell'Isola, an ancient church dramatically situated on a rocky promontory overlooking the sea. This iconic landmark has become synonymous with Tropea's identity and offers a glimpse into the town's rich history.
Tropea also boasts a vibrant local food scene, with its famous red onions, known as "cipolle di Tropea," adding a unique and delicious twist to regional cuisine. The local trattorias and restaurants offer an array of mouthwatering dishes that showcase these iconic onions.
When you visit Tropea, you'll find that it's a place where natural beauty, history, and gastronomy come together to create a memorable coastal experience. Tropea is definitely one of the most special coastal destinations in Calabria you should not miss.
Highlights: Tropea blue-flag beach, Sanctuary of Santa Maria dell'Isola, red onions ("cipolle di Tropea).
Point of interest nearby: Capo Vaticano, Zanbarone beach, Pizzo, Scilla, Aeolian islands that you can reach by boat tour. 
Perfect for: travelers who wish to stay in a lively holiday town but also to have the option to escape to more tranquil beaches nearby.  
How to get there: by car. Also, Tropea train station is situated one kilometer from the historic center.
Where to stay in Tropea
Tropea is a great base for exploring the southwest side of Calabria. Accommodation options are plentiful- from hotel rooms to holiday homes, there is always something available for everyone. Nonetheless, if you are visiting in summer, make sure to book in advance as this is one of the most popular seaside destinations in Calabria.
Read my full guide to the 10 best things to do in Trapea.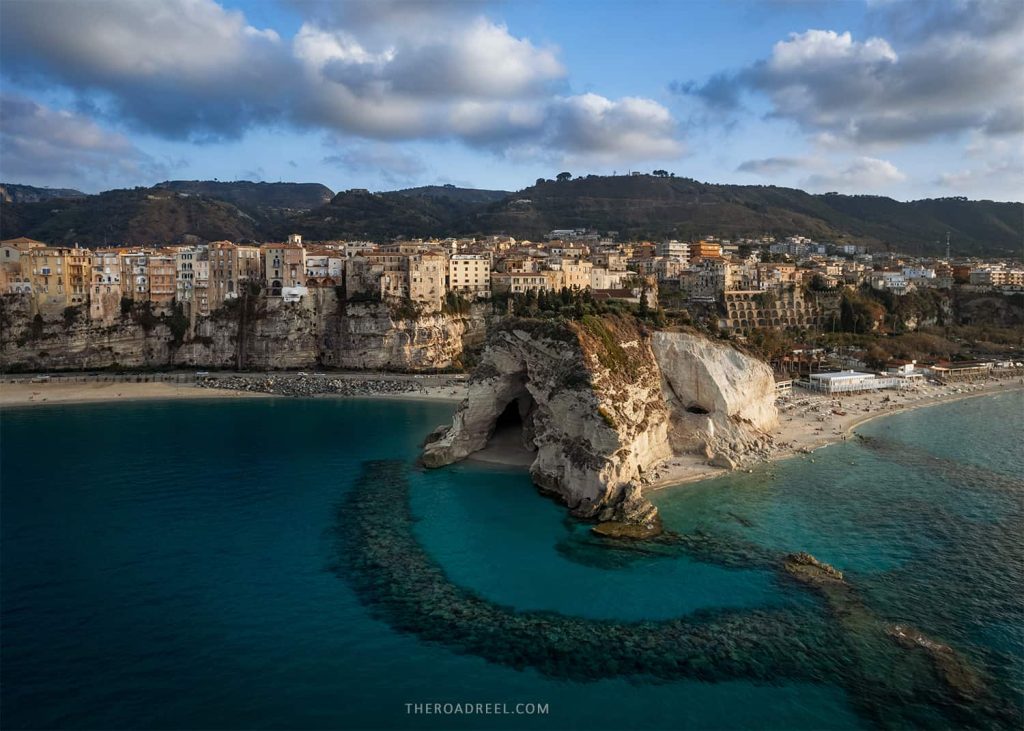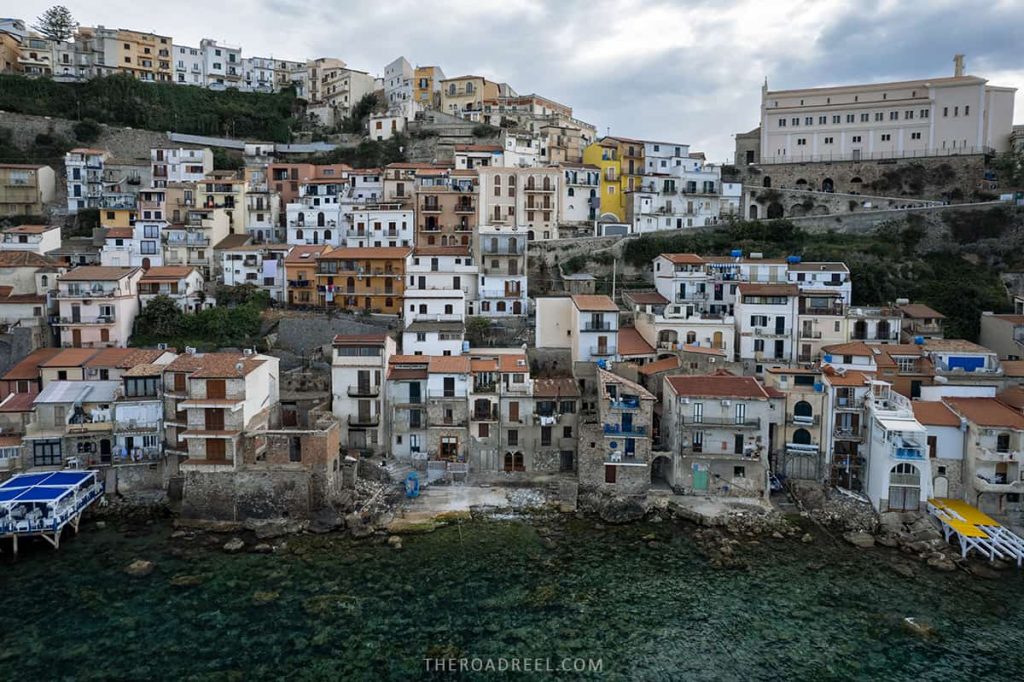 2. Scilla -the most characterful fishing village in Calabria
Nestled at the very tip of Italy's boot, on the Costa Viola (Violet Coast), of the Tyrrhenian Sea, Scilla is the most characterful coastal town in Calabria. Due to its laid-back atmosphere and picturesque setting of colorful houses cascading down into the water with pretty cone-shaped hills rising above, Scilla is my personal favorite seaside village in the region.
Scilla is a town of duality, split by a rocky promontory crowned with an imposing fort of Castelo Ruffo that overlooks the sparkling Tyrrhenian waters. On one side, you'll find the picturesque Chianalea di Scilla, a fishing district where weathered pastel-colored fishermen's houses seem to emerge from the shimmering sea. On the other side of the castle, the Marina Grande area invites you to spend sunny days on the beautiful "violet coast."
Named after a fearsome sea nymph-turned-monster Scylla from Greek mythology, Scilla has retained its authenticity, holding steadfast to its two-thousand-year-old fishing traditions. It is a place that is fairly remote, thus it remains relatively unexplored by international visitors, making it a hidden treasure in Calabria.
Positioned on the Strait of Messina, which separates mainland Italy from Sicily, Scilla, and Chianalea can be visited as a day trip from Tropea, but it's well worth considering a longer stay, especially if you're en route to Sicily or exploring the broader Calabria region. 
Highlights: Chianalea fishing harbor with many restaurants clinging above, swordfish sandwiches, Marina Grande beach, Castello Ruffo.
Points of interest nearby: Tropea, Reggio Calabria, Velvet Coast, Silla National Park. 
Perfect for: a romantic beach holiday, history, and culture. 
How to get there: Scilla is located 1 hour and 20 minutes by car from Tropea. You can also take a regional train which stops in front of the Marina Grande quarter.
Where to stay in Scilla
Read my complete guide to visiting Scilla and Chianalea fishing villages.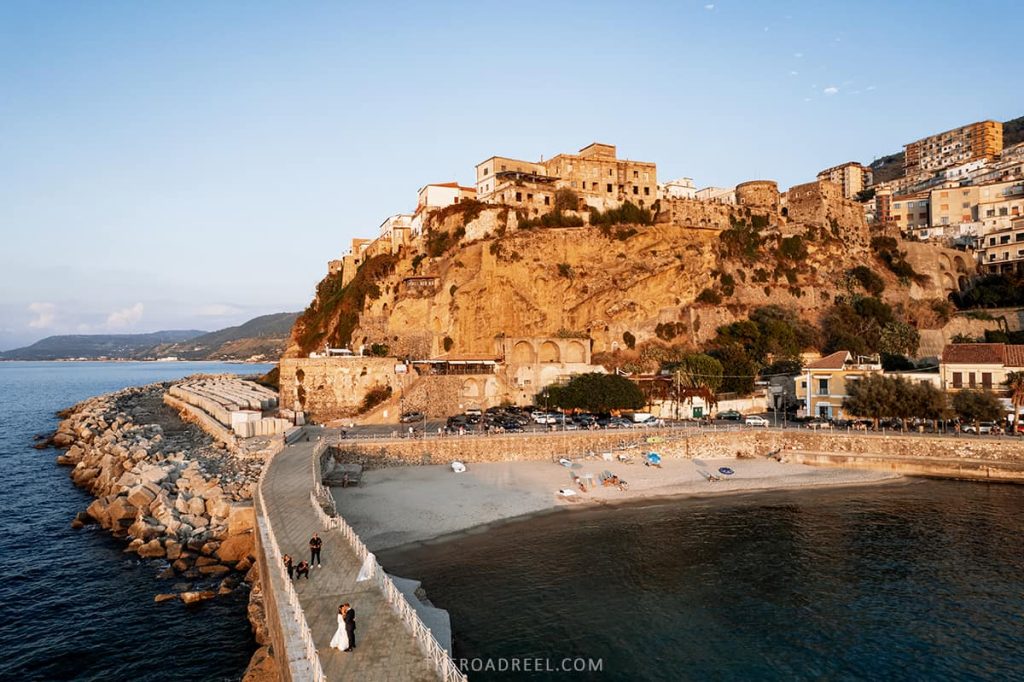 3. Pizzo- the hometown of Tartufo di Pizzo
If you are a sweet-toothed traveler, you will be delighted to come across Pizzo, famed for its impossible-to-resist Tartufo di Pizzo desert. An ice cream bomb with melty hazelnut-flavor chocolate filling is served by dozens of gelaterias in town. You are welcome to indulge during the day at any of them, or take it away and combine it with watching the spectacular sunset that Pizzo is also known for. 
Located in the province of Vibo Valentia, the seaside town of Pizzo is positioned higher up on a cliff with its red-roofed houses overlooking the turquoise water of the Tyrrhenian Sea. That means, that you can enjoy the beach during the day and explore the charming historic center in the evening. It comes to life just before sunset when young and old come out for evening passiaggiata along the Piazza della Republica, the main square that is lined with grand palazzi and the best in town tartufo "bars" as well as restaurants.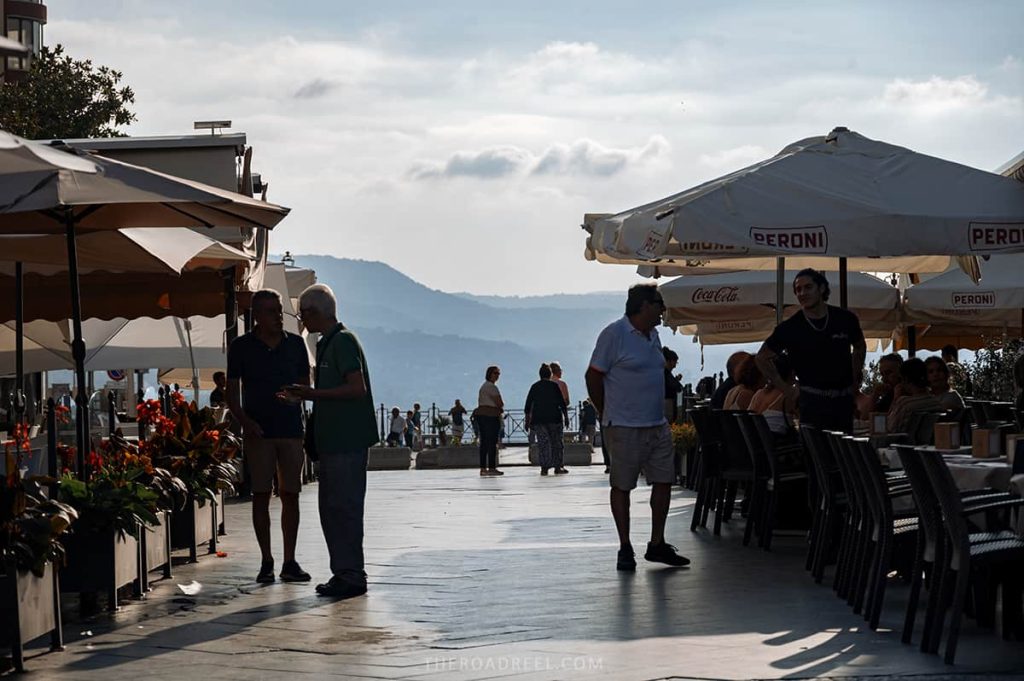 At the edge of the square, people line up for the sunset views at La Balcona. Meanwhile, the Castelo Murat castle stands out as the most prominent historic landmark from where the windy alleyways lead to the waterfront and Pizzo Beach. If you visit on Sunday evening, chances are you will witness a wedding photo shoot at the Marina di Pizzo Mall, the local's favorite location for photography. 
The delightful coastal town of Pizzo with its sweet flavors that stand out in the spicy region of Calabria, truly embodies the essence of southern Italy. If you are visiting Tropea for a few nights, make sure to pay a visit to Pizzo. If you are landing at Lamezia Terme airport, Pizzo makes it a great starting point to explore Calabria and is well worth an overnight stay.
Highlights: Tartufo di Pizzo dessert, sunsets at Pizzo Beach, historic center, Castello Murat, Chiesetta di Piedigrotta, a church hewn out of the rock
Points of interest nearby: Tropea, Briatico, Vibo Marina, Zambarone.
Perfect for: foodie experience, family holiday, culture, and history. 
How to get there: the most convenient way is to drive. The train station is located 1.5 KM (around 20 minutes walk) from the old town of Pizzo.
Where to stay in Pizzo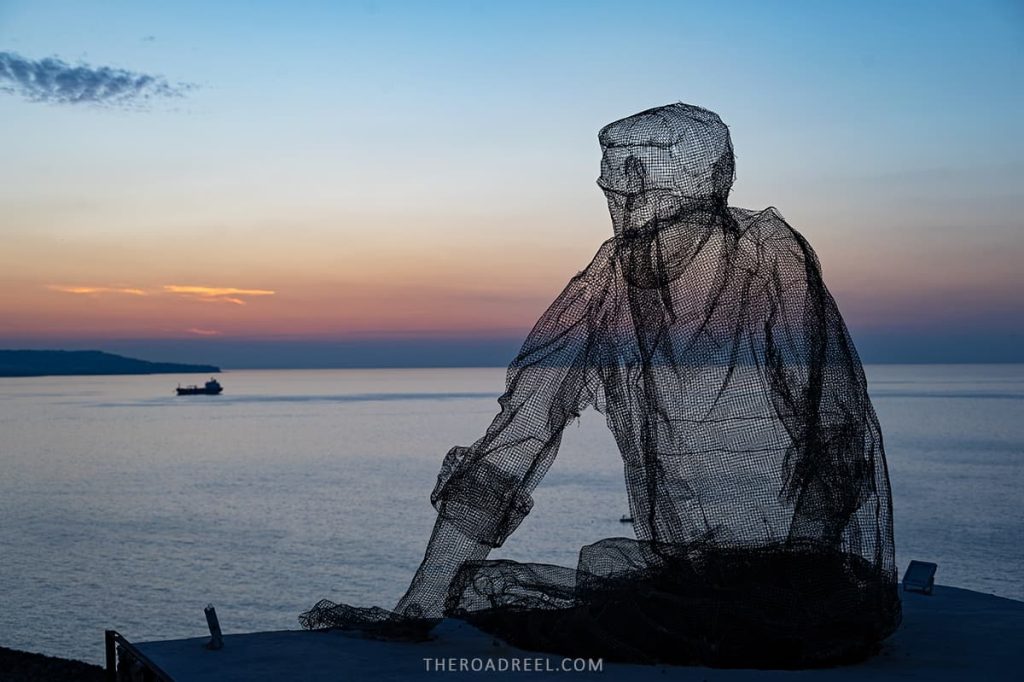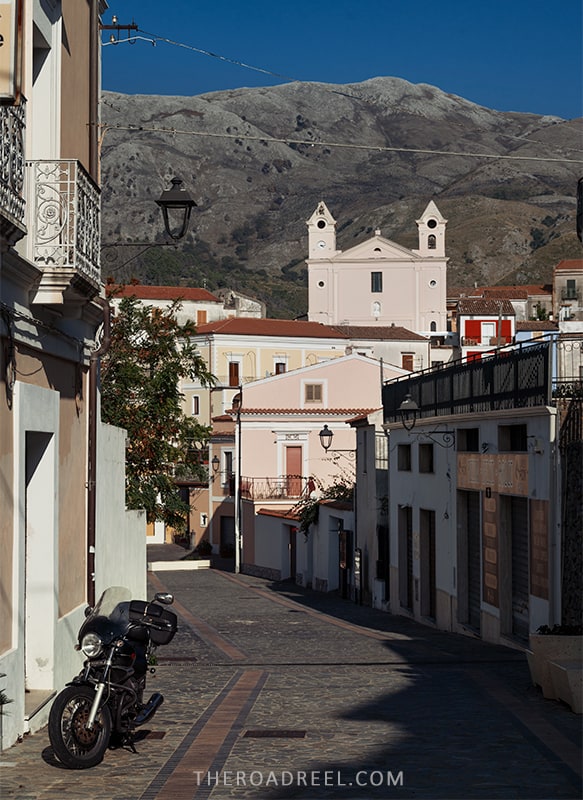 4. San Nicola Arcella and magical Arcomagno beach
Located on the rocky coastline of Riviera dei Cedri (Cedars Riviera), between Scalea and Praia a Mare, San Nicola Arcella is a pretty bright-colored little town with its historic center perched on the edge of a steep cliff. From here, you have a few breathtaking vantage points overlooking the sea and the stunning landscape of the Gulf of Policastro. 
Meanwhile, the modern part of the town, a former fishing village, transformed into a seaside resort, is set on the shores of the sea offering sunseekers immediate access to the pristine beach. 
However, a true hidden gem and a highlight of the town of San Nicola Archella can be discovered beneath the protective embrace of the cliff. A very photogenic (get your camera ready!), is the one and only Arco Magno beach framed by two rock arches carved by relentless work of sea and wind. Exploring its hidden coves by kayak or hiking a steep path for 15 minutes will transport you to a completely different world resembling a remote island somewhere in the Caribbean. 
San Nicola Arcella with Arcomagno Beach was undoubtedly one of the best places we visited during our two weeks in Calabria. It was so wonderful, that we made an effort to go there twice (says a lot, taking into account that Calabria is dotted with many beach towns to visit).
Highlights: Arcomagno beach, views of Riviera dei Cedri, old town.
Points of interest nearby: Scalea, Dino Island, Praia a Mare.
Perfect for: adventure, and romantic stays. 
How to get there: the most convenient way is to drive. The train station is located in Scalea and Praia a Mare, from where you would have to take a taxi. 
Where to stay in San Nicola Arcella
Further reads: make sure to also check my guide on How to visit Arcomagno beach in San Nicola Arcella. It is not straightforward and I have some handy tips based on my experience.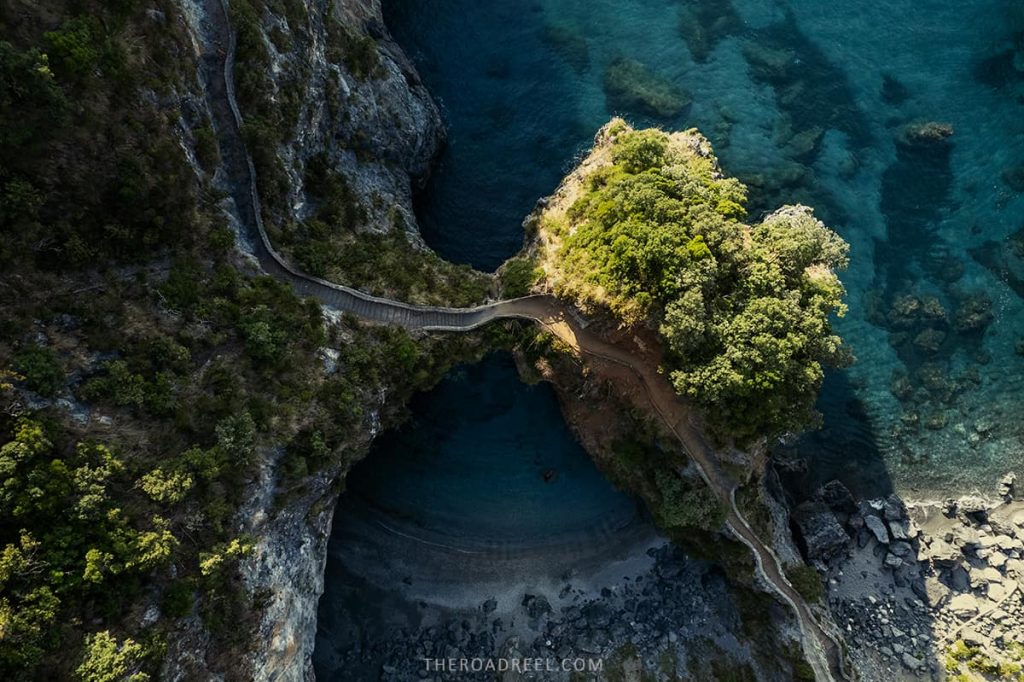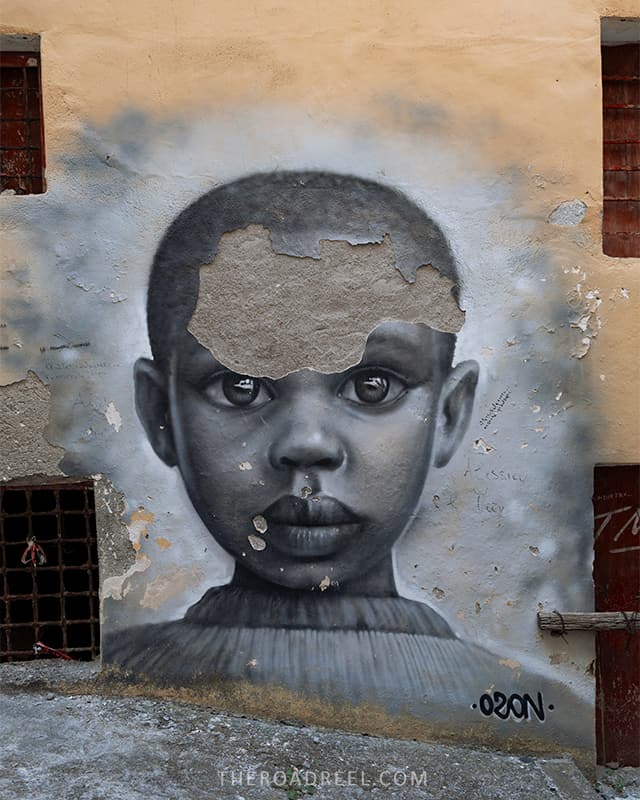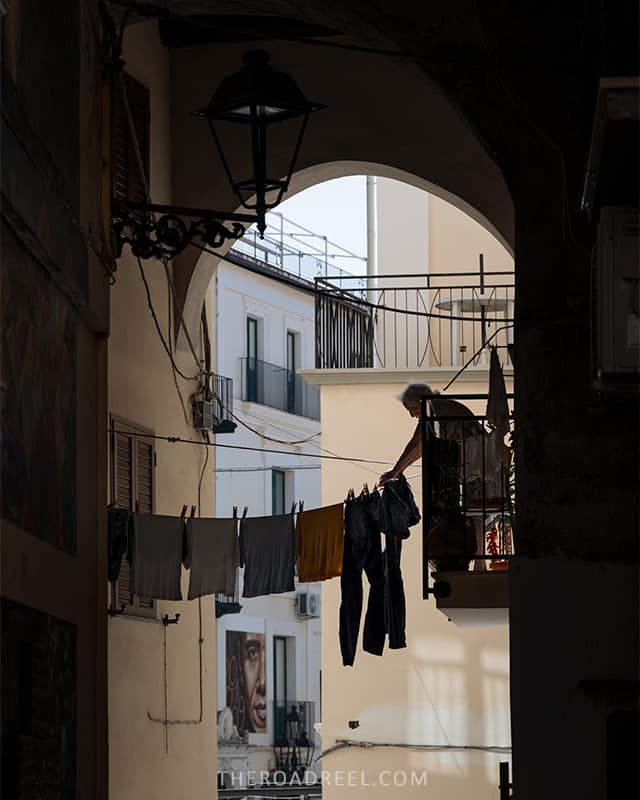 5. Diamante- the seaside town of murals in Calabria
Diamante is the most artistic and colorful seaside town in Calabria on this list.  Called the 'City of Murals', Diamante invites you to wander through the tangled alleyways and appreciate its open-air gallery where every wall has a story. Counting somewhere between 200 to 300 murals, with new ones coming up each year, Diamante is a canvas of artistic expression. Walking here is like flipping through a colorful storybook, with each mural pulling you into a different tale of tradition, legend, and daily Calabrian life.
But Diamante's allure extends beyond its artistic facades. This seaside town in Calabria is also famed for its fiery treasure, the peperoncino. These mighty little red peppers that pack a punch are not merely a culinary staple but the heart of an annual festival that transforms the town into a jubilant celebration of Calabrian cuisine and culture. 
And if you are wondering if this Calabria coastal town also has a nice beach, then I have great news for you. The northern side of the town has an extensive beach with the sea so blue as if someone pushed up the saturation tab just for Diamante.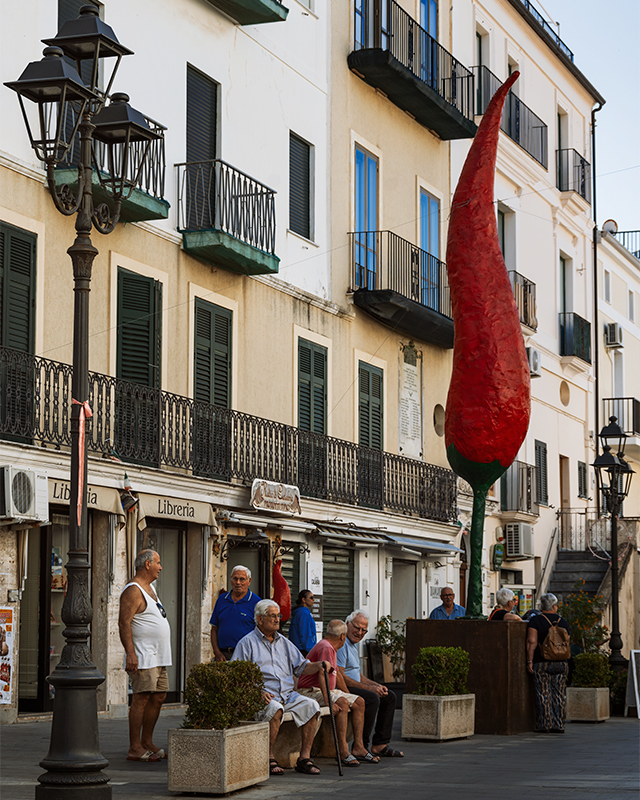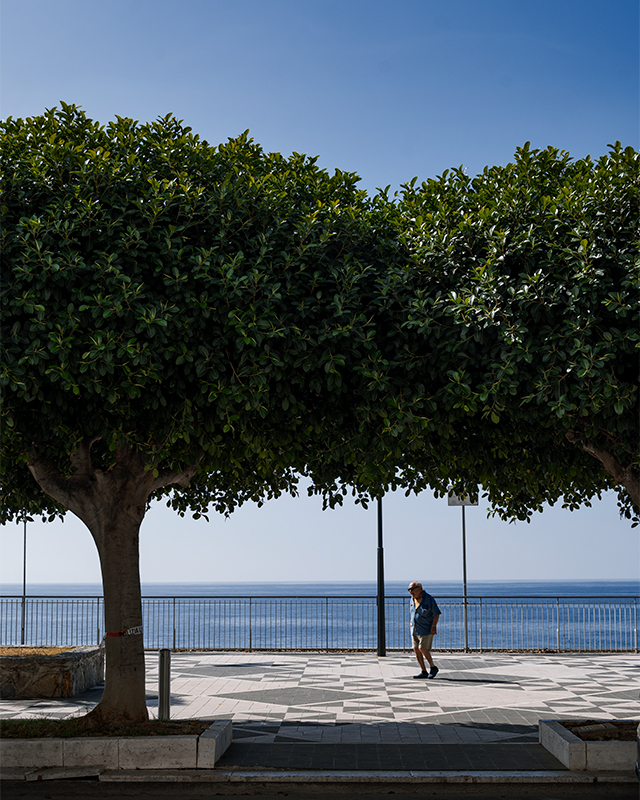 Finally, the Lungomare of Diamante is a lovely seaside promenade, where the gentle murmurs of the Tyrrhenian Sea complement the rhythmic stroll of those walking by. The vibrant mosaic of the pavement glows while the sun dips into the sea, painting the sky with all sorts of oranges and pinks.
Highlights: Lungomare of Diamante, blue-flag beach, murals, peperoncino.
Point of interest nearby: Scalea, Arcomagno Beach, Belvedere Marittimo.
Perfect for: families, and street art enthusiasts.
How to get there: easy to get by car, parking is plentiful. The train station Diamante-Buonvicino is located 10 10-minute walk from the old town and murals.
Where to stay in Diamante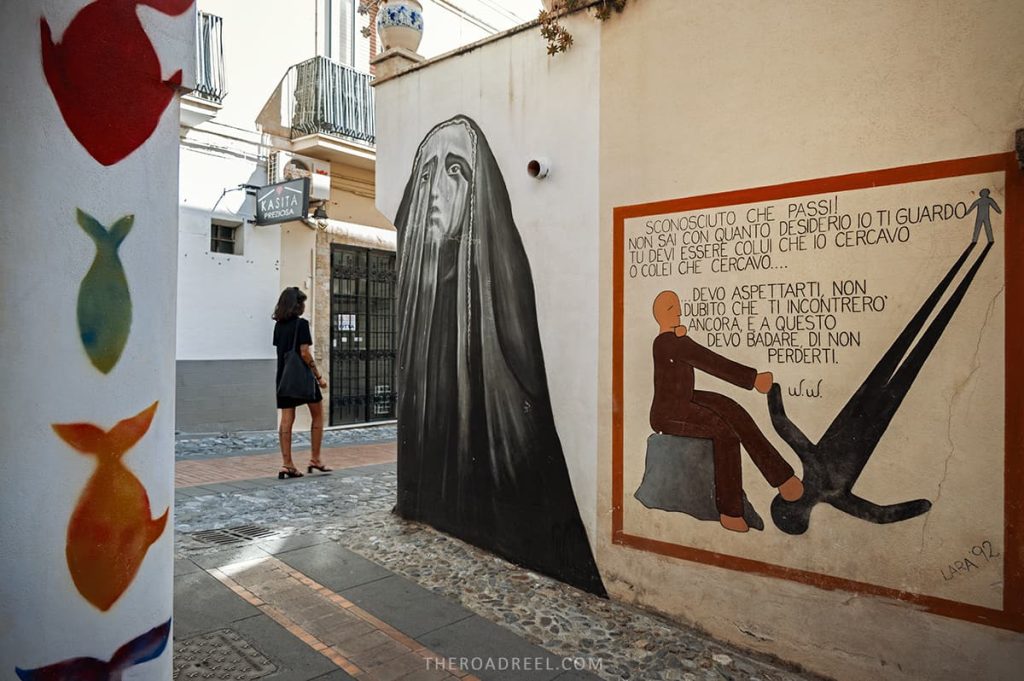 6. Parghelia- a tiny coastal town on the Coast of the Gods
Located just a 5-minute drive from the popular Tropea, Parghelia is a quiet seaside town on Clabria's Coast of the Gods. Overshadowed by the famous neighbor, this tiny coastal town has some magic under its sleeve. Namely, Spiaggia di Michelino beach which was perhaps my favorite beach near Tropea.  
Parghelia town is a cozy little spot in Calabria, steps away from the sea, where life takes a chill step back. Parghelia is all about the easy-going local vibes, with a few local cafés for breakfast, a few Calabrian pizzerias, and no tourists in sight. But that's what makes it really special.
Although there isn't much to do in the town, Parghelia's proximity to busier Tropea, and easy access to the fantastic beach, makes the town a perfect alternative to stay during your Calabria trip.
Highlights: Spiaggia di Michelino beach.
Point of interest nearby: Tropea, Zambarone beach, Capo Vaticano, grottos of Zungri.
Perfect for: families, friends, and couples who like wild beaches.
How to get there: easy to get by car, parking is plentiful. The train station Parghelia is located in the town center.
Where to stay in Parghelia
READ MORE:  25 super useful tips for visiting Calabria.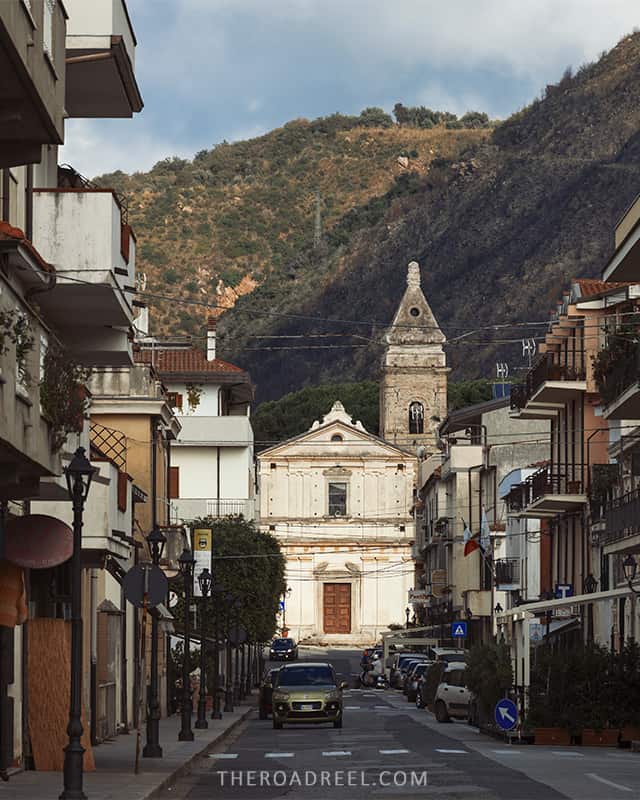 7. Scalea- the Russian-Italian beach resort
Scalea is perhaps the most unexpected beach town in Calabria, Italy. Scalea's dual personality is a canvas of contrasts. At its heart lies the Old Town with a historical tapestry woven with narrow alleys that have truly seen centuries go by. Many crumbling stone buildings are on sale (Vendeti) begging to be restored. Yet retaining the classic southern Italian charm, Scalea's centro storico is a joy to explore, especially late afternoon when the locals wake up from siesta. 
Meanwhile, the new modern part of Scalea is populated with non-descript apartment buildings from the 80s that line the shoreline of the Tyrrhenian Sea. The only historical landmark here is Torre Talao, an old watchtower that stands as a sentinel to history, while lively beachfront thrum with the present (and lidos). In this juxtaposition, Scalea has become an unexpected favorite among Russian tourists, many of whom settled in those affordable 80s apartments. 
When visiting Scalea, I observed a very different scene from the one that I am used to when traveling to Italy. In a sense, it is a quite cosmopolitan atmosphere where Italian mixes up with Russian, more of the latter though. 
Apart from the old town perched higher up on the hill, Scalea was not my favorite seaside destination in Calabria. I included it on this list just because it makes a great base to explore the surrounding hilltop towns of Calabria, which truly amazed me.
Highlights: Scalea Vecchia old town, beaches.
Points of interest nearby: San Nicola Arcella, Diamante, Praia a Mare, Belvedere Marittimo, hilltop towns of Orsomarso, and San Domenico Talao.
Perfect for: families, friends, and couples as a base to explore the area.
How to get there: easy to get by car, parking is plentiful. The nearest train station is Scalea.
Where to stay in Scalea
Scalea has lots of affordable accommodation options both in Centro Storico and steps away from the beach.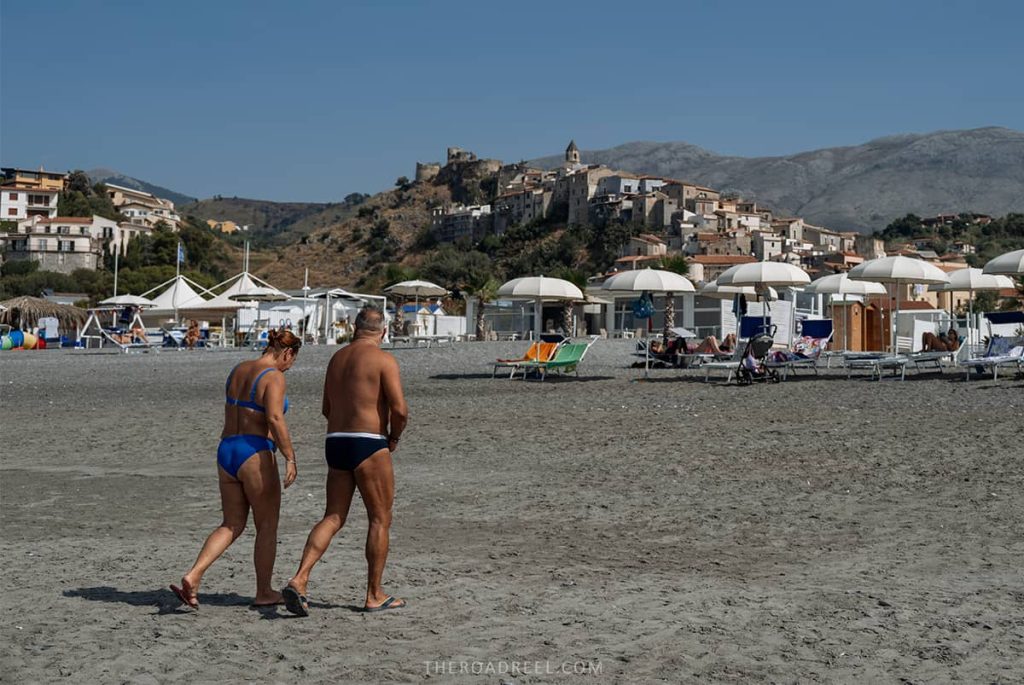 Beach towns in Calabria Map
How to use this map: you can zoom in and out of the main screen. You can also click on the arrow in the top left corner to see the legend with the pinpoints. From the desktop: click the star next to the title to save this map to your Google Maps account. To view the saved map later on your phone, open the Google Maps app and go to "Saved", scroll down, and click "Maps". From a smartphone: click on "View larger map" in the top right corner and it will open on your phone.
FAQ: Seaside towns in Calabria
Where is Calabria?
Calabria is located in southern Italy and covers the area of the county that refers to the "toe of the boot". Calabria is bordered by Basilicata region in the North and Sicily in the south. It is surrounded by the Tyrrhenian Sea on the West side and the Ionian Sea on the East side.
Is Calabria safe to visit?
Calabria is safe to visit for tourists. You can even travel solo. Never ever did we feel unsafe when traveling in Calabria either during the day or at night. In fact, Calabria felt more safe than many other places in Italy (like big towns, for example, Naples or Palermo).
Is Calabria worth visiting for its beaches?
Calabria is definitely worth visiting for its beaches and stunning coastline. In fact, some best beaches in Italy can be found in Calabria. They are very clean with beautifully clear water. You can find both wild beaches, small coves as well as wide beaches and lidos (beach clubs with amenities). Quite a few of the Calabrian beaches are blue-flag beaches.
What are the best beach towns in Calabria?
The best Italy's beach town in Calabria is definitely Tropea. Meanwhile one of my personal favorites is San Nicola Arcella because of the incredible ArcoMagno beach and picturesque Scilla with Chianallea making them some of the most beautiful villages on the Calabrian coast.
Pizzo, Scalea, and Diamante are also good options for a holiday in Calabria. Other beach towns on the Tyrrhenian coast that are worth visiting if you have more time are Amantea, Belvedere Marittimo, Paola, Praia a Mare, Briatico, and Bagnara Calabra. 
When is the best time to visit beach towns in Calabria?
The best time to visit beach towns in Calabria is during shoulder season which is late April through May and then September to late October. The weather is great for swimming and there are very few holidaymakers around. You will find coastal towns in Calabria as well as the beaches very quiet, some even empty. Hence, finding great accommodation deals will also be very easy.
What is Calabria best known for?
Calabria is best known for its seaside town of Tropea and the Coast of the Gods renowned for fantastic beaches that stretch along the Tyrrhenian Sea.  Sweet red onion (cipolla rossa di Tropea) is also very famous and widely used in the region's cuisine. So are the Calabrian pepperoncini (red sweet as well as chili peppers). 
How to get to Calabria
The nearest international airport to Calabria is Lamezia Terme. Otherwise, you can fly to Naples (Napoli) and take a train or rent a car to drive to Calabria. Reggio Calabro has an airport that serves domestic flights in Italy. Also, you can easily reach Calabria from Sicily through the Strait of Messina by ferry.
Are there jellyfish in Calabria?
Yes, there are jellyfish in Calabria that appear seasonally. We saw a lot of jellyfish in Scilla in spring.
I hope you found some of the coastal towns in Calabria, Italy to add to your own itinerary. Make sure to also check my other Italy and Calabria travel guides below which include the best places to see, travel tips, itineraries, and city guides.
Calabria travel guides
General Italy guides
I hope you are enjoying my free travel guides & tips. You may support my work by using any of the affiliate links on this post to plan your own trip at no extra cost to you, or just buy me a coffee so I can continue creating more useful content from my favorite coffee shop in town. Thanks!
Italy travel resources
Here are links to essential travel resources and services I always use when organizing my trips.