A wonderful hidden gem near Sintra, Azenhas do Mar is a dreamy tiny seaside village in Portugal, reminiscent of Manarola in Cinque Terre, Italy, or even more of a coastal Greek town. In this travel guide, I share what you need to know before visiting Azenhas do Mar: things to do, the best beaches nearby, how to get to and around, where to stay, and a map. 
I got to know about this magical coastal village years ago from my Portuguese friend who described Azenhas do Mar as the most beautiful seaside town in Portugal. 
She did not exaggerate. The postcard-perfect Azenhas do Mar, just 20 minutes away from the beautiful but very popular town of Sintra, is indeed a sight to behold. Whitewashed red-roofed houses are stacked in layers on top of the cliff which shelters the village from the ruthless roaring waves rising from the Atlantic Ocean.
I have visited Azenhas do Mar twice so far and it still holds its charms and happy to say, it is still relatively free of crowds. Read on to know how to visit Azenhas do Mar in Portugal.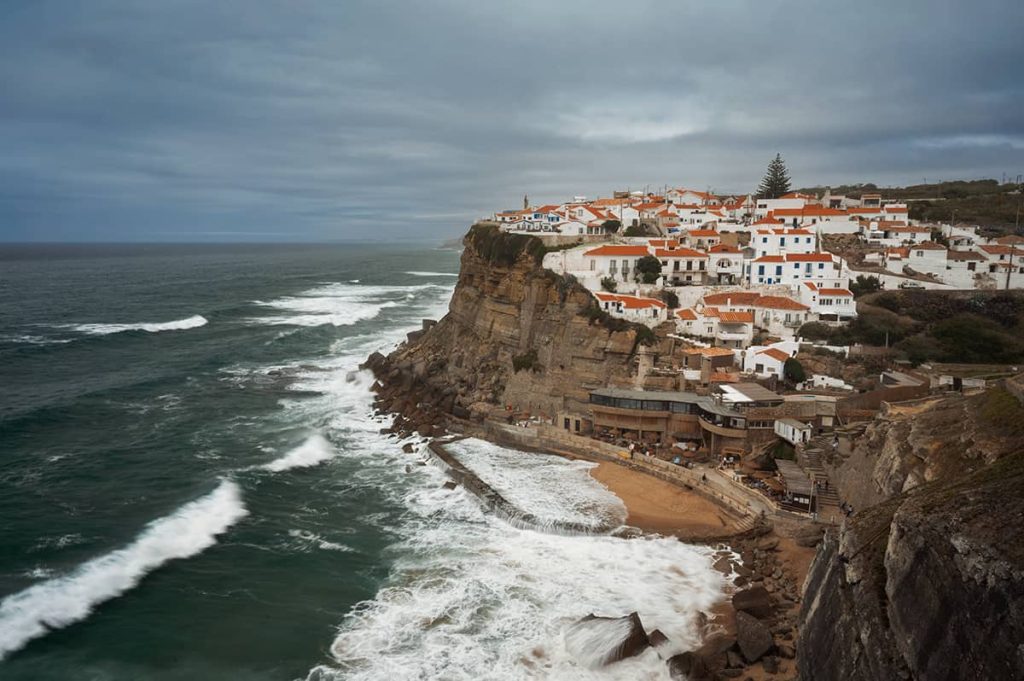 Disclaimer: This post contains affiliate links, which means that I may earn a commission if you make a purchase by clicking a link (at no extra cost to you). This helps to keep my blog running and growing by creating more awesome free content for you.
A Quick Guide to Azenhas do Mar in Portugal
Where is Azenhas do Mar and why you should visit?
Located on the Colares coast, less than an hour away from the capital Lisbon, Azenhas do Mar is blessed to be surrounded by dramatically beautiful landscapes. Translated as "windmills of the sea", the petite town of under 800 inhabitants dates back to Arab occupation times. Once it used to make fortunes by harnessing the power of the ocean by utilizing the water mills. Today you can still see some of the remaining water mills and millstones lining the cobbled streets of the town.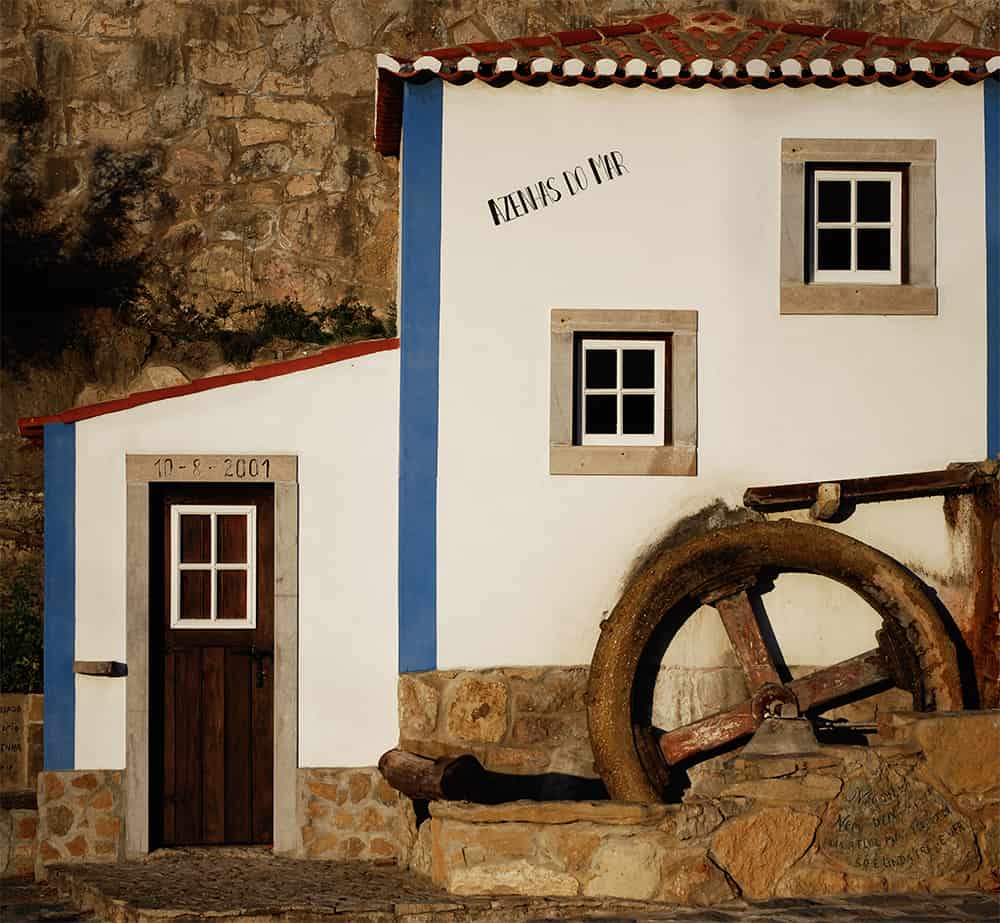 Azehas do Mar will fascinate you if you love quaint villages, wild untouched nature, hiking, and surfing. The time in Azenhas do Mar stands still, only the Atlantic Ocean never rests.
You can visit the village of Azenhas do Mar as a day trip from Lisbon or just a half-day trip from Sintra, Portugal. However, you may fall in love and decide to stay a little longer. The surrounding area offers perfect settings for outdoor activities.
Also read: How to spend one day in Lisbon by following this easy 1-day itinerary.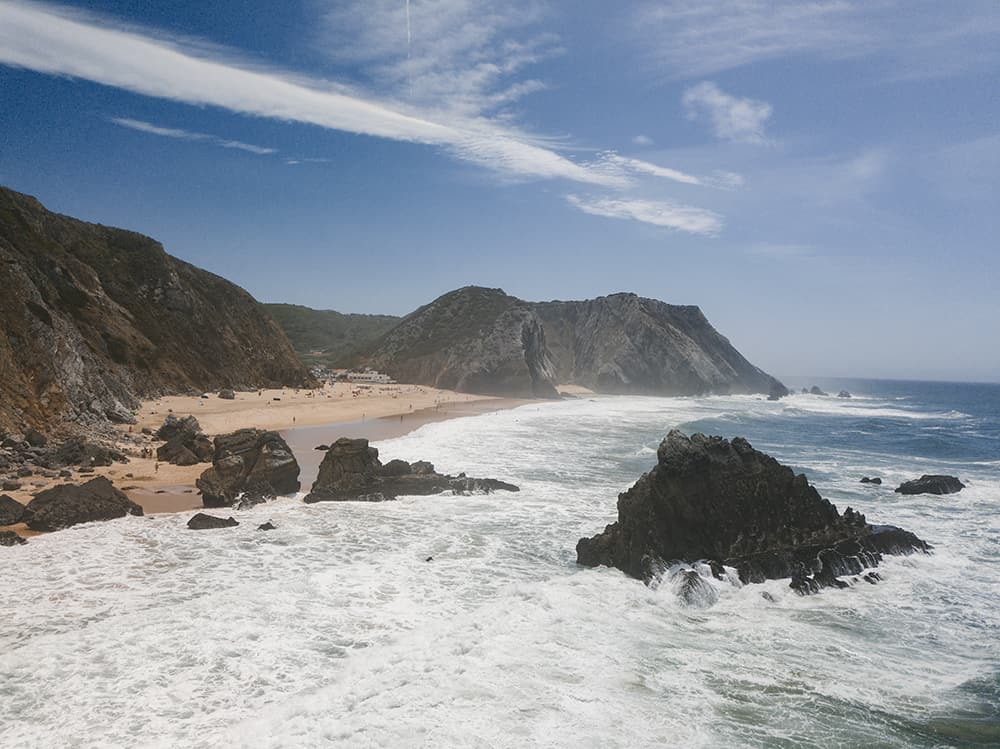 How to get to Azenhas Do Mar in Portugal
By car
The most convenient way to reach Azenhas do Mar is to drive. Having a car will also give you the freedom to visit nearby areas which are not served by public transportation.
Therefore, if you are planning a road trip in Portugal, you might as well check Discovercars or Localrent for the best car rental deals.
Tip: you can park on Largo do Padre António which is the street under the Azenhas do Mar cliff town. Parking spots are limited though. In summer, when it gets packed fairly early, look for an optional parking spot on the streets around.
ALSO READ: A Guide to Renting a Car in Portugal + Driving Tips
By bus
Scotturb is a local bus company that serves Sintra municipality, including Azenhas do Mar:
you can take bus number 440 which goes directly to Azenhas do Mar, journey takes around 25-40 minutes, depending on traffic. However, this bus does not have frequent service.
A more frequent alternative is bus number 441 which goes to Terrugem village as a final destination and stops in Azenhas do Mar along the way.
Both buses depart from Portela de Sintra Train and Bus station in the town of Sintra. You can purchase bus tickets onboard from the driver.
If you are traveling from Lisbon, you will first have to reach Sintra. There is a frequent train service from Rossio Railway Station in Lisbon to Sintra on a daily basis.
Taxi
You can also get a taxi from Sintra, Lisbon, or Cascais to Azenhas do Mar. Bolt and FreeNow are popular taxi apps, similar to Uber.
On a guided tour
Alternatively, if you are short on time, do not have your own transport, and want to see more, taking a guided tour from Lisbon is a good choice.
The best things to do in Azenhas do Mar, Portugal
1. Azenhas do Mar viewpoint
Azenhas do Mar used to be an inspiration for painters in the mid-20th century, and today it is a photographer's dream come true. An iconic image of Azenhas do Mar houses clinging off the cliff is taken from the lookout point (Miradouro das Azenhas do Mar) located south of the village. You have to follow the stone staircase up to reach the famous viewpoint. It is definitely the money shot you would want to capture. Make sure to also wander further south to find different viewpoints points of the town and the coast.
Tip: Although beautiful any time of the day, the most magical views and hence photos of Azenhas do Mar are taken at dusk or dawn during the blue hour.  I visited on a misty day, twice. Thus, my image below shares a completely different mood of Azenhas do Mar compared to the usually vivid colorful images of the town.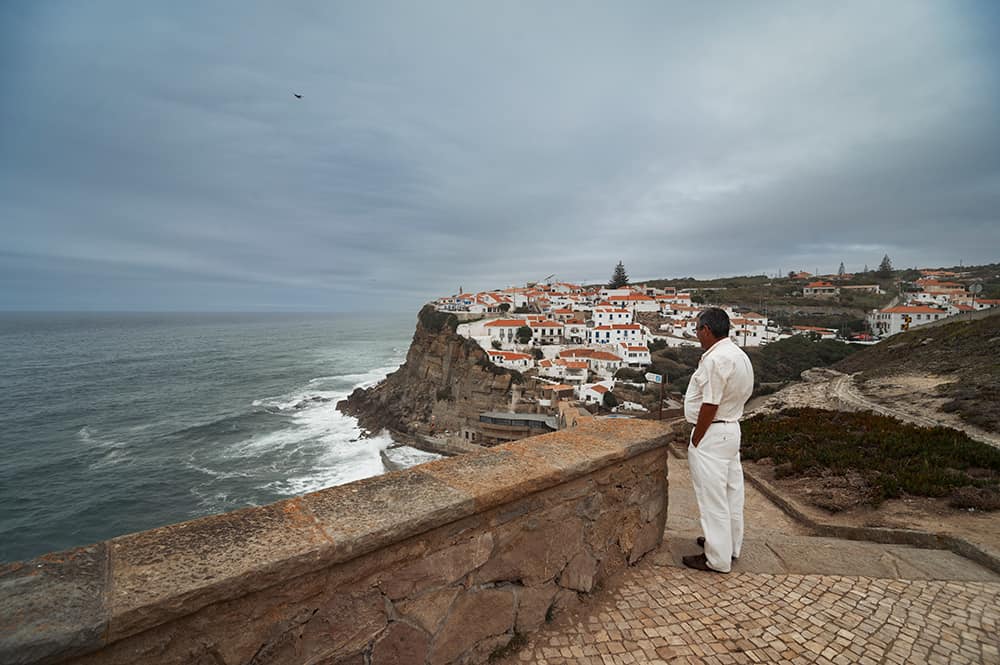 ALSO READ: Odeceixe, Portugal: Quaint Town and Surf Beach in Algarve.
2. Wander the streets of the town
Azenhas do Mar was noticed by the wealthier families from Lisbon and Sintra who in the mid-20th century built several summer houses around the existing fishing village. A cluster of typical Portuguese white houses decorated with azulejos (blue and white tile panels) are wound through with cobbled streets.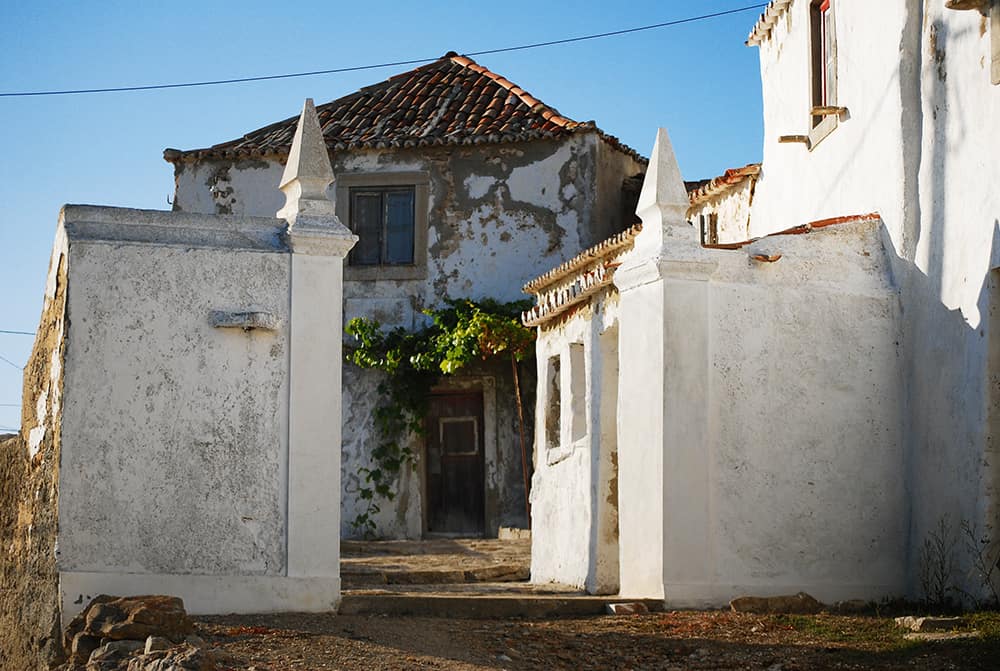 Explore a little maze of atmospheric alleys and imagine what is it like to live in one of those beautiful homes having a morning coffee on a terrace overlooking the ocean. The town is very small. Thus it won't take more than 15-20 minutes of your time to wander through its staircases. Also notice a little white house with a water mill "Moinho D'Água" at the main street near the bus stop. The photogenic old building is probably one of the most well-known "azenhas" in town.
3. Enjoy Azenhas do Mar beach and swim in a natural sea pool
A unique feature of Azenhas do Mar is its natural sea pool fed by the Atlantic Ocean. You will find the pool at the bottom of the promontory on top of which the town is located. A small sandy beach framed by the cliffs allows you to stretch a towel when the tide is low. Otherwise, there is some space on the cement grounds, including a few umbrellas for rent, in front of the natural pool. However, on rough days, waves reach up to the base of the cliff, making the beach inaccessible.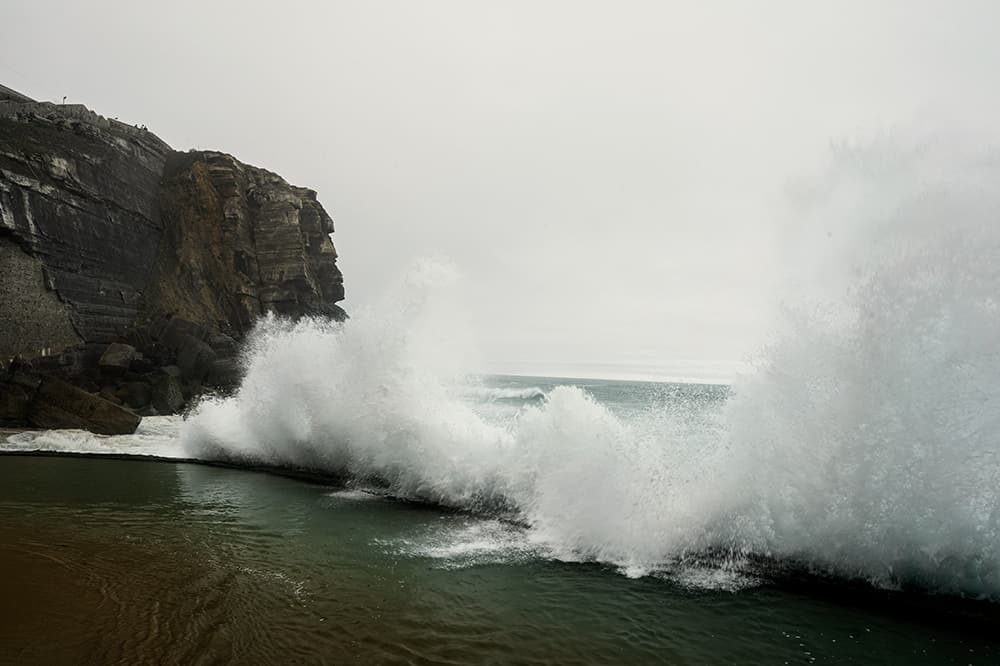 If you are visiting in summer, you might as well enjoy the sunshine and swim in the Atlantic Ocean if you can handle its cold waters (a wetsuit might not be a bad idea).
To get to the sandy beach, follow steep steps down from the roadside parking lot and bus station.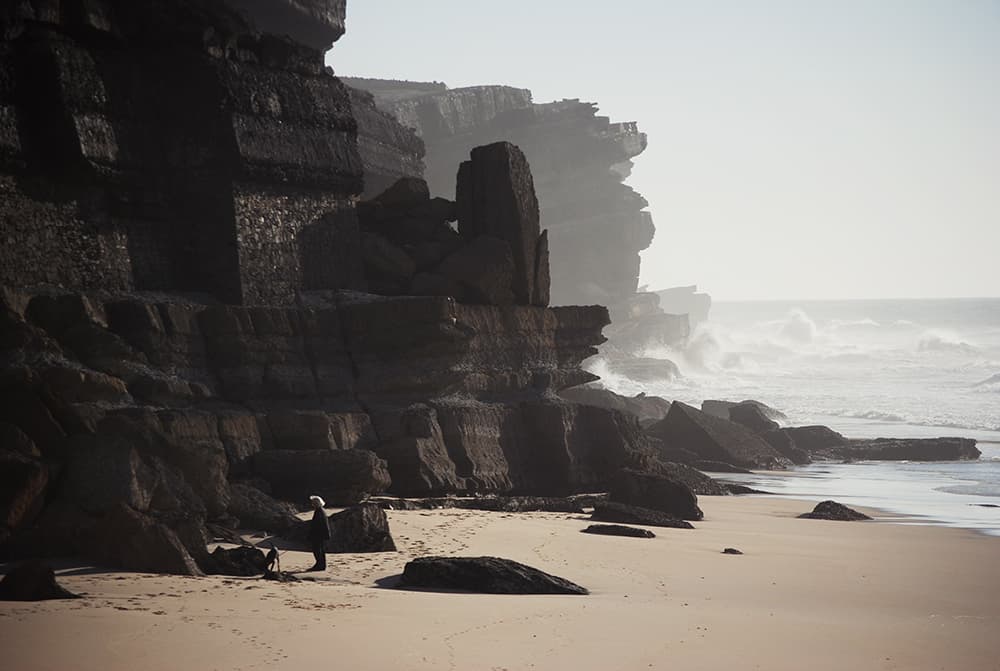 4. Have lunch or dinner at an atmospheric seafront restaurant
Overlooking the ocean just above the natural pool, Piscinas Azenhas do Mar restaurant ($$$) serves fresh seafood and drinks. Accessible via the path parallel to the stream whose waters once moved the old mills, the restaurant offers an unquestionably romantic setting, especially for a dinner at sunset. Note the prices here are quite steep, making it the fanciest spot to eat in town.
For a little bit more budget-friendly place to eat, come back up to where the bus stop and main parking area are. Here you will find Água e Sal ($$)- a family-owned seafood restaurant.
A kiosk-café just on the main Largo do Padre António street offers some quick snacks and local pastries for cheap.
Insiders' tip for food: The above-mentioned places can get a bit crowded during the main season. Thus, for a real local experience, generous portions, and the best prices, walk up the street for some 5-6 minutes where you will find Adega das Azenhas (Cellar of Azenhas) restaurant situated inside a characteristic Portuguese house. R. da Encosta de São Lourenço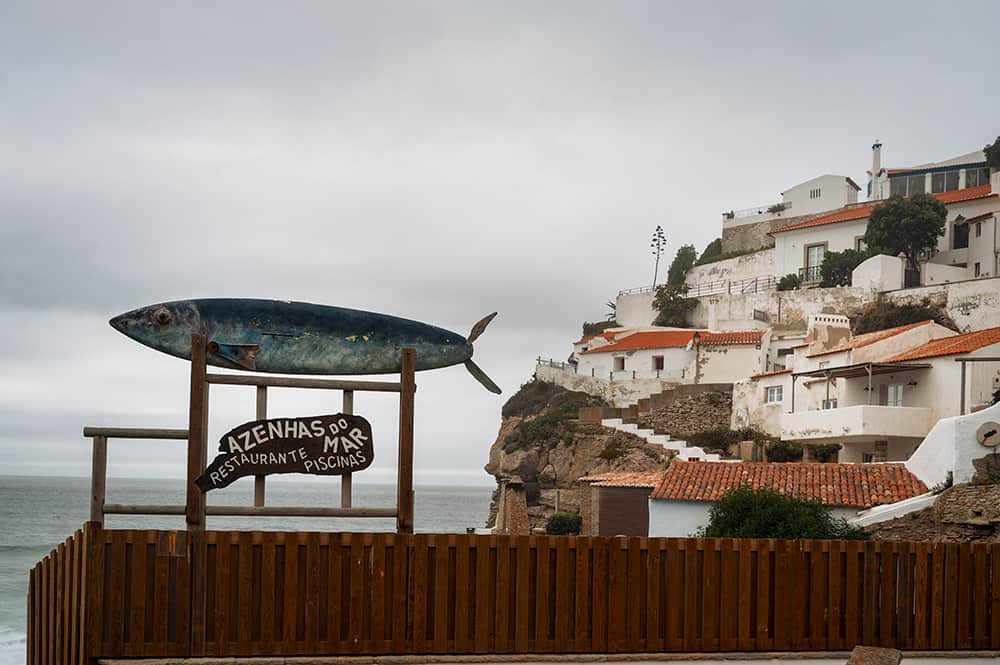 5. Swim and/or surf on amazing beaches
Azenhas do Mar is in close proximity to some wild and immensely beautiful sandy beaches backed by dramatic cliffs. The area, just as in general Portugal, is also big for surfing. The Atlantic Ocean provides perfect waves to practice this adrenaline-pumping water sport. Thus, if you are a surfer or beachgoer, you will have quite a few options to pick from.
The closest beaches north of Azenhas do Mar:
Praia da Aguda -1.5 km and 20 minutes walk from Azenhas do Mar (5 minutes drive or you can catch a bus), located north of the village, wild and mostly frequented by locals.
Praia do Magoito – a 4 km and 8 minutes drive (or 50 minutes walk); it is a big sandy beach with a beach restaurant and is popular between locals and surfers.
Beaches south of Azenhas do Mar:
Praia das Maçãs – 2 km and 20 minutes walk (3 minutes drive, or catch a bus) is the most popular beach in the area equipped with amenities- lifeguard, bathrooms, kids playground, car park, a bus stop, an old-school tram stop nearby.
Praia Grande is the main surfing beach- 5 km to the south (9 min drive).
Praia da Adraga– a 10 km and 15-minute drive (you can also hike along the coast). It is the most beautiful beach of all mentioned above. The beach is surrounded by imposing cliffs, the highlight of which is an arched rock (I had fun flying my drone through it). Praia da Adraga, due to lack of public transportation, is not crowded even during the summer months and is beloved by surfers due to the strong winds and high waves.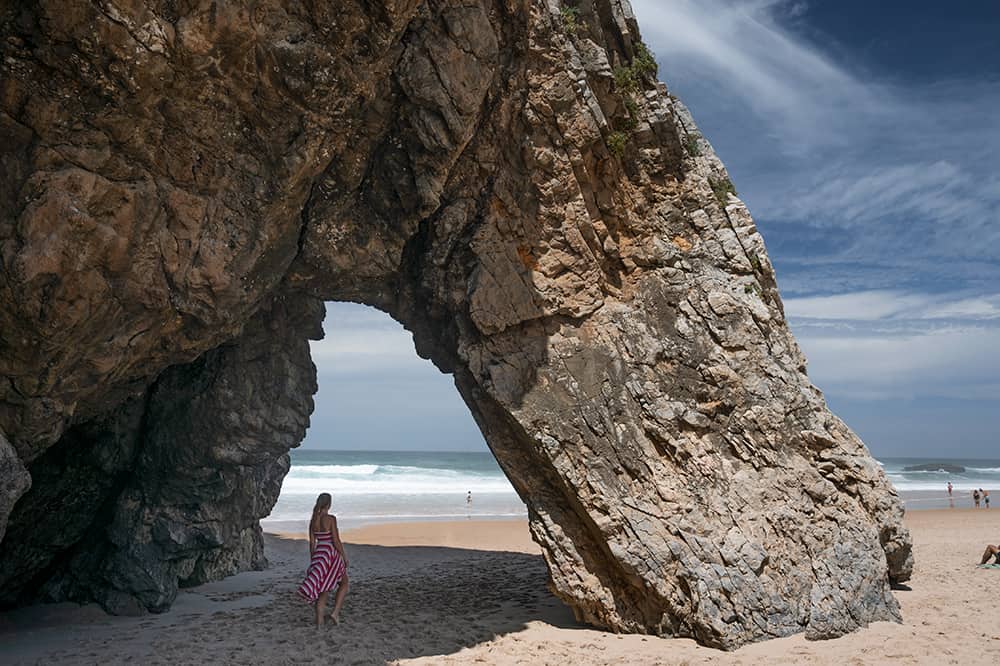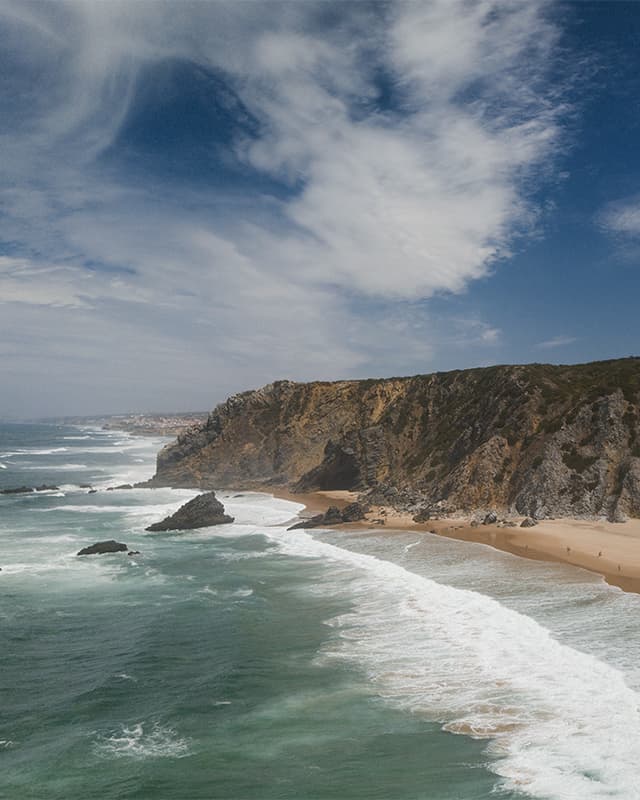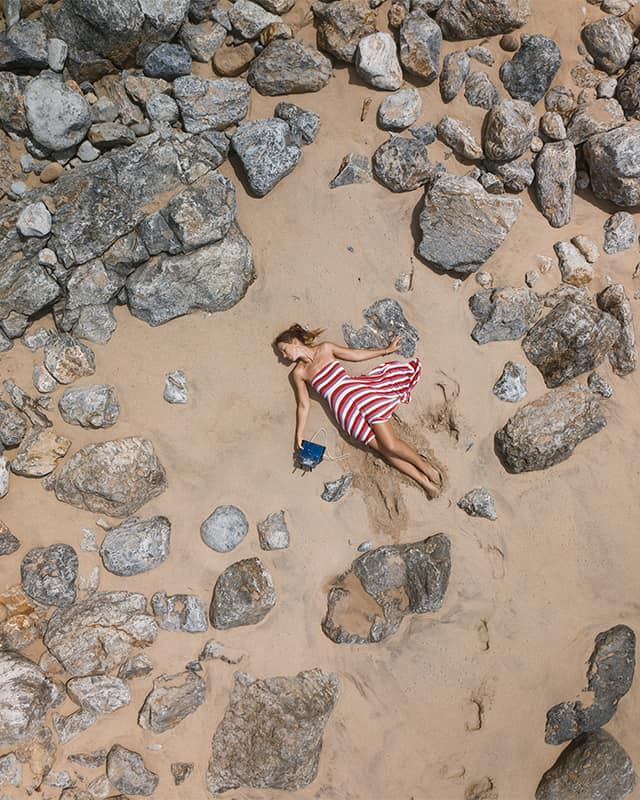 6. Hike from Azehas do Mar to Cabo do Roca- the westernmost point in Europe
The Colares coast landscapes are best observed while trekking on a coastal hike. If you love getting active, you can challenge yourself to a 12-kilometer moderate-difficulty trail between Azenhas do Mar and Cabo da Roca- the westernmost point in Europe.
Most of the time you will be following a relatively leveled path above the cliffs. However, there will be some stretches where you will descend to sea level. Along the way, you will pass some of the most spectacular beaches backed by dramatic cliffs and rock formations, including Praia da Adraga, Praia Grande, Praia da Usra, and Praia da Aroreira.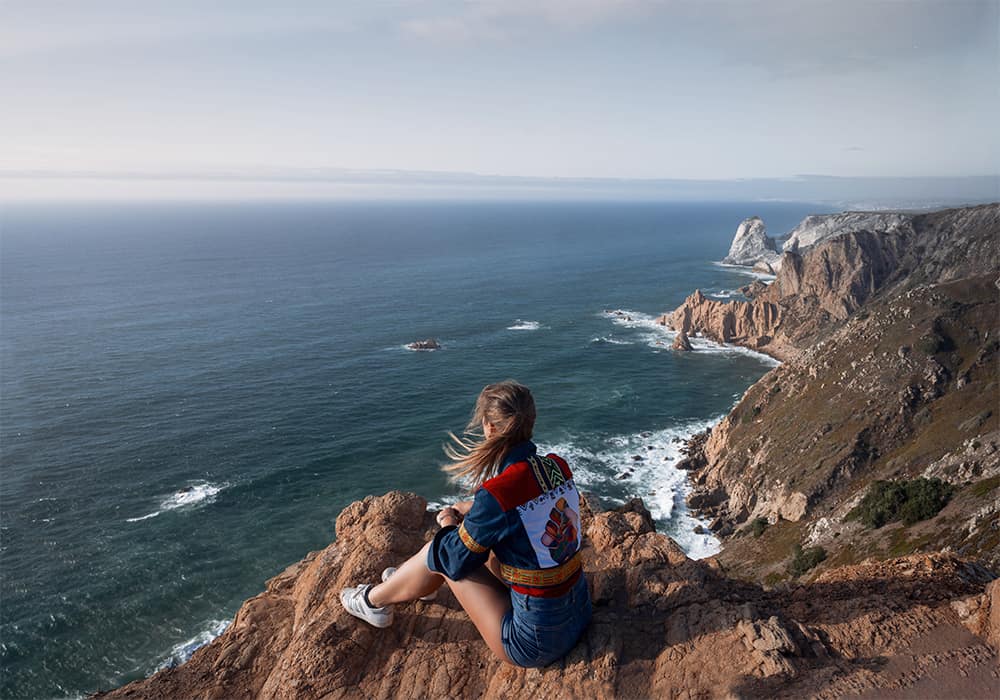 The trail is not well marked, and you will often have to find your way around. Yet, the route hugs the coast, so when in doubt just stick to the seaside. To make your way with confidence, it is advisable to download a trail map, this one on Wikiloc has a good recording.
Note that there is no public transport between Cabo da Roca and Azanhas do Mar, thus you will have to order Bolt (the equivalent of Uber). I recommend taking a taxi to Cabo da Roca and coming back to Azenhas do Mar. If you feel tired along the way, you can stop at Praia da Adraga and taxi back to Azenhas do Mar from there.
Where to stay in Azenhas do Mar
Azenhas do Mar has a few delightful accommodation options, mostly apartments, villas, and chalets. Those with ocean views get booked out pretty fast during the summer season. Thus, it is recommended to reserve in advance. Yet there are options in the surrounding area, and if you are driving, that won't cause any inconvenience. Below are my top picks to stay in Azenhas Do Mar or around.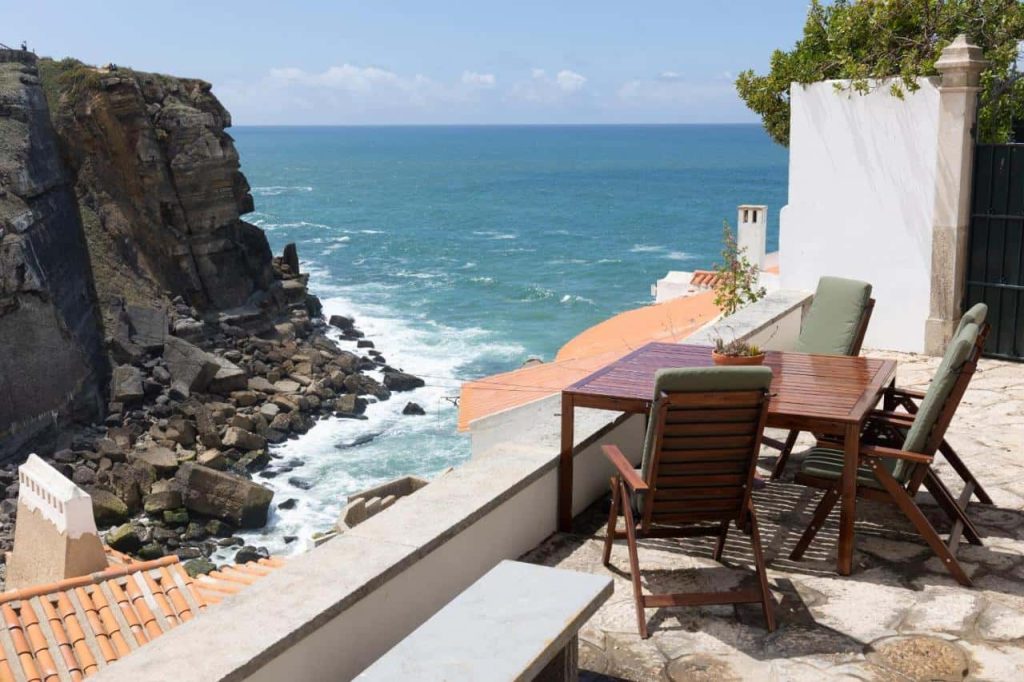 Um Lugar ao Sol Beach House Azenhas do Mar ($$)- a 2-bedroom apartment is one of those white houses clinging above the cliffs. It is tastefully decorated in Mediterranean style and has a dreamy terrace overlooking the Ocean. Perfect for families or a couple looking for a truly romantic experience.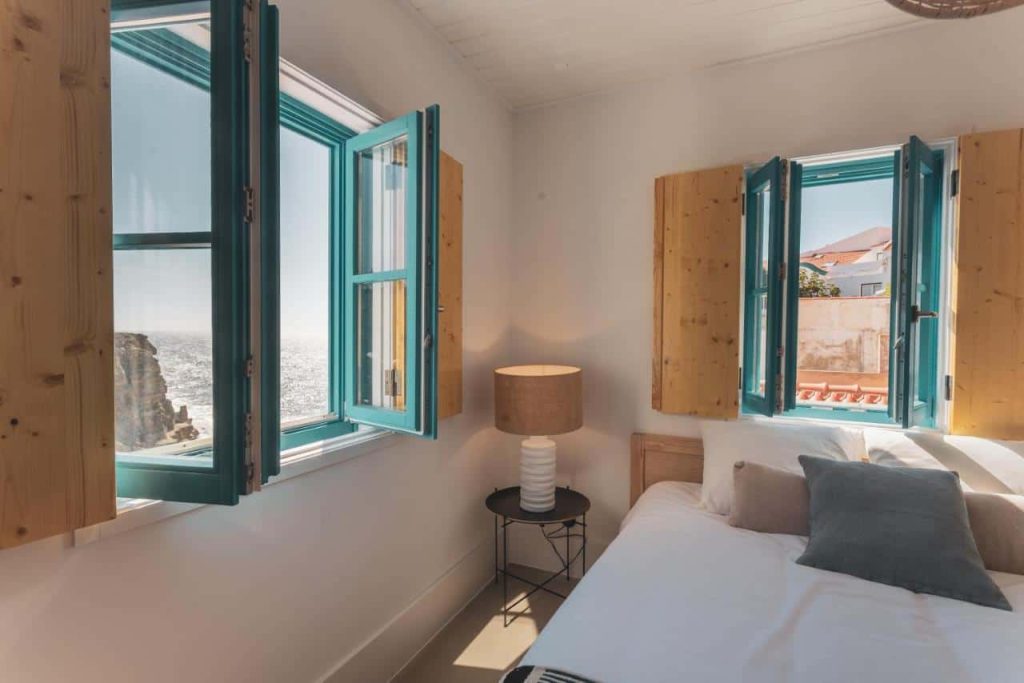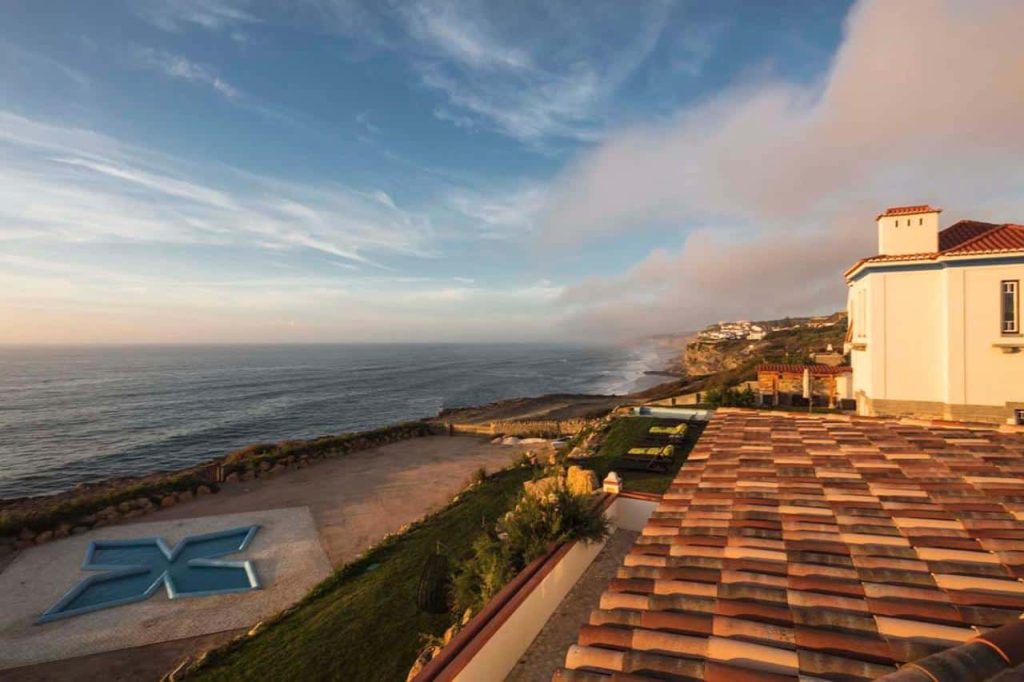 Chalet o Amorzihno Sintra Praia ($$$)- The property is located between Azenhas do Mar and Praia das Maçãs offers expansive. It features classic Portuguese architecture, expansive views over the Atlantic Ocean, and a choice of double rooms, studio apartments, and suits. A seasonally heated pool and breakfast are also available.
Oasis Backpackers Hostel Sintra Surf ($)- Located 2.5 km, 5 minutes drive from Azenhas do Mar (public transport also available), this friendly surfers hostel has the option of dorms and also private double rooms and family rooms with bathrooms. It also features a restaurant, bar, shared lounge, and garden in Sintra.
I hope you will enjoy your time in Azenhas do Mar, whether you visit on a day trip from Lisbon or Sintra, or spend longer. Let me know if you visited and what was your experience in the comments at the end of this post.
Map of Azenhas do Mar, Portugal
Click here to open and save my Azenhas do Mar map which shows the exact locations of the points of interest mentioned in this Azenhas do Mar guide.
I hope you are enjoying my free travel guides & tips. If yes, please consider supporting my work by buying me a coffee so I can continue creating more useful content from my favorite coffee shop in town. Thanks!
Portugal Travel Essentials & Useful Links
Here are links to essential travel resources and services I always use when organizing my trips.
More Portugal travel guides