The best UAE hikes: Al Rabi Trail in Khor Fakkan, United Arab Emirates | Overlooking an exclave city of Khor Fakkan on one side and the Gulf of Oman on the other, an earthy and well-marked Al Rabi hike offers exceptional panoramic views. Graded as a beginner level hike, this trail is visited by outdoor lovers of various age groups and fitness levels. It is one of a few UAE hiking trails that is located in the city of Khor Fakkan, near Fujeirah, aproxomatelly one and a half hours away from Dubai. Therefore, this route is very accessible and popular amongst locals as a quick weekend getaway.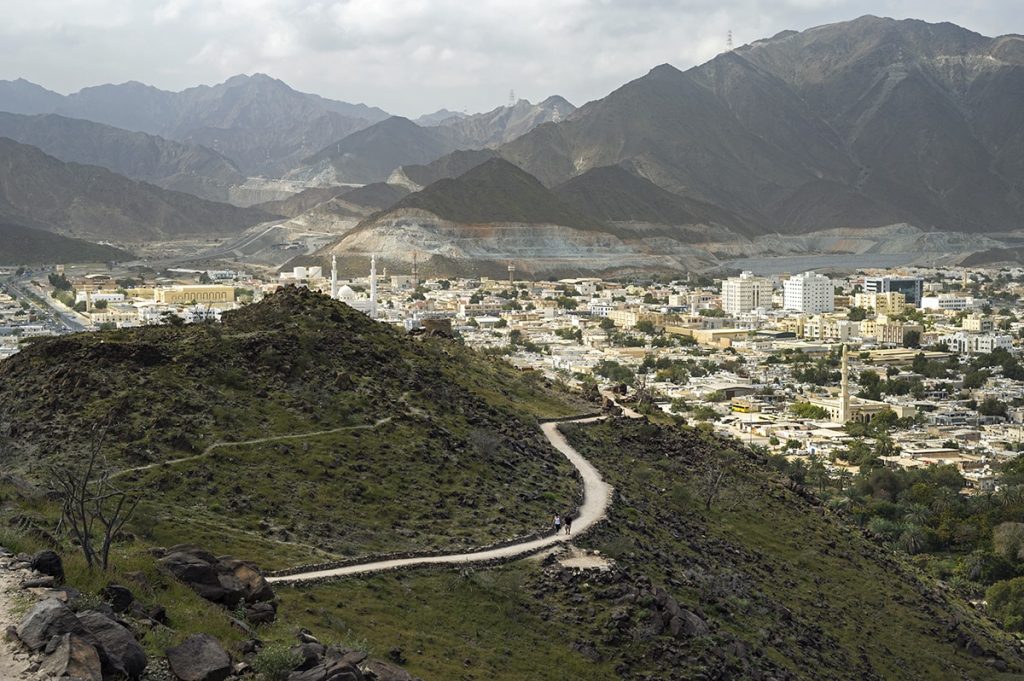 As an off-the-beaten destinations loving person, I was a little bit skeptical about this popular outdoor route. I have seen only a few images of Al Rabi Tower before, therefore I did not know anything about the trail scenery. The only expectation was a chilled-out afternoon on the East Coast of the UAE with light trekking up Al Rabi mountain.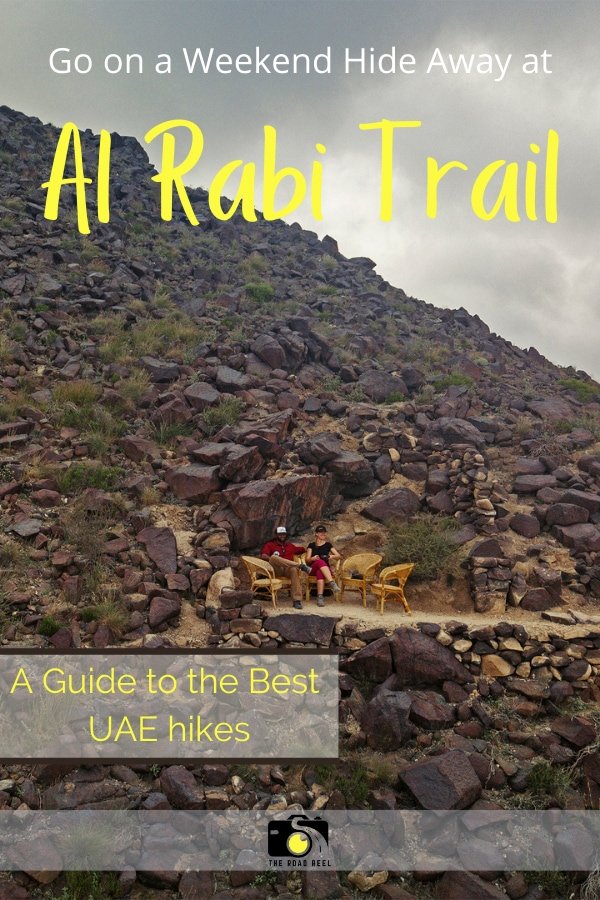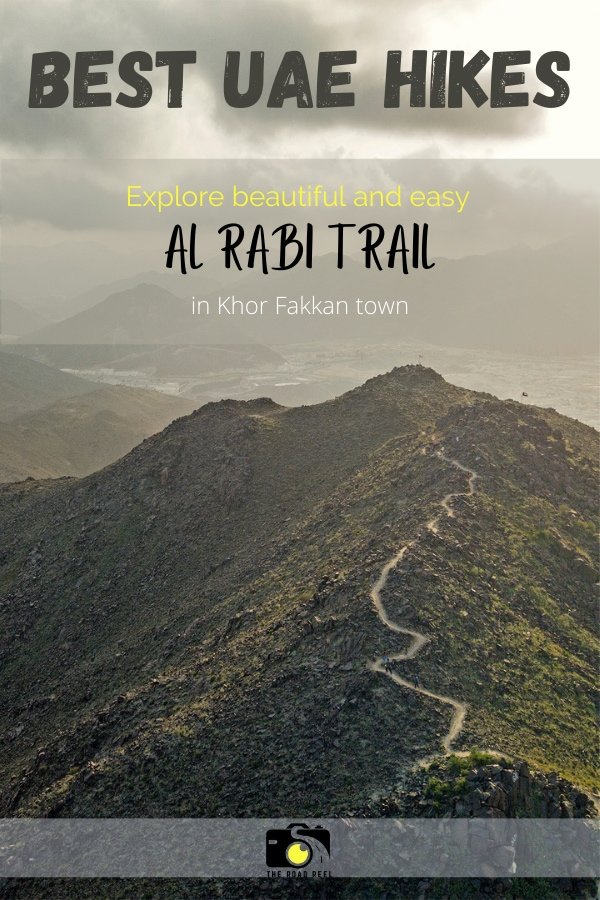 Oh, man! I was so pleasantly surprised when I and my partner got there. A beautiful lush green mountain with a well-laid trail above Khor Fakkan town and the ocean reminded me of many well-developed Hong Kong city trails. No wonder that this UAE hiking trail is one of the most popular easy hikes in the country.
Therefore, Al Rabi Hiking Trail is the route I recommend to anyone who wants to go on a hike in the UAE for the first time. It is a safe beginners' hiking trail that can be comfortably done within a few hours. It can also be a full-day relaxed experience in nature and just steps away from civilization. And, yes, this is by far one of the best UAE hikes for those who want spectacular views at a minimum effort.
---
Related Reads:
I have listed the
Top 5 Easy UAE Hiking Trails
, please check
this post
out to discover more wonderful beginner lever UAE hikes. For more experienced and adventurous hikers, I would also suggest the epic
Wadi Shah loop
near Jebel Jais in Ras Al Khaimah.
Want something a little bit more challenging? Head to my post about the Iconic Wadi Naqab Trail. This incredible hike in the UAE features one of the most unique mountain sceneries in the UAE. You will be trekking through majestic Wadi Naqab, to wadi Koob pools and ancient Al Sanat mountain village. Download FREE Mini-Guide to Wadi Naqab Trail HERE!
---
Continue reading for more information about UAE hike in Al Rabi mountain. I am also sharing a bunch of images, so you get hooked on visiting this awesome place near Fujeirah.
Here is All You Need to Know About Al Rabi Hiking Trail in the UAE
I have put together all the information that I believe might be useful to prepare for Al Rabi hike in the UAE. Let's get ready for a little adventure. Make sure to pack your camera as this UAE hiking trail is also a photographer's paradise!
SUMMARY / Al Rabi trail is an easy and well-marked trail with fantastic views of Khor Fakkan town backed by rugged Hajar mountains and blue waters of the Gulf of Oman.
DIFFICULTY / Easy
MAX ELEVATION / 395 Meters
ELEVATION GAIN / ~300 Meters
DISTANCE / ~ 5.3 Km
TIME / ~ 2-3 hours
CELLULAR AND DATA SERVICE / Available at all times
CAMPING: Possible at the designated camping spot at 2200 meters
The best beginner's hike in the UAE- Al Rabi Tower Trail
Al Rabi hiking trail distance is a sweet 5.3 KM in total with an elevation of 395 meters. This clearly marked trail guarantees fun and mesmerizing experience. Khorfakkan trekking route is one of the safest UAE hiking trails suitable for complete beginners. The total distance of the trail can be covered in a couple of hours of trekking at a medium speed.
Along the way, you will be soaking up breathtaking views of rugged Hajar mountains and Khorfakkan town landmarks. These blend in seamlessly with the horizon of the sea.
Halfway into the Al Rabi hike, you might want to stop and immerse in the vastness of the waters of the Gulf of Oman. Moreover, be ready to meet the goats. Some of which are peacefully resting on the rocks and are happy to be photographed.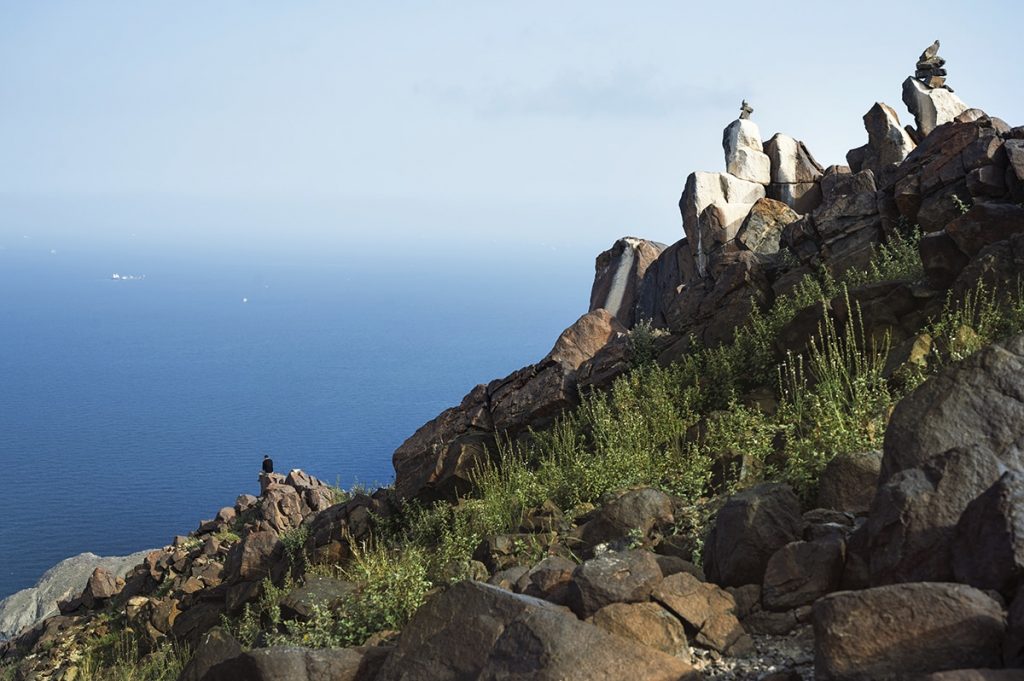 Finally, as the heat cools down, towards the evening, you will find local spectators coming from the nearby towns to enjoy a sunset at Al Rabi trail. From kids to adults, friends, and families- everyone rushes up the mountain, some of them dressed up for this special place.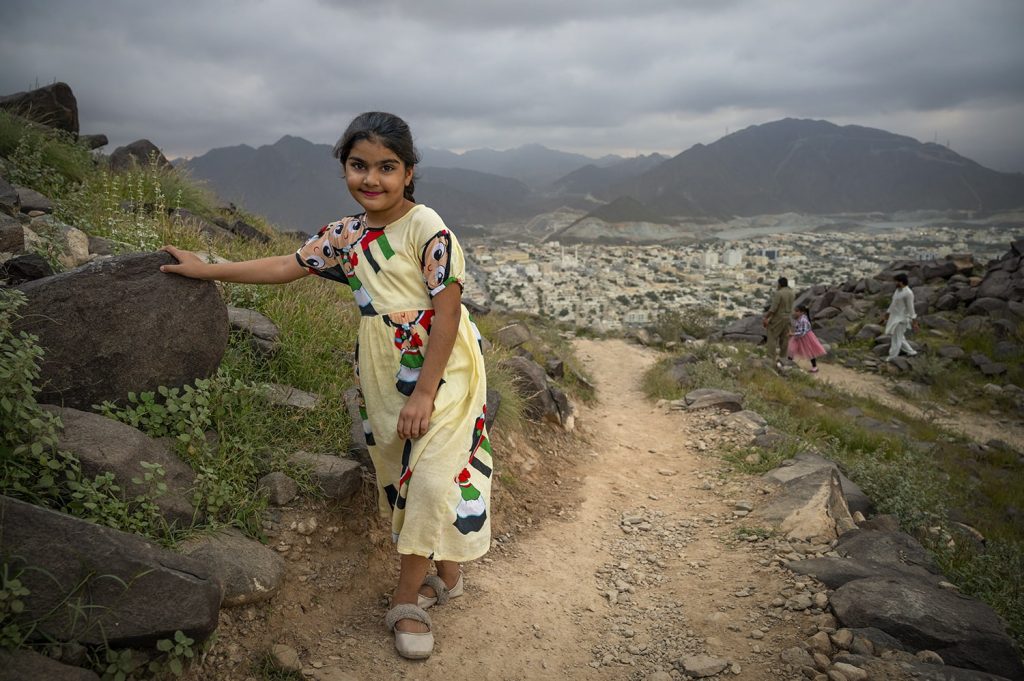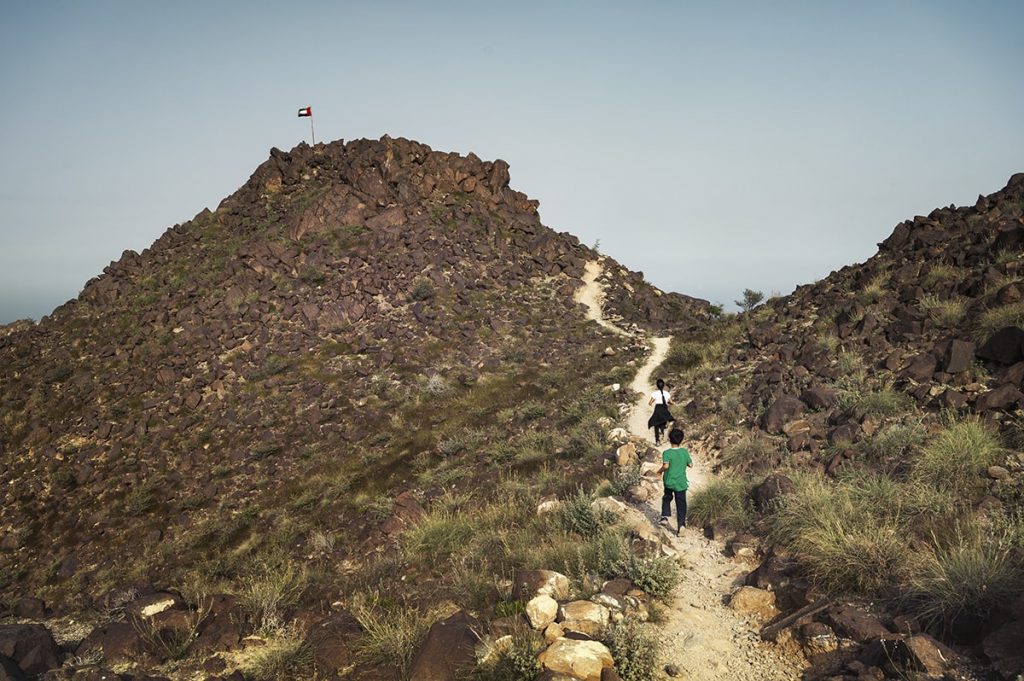 ---
Related Reads: Check this detailed guide to Shawka Dam to Pools loop trail which is the other great scenic easy hike only an hour away from Dubai.
---
How to get to Khorfakkan hiking trail at Al Rabi Tower, UAE
To get to the starting point of the Khor Fakkan hike takes 1 hour and 45 minutes' when driving from downtown Dubai. This is the fastest way to reach the East Coast of the United Arab Emirates. Take the new Sharjah – Khor Fakkan highway- the scenery along the way is a joy.
It is very easy to reach the start of Khor Fakkan hiking trail by typing "Al Rabi Tower" on "Al Rabi Hiking Trail" in Google Maps.
There are a few parking spots in front of the Al Rabi tower available for early starters. Otherwise, you can park at the bottom of the hill and climb up to the tower where the hiking route starts.
Navigating Al Rabi Tower Trail in the UAE
As the name suggests, this UAE hike in Khor Fakkan starts at the historical watchtower. It was built in 1915 AD and used to be a part of the defense network guarding the city of Khor Fakkan. Today Al Rabi tower is a tourist attraction and a historical monument.
You will find it easy to follow the well-developed trail which zigzags all the way up to the UAE flag. It is the highest point of this route and it's called Al Rabi Peak.
Al Rabi Hiking Trail Map
Below is a rough Khor Fakkan hiking trail at Al Rabi mountain map.
Al Rabi Tower trail is suitable for families with young kids (we saw many of them taking up this beautiful and slightly challenging trail). Elevation gain of around 300 meters is still significant. Therefore, do not underestimate it and treat this trail as a little hiking adventure that requires some effort.  
The Best time to Hike Al Rabi Trail
The Khorfakkan Al Rabi Tower hike can easily be done at any time of the day. With November until March being perfect for day-long hikes, it is advisable to hike during the early hours in the remaining summer months.
For the best views and the most pleasant temperatures on this trail, aim to hike at sunrise or sunset. If you are looking for a solo peaceful trek, go on weekdays. Although less known for tourists, this UAE hiking trail is very popular amongst the residents. Therefore, Friday evenings are the busiest – it almost seems like the whole town has woken up from a long afternoon nap and is heading for the mountain top.
Our hike was on a Friday afternoon in February. When we started, there were only a few people trekking, but the path became crowded towards the evening. As a result, unlike in the early afternoon, the trail was no longer available for only a few of us.
Regardless, it was fun to watch people of various backgrounds and age groups strolling the mountain. Most of them were driven by the same goal – reaching the highest point and taking a selfie with the UAE flag.
Moreover, I was amazed by ladies in abayas and kaftans hiking all dressed up, and Pakistanis in their kurta pajamas and slippers jumping over the rocks – it is clear that this hike is one of a favorite city attractions. That being said, it opened up many great travel photography opportunities that added some local flavor to the overall experience.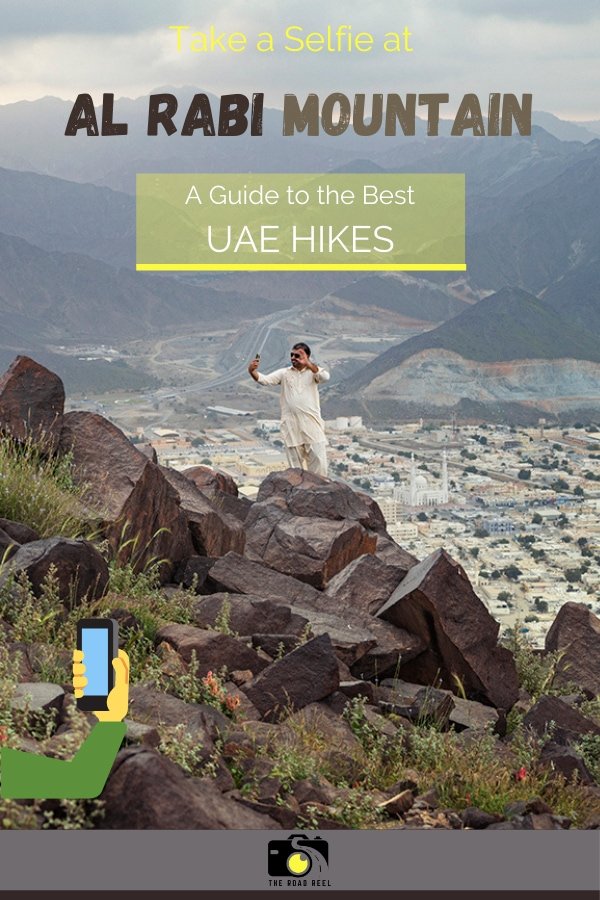 How to Prepare for Al Rabi Tower Hike?
Although the Al Rabi trail is a fairly easy hike, it is always advisable to be well prepared for all of the hikes in the UAE.
Here is my checklist of what I personally bring to each of my hikes
How much water to take for Al Rabi hike in the UAE?
Plenty of water, no compromising on that. For this hike, I would suggest taking at least 4 liters of liquids if it is a hot day. For example 3 liters of water and 1 liter of hydration drinks.
Make your hike easier and plastic-free and get yourself a water reservoir/bladder. It keeps water cool for a long time and has a readily accessible straw, so you can hydrate while walking. It also keeps water evenly distributed inside the backpack as opposed to bulky plastic bottles. I use a 3LT water reservoir by CamelBak on all of my hikes.
Power snacks and hydration drinks (electrolyte, sports drink, or hydration tablets helps to keep the energy levels up). From my personal experience, the best are protein bars, some salty crackers, dates, nuts, snickers chocolate, bananas, Pocari Sweat, or Gatorade that works wanders to kill the hunger and give yourself an energy boost.
Pro Tip: freeze your Pocari Sweat (or any hydration drink of choice) a night before you go. Add some ice cubes into your water reservoir. This will help to keep the water cooler for an even longer time.
What to wear for the hike?
Hiking shoes with a good grip. It is arguably the most critical part of your hiking attire. The best are mid-ankle boots. It will keep your foot more stable than low-ankle ones and gives more movement flexibility than high-ankle. I have bought a second pair of these Columbia Hiking Shoes that proved themselves on UAE hikes as being comfortable and long-lasting.
Comfortable hiking bag with adjustable straps around the waist and chest. Your shoulders and lower back will get tired from carrying lots of water, snacks, a sweater, a camera, a drone, etc. (that is what I have in my backpack). Therefore, you should have a bag that is designed to adjust to your body and sit properly on your back so the weight load is distributed equally. On one day hikes, I only take a medium-sized backpack that also has a compartment for my water blader separated from the main section. The bag I own is similar to Osprey 22L backpack in size and design.
Hiking clothes with breathable material will make your hike much more enjoyable. All that quick-dry stuff feels much nicer than a regular cotton t-shirt that gets soaked in sweat in no time and stinks like hell. Consider wearing something with longer sleeves for better sun protection. And do yourself a favor- leave jeans for a city walk. Long hiking pants are advisable. Although, I often go wearing gym leggings.
Sunglasses and a cap– there are some shaded areas along the way, but there is a load of sunny ones too. Save yourself from sunstroke by wearing a cap.
SPF 50 sun cream- don't forget your ears- they get burned quite often.
Fleece sweater for winter months as it gets really cold in the evenings. I love my lightweight and super warm Columbia Fleece.
Slippers for after hike– your feet will thank you.
What are other must have items for a safer hike?
Collapsible Trekking Poles are recommended to significantly reduce the load and impact on your hips, knees, and ankles, especially when descending. The best are foldable lightweight (~300-600grams, varies per brand/model) polls that can fit into the hiking bag easily in case you need both of your hands to be free.
Torchlight or a head-light in case you hike into the darkness. Choose a good long-lasting torchlight- it can literally save your life.
Personal first AID kit (Advil, band-aid, antiseptic, hand sanitizer, wet wipes, etc.)
Power bank for your phone
GPS devise or a Wikiloc app where you can find an accurate trail recording which will help you navigate.
Last but not least- let someone from your family or friends know that you are heading out for a hike. Give them the location details. Also, inform them when you are starting the hike and when you expect to return.
PLEASE, RESPECT THE NATURE AND KEEP IT CLEAN!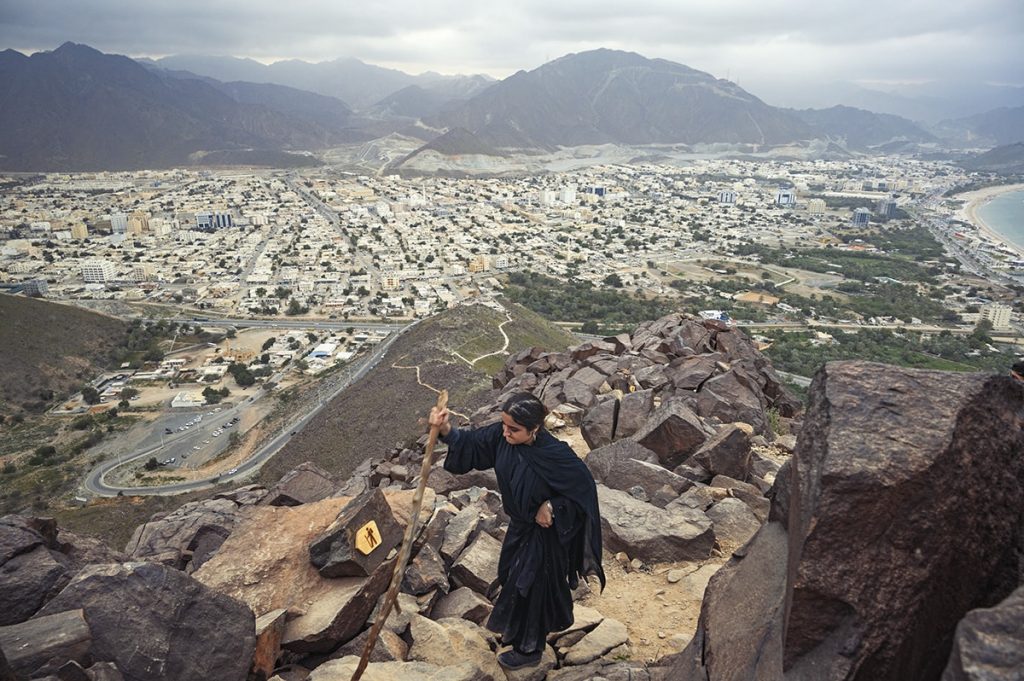 Besides hiking, we saw people doing picnics. Although there is no dedicated place for that, everyone finds their way to enjoy the moment.
A side note: the space is very open, and there are no amenities near the trail. Therefore, you might want to make sure you use the bathroom before starting your hike.
Other Things to do in Khorfakkan
Khor Fakkan Town
Khor Fakkan is the second-largest East Coast town in the UAE. Interestingly, it belongs to the Sharjah Emirate despite being surrounded by the Emirate of Fujeirah. 
Khor Fakkan which means "Creek of Two Jaws" is a town that is set on a bay that is backed by rugged and rather halwa-like (Arabic sweet) looking Hajar mountains. 
Khor Fakkan powers the UAE economy with a busy industrial seaport. It is one of the major container terminal ports in the Emirates (Wikipedia).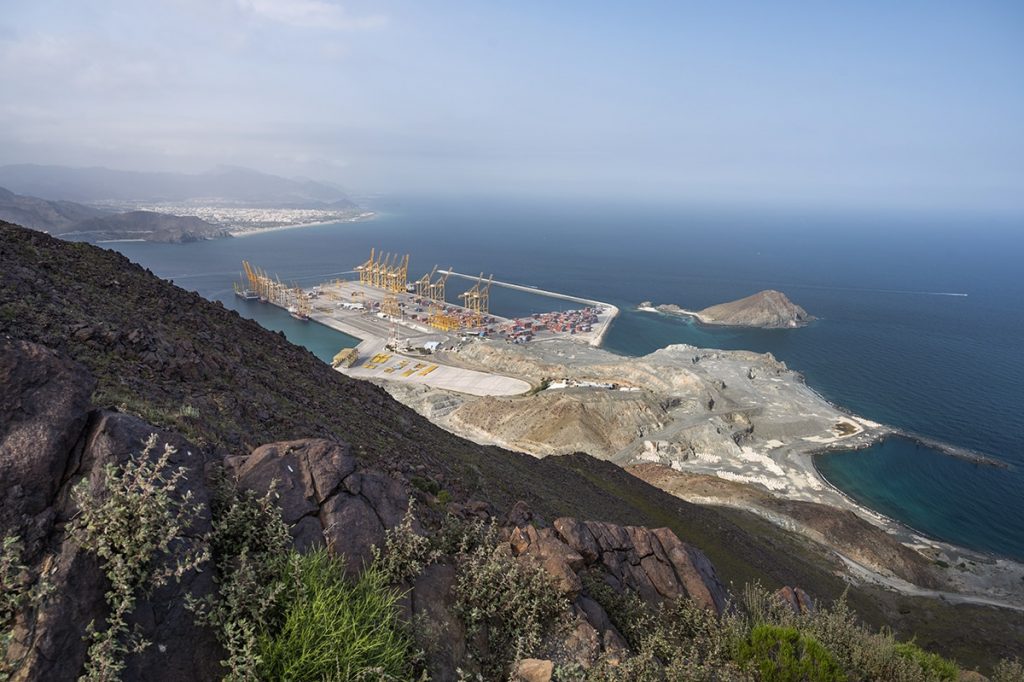 Furthermore, the pretty Khor Fakkan beach, which lies to the North of the town, is famous for its stunning natural views, clean water, and football playgrounds. Ultimately, the town makes it a perfect weekend getaway from busy city life.
Disclosure: Please note that some of the links above may be affiliate links, and at no additional cost to you, I earn a commission if you make a purchase. I recommend only products and companies I use and the income goes to keeping this site growing.
More Hikes in the UAE
Make sure to browse my posts and check other awesome easy hikes in the UAE. I have written about the best UAE hikes in detail. Therefore, you will find some other great options for your next trekking adventure in the United Arab Emirates. Make sure to also subscribe to receive the latest updates on the best hikes in the UAE straight to your inbox!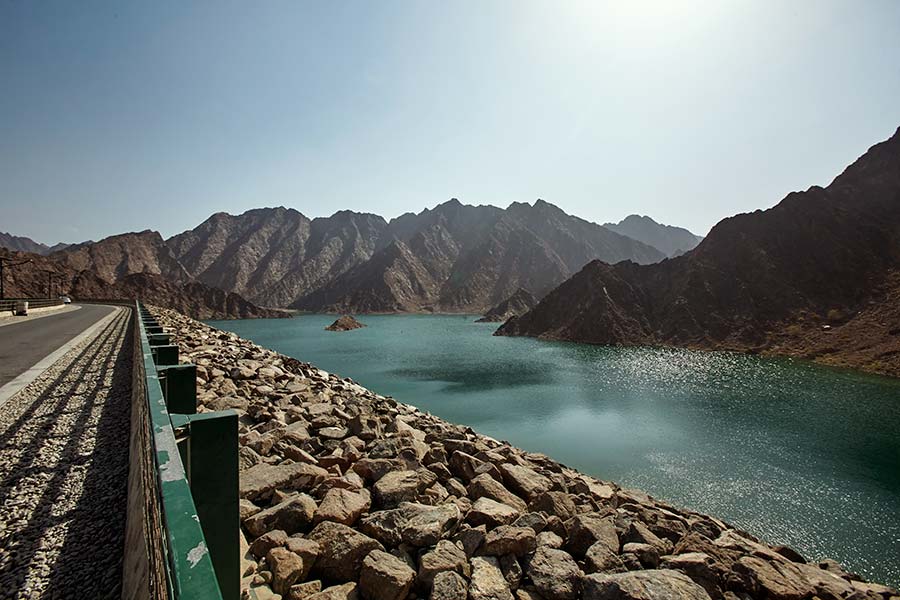 Travel
Your ultimate guide to Hatta- explore this charming mountain town on a day trip from Dubai. Go on outdoor and cultural adventure in the UAE.
Travel
Find out all the best things to do in Mleiha which is a must-visit destination when traveling to the UAE. Have a perfectly planned day trip from Dubai with this guide to Mleiha.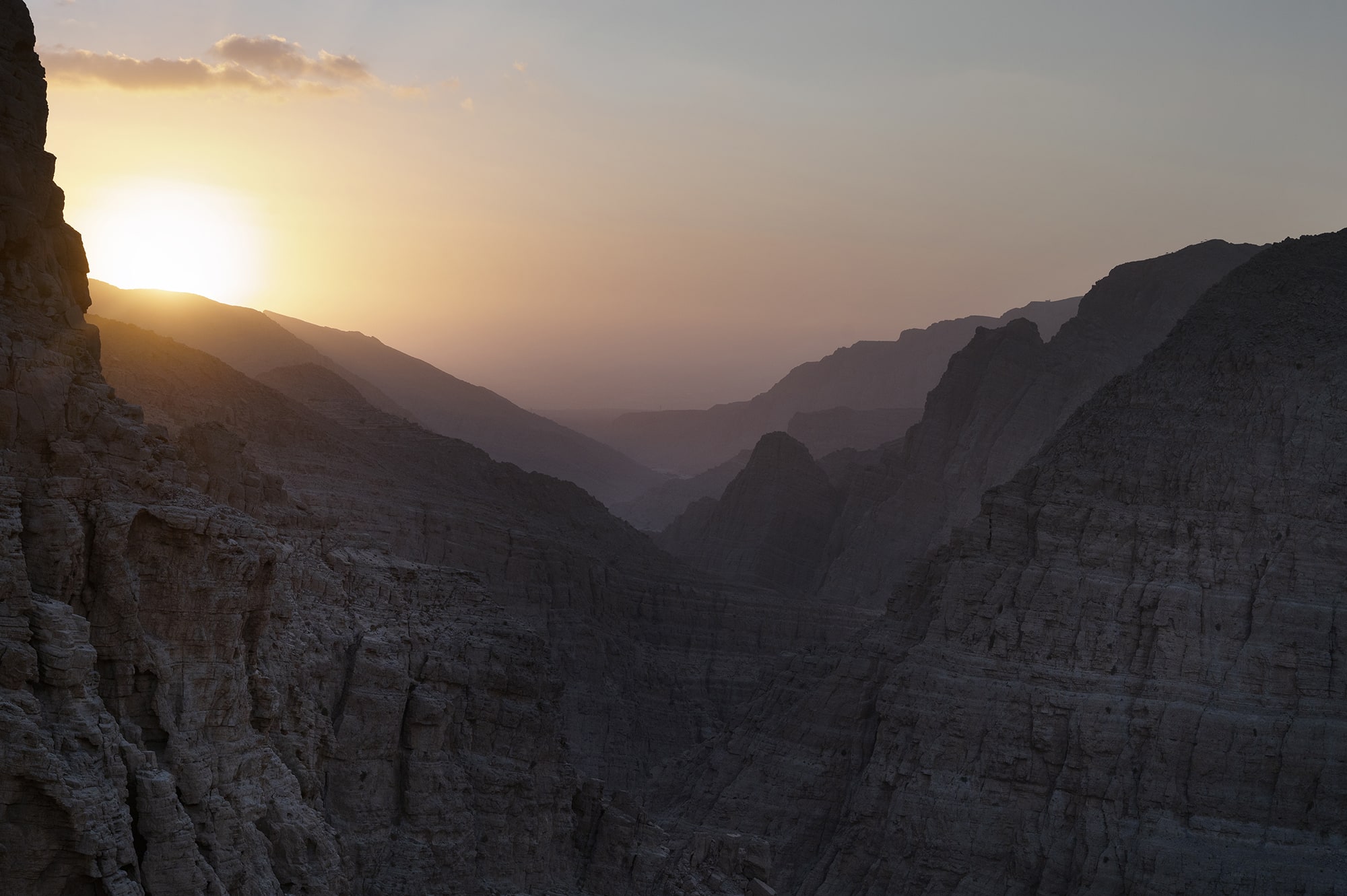 Travel
A guide to Wadi Naqab Trail- an iconic hike you must do when in UAE.