Wondering how to plan 7 days Dubai itinerary? As a long-term resident in the UAE, I am excited to put this handy post together where I share the best things to do in Dubai and help you set up a perfect 1 week in UAE itinerary.
This Dubai itinerary planner also includes handy tips, how to get around, a map of all points of interest mentioned in this post, best accommodation options for all budgets, money-saving tips, and miscellaneous curiosities related to visiting UAE to keep your read fun. 
My Dubai 7 days itinerary not only covers classic must visit places in Dubai but also includes a couple of fantastic Dubai day trips, suggestions for less-known but absolutely amazing attractions in Dubai and UAE, and plenty of insider tips.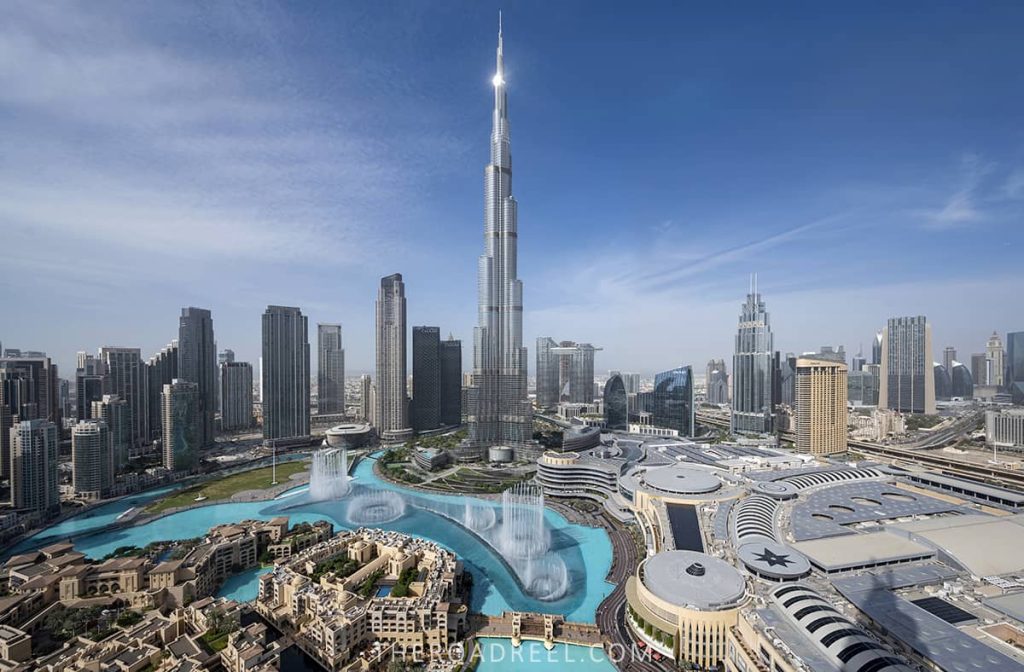 Following this route, you will get to see and experience the best of Dubai in 7 days:  modern futuristic Dubai and its surreal skyline, the characterful souqs and streets of old quarters of the city, bashing the rolling dunes of the vast desert, visiting inspiring Museum of the Future, adrenaline pumping amusement parks and otherworldly art installations, day trips to barren mountains and spectacular Sheikh Zayed Mosque in capital Abu Dhabi, and more.
There are a lot of exciting places to visit in Dubai and the UAE. That being said, with only one week in Dubai, this itinerary is set day by day to make your planning easier. This complete 7-day Dubai itinerary will definitely keep you busy yet you should be able to explore all sights at a fairly paced pace.
This is your ultimate 7 days in Dubai travel guide and a perfect UAE itinerary planner. Let's begin! 
7 Days Dubai Itinerary Overview
Assuming that you have full 7 days in Dubai, I have packed each day with different activities focused on one area or a couple of areas nearby to make commuting time efficient. An interactive map of this 1 week in Dubai itinerary is also provided at the end of the post. On the map, you can find all the attractions and points of interest in Dubai and UAE mentioned in this article. Note that I have not included a few widely recommended attractions which involve using animals as part of the entertainment (such as camel riding in the desert).  Instead, I provide alternative ways to experience UAE natural landscapes.
Day 1: Modern Dubai-Burj Khalifa, Dubai Downtown, and Museum of the Future.
Day 2: JBR, Dubai Marina, Bluewaters Island, and beach day.
Day 3: Old Dubai, Aya Universe, Dubai Frame, and Garden Glow.
Day 4: Palm Jumeirah, Atlantis, Burj al Arab and Madinat Jumeirah.
Day 5: Day trip to Mleiha desert safari and/or Hatta mountains.
Day 6: Day trip to Abu Dhabi.
Day 7: Expo City, or Dubai Miracle Gardens, or waterpark, or thrilling activity in Dubai.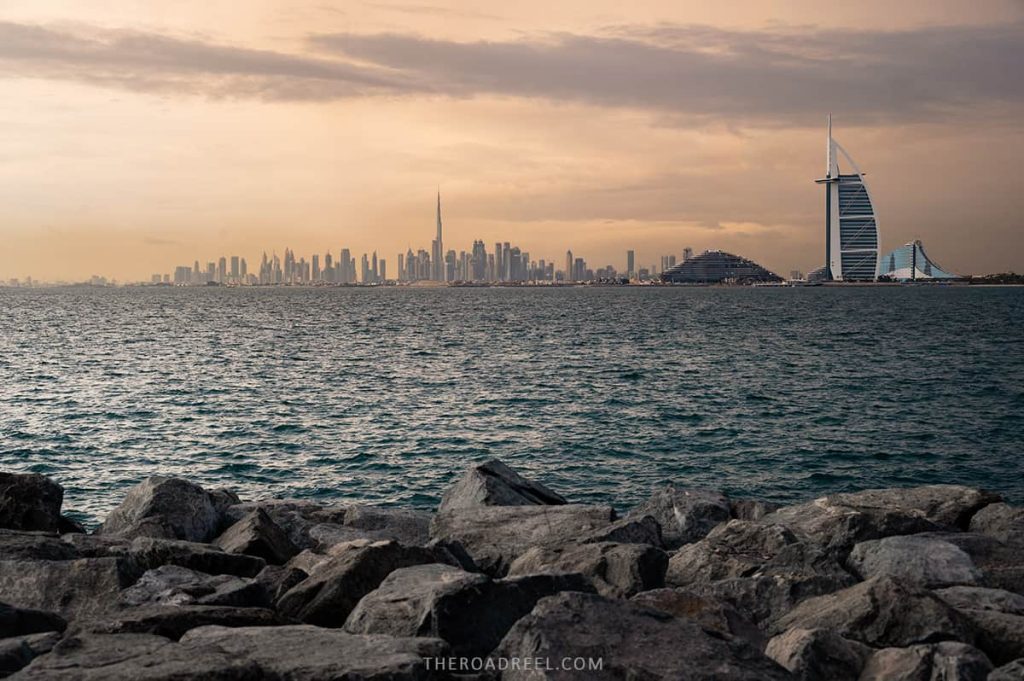 Dubai travel resources to plan your trip to UAE
Good to know before you go to Dubai: money & time-saving tips
Dubai is a real hot spot for tourists, especially during the winter months. There are virtually countless activities on offer to satisfy almost any type of interest imaginable. Yet, a lot of the must-sees in Dubai require advance reservation or would be more enjoyable with skip-the-line tickets. In this post, I put a note to each of such places so you know what to book ahead.
Save some cash with Dubai Explorer Pass
If you are the kind of traveler that wants to try as many activities as possible, Dubai Explorer Pass will come in handy. You can get 3, 4, 5, or 7 activities included in your pass (price will differ accordingly), and it will save you around 35% compared to what you would spend if you bought the tickets separately.
The pass is valid for 60 days from the day of activation giving you ample time during your 1-week in Dubai to utilize it.
The great thing about Dubai Explorer Pass is that many of the most popular activities in Dubai are also included (such as the Burj Khalifa observation deck). Here are a few honorable mentions:
Burj Khalifa observation deck at 124th and 125th floors – the time slot and date must be booked in advance
Aquaventure Waterpark at the Atlantis Hotel
Ain Dubai – Observation Wheel (re-opening May 2023)
Hop-On Hop-Off Big Bus Dubai Tour: 1-Day Ticket
Dhow Dinner Cruise in the Marina or in Dubai Creek
Desert Excursion with Barbecue Dinner – the date must be booked in advance
Adventure parks: Motiongate Dubai, Legoland Dubai, IMG Worlds
Check the full list of activities and book your Dubai Explorer Pass HERE.
Save time with skip-the-line pass
If you prefer to book activities for your one week in Dubai individually, I recommend considering skip-the-line passes for some of the more popular ones, especially if you can only attend during the peak times which are afternoons, evenings, and weekends.
Skip-the-line tickets are available for most of the popular attractions in Dubai. The ones that I suggest considering because of high demand and, naturally, long queues are listed below:
Top activities for 7 days in Dubai trip
Top adrenaline-filled activities that you can try only in Dubai
Where to stay in Dubai: the best areas in Dubai
Dubai is a spread-out "long" city, and distances are significant between the different areas of Dubai. For example, Dubai Marina and Downtown Dubai, two of the most popular tourist destinations, are 25 minutes drive apart, using a highway.
Thus, you must consider your base in Dubai carefully, depending on how you are planning to commute around (taxi, car, or metro).
You can find accommodations in all the main areas: Dubai Marina, Dubai Downtown, Jumeirah, JBR, Palm Jumeirah, Al Barsha, and also old Dubai (Deira). The prices of hotels in Dubai vary significantly depending on the area and type of hotel.
If your budget is unlimited, you have countless of the most gorgeous luxury hotels to choose from in Dubai's prime locations such as Downtown, Dubai Marina, and The Palm Jumeirah. However, if you are looking for more affordable accommodation options then look up JLT or Al Barsha area.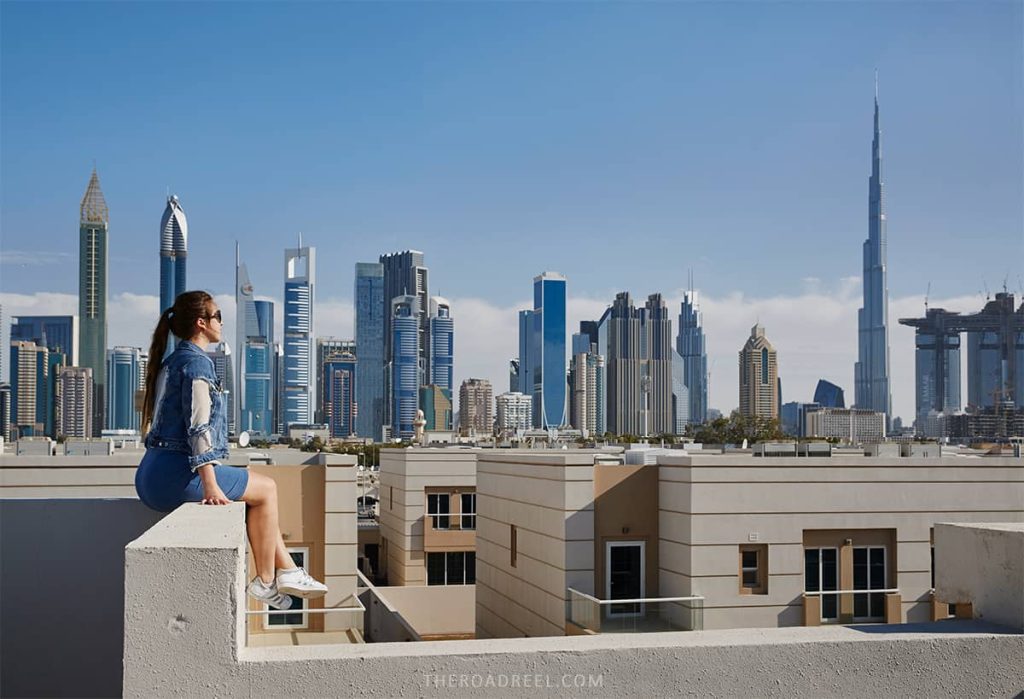 The cheapest hotels are in old Dubai (Deira). However, you must consider the travel time and cost. For example, the distance from Deira to Dubai Marina is around 30 kilometers. A journey in a metro will take away at least an hour, or possibly even more of your time, meanwhile, a taxi costs around 80 AED (22 EUR/25 USD) and still takes around 35-40 minutes or longer as there is a lot of traffic in Deira.
For your 7 days in Dubai, I recommend the following accommodation for different budgets (you will find more accommodation suggestions at the end of this post):
How to get around Dubai for 7 days?
Getting around Dubai by car
As a long-term resident of the UAE, I suggest that driving in Dubai during your 7-day visit is by far the most convenient, fastest, and cost-effective option. Not all activities and sights on this itinerary can be reached by public transport. Meanwhile, expenses on taxis can accumulate very quickly if you solely rely on them for moving around Dubai.
If you are traveling as a couple or a family, having your own car is advantageous in many ways:
Renting a car in Dubai is inexpensive
Petrol is cheap
Distances in Dubai are relatively long, thus using a taxi ends up being an expensive option to commute around Dubai.
Driving your own vehicle will save you lots of time compared to using slow public transport (metro or buses).
Finally, you will also have the freedom to go on day trips outside Dubai independently.
The only negative side of driving in Dubai is that traffic is hectic during peak hours (4-8 PM) in certain areas. Yet, it is not as near as bad as compared to the traffic in Riyad (Saudi Arabia), or Istanbul (Turkey).
Thus, renting a car in Dubai for a week is overall a good idea. The only time you do not need a car is if you have planned to spend your entire vacation at the beach resort in Dubai.
Getting around Dubai by metro
The metro line connects a few major areas in Dubai: Expo City-Dubai Marina-Dubai Downtown and DIFC- Old Dubai (Deira, Bur Dubai)- Dubai International Airport (DXB). It is an inexpensive way to travel between the above-mentioned areas in Dubai, yet trains are quite slow and often crowded (unless you purchase a Gold ticket for a VIP cabin).
That being said, if you rent your accommodation in Dubai close to the metro station, you can successfully utilize the Dubai metro for visiting several areas and attractions mentioned in this one-week Dubai itinerary.
You can purchase single tickets at the metro station. If you are planning to use the metro multiple times, then get an NOL card and top it up as much as needed or buy a 7-day pass. More info here.
NOL cards can be also used on buses, marine transport, and tram.
One-way ride starts at 4 AED (~1 EUR/1.1 USD), and the total cost depends on how many zones you are crossing.
Did you know? Dubai metro is controlled remotely and runs without a driver. Dubai metro can be an attraction in its own right and worth riding for fun once.
Getting around Dubai by bus
There is an extensive bus network serving a lot of areas in Dubai but I find it extremely slow and the worst way to get around Dubai if time matters to you. Thus, unless you are on a tight budget, I do not recommend bothering with buses.
You can find more information about bus routes on RTA (Roads and Transport Authority) website.
Getting around Dubai by tram
A tram line runs around Dubai Marina and JBR areas and also connects Dubai Metro and Palm Jumeirah monorail in Al Sufouh area.
Getting around Dubai by Taxi
Beige color metered taxis are operating all around Dubai and can be stopped by waving your hand. You can also download Careem App (must have a local number to register) which is the local equivalent of Uber.
The fare per 1 kilometer is around 1.8 AED, with a base rate of 12 AED.
For example a journey from Dubai Marina to Burj Khalifa in Dubai Downtown costs around 50 AED.
If you do not plan to rent a car, you will have to use taxi services for quite a few activities mentioned in this post.
Note: if you read somewhere that taxis in Dubai are cheap- I disagree. The fare of less than 2 AED per kilometer might appear low at first glance. But bear in mind that distances in Dubai are long (although do not feel like it when commuting via highways) and the amount payable for a journey increases quickly. If you use a taxi a few times a day, you can easily spend over 200 AED (around 50 EUR).
Dubai Itinerary: 7 days in UAE day by day
DAY 1 of 7 days in Dubai itinerary: the Dubai Downtown
Today you will explore Downtown Dubai and DIFC-the modern and glamorous- financial-commercial area where Burj Khalifa, Dubai Mall fountain show, and Museum of the Future are located. 
The points of interest and the best things to do in Dubai Downtown:
Burj Khalifa Observation Deck
Sky Views Observation Deck
Museum of the Future
Lunch in Dubai Downtown
Burj Khalifa promenade and Souk Al Bahar
Dubai Fountain Show in front of Dubai Mall and Burj Khalifa
1) Ascend to Burj Khalifa Observation Deck
If this is your first time in Dubai, visiting Burj Khalifa, the tallest building in the world, up and close is a brilliant way to start your itinerary. You can buy tickets to access 124, the 125th viewing platform overlooking Dubai Downtown with views stretching as far as the Arabian Gulf. For some extra money, you can even go up to the 148th floor.
Tip: visit around sunrise time-you will get cheaper tickets, the lighting will be just as beautiful as in the evening, and fewer people.
Fun fact: the tallest building in the world Burj Khalifa, as expected, has the fastest elevators lifting passengers at 10m/s speed.
Did you know? Burj Khalifa won't hold the title of the tallest building in the world for much longer. Saudi Arabia has ambitions to build a tower twice as tall as Burj Khalifa! Indeed, Saudis are setting a new bar that won't be easy to beat. 
2) Soak up more of Dubai Downtown views from Sky View Observation Deck
Scaling the heights of Burj Khalifa is what most Dubai visitors choose to do. However, if you want to see surreal Dubai's skyline with the Burj Khalifa in it, Sky Views Observation might spark your interest.
A 360 degrees glass viewing platform 219 meters above Downtown Dubai offers unobstructed views including the view of Burj Khalifa. Note that this activity is not suitable for those suffering from vertigo. The experience includes not only taking a glass elevator, walking a 46-meter glass corridor on the 53rd floor but also one floor-to-floor slide outside the tower on a transparent surface. Sky Views Observation deck is situated nearby Burj Khalifa, and thus can be visited on the same day. 
3) Walk Burj Khalifa promenade and visit Souk Al Bahar
Burj Park is a beautiful area at the foot of Burj Khalifa and next to Dubai Fountain Lake (also referred to as Burj Khalifa Lake). It is a pleasant promenade to walk around, chill on the grass, and a good spot to snap some photos of Burj Khalifa. Do not miss the gigantic metal dandelion sculptures located on the promenade. 
On the opposite side of Burj Park, you will find Souq Al Bahar which is accessible through a short bridge next to Dubai Mall. Souq Al Bahar is a venue filled with many restaurants and a modern marketplace made in a design of traditional Arabic Souq.
It sells various tourist-oriented Middle Eastern-style souvenirs. Although for better prices and the possibility to haggle, I recommend waiting until you visit Old Dubai and its authentic market.
Tip: Walk around Souk al Bahar along the lakeside to catch some more nice viewpoints of Burj Khalifa. 
Before heading to your next activity, I recommend having lunch either in Souk Al Bahar or Dubai Mall. Places to eat are countless and range from fast food to the fanciest restaurants. The selection of various cuisines is also plentiful.
4) Visit the impressive futuristic Museum of the Future
Named the most beautiful building on Earth, the Museum of the Future is an architectural and engineering marvel. Located in DIFC (Dubai International Financial Center) next to Emirates Towers, the facade of a circular-shaped building is endorsed with beautiful calligraphy quoting His Highness Sheikh Mohammed bin Rashid Al Maktoum (ruler of Dubai).
The Museum itself boasts a future-forward exhibition with an immersive and interactive experience. It is undeniably one of the world-class museums you simply cannot miss when visiting Dubai for one week.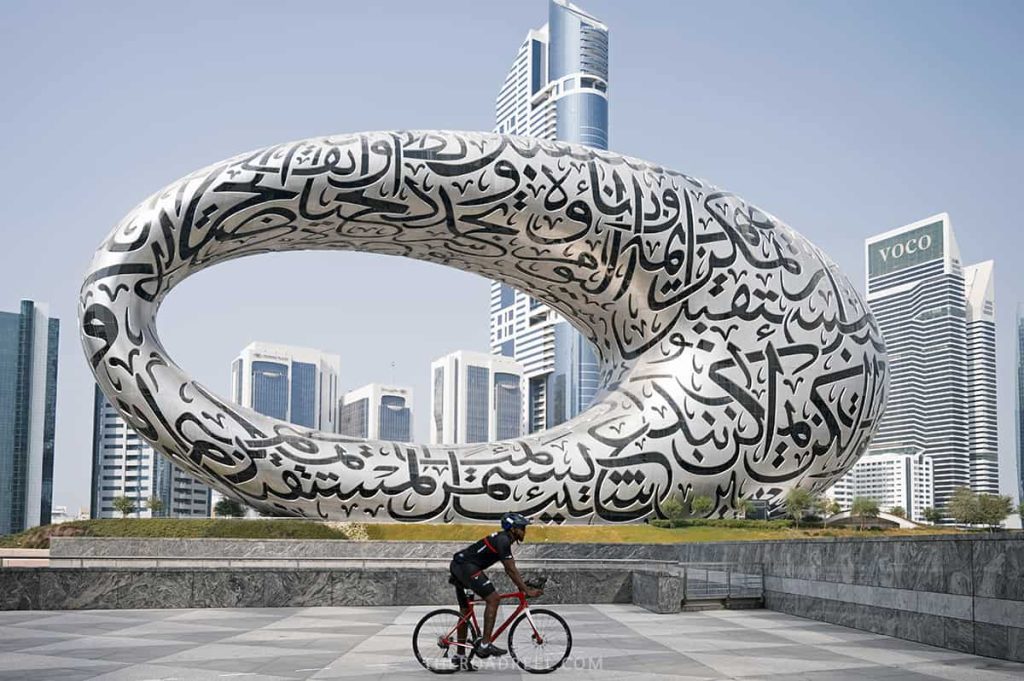 6) Enjoy Dubai Fountain Show at Burj Khalifa Lake
An enchanting water, music, and light spectacle-the tallest in the world performing fountain take place next to Dubai Mall daily in above mentioned Dubai Fountain Lake. It is a free attraction in Dubai unless you choose to watch it from one of the Dubai Mall terrace restaurants, from Abra boat, or from a boardwalk.
Dubai fountain boardwalk is 272 meters floating platform that allows you to reach the fountain as close as 9 meters. The cost for this attraction is 25 AED per person.
Abra boat is an old traditional wooden boat. You can experience the Dubai fountain show from up close while cruising in abra. Reservation in advance is mandatory -> BOOK HERE.
As mentioned above, a great way to end your first day in Dubai is to have dinner while watching a fountain show. Dubai Mall has several restaurants that offer sitting places on the terrace, and so does Souk Al Bahar. It is worth making a reservation in advance. For the best views check out Tulum restaurant located on the 4th floor, Fashion Avenue in Dubai Mall. The restaurant serves Mexican cuisine and also adds its own show to spice up the experience.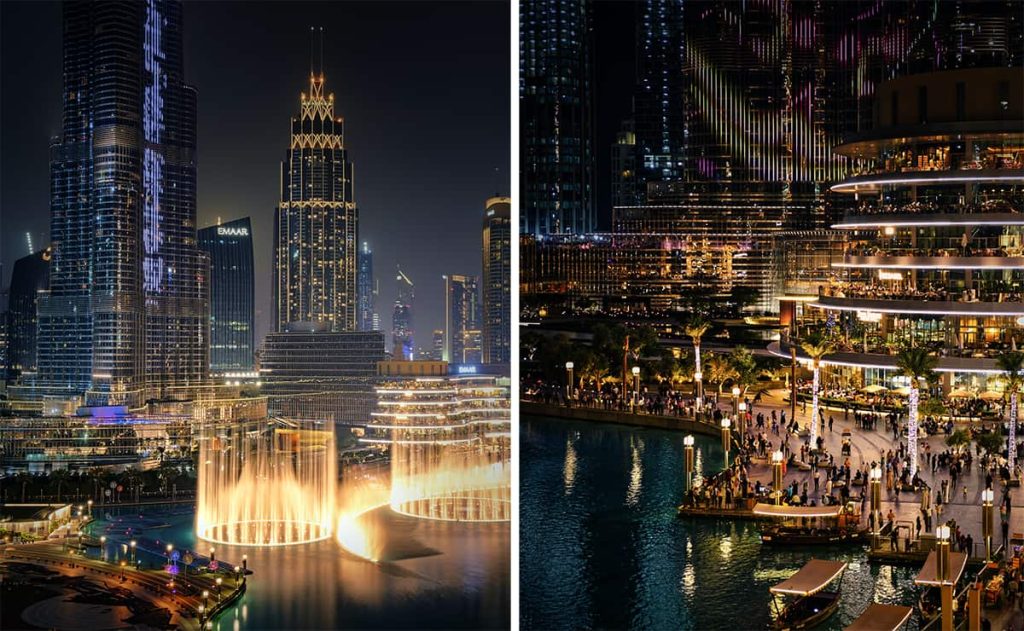 Dubai Fountain show times: daily at 1 PM and 1:30 PM (1:30 PM and 2 PM on Fridays), and from 6 PM to 11 PM every 30 minutes.
A word about Dubai Mall
As you may have noticed, although I mentioned Dubai Mall a few times, I have not suggested it as a top attraction. Unless your aim is shopping, I do not recommend focusing on visiting it. I am personally not a fan of spending time in malls. I find the lack of natural light and an overwhelming amount of people and smells extremely tiring, thus I never considered Dubai Mall as a must-visit place in Dubai.
Although I must give credit to Dubai Mall, and other malls in general for providing an array of various indoor attractions which keep people entertained during the unbearably hot UAE summers.
How to get to Dubai Downtown
By metro: step out in Dubai Mall/Burj Khalifa Metro Station.
By car: There is ample of free parking in Dubai Mall (over 14,000 parking spots).
To Museum of the Future by metro: it is only one stop from Dubai Mall metro station to Emirates Towers metro station.
DAY 2 of one week in Dubai itinerary: Dubai Marina and around
Today you will hit the beach and also explore the iconic areas of Dubai- Dubai Marina, JBR, and Bluewaters Island from the ground and from the water perspective on a boat tour.
The points of interest and the best things to do in Dubai Marina, JBR and Bluewaters Island:
Beach (private or public beach)
Dubai Marina Promenade
JBR (Jumeirah Beach Residence) walk and the beach area
Bluewaters Island and Ain Dubai
Sunset yacht tour or speedboat tour with Dubai Marina landmarks
1) Enjoy the beach in Dubai
Year-round sunshine is one of the major appeals to visiting Dubai. Situated on the Arabian Gulf, Dubai is abundant with beaches. There are plenty of options where to soak up the sun: from stylish beach clubs and hotel resorts to laid-back free public beaches.
If you are a beachgoer, depending on the budget, I recommend looking into accommodation that will allow you to reach the beach in a matter of minutes. The options for being steps away from the sea are:
high end-hotels and seaside resorts in Al Sufouh, Marina, JBR, or Jumeirah area;
mid-range accommodation-JBR or Dubai Marina which are a walking distance from the public JBR beach (5 to 15 minutes) .
If you are staying in one of the beach resorts, then you are all set for your half day on the beach. Otherwise, you might check one of the stylish beach clubs (paid entrance) which are in close proximity to your next destination (JBR and Dubai Marina). Some good options are:
Drift beach club (Dubai Marina);
Cove beach (on Bluewaters Island);
Bla Bla (JBR The Beach);
Summer Salt (Jumeirah Al Naseem hotel, has great views of Burj Al Arab).
Alternatively, head to one of the public beaches which offer the same sea and sand for free. Public beaches in Dubai (all of them have restrooms, food stalls and coffee shops, lifeguards, and even sunbeds with parasols for rent):
Kite beach -my favorite choice to chill out by the sea; you can walk along a 7 km long promenade and find both quiet spots and very busy spots to lay your towel at, all depends on what vibe you want);
JBR public beach -it is the most famous public beach frequented by tourists.
La Mer beach is located in Jumeirah 1, which is a bit far from Dubai Marina. This modern beach area is known for cool street art, palm tree-lined walkways, and many laid-back restaurants and coffee shops, as well as a waterpark.
How to get there: JBR beach can be reached by taking Dubai Metro and then walking for around 15 minutes, or taking a tram to reach closer. The other public beaches and beach clubs can be reached by taxi or driving.
2) Stroll along Dubai Marina promenade
The glittering Dubai Marina is a must place to visit in Dubai. Dubai Marina is an area where many western ex-pats choose to live and also a convenient place to stay as a visitor. The close proximity to the sea, plenty of restaurants, Marina Mall, and easy access to the metro makes Dubai Marina a desirable place to be.
Walk the length of 7 kilometers of Dubai Marina promenade that hugs an artificial canal lined with luxury yachts and a waterfront dotted by head-spinning skyscrapers.
3) Continue to JBR The Walk and the beach
Dubai Marina canal is connected to the JBR (Jumeirah Beach Residence) via a few bridges. JBR is a waterfront community that is part of Dubai Marina. JBR is distinctive for its tall sand-colored buildings and is home to a popular promenade where you can see Lamborghinis and Ferraris showing off.
The always buzzing beachfront boulevard is crowded with many restaurants and cafes, playgrounds, small shops, and people. The JBR beach is the most touristic beach in Dubai.
Although not my favorite choice for a quiet time at the beach, in terms of things to do aside from tanning, JBR beach has some thrilling water activities to engage in: banana boat ride, jet-skiing, parasailing, inflatable obstacle course over the water (it is super fun), to name a few.
4) Bluewaters Island and Ain Dubai
Continuing southwest along JBR beach, cross the pedestrian bridge to Bluewaters Island. You will get fantastic views over the JBR area from this bridge.
The mega modern manmade Bluewaters Island not only has a wide range of restaurants, upscale hotels, and fancy residences but is also home to Madame Tussauds Dubai wax museum and Ain Dubai observation wheel. The latter is one of the best attractions in Dubai to add to your itinerary.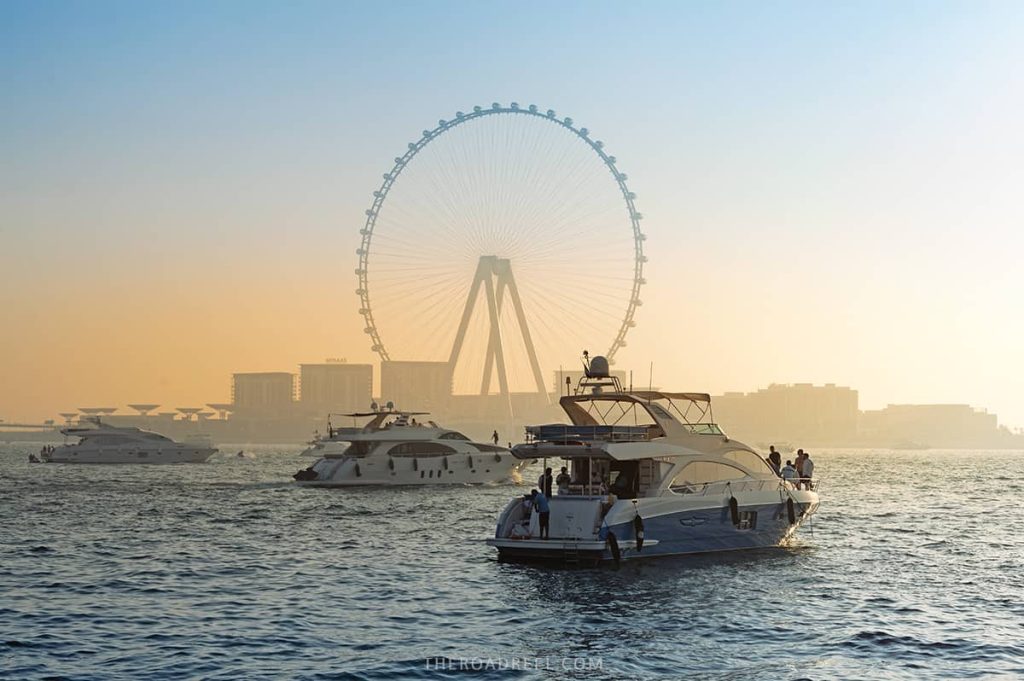 Did you know? Just like many things in the UAE, Ain Dubai (or Dubai Eye) is the largest and tallest observation wheel in the World! The Dubai Eye is temporarily closed but is due to re-open in May of 2023.
5) Yacht tour- one of the best things to do in Dubai
A yacht tour around Dubai Marina, Burj Al Arab, and Palm Jumeirah is one of the best things to add to your one-week Dubai itinerary. Seeing the skyline of Dubai from the water is a completely different experience than just walking under the sparkling towers. You will be able to truly appreciate the opulence of Dubai's coastline.
The great news is that you have ample options either for a private yacht tour, a super fun speedboat tour covering main Dubai landmarks or joining a boat trip in a group, it all depends on your budget and preferences. The group tours are in fact very affordable.
Tip: the best time to go for a yacht tour is before sunset and sail into dusk. Dubai Marina skyline looks incredible washed in the golden rays of the setting sun. Moreover, when transitioning into the night the lights of the city come up making it a sight to behold.
How to get to Dubai Marina and JBR
By metro: go to the Damac Properties Station and cross the overpass to Dubai Marina. From here, the Marina Promenade is a five-minute walk.
To get to JBR, you can walk from the Dubai Marina promenade over one of the bridges crossing the canal. It takes only around 10 minutes.
By car: parking is available in Dubai Marina Mall (3 hours free of charge), also there is regular street parking metered for 4 AED per hour. JBR and Bluewaters Island, on the other hand, have limited street parking and the only option is expensive underground parking 20 AED (5 EUR) per hour unless you dine in one of the restaurants and spend over 100 AED then parking is free for 3 hours with validated ticket.
Read about The most instagrammable places in Dubai– where to find iconic and unique photo spots in Dubai.
DAY 3 on 7-day Dubai itinerary: Old Dubai, and around
On your day 3 in Dubai, you will be dwelling in the past of the city by visiting an old part of Dubai -a complete contrast to the glitz and glam of modern Dubai. From the Bedouin roots to the busy port town which developed around the Dubai Creek area, old Dubai is comprised of al Fahidi (Al Bastakiya) district and the Bur Dubai neighborhood on one side of the Dubai Creek and the Deira area on the other side.
The points of interest and the best things to do in Old Dubai:
Al Bastakiya district;
Al Seef district;
Al Fahidi Fort;
Abra boat ride from Bur Dubai to Deira souks;
Lunch at an Ethiopian restaurant;
Aya Universe;
Dubai Frame;
Dubai Garden Glow.
1) Al Fahidi (Al Bastakiya) 
Start your morning in Al Fahidi (the oldest part is called Al Bastakiya) district. Dating back to the Pearl Trade era in the mid-19th century, Al Fahidi Historical District will bring you to the days before the 7 Emirates were founded.
Preserved to its original look, the Al Bastakiya district is characterized by ancient Arabic architecture. It is a small maze of winding alleyways between ochre-colored mud houses and typical wind towers aiding as an ancient air conditioning system.
Wandering around you will also find a few art galleries, Sheikh Mohammed Bin Rashid Al Maktoum Centre for Cultural Understanding which you can visit to learn more about Emirati culture, the Coffee Museum, and you can even stay a night in an XVA Boutique Hotel designed in a traditional Arabic way located at the very heart of Bastakiya.
Tip: Before starting your explorations stop for a typical Emirati breakfast at Arabian Tea House. Although catered to tourists yet a very atmospheric and beautifully decorated restaurant located at the southeast edge of Al Bastakiya and is worth the experience – choose to sit in the courtyard or on the outside terrace.
2) Al Seef District
Al Seef is a waterfront district newly built as an extension to Al Bastakiya. Al Seef is designed in a traditional Arabic style with many alleyways and mud houses with textured walls that were made to look as if they were ages old.
Al Seef hosts a traditional souq, waterfront restaurants and coffee shops, a boutique hotel, and a Museum of Illusions which is a fun thing to do with kids in Dubai. Al Seef is a very photogenic and atmospheric place to wander around and snap some instagrammable pictures of Dubai. 
3) Al Fahidi Fort
Make your way west past Al Bastakiya and swing by Al Fahidi Fort- the oldest building in Dubai dating back to 1787. It is indeed a bit of a random sigh- an ancient fort squeezed between the 20th-century apartment blocks. Al Fahidi Fort hosts a Dubai Museum which costs only 3 AED to visit and might be worth it if you are keen to learn about the Persian Gulf and the heritage of Dubai.
4) Take an abra boat from the textile market in Bur Dubai- a must-do in Dubai
One of the most fun attractions in old Dubai is sailing across the creek the old way. A traditional wooden boat called abra (which means "to cross" in Arabic) has been used for centuries as a fast means of commute between two shores of Dubai Creek.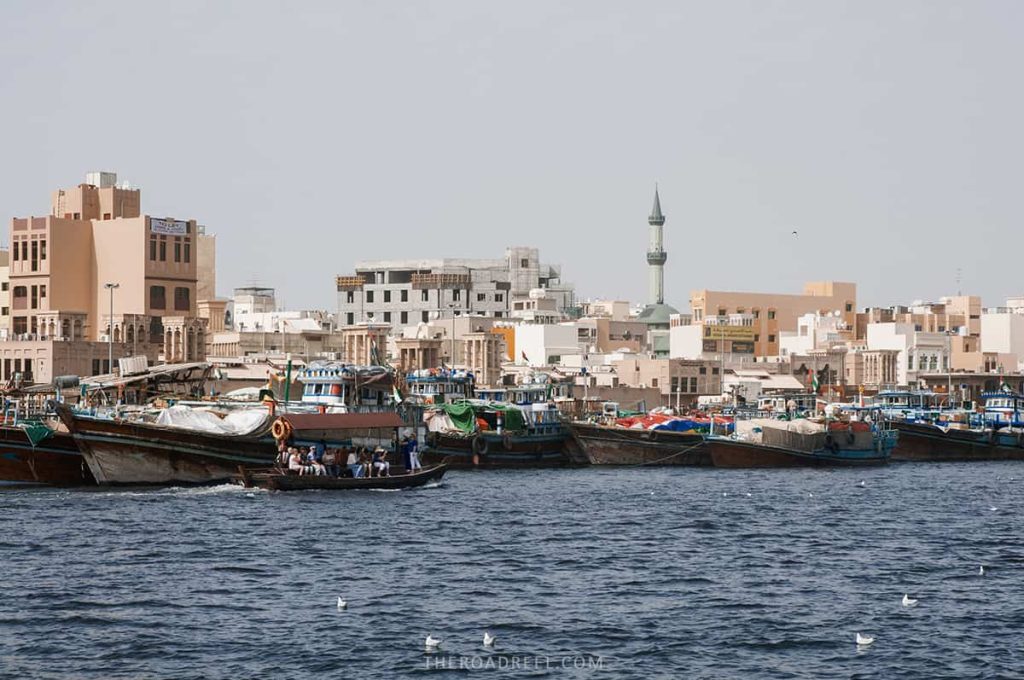 Abra can carry up to 20 passengers. The old boats are still used but have been motorized.
The journey across Dubai Creek from the Textile souk in Bur Dubai to the Gold and Spice souk in Deira takes 5 minutes and costs only 1 AED paid in cash to the ferry driver. That being said, this abra ride is by far the cheapest thing to do in Dubai.
If you want to sail alone or in a group of friends, you can hire an abra boat for 60 AED and have a nice journey along the creek, a duration is around half an hour.
Before reaching the abra marine station, you will first pass through the Textile Souq on the Bur Dubai side. Do not be surprised if you are called "Shakira Maria" as a lady- this is just one of the ways merchants entertain the tourists by trying to get them to purchase Kashmir scarfs. If any of the sellers succeeded in getting your attention, make sure to haggle. Haggling is very much part of the game in this region and you can bargain for at least half of the initial price of the item.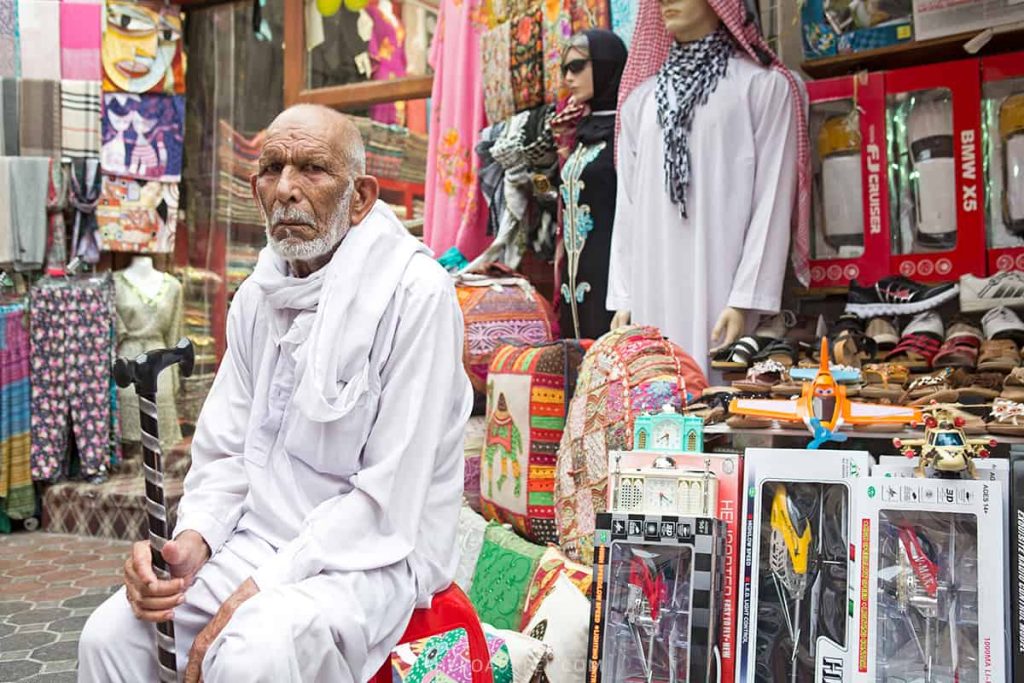 5) Gold and Spice Souq- a must-visit in Dubai
Gold and Spice Souks are traditional markets in Dubai that are fun to explore and actually to do some shopping. In Dubai's spice souk, you can get all the exotic spices you can imagine (Shafran, cardamon, etc), the highest quality dates, aromatic teas, Arabic perfume, lanterns, carpets, and various local souvenirs.
In Gold Souq, you can get gold and silver jewelry for some of the lowest prices in the world. If gold purchases are not on your agenda, still pop in to see jewelry of horrendous size.
Fun fact: As you may already know, Dubai must have everything tallest, biggest, and largest. Thus, it is not a surprise that World's largest bizarre 64kg almost half human-size gold ring is located in Dubai's Gold Souq. The ring is priced at 3 million USD, in case you are wandering. 
After exploring the Gold Souq, take the abra boat back to Bur Dubai side. As lunchtime approaches, I have a couple of suggestions:
Go back to Al Seef and find a nice place to dine at one of the waterfront restaurants;
try Ethiopian cuisine in Zagol restaurant in Karama district located less than 10 minutes by car or taxi from Al Fahidi district. Zagol is a small traditional Ethiopian restaurant. It is one of my absolute favorite places to eat in Dubai. Prices are low and the food is homemade, Ethiopian coffee is excellent too. If you never tried Ethiopian cuisine before, the base is injera bread served with various toppings (meat, vegetables, lentils). In general, you can find countless cheap low-key places to eat in the Karama area, mostly Asian (Indian, Pakistani, Bangladeshi) cuisine. 
6) Aya Universe
A rather unusual attraction in Dubai on this list is the Aya Universe. It is an immersive mind-bending experience that opened in December 2022. The exhibition consists of around dozen different rooms (chambers) that will transport you to various illusionary spaces created using led lights and other high-end light technology. The installations are beautiful, thus Aya Universe instantly topped my Most Instagrammable Places in Dubai list.
Aya Universe is located in Wafi City ( Wafi Mall). It will take you around 10-20min with all the traffic and weird turns from Karama or Bur Dubai. 
Opening times: Fri-Sat 10 AM- 12 AM, Sun-Thu 10 AM-10 PM.
Ticket price: 100 AED -> BOOK HERE
7) Dubai Frame
Unsurprisingly, the largest monumental frame in the World that is also an observatory and a museum, Dubai frame is one of the top attractions in Dubai. Metaphorically and quite literally, the building is framing two different sides of Dubai. Depending on where you are looking, you either see the old part of Dubai as a canvas or the modern side of the city.
The state of art elevator will take you 150 meters up where you can observe lofty views of the city. Note that the upper frame holds a glass bridge connecting two towers. Walking the transparent floor is exciting for many but might be scary for someone suffering from vertigo.
Good to know: since Dubai frame is a very popular activity, there are massive queues on weekends and especially in the late afternoons. Therefore, try visiting on weekdays or consider purchasing skip-the-line tickets that will save you an hour or so of queuing. 
Opening times: daily 9 AM- 9 PM.
Ticket price: 50 AED-> BOOK HERE.
8) Dubai Garden Glow
As the sun goes down, a wonderland of led lit creatures comes alive. Located in Zabeel park, next door to Dubai Frame, Dubai Garden Glow is the largest of its kind glowing park filled with gigantic size sculptures made of recycled fabric illuminated with over a million energy-saving bulbs. You will find led-based artwork in the shapes of animals, flowers, gigantic jellyfish, mushrooms, castles, heart-shaped archways, and an ice room with polar beers.
Moreover, the space also hosts a dinosaur park where the Jurassic park beasts are made in the size of what they used to be during their existence. Moreover, to add some creepiness to the atmosphere, the dinosaurs make ferocious sound effects and move their heads. 
On your 7 days Dubai itinerary, Dubai Garden Glow is a perfect attraction for both families with kids and curious adults who appreciate unusual things to do in the city.
Glow Garden Park is open during the autumn-winter season when the temperatures are suitable to be outdoors. 
How to get to Old Dubai
By metro: go to Sharaf DG metro station and take exit 4, it is around a 7 minutes walk to Al Fahidi (Ak Bastakiya).
By car: you can find easy free parking in Al Seef underground parking lot. Regular street parking is also available but might be tricky around Al Fahidi area.
By taxi: to reach other attractions- Aya Universe, Dubai Frame, and Garden Glow you will need a taxi (unless you are driving).
DAY 4 of Dubai 7 days itinerary: The Palm Jumeirah and Burj Al Arab
Points of interest and things to do in Dubai Palm Jumeirah and Madinat Jumeirah:
The View at the Palm
The Pointe with Atlantis view
The Palm Corniche
Burj Al Arab
Madinat Jumeirah
The Palm Jumeirah
Palm Jumeirah is a famous manmade island in a shape of a palm tree. The branches of the Palm are lined with private villas, while the trunk is formed of upscale residences and many high-end hotels, waterfront restaurants, and sky-high Nakheel Mall hosting an observation deck and an infinity pool at its rooftop. And above all Palm Jumeirah is home to the iconic Atlantis hotel which is a must-see during your 7 days in Dubai.
1) Marvel at the views over the Palm Jumeirah at The View at the Palm
Built 240 meters above sea level, The View at the Palm observation deck boasts 360-degree views over the Gulf of Arabia, Palm Jumeirah, and many iconic landmarks.  You can visit the 52nd floor and have so a called general self-guided experience or choose a guided tour and have next-level experience. The latter includes access to an unobstructed viewing deck and a VIP lounge. 
My recommendation is to visit early morning for beautiful sunrise lighting and cheaper tickets. Otherwise, sunsets are gorgeous but definitely the most popular for a visit.
Tip: before going, check the exact sunrise and sunset timing and book an hour before to catch the golden hour.
2) Atlantis hotel view at the Pointe
Atlantis hotel is an iconic landmark, that proudly sits at the apex of the Palm. Atlantis is definitely one of the top places to visit in Dubai for first-timers. Either you choose just to admire the architecture of the luxury resort from afar, or step inside to check out the interiors, dine in one of the fanciest restaurants in Dubai, have fun in Aquaventure waterpark, or even decide to spend a night or two, Atlantis is not to be missed.
If you want to get a good picture of the Atlantis hotel, the best-unobstructed views are revealed from the Pointe. A trendy waterfront venue at the far end of the trunk of the Palm dotted with restaurants, coffee shops, and boutiques, The Pointe is a nice place to have breakfast before you continue another exciting day in Dubai.
Tip: the Pointe also has its own fountain show happening in the lagoon in front of Atlantis. It is a smaller fountain show than the one by Dubai Mall, yet it is also less crowded and can be enjoyed while eating dinner at one of the waterfront restaurants. The show starts daily at 6 PM and finishes at 11 PM or midnight on weekends.
Did you know: a modern version of the Atlantis hotel has been built on the east side of the Palm? The new Atlantis The Royal hotel complements the old iconic landmark by retaining a similar shape but has a completely different futuristic architecture. It is a new kid on the block of cool landmarks in Dubai.
3) The Palm Corniche
Less known to the visitors, the west side corniche is my favorite place on Palm Jumeirah island. It offers a relaxed walk along the promenade winding along the sea. Moreover, at the very far west end of the Palm, you get fantastic views over Dubai Marina and JBR.
Tip: Palm Jumeirah Corniche is a perfect place to watch the sun go down. Parking is also easy if you come by car.
5) Burj Al Arab- a must-see landmark in Dubai
Just as iconic as Burj Khalifa, Burj Al Arab is Dubai's postcard child it is arguably the most recognizable landmark in the UAE. Situated on its own manmade island accessible via a short bridge, Burj Al Arab is a 252 meters tall 7-star ultra-luxury hotel shaped as a sail.
Good to know: you can only visit the interiors of Burj Al Arab if you are a guest, or if you have a reservation to dine at one of its outlets.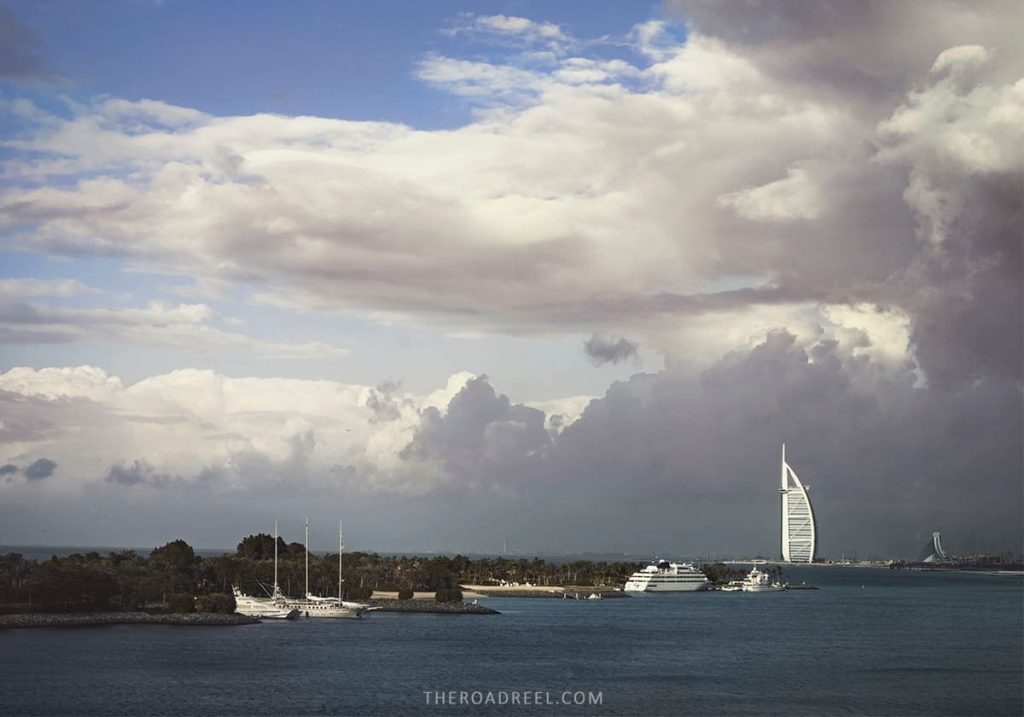 Nonetheless, Burj Al Arab is visible from many spots along the Jumeirah area, from Dubai Marina and the Palm. However, if you want to see a close-up unobstructed view of Burj Al Arab, you can either walk the bridge leading to the building or go for a drink at Al Naseem Hotel's beach bar. Joining a yacht tour is also a great way to enjoy the views of this iconic hotel.
Finally, Madinat Jumeirah, which is the next destination today on your 7-day Dubai itinerary is also a great place to have glimpses of the iconic hotel.
6) Madinat Jumeirah
A city within a city, Madinat Jumeirah is the other must-visit place in Dubai. Inspired by the Arabic citadel Madinat Jumeirah consists of luxury hotels, ornate souks, and dozens of bars, and restaurants many of which are boasting fantastic views over the river which snakes between beige-hued traditional Arabic houses.
Legendary Burj al Arab hotel is also visible from many vantage points. You can even take an Abra boat and sail different routes across the 5 kilometers long river. Note it is not a local experience but rather a fancy tourist attraction that may cost you anywhere from 100-850 AED depending on the duration and route (unless you are a hotel guest who gets to ride Abra free of charge).
Madinat Jumeirah is a great place to wrap up your evening in Dubai as you have so many wonderful places to dine at.
How to get to the Palm Jumeirah
By metro, tram, and monorail: come out of Sobha Realty Metro station in Dubai Marina, cross the bridge to the Marina side, and take the tram to the Palm Jumeirah station. Come out and take the Palm Jumeirah monorail footbridge to get to the monorail station. Monorail stops at the Pointe and also at the Atlantis hotel. The monorail ticket costs 20 AED (~5 USD) one way and 30 AED (~8 USD) return and can be bought at the monorail station.
By car: easiest, most flexible, and fastest way to visit all the spots in the Palm Jumeirah, parking is available and free at the places mentioned above.
Taxi: you will need it to visit the Palm Corniche on the Dubai Marina side as it is too far to walk from the Atlantis hotel.
How to get to Madinat Jumeirah
Driving or taxi. Metro does not stop at Madinat Jumeirah. The closest station is Emirates Mall, which is 2 kilometers away.
DAY 5 of 7-Days in Dubai Itinerary: a day trip to the desert and Hatta
Dubai day trips:
Desert Safari in Mleiha
Visit the mountain town of Hatta and Hatta dam
On your 5th day in Dubai, I recommend taking a break from shiny buildings and going exploring beyond the city. Visiting the core natural element of the country, the magnificent desert, is an absolute must on any UAE itinerary.
However, unlike many recommendations you may find online for a usual Dubai desert safari, I would love to suggest something different. In my humble opinion, a better option is to spend your day exploring the desert landscapes and also pay a visit to the barren UAE mountains in Hatta. If two activities sound a bit of a stretch, then pick one that sparks your interest the most.
To visit both, the mountains of Hatta and the beautiful desert, you will either have to join a tour, or rent a car to visit independently (my preferred option). Read on to find out more.
1) Mleiha desert
The most beautiful sand dunes in close proximity to Dubai are located in Mleiha, Sharjah Emirate. Orange-hued unbelievably scenic desert landscapes are accompanied by unusual rock formations rising above the dunes. I have been to different desert locations around UAE, and Mleiha tops the list.
How to visit Mleiha desert:
If you rent a car in Dubai, you can drive to Mleiha Archeological Center and then hire a driver to take you inside the dunes. It takes 1 hour to drive from Dubai to Mleiha.
Otherwise, if you do not drive, you have the option to join a fantastic top-rated experience on a guided tour from Dubai. It includes a visit to the Mleiha desert, stargazing, and dinner. -> BOOK HERE
Read my Ultimate Guide to Visiting Mleiha and All Things to do in Mleiha, UAE.
2) Hatta mountain town and Hatta Dam
Hatta is an exclave mountain town that belongs to the Emirate of Dubai. It is located 1.5 hours drive from Dubai and can be easily combined with a visit to Mleiha if you have your own vehicle, or join a tour that covers both.
Hatta boasts dramatic landscapes of the Hajar mountain range, lush green farmlands, and a turquoise water dam. Visiting Hatta feels like appearing in a completely different world from what many visitors envision when they think of Dubai.
A traditional town in the UAE can keep you busy all day, as there are many outdoor activities to engage in: hiking, mountain biking, kayaking, Hatta hub park with obstacle courses, and other fun activities. You can even stay overnight and have a unique glamping experience in one of the "glampsites". However, if you only have half a day on your Dubai itinerary, then visiting Hatta dam where you can also kayak and the heritage village of Hatta is a must.
Read more about 10 Wonderful Things to do in Hatta Mountain Town.
DAY 6 of 1-week Dubai itinerary: a day trip to Abu Dhabi
Points of interest and things to do in Abu Dhabi on day 6 of the UAE itinerary:
Sheikh Zayed Mosque
Qasr Al Watan
Emirates Palace
Etihad Towers
Louvre Abu Dhabi
Yas Island (with Ferrari World or Warner Bros)
The capital of the UAE, Abu Dhabi is also the largest Emirate. Abu Dhabi is usually visited as a day trip from Dubai and if it is your first time visiting UAE, a day trip is sufficient time.
Nonetheless, Abu Dhabi has an array of interesting things to see and activities to do that would require at least a few days. Thus, depending if it is your first time or if you have already seen the highlights, below is a list of things to do in Abu Dhabi. Note, that the best way to visit is by driving your own car.
1) Sheikh Zayed Mosque
The marvel of Islamic Architecture and one of the largest mosques in the World, Sheikh Zayed Mosque is a must-visit place in Abu Dhabi. The mosque features 82 domes, more than 1,000 columns, 24-carat-gold gilded chandeliers, and the World's largest hand-knotted carpet. Meanwhile, the main prayer hall is dominated by one of the world's largest chandeliers.
If you only have time to visit one place in Abu Dhabi, prioritize the Sheikh Zayed mosque. It is truly one of the most awe-inspiring structures on Earth. Non-muslim visitors are welcome to admire this holy place.
Visiting times: 9 AM- 10 PM.
Entrance is free
Dress code: Ladies must wear long skirts and sleeves and cover their heads. Men must also wear long pants and sleeves. Abayas with hoodies are provided at the mosque if you do not have proper attire on.
2) Qasr Al Watan Palace
An unmatched example of the grandeur of royal Arabic architecture and the craftmanship of unparalleled opulence, Qasr Al Watan is a functional presidential Palace complex. Qasr Al Watan is open for visitors to explore its magnificent halls, lush gardens, and splendid rooms. Through the journey, you will get a glimpse into the legacy of the Emirates. If you visit in the evening, you will also get to enjoy a spectacular light performance that happens daily 30 minutes after sundown.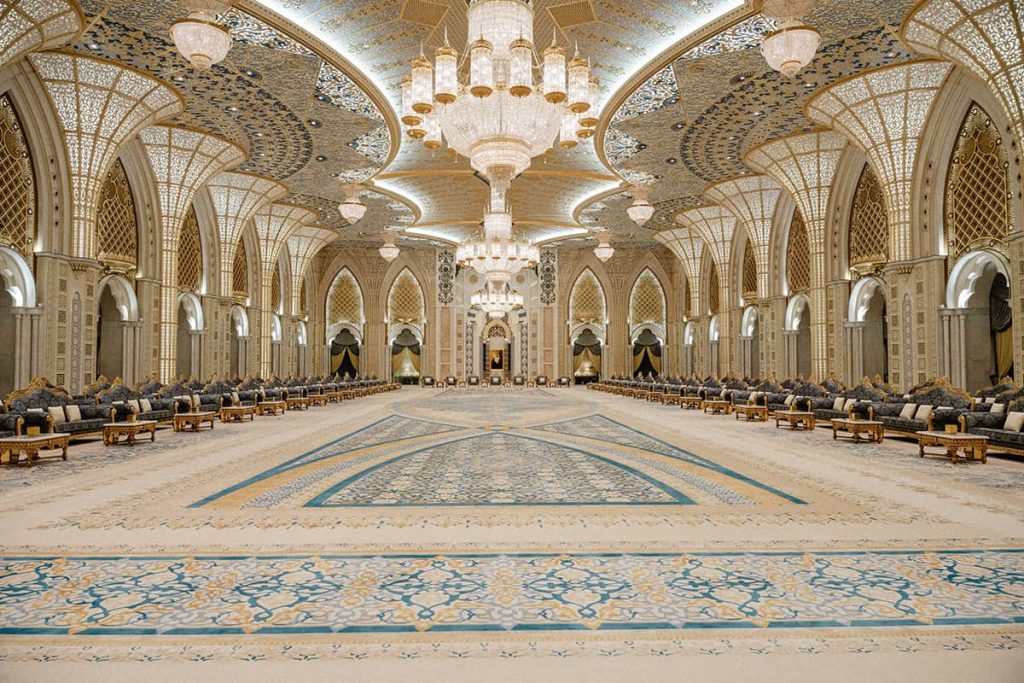 3) Emirates Palace and Etihad Towers
The epitome of luxury, Emirates Palace is one of the most famous buildings in Abu Dhabi. It is a mega luxury hotel, where you are served a 24-karat gold-flaked cappuccino (for a golden price of 16 USD). Since Emirates Palace is located close to Qasr Al Watan, you can make a pit stop to look at the structure from outside or venture inside if you are curious to taste a gold cappuccino and see more of the golden interiors.
Etihad Towers, located opposite Emirates Palace, is a complex of 5 iconic shimmering skyscrapers that appeared in the Fast and Furious movie. You can get a great view of Etihad Towers from the Emirates Palace grounds.
4) The Louvre Abu Dhabi
The first universal museum in the Arab World, Louvre Abu Dhabi hosts masterpieces and important artwork ranging from ancient times to modern days. Apart from the rich collection of art pieces, the Louvre building is an architectural masterpiece worth admiration on its own. If you are visiting Abu Dhabi independently and love art and architecture, it is worth including Louvre Abu Dhabi in your one week in UAE itinerary.
5) Yas Island (Ferrari World or Warner Bros)
If you love amusement parks, then look no further than Yas Island in Abu Dhabi which is home to the world-famous Ferrari World and Warner Bros theme parks.
If you are visiting just for half a day you will have to pick one or the other, depending on what thrills you more. The amusement parks are massive and you can spend there a whole day. Yet if you have 3-4 hours, you can still try the most fun rollercoasters.
Ferrari World is the World's first Ferrari-branded theme park. Famed for the fastest and highest loop roller coasters in the world, Ferrari World is not for the faint-hearted. I tried all the scary rides and I have to admit, I am not sure if I will ever go for the second round any time soon. It was scary!
Meanwhile, Warner Bros is the world's largest indoor theme park revolving around famous movie characters from Bugs Bunny to Batman. There are over 60 rides and you can also meet the characters and interact with them.
During our 3-hour visit, we managed to only tackle Gotham City and a few more attractions. At first, I was skeptical that this park is just for kids, but I ended up enjoying it a lot. Thus, if you love movies, you will love Warner Bros theme park.
DAY 7 of 7 days Dubai itinerary: Expo City, Dubai Miracle Gardens, waterpark, or thrilling activity.
Points of interest and things to do in Dubai on the last day of 7 days Dubai itinerary:
Expo City or;
Dubai Miracle Gardens or;
Waterpark or;
Thrilling activity that you can do only in Dubai;
Dinner with a view.
For the last day on your 7 days in Dubai itinerary, I have put together several attractions to choose from. Note that it is impossible to do them all, at most two (except for dinner which you can have late).
1) Expo City
Expo City is a former mega site of Expo 2020 Dubai. The area was transformed into a sustainable city and kept several thematic and country pavilions that can be visited today. If you missed the world's largest exhibition, which takes place in a different country every 5 years focusing on culture, sustainability, technological advancement, and future developments, the good news is that you can still see some of the best remaining Dubai Expo 2020 pavilions. 
Those include UAE, Saudi Arabia, India, and Australia to name a few pavilions, and also thematic Terra (sustainability), Alif (mobility), Opportunity, and Vision pavilions.
Opening times: Expo City is open 24/7, and pavilions are open 10 AM- 6 PM daily.
Price: 50 AED per pavilion, or 120 AED for a day pass that includes all pavilions. Tickets can be purchased here.
How to get to Expo City: by metro to Expo City station; or by car, plenty of free parking is available.
2) Dubai Miracle Garden
Dubai Miracle Garden is yet another record on Dubai's attractions list. It is the World's largest flower garden. The garden takes up a massive 72000 sqm area filled with gigantic sculptures of fairy-tale and cartoon characters, life-sized castles, and even an airplane, all covered in over 150 million colorful flowers.
Miracle Garden won a Guinness Award as the largest vertical garden in the world! The site is truly impressive and if you are visiting Dubai in winter, you may add it to your last day in Dubai itinerary.
Best time to go: the garden is operational from mid-November to mid-May when the weather is cooler in Dubai. The site opens at 9 AM, thus try to come early on weekdays to avoid crowds. It is a very popular attraction in Dubai and gets packed, especially on weekends.
Opening times: 9 AM- 9 PM.
Ticket price: 75 AED
Getting there: by public transport, you must arrive at Emirates Mall metro station and catch bus number 105 to Dubai Miracle Gardens. This journey might take around 45 minutes. Faster is to take a taxi or drive (plenty of free parking spots are available on-site).
Book your Miracle Garden ticket HERE.
3) Dubai waterparks
Dubai has a few large waterparks which are super fun to spend time with family and friends on a hot day. Two of the best waterparks in Dubai are:
1. Aquaventure, the world's largest waterpark, hosts over 100 slides. It is located in the Atlantis hotel.
2. Wild Wadi is a smaller but also fantastic waterpark located next to Burj Al Arab. The entry costs around 250 AED, opening times are from 10 AM to 6 PM daily. Guests of Jumeirah hotels (including those of Burj al Arab) get complimentary passes.
Good to know: Aquaventure is the most popular waterpark in Dubai and it gets extremely busy on weekends. Avoid going on a weekend if you can, and try visiting early on a weekday. If you travel to Dubai during Ramadan, you will be in luck, as it is the quietest month to visit attractions like waterparks when almost all city is fasting until sunset. Also, the opening times of the waterparks get extended during the holy month.
4) Thrilling activities in Dubai
Dubai is famous for all sorts of adrenaline-filled activities. If you want to take your visit to Dubai to the next level, you have quite a few exciting options on offer. Note those are also the most expensive activities, but worth at least once in a lifetime.
The most well-known and definitely scariest activity is skydiving in Dubai. If you dare to jump off the plane you will get to see the best views over Dubai Marina and the whole of Palm Jumeirah from the bird's eye view perspective. I have never done that, but I know many people who did and they claim it to be one of the best experiences in their lives.
Other unique adrenaline-pumping activities in Dubai that also include being in the sky, yet require slightly less courage are:
Dubai in helicopter tour -> BOOK HERE
Gyrocopter introductory flight-> BOOK HERE
Zipline across Dubai Marina (Xline Dubai Marina- the longest urban zipline)-> BOOK HERE
5) Fancy dinner with a view
Finish your busy 7 days in Dubai itinerary with a stellar dinner with a view. Treat yourself to a fancy meal at one of many chic restaurants that boast spectacular views over the city of Dubai. To name them all would be impossible but here are a few great suggestions in different areas of Dubai:
Atmosphere, Downtown Dubai-high up on the 122nd floor of Burj Khalifa, this restaurant is situated in the prime of the prime locations in Dubai. Cuisine matches the venue as well.
Basanti and Co, Bluewaters island– this restaurant serves Indian cuisine and overlooks the JBR coastline.
Chuan, The Palm Jumeirah– located on the Pointe, this restaurant serves the finest Chinese cuisine and boasts views of Atlantis hotel. In the evening you also get to see a fountain show.
Marina Social, Dubai Marina, Intercontinental Hotel– this Michelin-starred hotel has some of the most beautiful views over the Dubai Marina, and the food is nothing short but exceptional.
Thiptara, Downtown Dubai, the Palace hotel– a wonderful venue for a romantic dinner with the Dubai Fountain show at Burj Lake (in case you missed it on your first day in Dubai).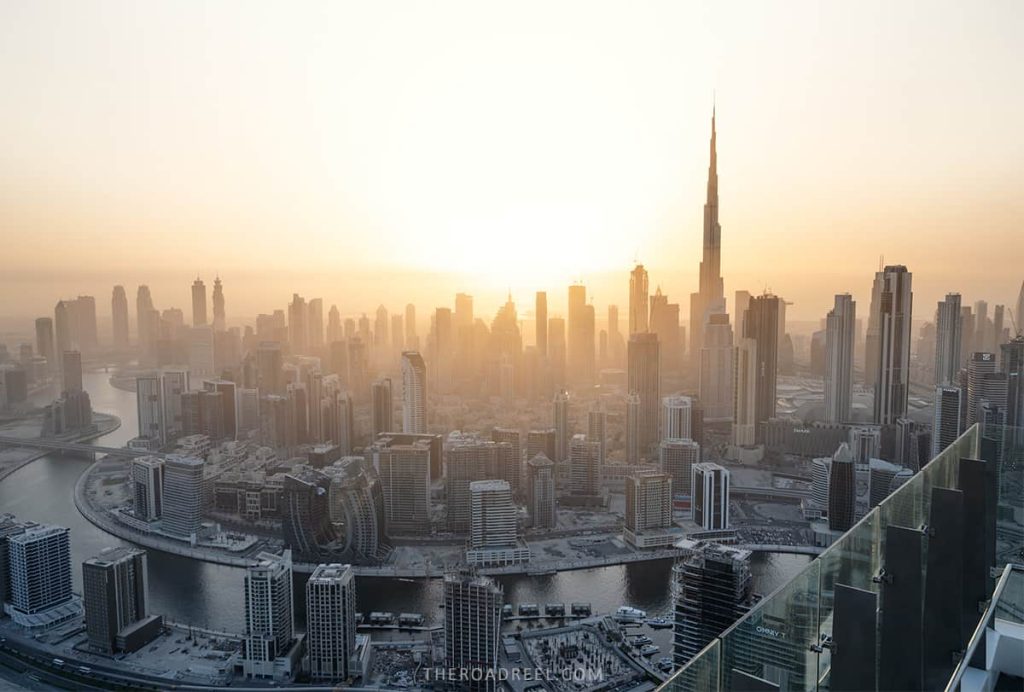 7 days in Dubai itinerary map
Use this 7 days in Dubai itinerary map to locate all the points of interest mentioned in this post. You can also save this Dubai map on your phone.
Hotels in Dubai for 7 days trip
Below are accommodation suggestions for your 7 days in Dubai. I have picked hotels and self-serviced apartments with different budgets in mind. Depending on your needs, you can pick where to stay in Dubai for a week in one of the 5 main neighborhoods: Dubai Downtown, Dubai Marina & JBR, Al Barsha, The Palm Jumeirah, and Old Dubai.
1) Dubai Downtown hotels (Burj Khalifa and Dubai Mall area)
2) Hotels in Dubai Marina and JBR area
3) Hotels in Palm Jumeirah and Madinat Jumeirah
4) Al Barsha hotels and apartments
5) Hotels in Old Dubai (Bur Dubai, Dubai Creek, Deira)
The best time to visit Dubai, UAE
The best time to visit Dubai is from mid-November to March. The temperatures are pleasant during the day ranging from 25-30 degrees. In December you may even be lucky to see some rain in the UAE, with temperatures during the day dropping a little below 20, but this is rare.
Shoulder season in UAE is October-mid November and mid-March to April. It is quite hot during those months, with temperatures ranging from 30-35 degrees Celsius), but can be bearable if you stay by the sea or pool, and do sightseeing early morning and evenings.
The hottest months are May-September, with June, July, and August being unbearably hot, with temperatures reaching 50 degrees Celsius and even above. Thus, summer is the worst time to visit Dubai, UAE.
Instead, look at the unique Salalah, Oman, which is a perfect destination to visit in the Middle Eastern during the summer because of the subtropical climate and cooler temperatures.
How many days to spend in Dubai?
7 days in Dubai is a perfect amount of time to see most important places and highlights of Dubai and include a couple of day trips. Nonetheless, as you can see, the itinerary is quite intense with many things to do in Dubai on each day.
If you prefer to have a more relaxed vacation with ample of time at the beach, 10 days or even 2-weeks in Dubai, UAE is a good amount of time to balance between activities and chill out time. Moreover, having more than 10-14 days in UAE will alow you to explore the country deeper. You can then visit other Emirates of UAE, such as Ras Al Khaimah and Fujeirah where you will find many unique things to do: experience authentic Emirati culture, visit forts and mosques, go to Jebel Jais, the highest mountain in UAE, and even do some hiking.
Finally, extending your time in Dubai beyond 2 weeks, you can also include a road trip to Oman.
Related posts
How to get to Dubai from Dubai International Airport (DXB)
You can get to Dubai from Dubai International Airport (DXB) in the following ways:
By metro-the cheapest but the slowest method. Dubai metro serves Dubai Airport terminals 1 and 3, it does not serve terminal 2.
By taxi– beige color taxis are official metered government taxis and they are available at the airport arrivals. The base fare inside the airport of Dubai is 25 AED (~6 USD) which is added on top of the final fare. Be aware not to take any of the Lexus cars which are a fancy version of a taxi (you will certainly be offered one).
By private transfer– a convenient way for a group or a single person, costs almost the same as a taxi; you will have somebody waiting for you at the airport, and they will know how to navigate to your hotel without having to explain the route (happens with the regular taxi drivers as not all of them use Google Maps)->BOOK A PRIVATE TRANSFER HERE.
By car– if you are hiring a car in Dubai, the best place to pick it up is at Dubai Airport so you can drive to the city immediately.
Dubai SIM cards, internet, and WIFI
eSIM card in UAE
To stay connected, you can get an eSIM card before landing on Airalo website. Packages for 7 day and 30 days are available and the price ranges between 8 USD to 35 USD. Having an e-SIM is advantageous to the regular local SIM card because you do not need to remove your home SIM card from your phone, and you can also switch between mobile operators.
The prices are slightly higher than local SIM cards, but not significantly for the convenience you get.
Local SIM card in UAE
If you want to purchase a local SIM card in the UAE, you can do it as soon as you land at Dubai International Airport (DXB). Etisalat, Du, and Virgin Mobile sell sim cards and tourist packages with data and minutes. Etisalat is known to have the widest coverage in the UAE. But for your 7 days in Dubai, the other two operators are more than enough and they offer better deals.
Wifi in Dubai
Free Wifi is widely available in all hotels, and also malls, coffee shops, and restaurants.
What do things cost in Dubai? UAE travel budget
Dubai, the UAE is an expensive destination. Hotels, restaurants, activities, and even food in supermarkets cost a little bit more than in Europe. Nonetheless, it is still not as expensive as New York, or Tokyo, for example. Not yet at least.
Nonetheless, it is very easy to spend money in Dubai. I often joke saying that stepping out of your apartment already is 10 AED (2 USD). You just end up buying something. And if you are not careful, expenses accumulate pretty fast.
Here is a brief summary of what main things cost in Dubai, just for you to have an idea and manage expectations.
Hotels for 2 people: 25 USD- to unlimited
25-40 USD for a bed in the dormitory;
40-80 USD for a hotel or self-serviced apartment in Deira or an area with no public transport connection (far away from all sights);
80-250 USD for a mid-range hotel or self-serviced apartment in a convenient area such as Dubai Marina and Downtown Dubai;
250- whatever USD- luxury and ultra-luxury accommodation.
Restaurants per person: 1.5 USD- to unlimited
1.5 – 7 USD per meal at Indian, Pakistani, and Bangladeshi low-key restaurants/eateries;
7 – 20 USD per meal in a regular restaurant, depending f you having a sandwich or a main course;
20 USD- 40 USD per meal in an upscale restaurant (but not the fanciest one);
40 USD and up per main meal in a really fancy restaurant.
Coffee costs 4-8 USD depending on the lace, and type of coffee. Thus, on average 6 USD for a cappuccino or café late.
Petrol prices: 98 (Super) 0.84 USD (3.09 AED) per liter; 95 (special) 0.81 USD (2.97 AED) per liter.
Car rental cost: starts at around 20-22 USD per day with Discovercars.
Parking costs in Dubai
Regular street parking costs (RTA parking):
in cheaper zones 2 AED per hour, 5 AED per two hours, 8 AED per 3 hours, 11 AED per 4 hours, and then the cycle repeats.
in more expensive zones (Dubai Marina, Dubai Downtown, JLT) is 2 AED per half an hour, or 4 AED per hour, and the maximum time limit to pay for in one go is 4 hours.
you can pay by SMS to 7275, by inserting the message of the plate number, parking code, and the number of hours (0.5, 1, 2, 3, 4). Instructions are available on the street meter. NOL cards can also be used to pay for parking, and so is cash.
Alternatively, there are expensive parking garages all around Dubai where the rate varies from 10 AED to 20 AED per hour.
Parking at shopping malls is free either for unlimited time or for 2-3 hours (depending on the Mall).
Street parking in Dubai is free on Sundays and public holidays, as well as at night from 10 PM to 8 AM.
Taxi costs: 0.52 USD (1.91 AED) per kilometer. For example, it costs around 14 USD (50 AED) to taxi from Dubai Marina to Dubai Downtown (a 25-minute journey of around ~20 kilometers).
Attractions costs in Dubai:
15- 100 USD (50- 400 AED) for the most popular attractions;
200-550 USD for fancy adrenaline-filled activities only in Dubai.
I hope this Dubai Itinerary was helpful to plan your 7 days in Dubai trip. If you have questions feel free to leave a comment below.