This 2 Week Albania Itinerary covers the Albanian Riviera, historical Ottoman-era towns, the capital Tirana and gorgeous off-the-beaten path destinations in the South and East of Albania (including lake Ohrid). My Albania road trip route also includes the best places to see and things to do in each location, accommodation options, transportation, driving times and distances, places to eat, and other handy Albania travel tips.
If you have more time to travel in Albania, I also provide an extended 3 week in Albania route which includes the Northern side of the country- the Albanian Alps with the Valbona-Theth hike. Two alternative routes are also included in this guide: a 2-week itinerary from Albanian Alps to Albanian Riviera and 2 weeks in Albanian Alps all the way to Lake Ohrid.
Albania is not yet under many tourists' radar. However, a good word is spreading and interest in visiting Albania is growing faster each year. Underdog of the Balkans, having been closed from the rest of the world for more than 40 years, Albania is probably one of the most understated countries in Southern Europe. It is no surprise that mentioning Albania as my travel choice, made many eyes roll. Despite that, I have visited Albania twice so far.
Albania will be a dream place for those of you seeking an authentic, a little rustic, untouched by social media, and also a very affordable travel experience in Europe that combines lots of beautiful nature, culture, history, and adventure. 
The country is still in the transition period. From being chained by the communist regime for several decades, completely closed from the outside world to suddenly being exposed to it, there is definitely a lot to take in and figure out for the Albanian people. Nonetheless, Albania is extremely welcoming to foreign visitors and surprisingly easy to travel around. 
Located in south-eastern Europe, Albania is scarred by dramatic history but blessed with incredible nature- from turquoise waters of Adriatic and Ionian coasts, deep canyons, refreshing lakes, and gushing rivers, to breathtaking Albanian Alps inviting for some of the best hikes in the Balkans.
Meanwhile, the UNESCO-listed Berat and Gjirokastër towns are perfect places for those who love traveling back in time, history, and beautiful old architecture. 
Based on my traveling in Albania experience, here is my modified itinerary, part of which can be done using public transport (buses and minivans) and the rest of it as a road trip in a rental car. Although public connections are available to all the places mentioned in this guide, they are not as frequent and convenient as self-driving. 
RELATED READS: Driving in Albania- everything you need to know before renting a car.
Keep on reading this day-by-day Albania Itinerary for the best places to see, things to do, and what to skip. Plan your own perfect trip to Albania with my practical traveling in Albania tips, including recommended accommodation in Albania, how to get around, as well as driving times and distances between each leg of the trip, and last but not least- great places to eat in each destination. 
Disclaimer: This post contains affiliate links, which means that I may earn a commission if you make a purchase by clicking a link (at no extra cost to you). This helps to keep my blog running and growing by creating more awesome free content for you.
2-week Albania Itinerary for a Perfect Road Trip (extendable to 3 weeks)
Albania Itinerary Overview
Day 1: Tirana
Day 2: Tirana-Berat
Day 3: Berat
Day 4: Berat-Himara
Day 5: Himara (visit Dhermi and Gjipe) 
Day 6: Himara (visit Borsh) 
Day 7: Himara- Gjirokaster
Day 8: Gjirokaster
Day 9: Gjirokaster- Permet
Day 10: Permet – Korca
Day 11: Korca- Lin
Day 12: Lin
Day 13: Lin-Tirana
Day 14: Tirana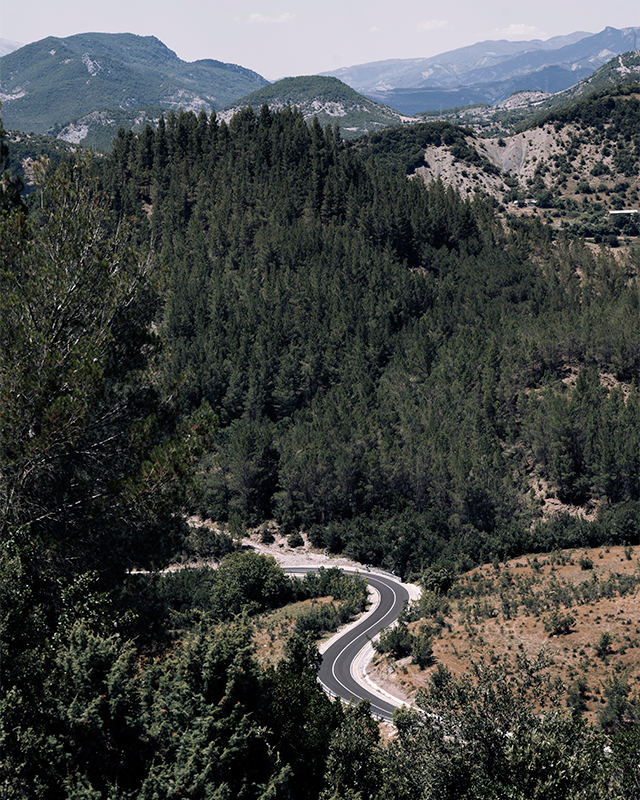 Extended 3-week Albania itinerary
Day 15: Tirana – Shkodra (Shkoder) 
Day 16: Shkodra-Komani Lake Ferry-Valbona
Day 17: Valbona Pass hike to Theth
Day 18: Theth
Day 19: Theth-Shkodra
Day 20: Shkodra- Kruje
Day 21: Kruje-Tirana
Albania Itinerary Map
Albania travel essentials
Recommended guided day tours in Albania:
About this Albania road trip itinerary
How much time to spend in Albania?
This Albania itinerary is created based on my two separate trips. One of them covered 2 weeks of exploring the central, southern, and eastern parts of the country, while the other was focused on visiting the Northern side of Albania for one week.
To see all the places mentioned in this guide you will definitely need 3 weeks in Albania. 
The first two weeks in Albania route is planned as a loop starting and finishing in the capital Tirana. Meanwhile, an extended itinerary adds one week in Albania coving the Northern side-Shkoder and the Albanian Alps.
If you do not have 3 weeks to spare for your trip to Albania and feel like mixing and matching some of the places, or cutting off some time spent in one of the locations and adding more time to the other, you can definitely do so.
My main advice is- do not try seeing the whole country in a short period of time. Logistically and in time wise it would be simply impossible. You can modify this Albania route depending on what you love exploring the most- is it mountains, beaches, historical towns, or bustling cities?
By reading the details about each location on my Albania itinerary route, you will get a good idea if the place is your cup of tea (or coffee).
To give you more inspiration on how to best schedule the trip, I have created two alternative 2-week in Albania route suggestions, where I mixed around parts of the original route. I share those at end of this post.
Also, bear in mind the time of the year that you choose to travel to Albania. For example, the Valbona-Theth hike is seasonal and can be done from late May to early October. Outside these months trail might not be passable, so you have to take this into account when planning.
RELATED READS: Read my detailed post about Valbona-Theth hike in Albanian Alps.
How to get around Albania? Transportation used in this Albania route
Although the whole trip could be completed using public transport only I would strongly recommend renting a car for visiting the Albanian Riviera. Also, the southern and eastern parts of Albania have a lot of beautiful corners reachable only by car, while public transport is sparse. Meanwhile, you can absolutely get away without a car in the section of the route covering the Northern side of Albania. 
On my two-week trip to Albania, I picked up the rental car a few days later into the trip as I did not need it for Tirana and the mountain town Berat which I reached using public transport.
Instead of Tirana airport, I hired a car from the port town of Durres because it was more convenient for continuing the trip to the Albanian Riviera. However, this choice might not be for everyone and usually, travellers rent a car at Tirana Airport upon arrival. If you don't want the hassle of using public transport I would advise doing just that. 
Renting a car in Albania
My recommended place to get the best car rental deals in Albania is Localrent search aggregator. It caters to local car providers and therefore terms and conditions for hiring a car are much more favorable. The deposit is in cash and can be as low as 50 EUR, sometimes none. I rented a car using Localrent and had a great experience. 
The other website I also use when travelling is Discovercars as they also have some of the best deals on the internet (in case Localrent runs out of supply).
RELATED READS: Also read my guide to driving in Albania for all the information and questions you may have about hiring a car in Albania. 
Where to stay in Albania- quick links
For your reference, below is a list of recommended accommodations in each location of this Albania itinerary. Please refer for more details under each destination.
Albania Itinerary Day-by-Day
Day 1: Tirana (overnight in Tirana)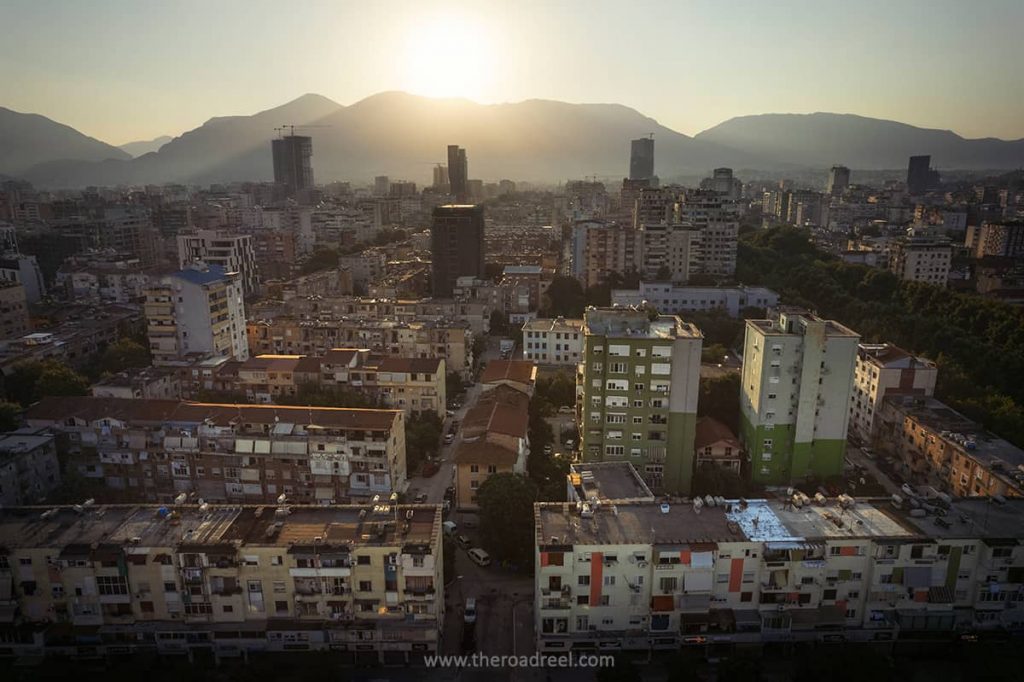 Tirana is the capital of Albania and it is also the only city that has an international airport. Therefore, it is likely your entry point will be Airport Nënë Tereza, also often called Rinas International Airport (TIA). 
Tirana is an up-and-coming European city known for its colorful buildings, street art and murals, vibrant coffee shop, and bar scene. Although not a pretty city, but definitely with a distinctive character and turbulent history, Tirana is worth to be explored for at least a full day.
All main sites in Tirana are within walking distance and most of them are located around Skanderbeg Square. 
I recommended joining 2 hours free walking tour which starts in Skanderbeg Square in front of the Opera house daily at 10 AM. The guides are knowledgeable and will give a good insight into Albania's past and put many things into perspective. 
If you prefer a more in-depth and smaller group tour, you may want to check out this 6 hours Tirana Walking Tour which combines food experience and includes breakfast and lunch.
The most important and interesting places to visit in Tirana are:
– BunkArt1 and BunkArt2 museums set up in real communist era bunkers. Detailed exhibitions explain the dark history of Albania during the communist regime. 
– Blloku District- a former compound for important communist politicians now turned into to coolest area filled with trendy cafes and bars.
– Spot the colorful buildings and beautiful murals of Tirana which are dotted all around the city. The initiative to awaken the grey apartment blocks by re-painting them in funky colorful patterns was Tirana's Mayor idea. This makeover makes the capital of Albania stand out as one of the most colorful European towns. 
– Take a cable car ride to Dajti mountain 1600 meters above sea level. The elevated views over the city of Tirana and the surrounding mountain range are unbeatable.
READ MORE: make sure to check my Tirana city guide- an itinerary of the best things to do in Tirana for 1-2 days.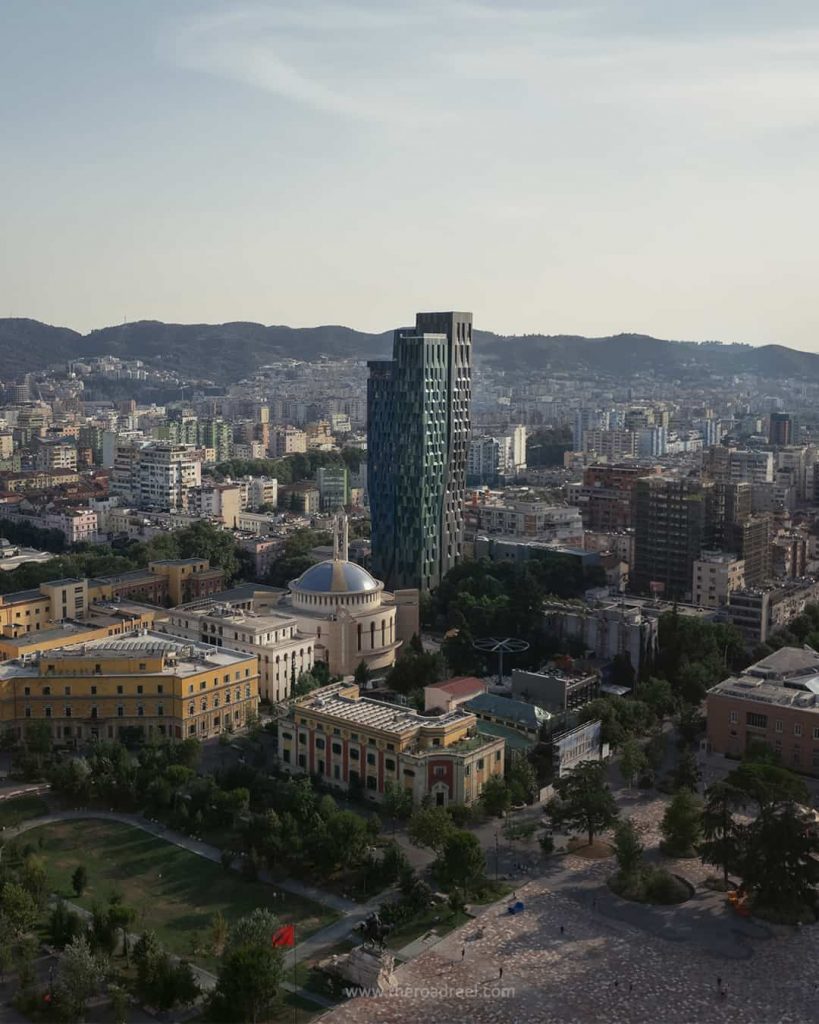 Where to eat in Tirana
Traditional Albanian food at restaurant Oda is reasonably priced and makes delicious stuffed eggplants.
For the best coffee and funky art deco interior go to Coin, and try guarida- cinnamon-infused sweet espresso macchiato. 
Where to stay in Tirana
Day 2-3: Tirana- Berat (2 nights in Berat)
Distance: 120 KM from Skanderbeg Square
Driving time: 2 HRS
UNESCO heritage-listed Berat is a charming Ottoman-era town. Also, called a town of "thousand windows" due to its unique architecture, Berat features two historical neighborhoods divided by the river Osum.
Gorica, the Christian side, and Mangalem, the Muslim side that extends up to the castle quarter, form the old part of Berat. 
Berat is possibly the most magical historical town in Albania. Wandering the maze of narrow cobblestone streets, watching locals ride old school bicycles and play chess, climbing up the Berat castle to catch panoramic views at sunset, and last but not least eating the best foods at Lili's home-made food restaurant are some of the wonderful things you can do in Berat. 
If you have more time to spare, there are a few fantastic natural attractions to explore outside the city. Osumi canyon and the waterfalls, or even hiking the mighty Tomorri summit.
Where to eat in Berat
Lili's Homemade Food Restaurant is hands down the best restaurant in Albania- the food is unbeatable, while the host Lili is one of a kind. Make sure to reserve well in advance as the word had already spread and the restaurant has only 5 tables.
Pasticeri Tori Berat– best ice cream and ice cream-based desserts in town.
Gimi Café– serves fantastic coffee and pancakes.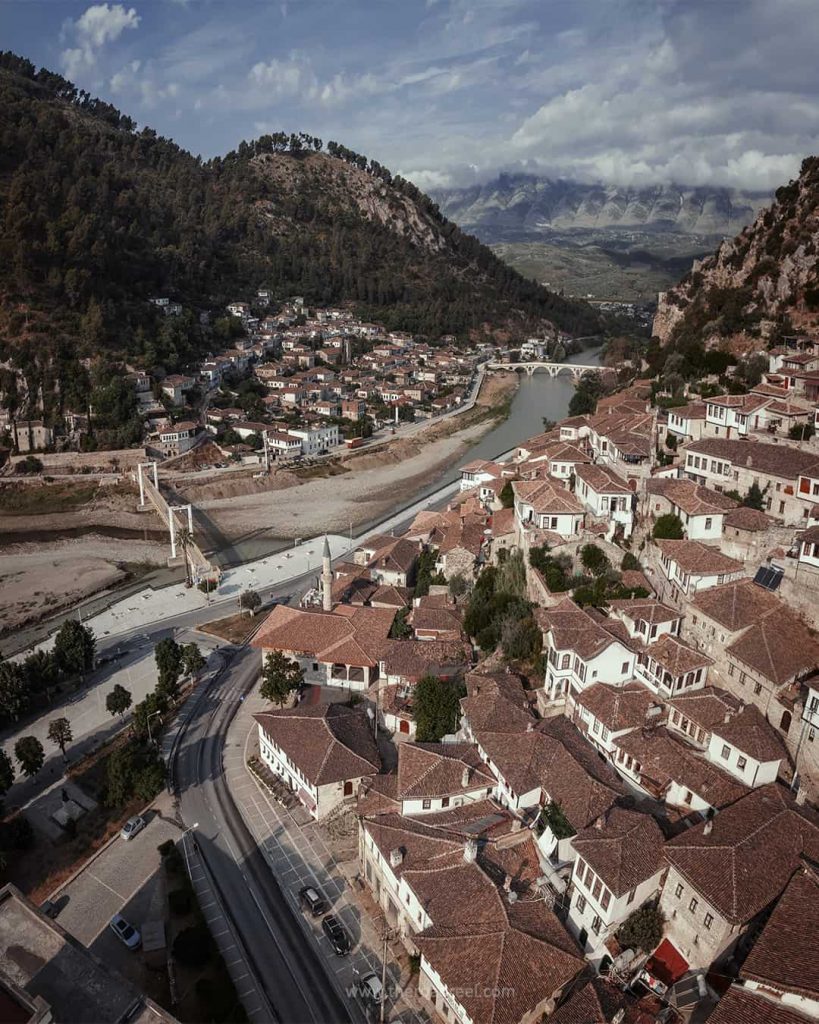 Places to stay in Berat
Boutique Home Stay: Timo's Guesthouse– a homestay in a traditional Ottoman house in Mangalem area features unbeatable terrace views over the Gorica quarter, the best breakfast you can expect, and, of course, unmatched hospitality from the hosts. I stayed here twice and would do it again. Click here for prices and availability.
Boutique Hotel: Hani I Xheblatit– located in Mangalem area, boasting a restaurant, bar, and beautiful shared terrace this hotel provides nicely decorated traditional Albanian family rooms, exceptional breakfast, and free parking also included. Click here for prices and availability.
Budget: Berat Backpakers Hostel– Located in Gorica quarter, this nice hostel provides mixed dorms and family rooms, a shared kitchen, and a terrace. Click here for prices and availability.
Getting to Berat from Tirana by bus: frequent buses and minibusses (every 30-60 minutes) are available from South and North Tirana Bus Terminal (Terminali i Autobusave të Jugut dhe Veriut), the exact location here. The ticket price is 500 LEK, and the journey takes 2 hrs 15min or longer depending on the traffic. In Berat, the final stop is Berat Bus Terminal (Terminale i Autobusave) located 3 kilometers from the old town. From the station, across the road, you can catch a city bus for 30 LEK per person or a taxi for around 400-500 LEK.
Day 4-6: Berat to Himare and Albanian Riviera (3 nights in Himare)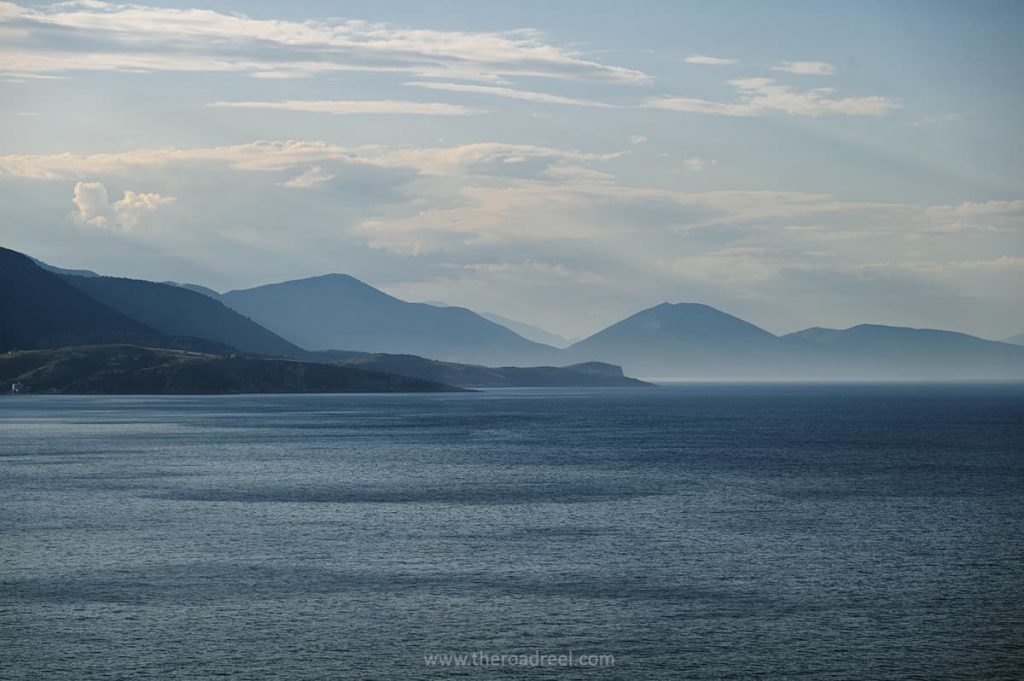 Driving distance: 155 KM
Driving time: 3.5 HRS
The drive from Berat to Himare (Himarë) is going to be long but very scenic. You will be driving along the Albanian Riviera coast which starts from Vlore-the third biggest town in Albania and stretches all the way to Saranda.
Be ready for the breathtaking views opening up while traversing the dramatic Llogara Pass serpentine road. Crossing Llogara National Park and Ceraunian Mountains, this adventurous road winds up to 1027 meters above sea level and drops down parallel to the shores of the shimmering Ionian sea. 
On the way make sure to stop at Llogara Pass panoramic viewpoint to admire the scenery. The wind at this point is quite wild, so if you, like me, are planning on flying a drone, be careful. 
Albanian Riviera is an up-and-coming seaside destination currently mostly frequented by locals and a number of foreign visitors. Featuring a kaleidoscope of blue waters of the Ionian sea, and pebbly beaches backed by endless rolling hills, Albania Riviera is a sunseeker's playground. 
While the main beaches in Vlore, Saranda, Dhermi, and Himare are covered with sunbeds and umbrellas during the peak season (July and August), you will still find serenity at many hidden coves dotted along the Albanian Riviera. For that exact reason, I strongly suggest having your own vehicle so you have the flexibility to stop anywhere along the road and stroll down to one of the hidden bays. 
Base yourself in Himare
I recommend Himare (Himarë) as a base in Albanian Riviera. Ideally, if you are driving, your best bet is to pick accommodation in the atmospheric old town (Himare Fshat) perched atop the hill. You will be treated to gorgeous views and silence at night as opposed to the busy and noisy new part of Himara. 
The historic castle ruins in old Himare are well worth a visit, especially for wonderful unobstructed sunset views over the Ionian coast. 
Moreover, Himare is strategically situated providing convenient access to the best Albanian Riviera beaches located North and South of the town.
Where to stay in Himare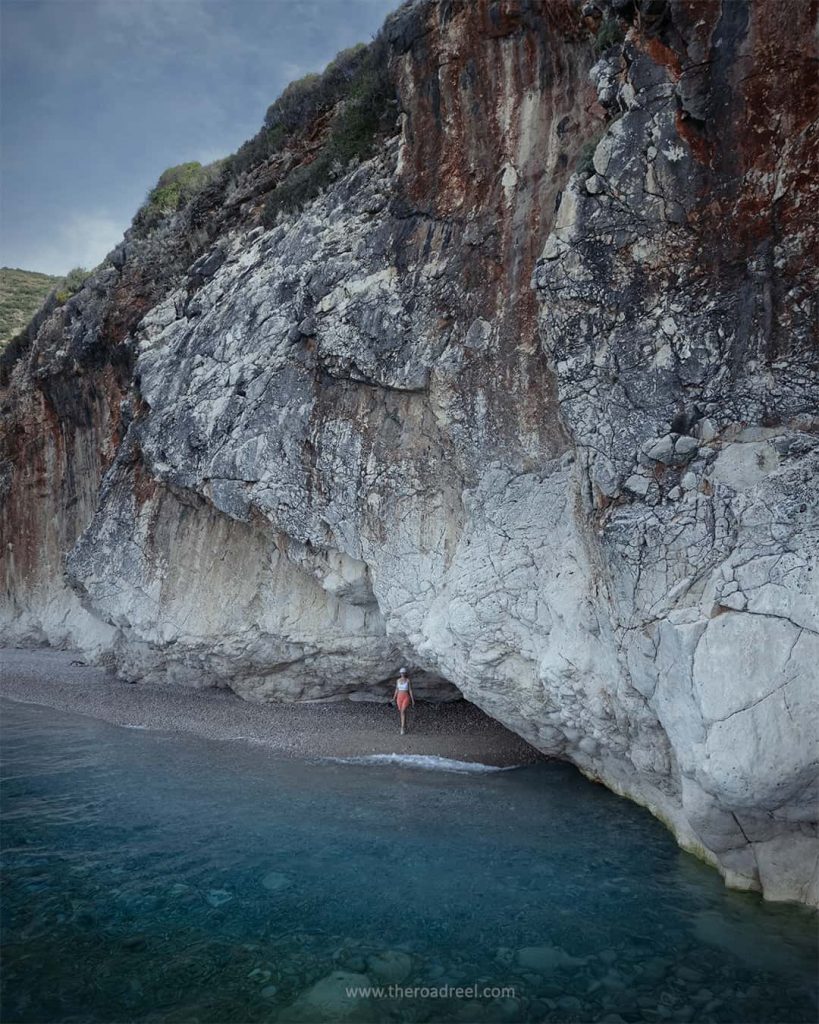 Which beaches in Albanian Riviera should you visit and which skip?
Gjipe beach
Located 20-minute drive North of Himare town, followed by a short hike down the dirt track with fantastic coastal views, secluded Gjipe beach lays sandwiched between the steep rocks. Although not as secret and not completely wild as it used to be some years ago, Gjipe is still one of the most beautiful beaches on the Riviera.
From the parking lot paid at 300 LEK for a day, reaching the beach requires a relatively easy 20 to 30min trekking through a sandy and rocky path. Taking into account the effort required to reach the beach, there won't be too many people visiting it. A campsite and three rustic bars selling refreshments and snacks are also available.
Make sure to wander into Gjipe Canyon which cuts inland a few hundred meters from the beach. 
Location: when driving along SH8 coastal road look for the turn to Manastiri i Shën Theodhorit (St Theodor's Monastery). You can also put "Gjipe beach parking" on Google Maps to direct you. 
Livadhi beach
Just a short 5-minute drive down the hill from old Himare, or North of new Himare, Livadhi beach is quick to access and easy to park (for free). Part of the beach is covered in umbrellas but it still has plenty of space to stretch your towel on the pebbly shores. You can also find a couple of nice beach bars on the right side of the beach to sip a cocktail or have a snack. 
Potam beach
Located at the south end of new Himare town, this pebbly beach is easier to park at than the main Himare beach and also has refreshing cold water streams making it a perfect cool down spot during a hot summer day.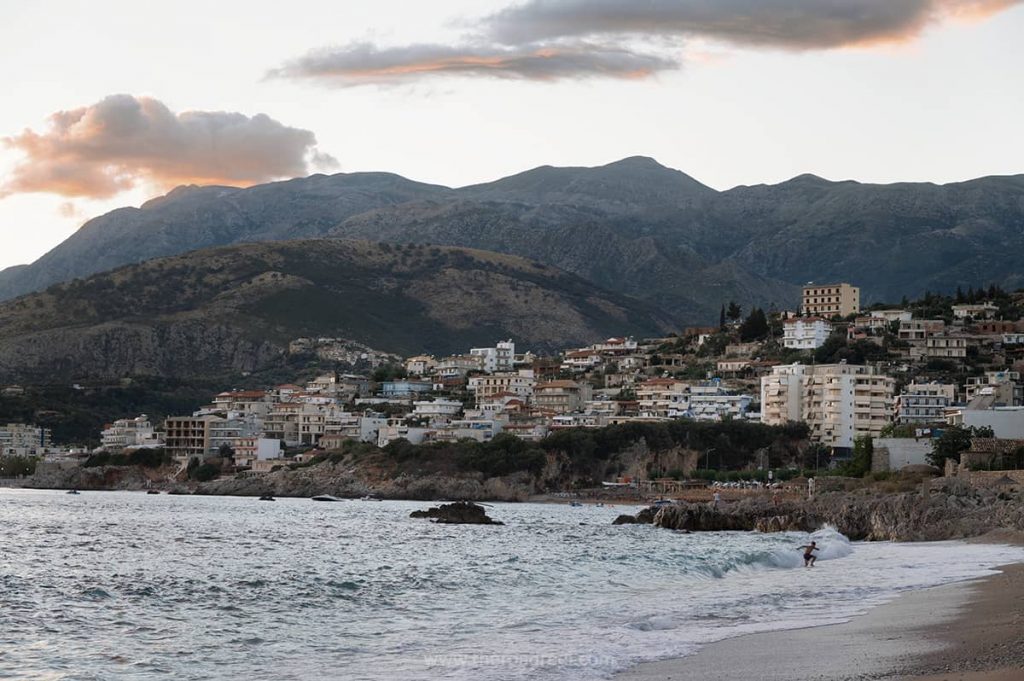 Borsh Beach
Driving down south from Himare towards Sarande in around 30 minutes you will reach the longest beach on the Albanian Riviera called Borsh. You can find some completely empty spots even during the busy months.
For the most remote locations, skip the busy stretch of the beach, and walk all the way southwards. Look up Ohana's Restaurant on Google maps. It is a wonderful place to spend a day or even catch the sunset. The rustic beach bar/restaurant just above the shore offers a shaded retreat and has Sri Lankan café vibes.
Note that Borsh beach is around 7km long. Unless you are up for a long stroll along the coast, you might want to park at the south end of Borsh town.
Other beaches on the way to Borsh
Llamani beach -beautiful cove between dramatic cliffs, however, fully covered with umbrellas. We looked at it from above, expressed our regrets about overdevelopment, and moved on.
Porto Palermo- located between Himare and Qeparo town, it is an unspoiled bay mostly known for Ali Pasha's Porto Palermo Fort. The area lacks facilities, therefore, you can find a few small coves along the SH8 road completely empty and great for a short swim break in crystal clear waters.
Qeparo beach- a narrow strip of pebbly shore in front of a new part of Qeparo town. The bay is surrounded by rolling hills and the beach is facing west, making it a good spot not only for swimming and tanning but also for sunset views. Since it is located close to the new town, there are lots of bars, small restaurants, and supermarkets just a short walk away.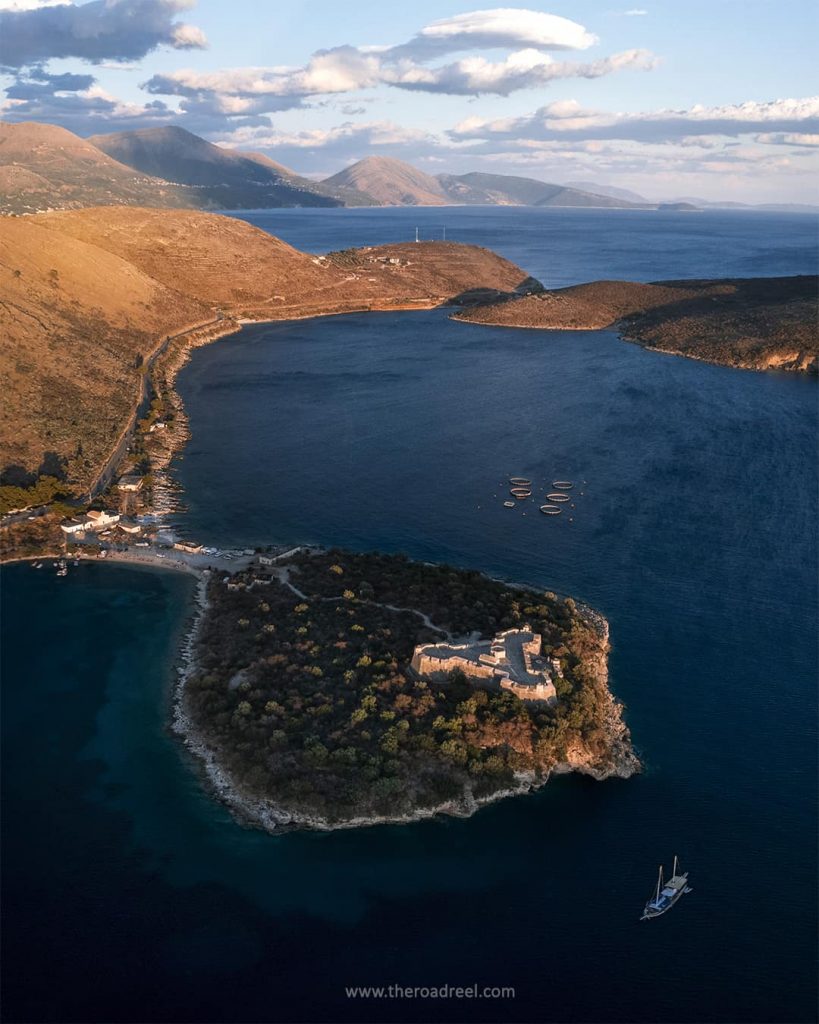 Visit quaint mountain towns Dhermi and Vuno
Dhermi town
White-washed Greek-style houses characterize polished and pretty Dhermi (Dhërmi) old town. Situated atop the hill, Dhermi, is a little bit more posh compared to Himare when it comes to accommodation.
Nonetheless, since Dhermi is located only a 25-30 minutes drive from Himare, it is worth visiting for a few hours to explore its narrow steep, as common in this area, streets.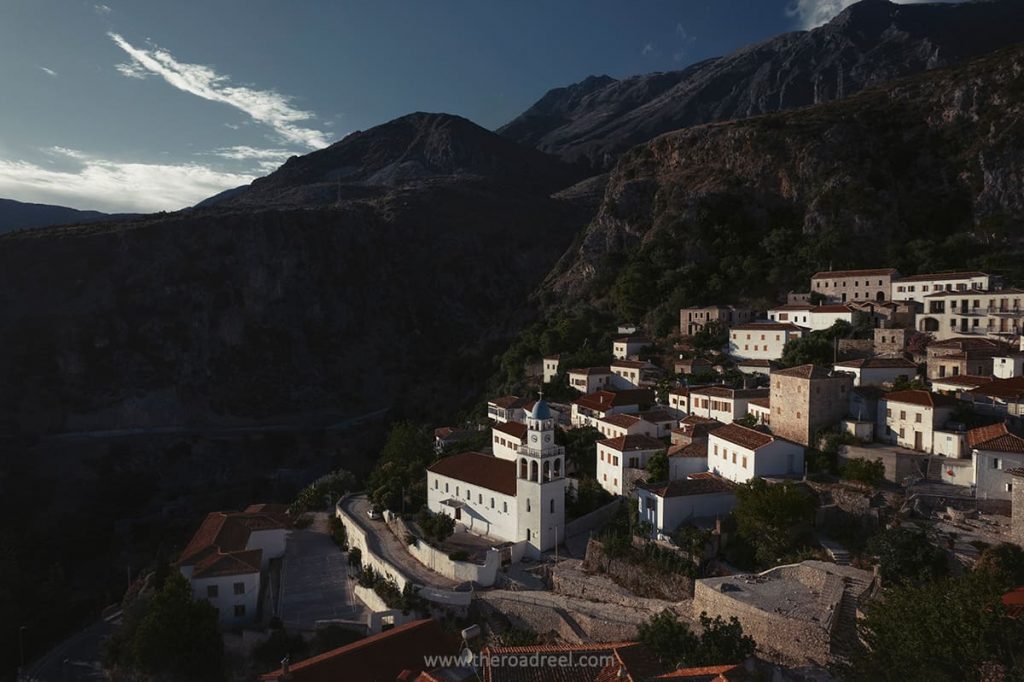 Vuno town
Only 10 minute drive North of Himare, and South of Dhermi, Vuno is a tiny atmospheric mountain village. Its steep cobblestone streets are still walked by donkeys like back in the olden days. It seems that the time in Vuno stands still. The only new era sign is a few satellite plates sticking out of the balconies.
Even a small section of stone pavement on the main SH8 coastal road remained untouched. While driving, the ride gets really bumpy and makes you slow down and pay attention to the town.
Once in Vuno, make sure to stop for a quick lunch at the outdoor bar/cafeteria Lula located just on the side of SH8 road. They serve delicious byrek and petula (a huge pancake served with cheese and jam on the side). 
Skip Dhermi beach and Drimadhes beach
Advertised as some of the best beaches on the Albanian Riviera, both Dhermi and Drimadhes beaches were a disappointment. Covered by hundreds of umbrellas (pricey by the way) and backed by some random ugly buildings and unfinished construction sites, load crowd, and even trash, both had everything that I don't like about the beach. We stopped at both no more than 2 minutes each before we left.
The surrounding nature is unquestionably beautiful, and it is heartbreaking to see the area being "uglified" with all those terrible and useless developments (likely some horrific big hotels).  If you read reviews on Google, you will find more people confirming the above.
Skip Saranda
Saranda (Sarandë) is a hotspot in Albanian Riviera. It is the busiest town on the coast and a place where the majority of local and foreign holidaymakers head to. If you are not a fan of high-rise buildings, traffic, and a loud party scene, I suggest skipping Saranda. I have done my research and seen enough images and reviews that convinced me not to waste my time on this part of the Albanian Riviera. Even my host in Himare advised against staying in Saranda. 
Nonetheless, there are a few well-rated beaches in the area like Ksamil, for example, which might be nice to visit off-season. 
Getting to Himare from Berat by bus: this might be a less straightforward and long journey as it requires multiple transfers. From Berat, you can catch a bus to Fier or Vlore (Vlorë), and then from there another bus to Himare. The guaranteed way, though, with many connections available throughout the day, would be going back to the Tirana bus terminal and taking another bus directly to Himare. Tirana to Himare bus costs around 1000 LEK and takes 4 hours.
DAY 7-8: Himare to Gjirokaster (2 nights in Gjirokaster)
Driving distance: 100 KM
Driving time: 2 HRS 15 MIN
Drive from Himare to Gjirokaster (Gjirokastër ) continues south along the scenic coastal road before you turn into equally stunning hinterlands. On our way to Gjirokaster, we made one more stop at Borsh beach to enjoy a couple of hours by the sea. 
If you are interested in seeing more castles, make a pit stop at the 17th-century Porto Palermo fortress also known as Ali Pasha Castle located on a small island (accessible through a land strip). 
Gjirokaster-the stone city of Albania
Characterized by rooftops made of stone plates, Gjirokaster is a distinctive Ottoman-era town that landed on the Unesco heritage sites list in 2005. From the moment you reach Gjirokaster, you will be swept away by the old-world charm pulsating through narrow cobblestone streets, frozen in time age-old buildings and local people conducting a slow-paced mountain village lifestyle. 
The landscape of Gjirokaster is dominated by a well-preserved 4th-century castle overlooking Drino valley. Meanwhile, the old town seamlessly merges with the new modern part.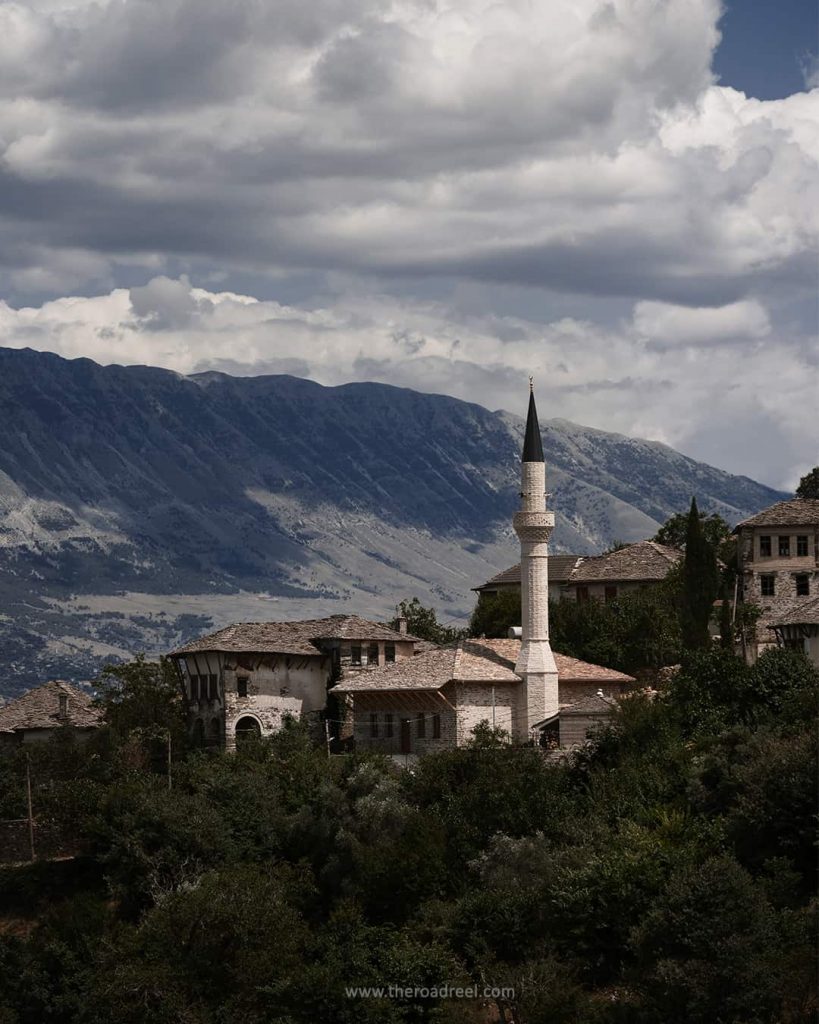 Strategically built on the slopes of mount Gjere (mali i Gjere), the distinctive fortified houses of Gjirokaster are interconnected by a maze of narrow steep cobbled streets. Be ready for a good leg day exploring this magical historical place of Albania.
The central nerve of the old town is a bustling New Bazaar area with all the coffee shops and souvenir stalls. Although it is an intersection of only 4 streets, there are lots of other nearly vertical pathways to take, including the ones leading all the way up to Gjirokaster Castle- a must-visit place for history and fantastic views. 
If you are staying for a couple of nights, it is also worth taking a short hike to Ali Pasha bridge-an elegant arched aqueduct built over the ravine. It takes only 40 min of hiking up the steep streets and then descending the rocky path down to the bridge. Make sure to wear sturdy shoes, flip flops are not recommended. 
Where to eat in Gjirokaster
Taverna Tradicionale Kardhashi– located on the slopes of the castle, a traditional Albanian food restaurant run by laud and energetic family serving fantastic stuffed eggplants and other delicious specialties.
Antigonea Furre Buki Pasteceri in the new town of Gjirokaster is a fantastic local bakery where you can buy huge delicious byreks for no more than 80 LEK per piece, and some of the best ice cream in town for only 50 LEK per scoop. 
Where to stay in Gjirokaster
I would strongly suggest staying up in the old town of Gjirokaster for the atmosphere and to reduce the number of steep hills which you would still have to tackle even inside the old town.
Getting to Gjirokaster from Himare by bus: you must first take a bus running to Sarande and then catch another bus going to Gjirokaster. Expect the journey with bus changes to last at least 3 hours. Thus, start early. The approximate trip price could be around 600-900 LEK.
Day 9: Gjirokaster-Permet (overnight in Permet) 
Driving distance: 60 KM
Driving time: 1 HR
Our journey continues to less explored parts of Albania. Permet (Përmet) is locally known and most visited for the Benja (Bënja) thermal baths, beautiful arched Ottoman era Kadiut bridge, mysterious Langarica Canyon, and white water rafting in Vjosa (Vjosë) river. 
Thermal baths, Kadiut bridge, and Langarica Canyon
Sulfur springs are spread all across Langarica canyon which is located only 20 minutes drive from Permet town. Locals believe in thermal waters' healing power. There are 6 thermal pools that can be used free of charge. Different pool when used in moderation brings different benefits to health. Springs can improve skin conditions, stomach, and kidney diseases.
You can see locals spending hours in the thermal baths. However, our host advised us to stay only 10 to 15 minutes in one pool and then take 2 hours break before repeating the procedure.
When overused, sulfur springs can have a negative impact on your health. 
Dating back to the 18th century, still, in perfect condition, Kadiut Bridge is located in the same place as the baths. It is definitely beloved by photographers due to its elegant shape and mountain backdrop. 
Top tip: if you want to take a dip in thermal baths, make sure to arrive early in the morning before the crowds. It gets really busy during the day, especially in summer. Note that thermal waters are not as hot as you would expect. Thus, if visited in winter, they won't be hot enough to keep you warm from the cold. 
My favorite part of our time in Permet, and one of the highlights of this Albania trip, was exploring Langarica Canyon. Not many ventures that far but those who do will be rewarded with an avatar movie scene-worthy place.
Surrounded by high limestone cliffs, the narrow canyon is reachable within only 200 meters walk following the gorge and the river after the Kadiut bridge. Unlike in Gjipe, there is water inside the Langarica Canyon. Bring water shoes as you will not only have to cross the river a few times before reaching the canyon but also if you want to continue further, the only way to walk is through the muddy stream. 
During the rainy season, the water can reach waist up. If you are up for an adventure, you can follow the canyon for 4 kilometers one way until you reach a dead end. 
Be careful when walking as the ground under the water is very slippery. Also, due to the muddiness, holes, and rocks are invisible, so take one step at a time. It would also be a good idea to take a waterproof back if you have camera equipment.
Permet town
The town of Permet is situated on the banks of the Vjosa river and is not specifically impressive in terms of architecture. Nonetheless, this small town is very well looked after, including the new road that leads to it.
The main attraction in Permet is the 40 meters height rock. You can climb the metal staircase and see the town of Permet from above. The best time to do so is during sunset. 
Where to eat in Permet
Restaurant Familjari– a family-run restaurant that serves slow food and is probably the second best or the same level as Lili's in Berat. Also, the lady host is super funny- she told us to stop ordering the food after our third dish request as it would have been simply impossible to finish everything for 2 people (portions are huge). Try stuffed eggplant (classic) and cottage cheese with bell peppers dish, finish up with gliko-traditional one spoon sweet.
Where to stay in Permet:
High-end: Villa Permet -spacious rooms with wooden furniture and floors, bar, restaurant, garden, fabulous breakfast, and private parking included. Click here for prices and availability.
Mid-range: The Mozaik House– fabulous homestay with exceptional hospitality, beautiful air-conditioned rooms, generous and tasty breakfast, and a garden. Click here for prices and availability.
Mid-range: Traditional Guest House Permet -perched on the hill in beautiful natural surroundings, this accommodation offers nicely decorated traditional rooms, a restaurant, a garden, and a terrace, some rooms have a private kitchen. Click here for prices and availability.
DAY 10-11:Permet- Korca (2 nights in Korca) 
Driving distance: 130 KM
Driving time: 3 HRS
Wishing to have had more time in beautiful Permet, we continued our journey further to the East of Albania. The final destination of this leg of the journey is Korca (Korçë) – the town of serenades, as locals call it. 
It takes around 3 hours of driving to reach Korca from Permet, passing close by to the Greek border. However, the drive is probably the most scenic of all 2-week Albania road trips.
If you have read online about the terribly bad road condition on the SH75 section along the Vjosa river between Permet and Leskovik village, disregard it.
The road has been fixed in 2021, and the panoramic drive is now buttery smooth. Although it does have lots of twists and turns around the face of the mountain, the road is brand new and a joy to drive. Take your time when driving and make sure to stop at the scenic point at Vjose river bend. 
The remaining section from Leskovik to Korca, however, is a bumpy slow drive through an old road with many potholes. This explains the amount of time needed to reach Korca.
Nonetheless, there are barely any cars passing by, thus it is not a complicated drive. The only thing that could be a bit of a challenge is if you have a small-engine car. My rental car was a 1.5 L 2008 ford that struggled a little on steeper turns, but it made it all the way without any problem. 
Important tip:  make sure to top up your gas tank when leaving Permet. Unlike everywhere else on this road trip, there were not too many petrol pumps in this particular section. You should also be able to refill in Leskovik town as well but don't bet on driving with the empty tank as it can be a while before the next station appears. 
Korca- the city of serenades and little Paris of Albania
Korca town is located in the southeastern corner of Albania close to the Greece and Macedonia borders. Surrounded by Morava mountains, the town dates back to the 13th century. Over the years it carried the influence of Greeks and Aromanians and eventually evolved into a dynamic city enriched with important cultural and historic sites, and also significant cuisine elements. 
Although it doesn't fall on a classic Albania travel route and is often overlooked by foreign visitors, Korca will undoubtedly offer you an authentic experience. Recognized as an unofficial cultural capital of Albania, Korca has several world-class museums, significant architectural monuments and historic districts, cultural festivals, and events happening on a regular basis. 
Korca, also nicknamed as Paris of Albania, (although it is quite a bold statement) does have a mix of distinctive architecture. It is not as unified or following one style as in Ottoman towns Berat and Gjirokaster, but rather a mix of buildings from different eras-old Ottoman houses, Greek-influenced structures, and more recent bizarre modern communism period apartment blocks.
The town is very walkable, lively, and filled with lots of green spaces, and as usual in Albania-coffee shops and bars. The trendiest bar scene can be experienced in the Old Bazaar area Pazari I Vjeter (Pazari i Vjetër). 
Top things to do in Korca
The most notable landmark in town is the biggest in Albania Orthodox Resurrection of Christ Church located strategically in the heart of Korca. 
For panoramic 360 degrees views over the town, head to the RED viewing tower. Admission is 50 LEK. 
Visit the impressive National Museum of Medieval Art showcasing a collection of over 7000 Orthodox icons crafted from wood, metal, and stone and decorated with intricate details. To me, Orthodox medieval art had always been some of the most impressive, and seeing such a collection in one place has its "waw" effect.
Places to eat in Korca
Traditional Byreks-almost unnoticeable eatery selling freshly baked delicious byreks over the counter for takeaway or eat at a table outside. Located in Old Bazaar next to Hani I Pazarit hotel.
Find Four- recommended by many blogs, it is a nice trendy multi-level restaurant with terrace and balcony seating, serving a variety of food, including lakror (typical for Korca, but made seasonally, layered byrek type of pastry, available in winter, as the waiter explained)
Where to stay in Korca
How to get to Korca from Permet (or Gjirokaster) by bus
There is once a day bus running from Gjirokaster via Permet to Korca. The bus in Gjirokaster departs at 6 AM and stops at Permet at 7 AM, then reaches Korca at 10:20 AM. To make sure the timetable is accurate, the best is to ask locals, ideally at the bus station for exact departure times. I used the Gjirafa website as a reference for this information, however, it is not always accurate. Expect to pay around 1000 -1300 LEK for the journey.
DAY 12-13: Korca-Pogradec-Lin (2 nights in Lin)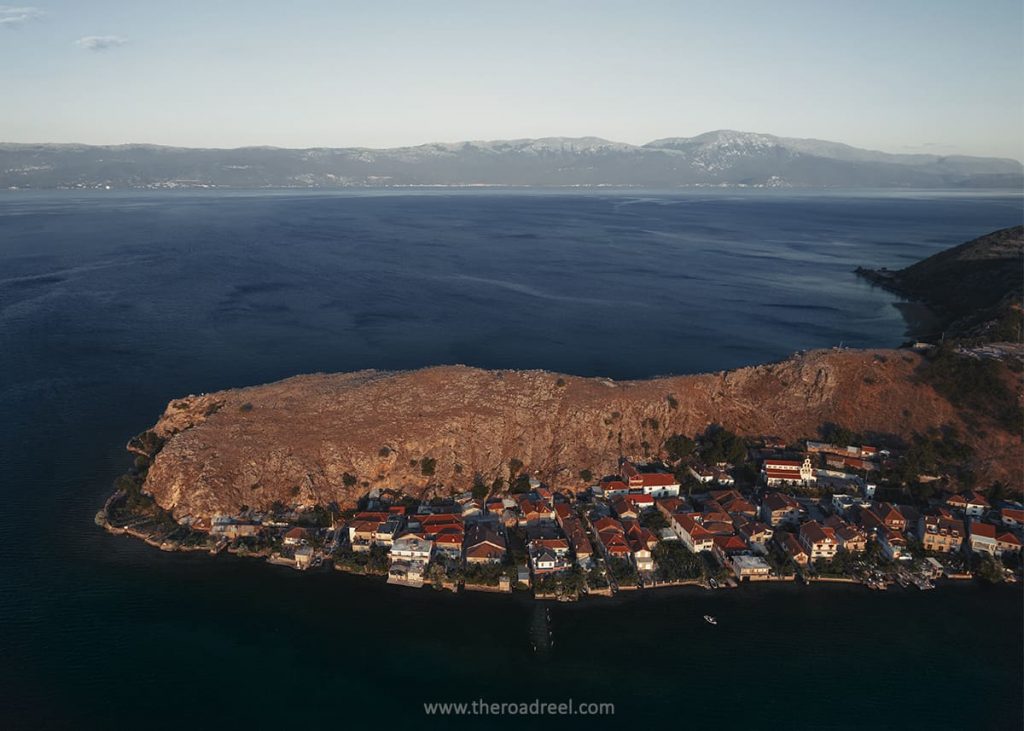 Driving distance: 60 KM
Driving time: 1 HR 20 MIN
Spend a remaining couple of days by the beautiful Ohrid Lake shared between Albania and Macedonia. On the Albanian side, the biggest town on the shores of Ohrid lake is Pogradec. It is often chosen as a base for the Eastern Albania vacation due to its many amenities, hotels, restaurants, and a large public beach. 
However, when looking for our accommodation at lake Ohrid, I pulled a wild card and picked a homestay in the nearby Lin. A tiny village of Lin is situated on the small peninsula on the north side of Ohrid lake.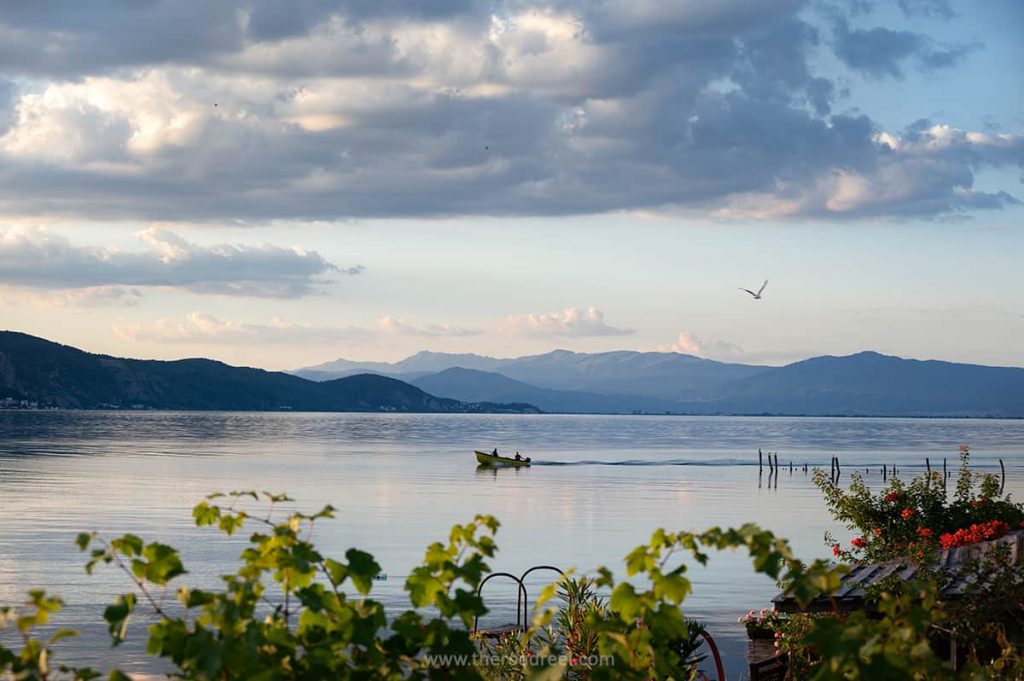 It was probably one of the best and most unique experiences in Albania. Surprisingly there were quite a few foreign tourists who also managed to discover this little gem. 2 days were spent laying on the sunbed and swimming in the refreshing waters of the lake Ohrid, hiking up the peninsula for the sunset and eating as much byreks as our stomachs could handle. 
If you are up for more action or sightseeing, you can always head to Pogradec, rent a bicycle, and cycle around the lake (even cross the Macedonian border if your passport allows visa-free entrance). 
Where to eat in Lin
Make a pit stop for lunch in Tushemisht: on the way from Korca to Lin, stop for lunch in Tushemisht-a small village on the east side of Pogradec. Tushemisht seemed like a delightful small holiday town where locals spend their summer days by the lake. The village has many fish restaurants serving koran- a local fish common to the area which can be ordered grilled or as casserole (baked in a sauce). Shtëpia e Vjeter was our pick in Tushemisht and it didn't disappoint. The food was great served at the terrace by the water. The restaurant also has private parking which is useful in the tiny old town.
Restaurant Leza– this restaurant has a large terrace with magnificent lake Ohrid views stretching as far as Macedonia shores. The menu is not huge but has great local specialties, including fresh grilled fish. Come for dinner during sunset- it is simply amazing.
Where to stay in Lin
Mid-range: Guest House Lin– guesthouse offers wonderful rooms, some with dreamy balconies overlooking the water, a beautiful waterfront garden with sun lounges, and direct access to the Lake. It is quieter than its neighboring guesthouses, and probably one of the best choices for your stay in Lin. Click here for prices and availability.
Budget: Rosa B&B – I stayed here-charming waterfront guesthouse that feels like you are at grandma's, run by a very welcoming and hardworking family. The terrace in front of the lake is lovely, but the sunbeds are limited and the guesthouse gets quite full during peak season. Breakfast is included, and homemade food on request is offered. We spent all day there without leaving the place. Click here for prices and availability.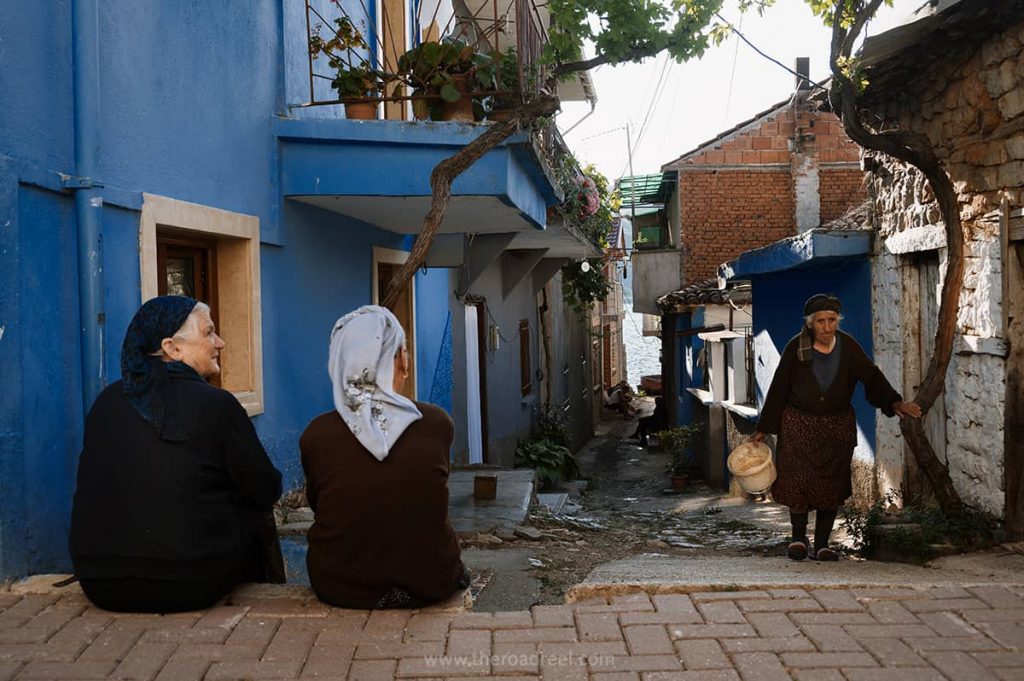 Getting to Lin from Korca by bus
There is no direct bus to Lin village from Korce. First, you would have to embark on the bus going to Pogradec and from there catch a taxi or a minibus to Lin. Allow a couple of hours to reach Lin with changes. Journey from Korca to Pogradec should take just over an hour.
DAY 14: Lin-Tirana (optional night in Tirana) 
Driving distance: 120 KM
Driving time: 2 HRS 10 MIN
Depending on your departure from Tirana schedule, or if you continue your Albanian trip, or maybe heading to Montenegro or another Balkan country, you can spend one more day in Tirana and catch up with activities you might not have time to finish on your first day. 
To us, it was the end of a two-week (15 days) road trip in Albania. However, if you have more time in Albania, below is an extended route that focuses on the Northern side of the country and includes the epic Valbona to Theth hike in the beautiful Albanian Alps. 
Extended 1-Week Albania Itinerary 
Adding an extra week to your Albanian trip will cover almost all the highlights of the country. Continue your trip in Albania with this suggested 1-week route in Central and North Albania. 
For this route, you do not need to have a car. You can get around using public transport. In fact, if you are planning on doing the Valbona Theth hike, it is even more convenient to use public transport than driving, as you can avoid complicated logistics of where to leave your car and how to pick it up after the hike. 
More details on Valbona-Teth hike logistics are below, and you can also read the complete guide here.
Day 15: Tirana-Shkoder (overnight in Shkoder)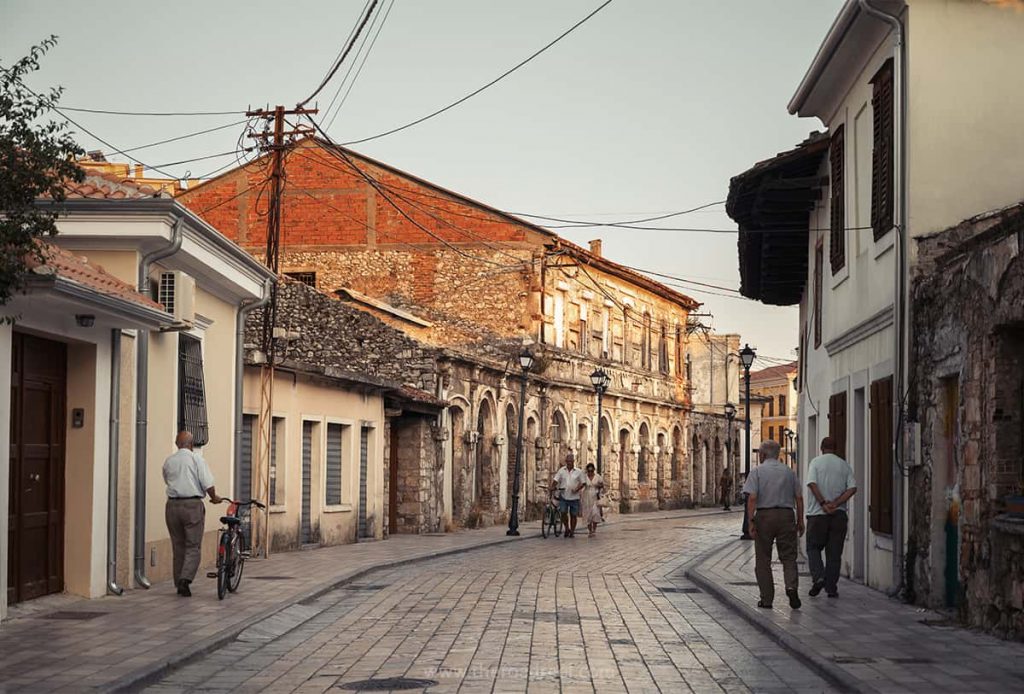 Driving distance: 90 KM
Driving time: 2.5 HRS
Shkoder (Shkodër)  is located in Northern Albania at the banks of Balkan's largest Lake Skadar, part of which is shared with Montenegro. 
Shkoder usually serves as a jump-off point for Albanian Alps treks, including the well-known Valbona-Teth hike. 
Nonetheless, there are some fantastic things to do in Shkoder before embarking further North into Albanian Alps. I recommend spending a couple of nights in Shkoder to enjoy its laid-back atmosphere. 
Top things to do in Shkoder
As soon as you are in Shkoder town you will immediately notice that people here ride bicycles more than in any other place in Albania (apart from Korca probably). 
It is a great idea to rent a bicycle and explore not only Shkoders' cozy old town with an old bazaar area but also head south towards Lake Skadar and ride along its shores. Head toward Shiroka village and you will find some atmospheric waterfront restaurants where you can have romantic dinner by the lake. 
Also, don't miss Rozafa castle located on the way-only 4 kilometers south of the old town of Shkoder. Rozafa dating back to the 9th century BC is a beautiful historical fortification set in a perfect location allowing to watch magical sunsets. 
Places to stay in Shkoder
Where to eat in Shkoder
Villa Bekteshi Restorant– locals love to dine here, especially for special occasions in big groups. A restaurant in a villa has tables on a couple of levels inside and in a beautiful courtyard. Food is fantastic local Albanian cuisine; rates are also great. Reservation in advance is recommended.
Getting to Shkoder from Tirana by bus
Buses from the North and South Bus Terminal in Tirana leave regularly to Shkoder. The trip takes around 2.5 hours and costs around 400 LEK.
DAY 16: Shkoder-Komani Lake Ferry- Valbona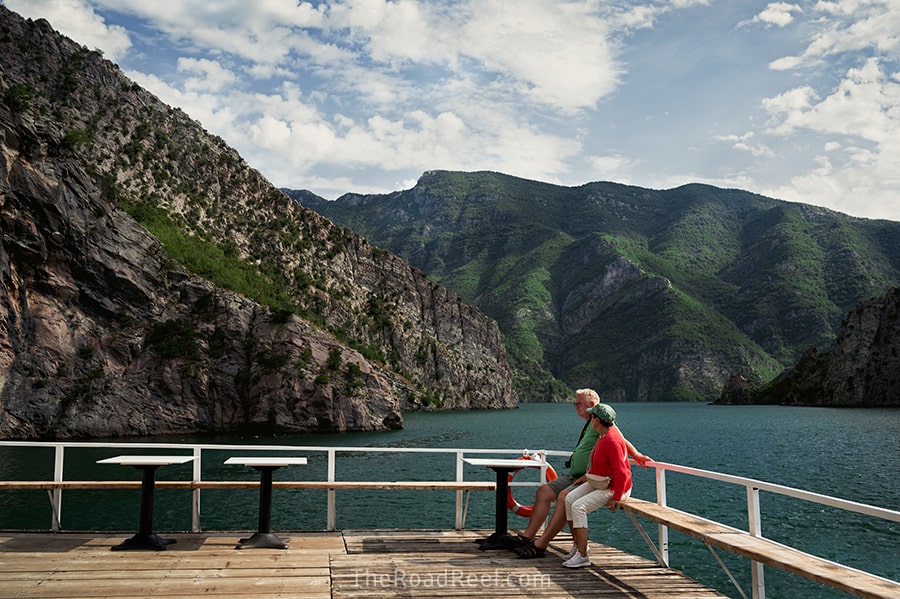 Shkoder to Komani Lake Ferry: distance 55 KM, minibus driving time around 2 HRS.
Komani Lake Ferry: 3 HRS.
Fierza to Valbone: distance 45 KM, minibus driving time around 1 HR.
Today you will be travelling north to the Albanian Alps – arguably the most beautiful part of the country. The final stop for the day is Valbona- a peaceful mountain village where you will spend a night before embarking on an epic Valbona-Theth hike.
The commute to Valbona is exciting as it involves not only travelling by scenic road but also taking the Koman ferry which passes through emerald blue Komani lake and river Drin.  Because of turquoise waters flowing through an incredibly scenic gorge, Komani is often dubbed with Norwegian fiords. 
3 hours on a boat will pass like 3 minutes while admiring the awe-inspiring scenery of Komani lake. The ferry ride finishes in Fierza village from where you will take a minibus (furgon) to Valbona. 
Although it may sound like a lot of logistics, don't worry it is quite straightforward and the whole transfer from Shkoder all the way to Valbona, including ferry tickets, can be prearranged in advance.
RELATED READS: Click here to read my post with detailed instructions on how to get from Shkoder to Valbona, including taking the Komani lake ferry. 
Top tip: Komani ferry ride is quite popular, therefore, if you are travelling in summer, I strongly recommend booking everything a week or even two in advance. 
Once you reach Valbona- a scenic and very quiet Alpine village, you can enjoy a relaxed evening surrounded by breathtakingly mountain scenery. You can even hear the wolves haul far in a distance. Don't worry though, they don't come close to where people are. 
Where to stay in Valbona
Mid-range: Villas Jezersca– cozy chalets with fantastic mountain views, delicious food, and amazing hospitality of the family running this accommodation. They prepared us takeaway food for the hike and dropped us closer to the trail at the end of Valbona free of charge. Click here for prices and availability.
DAY 17-18: Valbona- Theth hike and time in Theth (2 nights in Theth) 
Today is an epic day hiking from Valbona to Theth mountain village. This iconic hike in Albanian Alps follows a well-marked medium difficulty 17-kilometer hiking trail. Part of the famous Balkan trail, the route goes along the dry river bed before ascending up to the gorgeous Valbona pass.
The hike is moderate although there are enough steep sections which together with the views will surely take your breath away. Pace yourself as it will take at least 6 hours to complete the trail. 
Theth Alpine village was my favorite compared to Valbona. Surrounded by snow-capped mountain peaks, rural Theth is simply a majestic place. One of the most visited landmarks is a very pretty little church dating back to the 19th century. Visit before sunset or at sunrise for the best lightning casting over the Theth church. 
I strongly recommend spending 2 nights in Theth to have a good rest after a long leg day hiking Valbona pass. For those of you who still have some energy left, trek to Theth Blue Eye-another well-known trail in the area featuring a crystal clear water pool enclosed between the mountains. The trail is no shorter than the Valbona hike but is said to be way less demanding. 
Where to stay in Theth
Day 19: Theth – Shkoder (1 night in Shkoder) 
Driving distance: 80 KM
Driving time: 2 HRS
Getting back from Theth to Shkoder by minibus
The ride in a minibus from Theth to Shkoder is around 3 hours and is also extremely scenic.  
In order to catch a minibus from Theth to Shkoder, you have to request a homestay to prebook it for you. Usually, minibusses have set departure times during the first half of the day. Schedules are not written in stone, so the best is to inquire as soon as you arrive at Theth after the Valbona Pass hike. 
We booked our seats in a furgon a night before, however, it was only the start of the season.
Message your hotel beforehand to find out and try reserving earlier. 
When in Shkoder, you can rest up and catch up with the activities you may haven't had time to complete on the first day. 
Also, if you are traveling further to Montenegro, as I did on my first trip to Albania, Shkoder is a great place to catch a bus to Podgorica or another town. 
DAY 20: Shkoder-Kruja (overnight in Kruje) 
Driving distance: 75 KM
Driving time: 1 HRS 50 MIN
For the last bit of the Albania trip, I recommend visiting Kruja (Krujë)- the first capital of Albania. 
Kruja is a medieval historic town and possibly one of the most well know because it used to be the home and base of operations for a national hero Skanderbeg who fought and won against the Ottomans back in the 15th century. 
Located at the base of Kruja mountain, this small and charming ages-old town is only 1 hour away from Tirana. Due to such close proximity to the current capital, Kruja is usually visited on a day trip.
However, it is a much better choice is to stay there overnight. Pick accommodation inside Kruja castle walls to have the most authentic experience. 
The main attractions in Kruje are the 5th-century castle, where you can also find an informative Skanderbeg museum, and the 400-years old Bazaar (the Bazaar of Derexhik). 
Stroll the narrow pedestrian cobbled streets along the many authentic stalls in the old bazaar, interact with friendly locals, and as usual enjoy Albanian homemade food and coffee. 
Where to eat in Kruja:
Bardhi restaurant is set atop the hill within the castle ruins offering fantastic panoramic views stretching as far as the Adriatic sea. The food served is a traditional Albanian and European mix. 
Restaurant Alba is another great alternative also within castle walls and with great views. This restaurant is serving traditional food and dishes of Mediterranean cuisine made of organic homegrown produce. 
Where to stay in Kruja
Getting to Kruja from Shkoder by bus
Regular hourly buses from Shkoder to Tirana also stop in the new part of Kruje (Fushë-Krujë). The bus stop location is here. The ticket price is around 300 LEK. You must inform the driver to let you out in Fushe-Kruja. You will have to catch a minibus from the new part to the old part of Kruje from the George W Bush statue. The ticket price is around 100 LEK.
DAY 21: Kruje-Tirana
Driving distance: 30 KM
Driving time: 40 MIN
This is the last day of your Albanian journey. Depending on your departure time, you can still spend a few chilled hours in Tirana or head straight to the airport.
If you are not driving, you will first have to get to the South and North Bus Terminal of Tirana and then catch a taxi from there to the airport. Account for enough time to do so.
Plenty of buses and minibusses from Fushe-Kruje to Tirana leave regularly and take around 40 minutes to one hour to reach depending on the traffic. Ticket costs around 100-150 LEK.
At Tirana bus station, you can catch a cab to the airport or the Tirana city center. They are just lined up on the street. Or you can call Merr taxi to send you a driver- those guys are really good and reliable at organizing quick rides.
Alternative 2-week Albania itineraries: from Albanian Alps to Albanian Riviera and from Albanian Alps to Lake Ohrid
I have lined up different Albania itinerary suggestions for those of you who only have 2 weeks in Albania and prefer to visit:
1. The Albanian Alps and the Riviera. This itinerary excludes the eastern and most of the southern part of the country covered in my original route. In fact, if I was visiting Albania for the first time, the Albanian Alps to Albanian Riviera route is what I would have taken. It includes both Unesco towns Berat and Gjirokaster, hiking in the Albanian Alps and swimming in gorgeous Albanian Riviera beaches, as well as some time in Tirana and Shkoder.
2. The Albanian Alps and the Lake Orchid. This route excluded the seaside but adds the southern part of the country. It would be suitable for those of you who are not keen on beaches and prefer more off-the-beaten-path travel. The southeastern part of Albania is definitely still off-the tourist radar.
Since I have already written about each of the locations above, please refer to the specific place by coming back up to the post.
14 days in Albania-from Alps to Riviera itinerary
DAY 1: Tirana-Shkoder
DAY 2: Shkoder-Komani Lake-Valbona
DAY 3: Valbona-Valbona Pass hike-Theth
DAY 4: Theth
Day 5: Theth-Shkoder
Day 6: Shkoder- Tirana (pick up a rental car in Tirana) – Himare 
Day 7: Himare
Day 8: Himare (visit Borsh beach) 
Day 9: Himare-Gjirokaster
DAY 10: Gjirokaster- Berat
DAY 11: Berat
DAY 12: Berat-Kruje
DAY 13: Kruje-Tirana
DAY 14: Tirana (return rental car)
2 weeks in Albania- from the Alps to Lake Ohrid itinerary
DAY 1: Tirana-Shkoder
DAY 2: Shkoder-Komani Lake-Valbona
DAY 3: Valbona-Valbona Pass hike-Theth
DAY 4: Theth
Day 5: Theth-Shkoder
Day 6: Shkoder- Kruje
Day 7: Kruje – Tirana (pick up a rental car in Tirana)- Berat
Day 8: Berat 
Day 9: Berat- Gjirokaster
DAY 10: Gjirokaster-Korca
DAY 11: Korca- Pogradec-Lin
DAY 12: Lin
DAY 13: Lin-Pogradec-Tirana
DAY 14: Tirana (return rental car)
I hope this post had inspired you to visit Albania and will be helpful when planning your Albania itinerary. If you have more questions, please feel free to comment below, and I will get back to you.
Have a great journey to Albania!
More Albania Travel Resources
LET'S STAY IN TOUCH!
Subscribe to be the first to receive the latest updates on the most exciting destinations and exclusive photography tips and tricks directly to your inbox. Your privacy is respected. Unsubscribe at any time.