Wondering how to spend two days in Naples, the capital of Campagnia and the third biggest Italian city? Here you will find an efficient 2 days in Naples itinerary that shows exactly what to do in Naples in 2 days.
This best of Naples in two days itinerary includes fantastic things to see in Naples (Napoli) for culture, history, food, and street life appreciators. If you are one or all of the above, this Naples travel blog is for you.
The birthplace of pizza, Napoli, is my favorite big city in Italy (sorry Rome). That said, I return to Naples often to discover more of this vibrant culturally rich metropolis and photograph its charming gritty streets. I am also aware that with so many wonderful things to do in Naples, planning your time might be overwhelming. 
Therefore, based on my own Naples travel experience, I will show you how to spend 2 days in Naples Italy, and enjoy the best of what the city has to offer. Use my detailed Naples travel guide to efficiently plan your two days in Napoli, Italy (tips on where to eat the best pizza and where to stay when visiting Naples+ map are also included).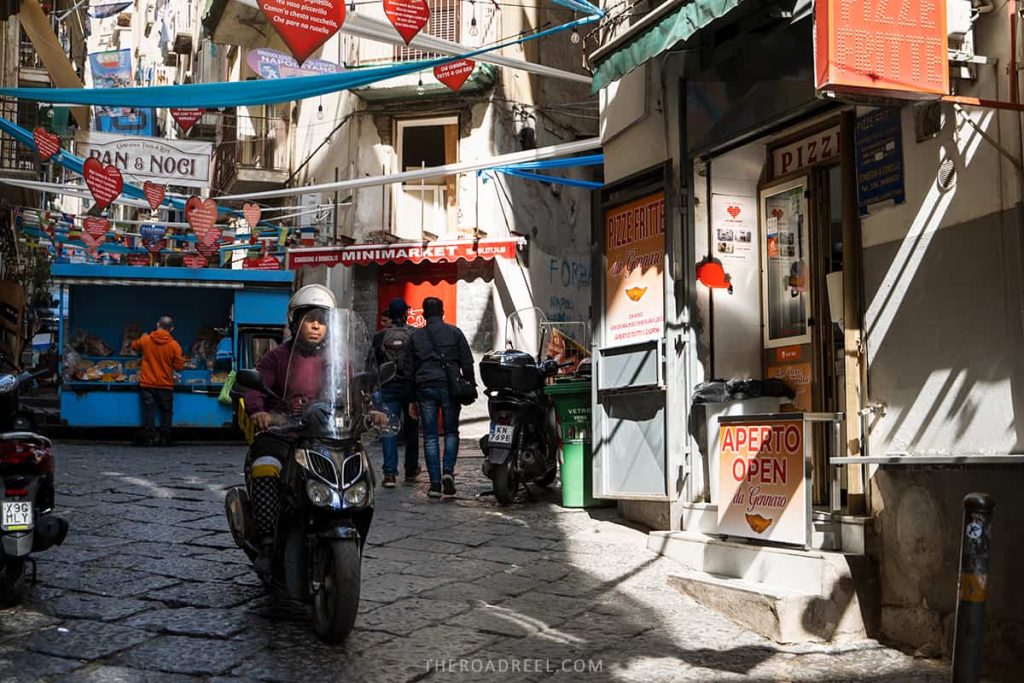 Disclaimer: This post contains affiliate links, which means that I may earn a commission if you make a purchase by clicking a link at no extra cost to you. This helps to keep my blog running and growing by creating more awesome free content for you.
Quick links to plan your 2 days in Naples, Italy
Recommended places to stay in Naples, Italy
Top-rated recommended tours for 2-days in Naples
2 days in Naples itinerary overview
I lined up this Naples 2 days itinerary in a sensible manner so that you can get between the areas and must-visit places in an order that logistically makes sense. 
Following this two days sightseeing route you will visit Naples' most important areas: the historical center of Naples (Centro Storico), Spanish Quarters, Rione Sanita, Lungomare Caracciolo, Piazza del Plebiscito and Porto di Napoli, as well as Vomero district.  This Naples Italy itinerary is walkable but you may choose to use the metro, tram, and/or funicular once or twice if you want to save time and rest your legs for a minute or two. You will find notes on when you can benefit from taking public transport in Naples.
Finally, you will find the map of Naples 2 days itinerary at the end of the post. There, I marked all must-visit places in Naples for 2 days mentioned in this post.
READ MORE: Is Naples worth visiting? 23 great reasons to visit Napoli, Italy
Is 2 days in Naples enough?
48 hours in Naples, Italy is a good amount of time for a city break. Nonetheless, you will only be scratching the surface of what this intensely interesting city has to offer.
Yet, 2 days in Naples is sufficient time to tackle the main sights, explore the most interesting neighborhoods of Naples and get the vibe of the city. In fact, the immense beauty actually lies in the streets of Naples. Thus, even if you do not cover all of the Naples attractions suggested in this itinerary, the time spent in vibrant streets or even just eating countless amounts of pizza will make your two days in Naples memorable. 
Many people suggest going on day trips during your two days in Naples, Italy. However, I advise against trying to bite more than you can chew. When planning my own time in Naples, I struggled to fit everything I wanted to see in just under two days. Let alone, leaving the city for a day trip, you would be missing out on many experiences. 
If you want to go on day trips to the famous historical sites such as Pompei and Vesuvius or even sail to the nearby island of Capri, Ischia, and Procida, or further afield to Sorrento on Amalfi Coast, then 3 or even better 4 days is a minimum that you would need to spend in Naples, Italy.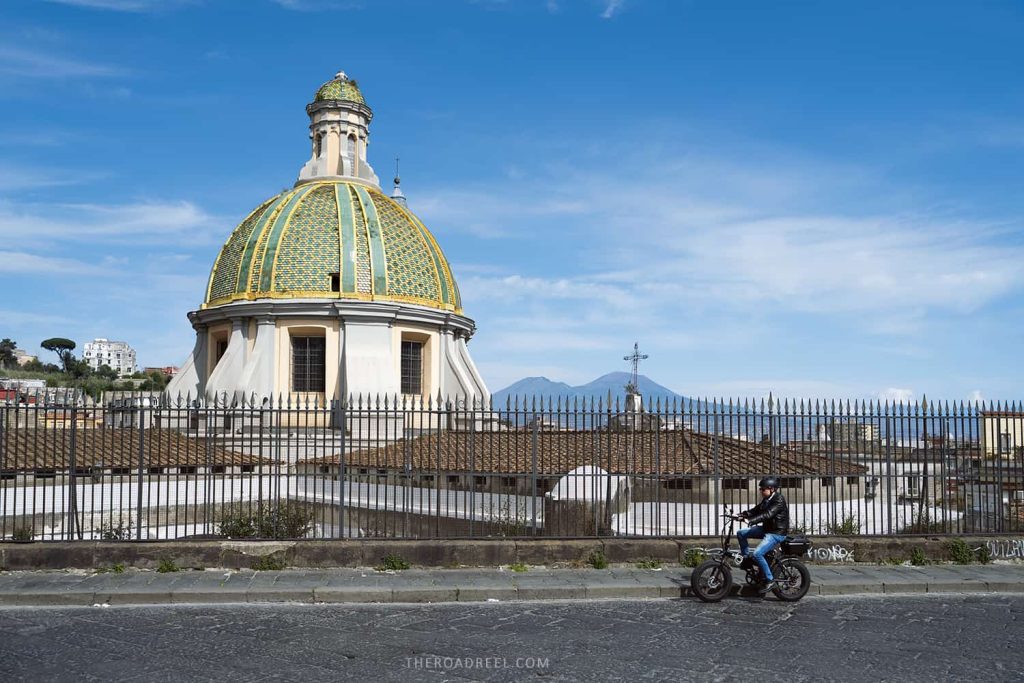 Where to stay in Naples in 2 days?
Having 2 days in Naples, I recommend staying centrally around the historical center (Centro Storico), Piazza del Plebiscito, Quartieri Spagnoli, Via Toledo, or Porto di Napoli areas. All of them are popular centrally located districts that will serve you as a convenient base to explore from.
If you would like to get to know more about the different areas in Naples, the best neighborhoods to stay for different budgets and travel styles, as well as districts to avoid, please refer to my guide Where to stay in Naples: 10 best areas and accommodations.
My top accommodation picks for 2 days in Naples
Unico Relais $$- situated at the edge of Central Naples, this hotel offers elegantly decorated air-conditioned rooms, some of which have a balcony. Italia Breakfast is served at the coffee shop across the road.
La Casa sul Nilo $$-$$$- a complex of gorgeous apartments of different sizes that can host up to 5 people. Accommodation is located at the very heart of Naples.
Real Paggeria $$- hotel in the Naples Plebiscito area is situated inside a historic renovated building and features stunning bright rooms.
Amadomus Luxury Suites $$$- situated in a prime location, this Naples hotel stands out with its décor described by guests as a tasteful luxury, super comfy beds, and fantastic breakfast.
DAY 1 in Naples 2 days itinerary
8:00 AM: morning coffee at Gran Café Gambrinus
Why it is special: serves the most delicious coffee in town.
Opening times: daily from 7 AM- 12 AM (Saturdays until 1 AM).
Time required: 15-30 minutes, depending on how busy it is.
Start your 2 days in Naples itinerary with a cup of outstanding coffee at Gran Café Gambrinus, the iconic and one of the oldest cafes in the city.
A popular meeting point for intellectuals and artists such as Oscar Wilde and Ernest Hemingway, this historic Belle Epoque 19th-century café prides itself on artisan coffee. I am inclined to say the best coffee in all of the city.
What to order: besides the classics espresso and cappuccino, there are many interesting variations of coffees. The famous and truly outstanding is Caffé Gegé – an espresso shot "scrambled" with cocoa and sugar. It is an espresso shot with a sweet nutty taste. If you have it at a bar, you can also see the process of making it.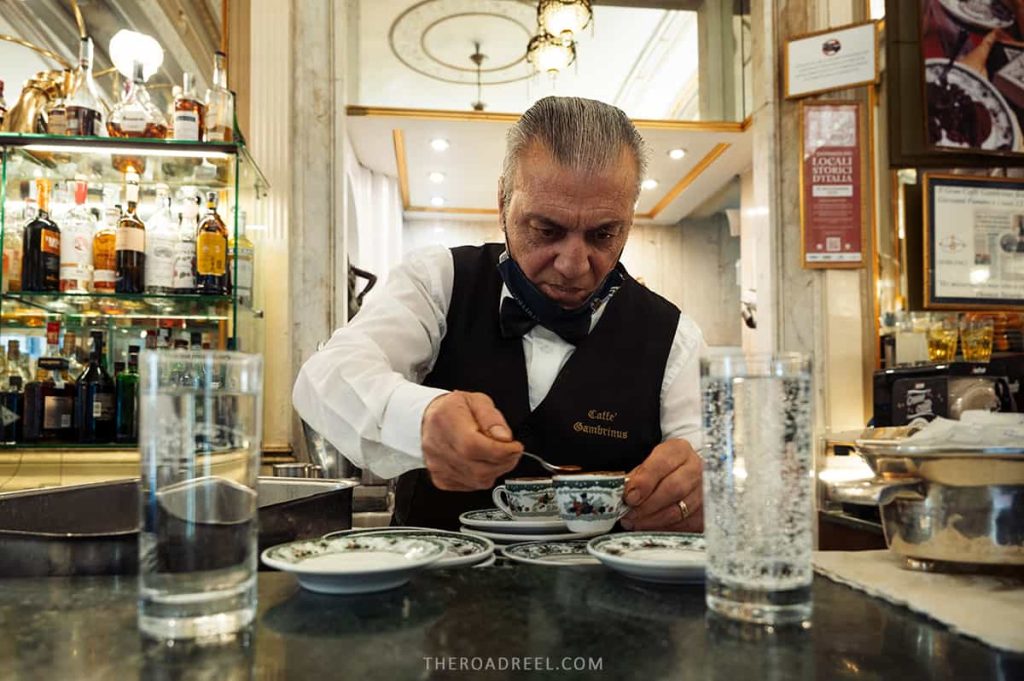 Although the opulent legendary café is one of the most popular, it remained authentic as it used to be over a century ago. Make sure to come early to beat the queue.
If you fancy a pastry, make sure to try sfogliatella, a layered dough shell-shaped pastry filled with soft ricotta cheese typical in Naples and Campania region.
8:30 AM: Piazza del Plebiscito and the Basilica San Francesco di Paola
Why it is special: beautiful iconic square and impressive basilica.
Cost: free.
Opening times of the Basilica: Mon – Fri 8:30 AM – 12:00 PM, 4:00 PM – 7:00 PM, Sun 8:30 AM to 12 PM.
Time required: 15-20 minutes to look around, 30 minutes if visiting the church.
Piazza del Plebiscito is one of the most important sites in Naples and a great spot to kickstart sightseeing in Napoli. It is located a few steps from Gran Café Gambrinus, and you might have already passed this hard-to-miss largest in the city traffic-free square.
The impressive piazza is framed by the city's most emblematic buildings: a beautiful 9th-century Basilica of San Francesco di Paola, and Royal Palace of Naples.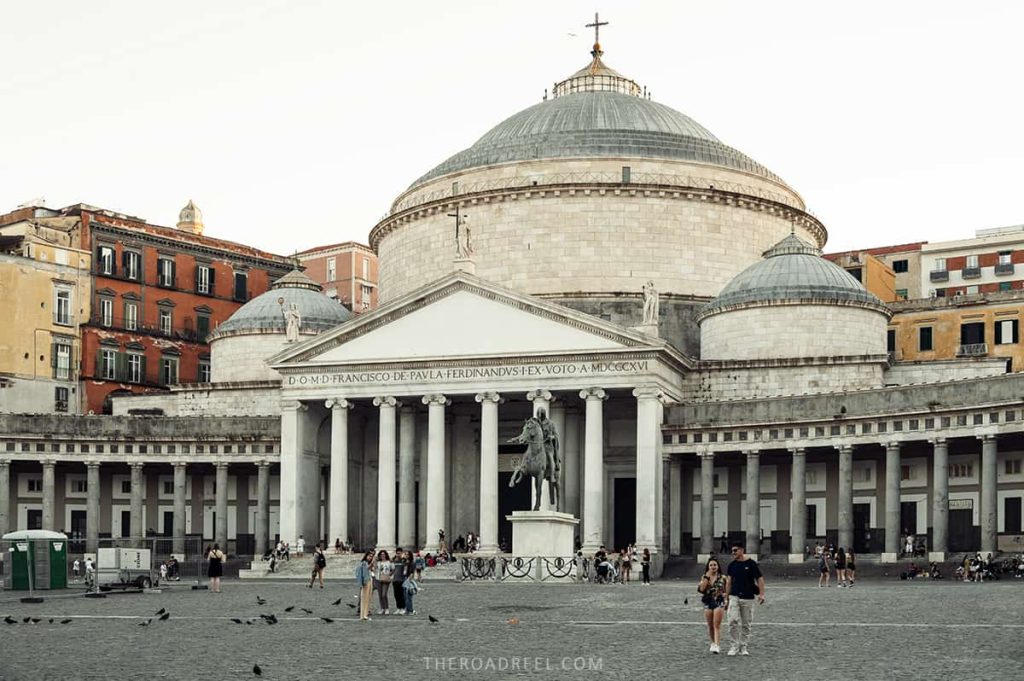 If you have been to Rome, you will immediately recognize that the architecture of San Francesco di Paola Church was inspired by Pantheon in Rome. Make sure to pop inside the Basilica to admire the phenomenal circular nave crowned by a 53-meter (173-foot) dome. 
Interesting to know that Piazza del Plebiscito was built from the volcanic rock extracted from Mount Vesuvius. The same mighty volcano which destroyed Pompei.
Today Piazza del Plebiscito is a popular hang-out spot and it is also used as a venue for various cultural and public events. To see the Piazza del Plebiscito square empty, you must come early in the morning. Meanwhile, at dusk, the Basilica is beautifully illuminated creating an even more majestic atmosphere around the Piazza.
9 AM: La Pignasecca morning market
Why it is special: authentic local experience in Naples, Italy.
Cost: free.
Operating times: Mon–Sun, 9:00 AM – till late.
Time required: 15- 30 minutes, can take longer if you love street photography or just people-watching.
Fill your 2 days in Naples with a heightened multisensory experience that unfolds in La Pignasecca-the oldest street market in Napoli. Vendors line up their stalls filled with a mountain of fresh produce (veggies and fish are dominating) along the Via Pignasecca daily in the mornings, and some stay open until evening. 
The market is located in the characteristic Spanish Quarters district, a 10 to 15-minute walk from Piazza del Plebiscito. If you love visiting local markets, Pignasecca street market is one of the best places to visit in Naples and embrace the energy of the city.     
Reminiscent of Bollero market in Palermo, La Pignasecca is a great place to sample street food, watch the real-life theatre of animated Italian bargaining, and get some awesome photos of the characters that make this place so cool. 
The market comes in full swing on Sundays at around 9 am, after the Sunday prayer.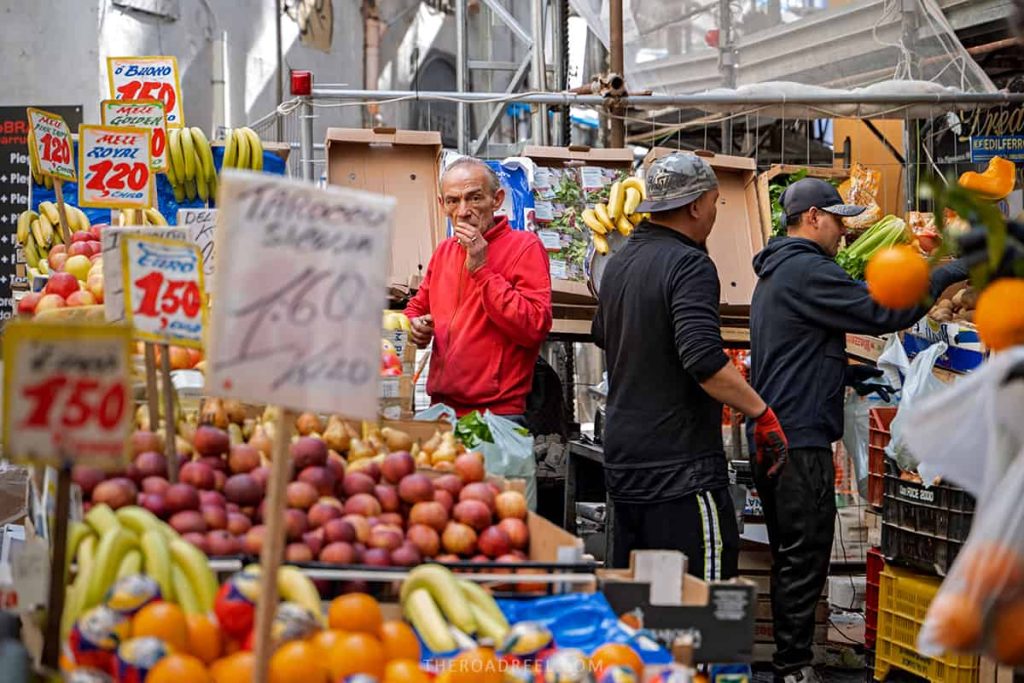 10 AM: Naples Underground Tour (or Royal Palace)
Why it is special: wander the tunnels and learn the history of life under the ground.
Cost: 12 EUR.
Opening times: tours take place daily in English Monday to Friday 10 AM, 12 PM, and 4:30 PM, Saturday also has a 6 PM slot, and Sundays have additional 11 AM and 6 PM slots.
Time required: 1.5 hours.
One of the most interesting things to do in Naples is visit an ancient underground town hidden under the chaotic streets of Napoli. In fact, Napoli Sotteranea was my favorite guided tour.
In the 4th century BC Greeks started the excavations of tuff (a relatively soft rock of volcanic origin, also called igneous rock). Greeks dug tunnels and extracted the material to build the ancient city of Neapolis. When Romans came into rule, they used existing tunnels as aqueducts to supply the city with water. A couple of millennia later over 450 kilometers (280 miles) of subterranean network of streets, tunnels, catacombs, caverns, and chambers were discovered.
However, one of the most interesting facts is that these secret tunnels were used as a shelter during WWII, hiding over 200000 citizens. Life under the ground continued for around two years. People were born, got married, and died just as they regularly do.
Interesting and hard-to-believe stories are being told during the La Napoli Sotterannea tour by passionate guides. I highly recommend going to at least one of the underground tours.
Good to know: there are several different guided underground tours in Naples that include tunnels, galleries, catacombs, and burial grounds. A couple of the tours share the same name, thus it may be confusing. Those are:
Napoli Sotterannea which starts next to Via dei Tribunali and calls itself the main one but has massive groups.
La Napoli Sotterannea starting near Piazza del Plebiscito (or Piazza Trieste e Trento to be more specific) is just as interesting and has small groups.
Other tours include visiting The Bourbon Tunnel, the Catacombs of San Gennaro, and San Gaudioso. Each of the tours is different and interesting in its own way.
If it is your first-time visiting Naples, I would suggest joining the La Napoli Sotterannea tour starting near Piazza del Plebiscito which is convenient as you started your 2 days itinerary in Naples here.
Important to note is that La Napoli Sotterannea tour might not be suitable for people with claustrophobia or mobility restrictions. To reach the tunnels you must descend around 100 steps under the ground, then you will be taken through some narrow dark corridors, one of which is extremely tight (an alternative way to skip it is offered by the guide).
If any of the above is a concern, you might choose to visit the Catacombs of San Gennaro instead. More about it later in the post, as I recommend doing this tour on the second day of your 2 days in Naples itinerary due to more convenient logistics.
IMPORTANT! Naples Underground tours are one of the most popular activities in Naples, thus get the ticket in advance for the time you prefer to visit.
More sightseeing options (alternative to Naples underground)
If you decide to stay above the ground on your day 1 in Naples 2-day itinerary, then you might be interested in visiting the following historic sites located around the Piazza del Plebiscito area.
Royal Palace of Naples
Why it is special: historically important royal establishment with lavish interiors.
Entrance fee: 10 EUR.
Opening times: 9 AM- 8 PM, closed on Wednesdays.
Time required: 1.5-2 hours.
Visiting the Royal Palace of Naples (Palazzo Reale) is one of the best things to do in Naples for those who adore splendor palaces with all the pomposity and lavish décor.
The Palace was built during Spanish rule in the 17th century to host King Phillip III of Spain during his visit to Naples and later continued to be used by the Kings of the Bourbon dynasty.
Framing the east side of Piazza del Plebiscito, the Royal Palace appears relatively humble from the outside. But wait until you enter and get awed by its pompous interiors. The Palace hosts over 30 immaculately preserved luxurious royal rooms representing the extravagant lifestyle of the Neapolitan royalties back in the 17th-19th century. It is also a ground for Teatrino di Corte, National Library, and Teatro di San Carlo.
Teatro di San Carlo
Why it is special: the oldest working theatre in the world.
Cost: 9 EUR.
Opening times: 10:30 to 16:30 Monday to Sunday.
Time required: 30 minutes.
An impressive Opera venue, Teatro di San Carlo, is the oldest working Opera House in the world. Opened in 1737, it is located on the same grounds as the Royal Palace of Naples. Nonetheless, you can only visit it if you book a guided tour or attend a performance.
The tour takes around 30 minutes and you can the tickets in advance here. The schedule of the tour might change depending on the rehearsals taking place in the Theatre.
12 PM: Gallery Umberto I
Why it is special: beautiful UNESCO-protected centuries-old shopping arcade
Cost: free
Opening times: 24/7 (except for the shops)
Time required: 10 minutes (unless you go shopping)
Before heading for lunch, make sure to pop into Galleria Umberto I, located across the street from Teatro di San Carlo.
Galleria Umberto I is one of the most beautiful shopping arcades in Europe that is also UNESCO listed. One might call it a cathedral for shoppers due to its grandeur space.
Built at the end of the 19th century, Galleria Umberto I looks very similar to the famous Galleria Vittorio Emanuele II in Milan (as the inspiration was taken from the latter). A spacious cross-shaped passage is symmetrically framed by a Neoclassical facade and covered by a glass dome braced by iron ribs providing an amazing sense of spaciousness.
During its early years, the shopping gallery also served as a social space and a cornerstone during risanamento– the rebuilding of Naples during Italy's unification that lasted until WWI. Today, it is filled with cafes, restaurants, and international brands and is one of the most popular tourist attractions in Naples.
12:30 PM: Cross Via Toledo and have lunch in the oldest pizzeria
Why it is special: one of the best pizzas in Naples served at the oldest pizzeria.
Cost: pizzas are priced at 10-12 euros on average.
Opening times: daily 12–4:30 PM, 6:30 PM–12 AM.
Time required: 1 hour if there is no queue for the table (you can also do a takeaway).
For your first lunch in 2 days in Naples, I recommend heading to the oldest pizzeria in the city- Antiqua Pizzeria Port'Alba, located near Piazza Dante.
Antica Pizzeria Port Alba is widely believed to be the oldest pizzeria not only in Naples but also in the world. This pizzeria started as a stand for peddlers in 1738. and only a century later, in 1830, settled under the roof.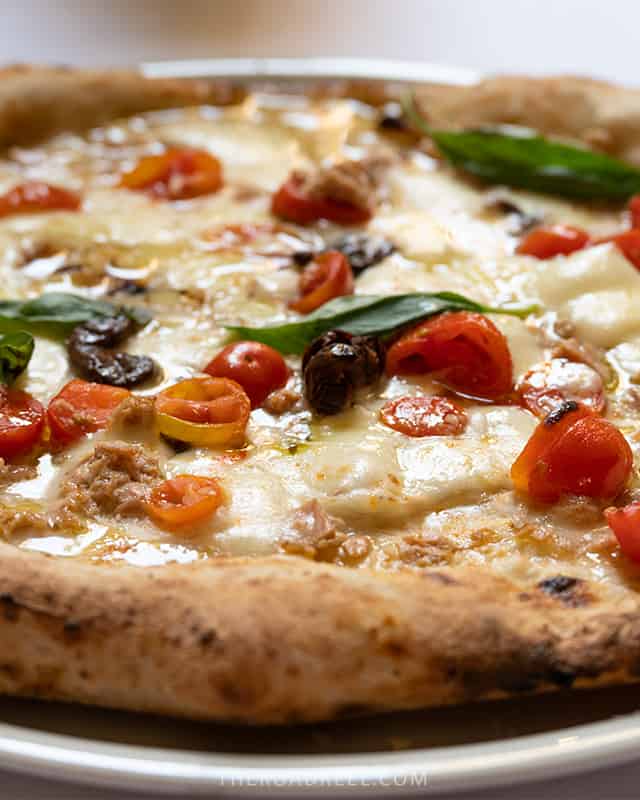 On your way from the Piazza del Plebiscito area, you will have to pass Via Toledo- one of the main arteries and the principal commercial street in Naples. It is a street of madness always crowded with people rushing in all directions. Via Toledo is my least favorite street in Naples. Unfortunately, it is a very long street and is hard to avoid. Thus, you might have to cross it a few times during your two days in Naples.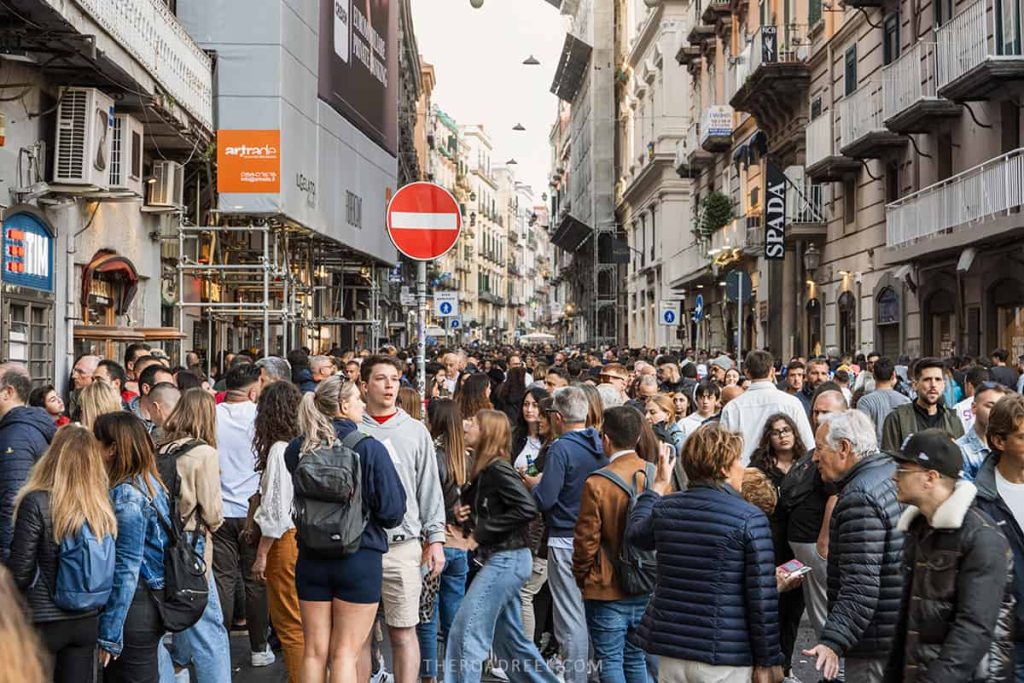 Tip: To save 15 minutes of walking, you can choose to take a metro from Toledo station to Dante station (one stop only). This way you will also get to see the famous Toledo metro station which is one of the most beautiful in Europe resembling an underwater world. You can purchase a ticket (1.2 EUR one way) at the station.
2 PM: Explore Spanish Quarters (Quartieri Spagnoli)
Why it is special: authentic Napoli, artistic murals including one for Maradona.
Cost: free.
Opening times: 24/7
Time required: 30 minutes or as much as you want to explore the streets. 
If you visited the Pignesecca market in the morning, you already had a glimpse at one of the most atmospheric areas in Naples- Quartieri Spagnoli (Spanish Quarters).
This is a place you see in Naples' street pictures- long narrow streets that cut through the tall buildings interconnected by lanes of laundry fluttering in the breeze.
Quartieri Spagnoli is one of the most populated areas in Naples. It is extra chaotic and loud, but very charming and magnetic. Spanish Quarters also represent the darkest corners of the soul of Naples.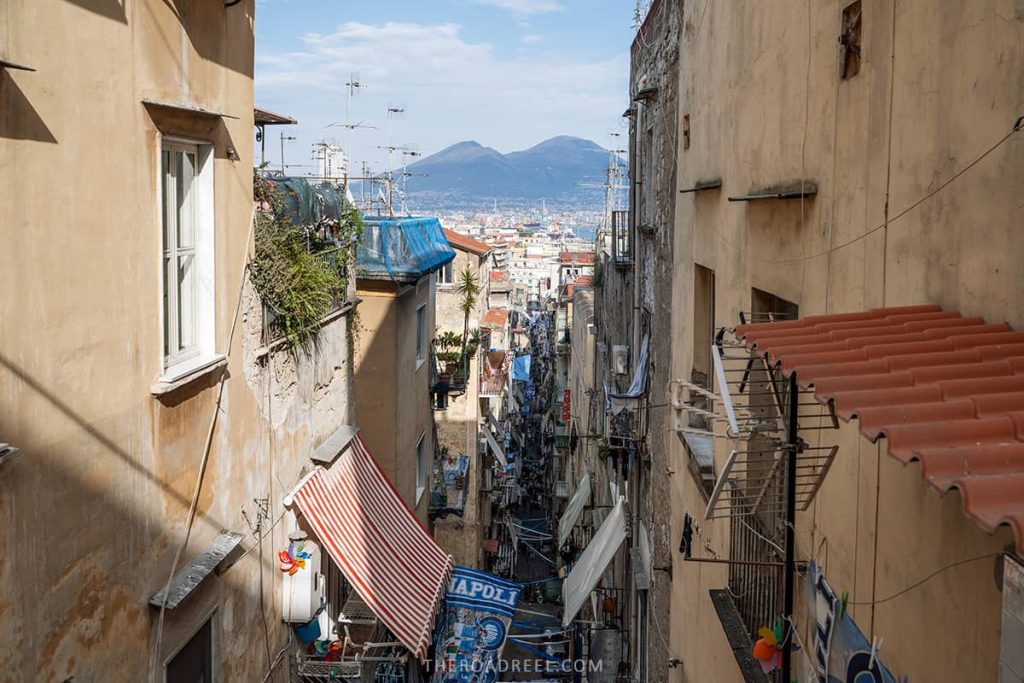 Historically, Quartieri Spagnoli was built in the 16th century as a housing area for Spanish troops who lead an unorthodox way of life. Through centuries, the area gained a reputation as a hub of prostitution, crime, and drugs. Naturally, it was also an area considered dangerous, and not advisable to wander around if you are an outside visitor.
However, things have changed significantly since and Spanish Quarters now became sort of a trendy spot. Old worn-out buildings are used as a canvas by street artists who decorate the walls with impressive murals. The most famous and not to miss on your Naples 2-day itinerary is the Armando Diego Maradona mural located in Via Emanuele de Deo.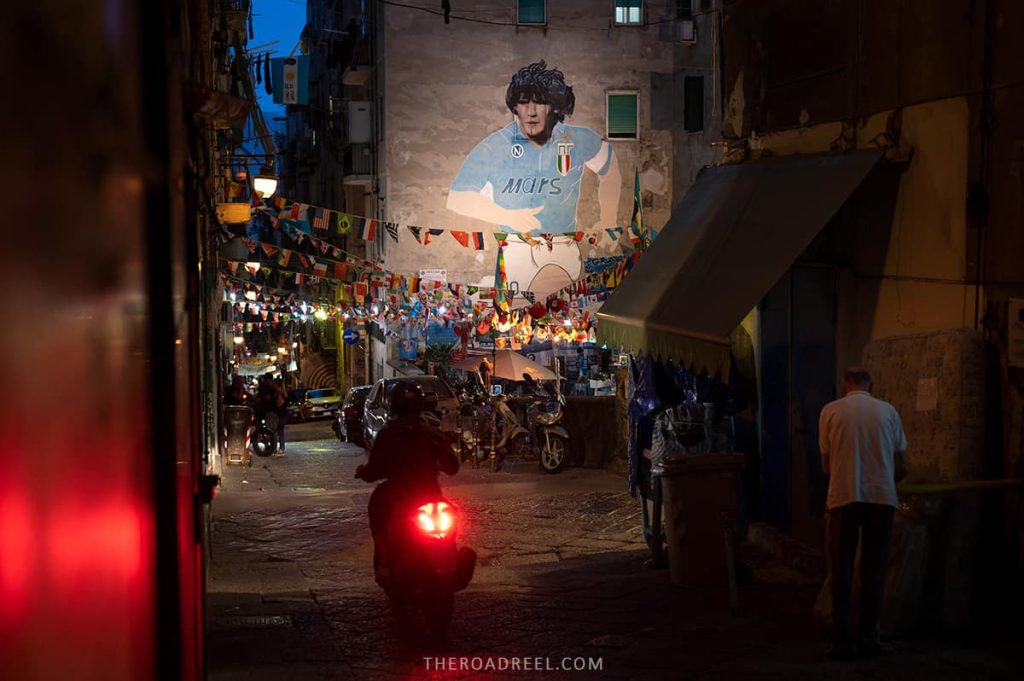 Moreover, keep an eye out for many surrealistic grotesque murals by Cyop&Kaf. Those are my favorite streets arts to hunt for while wandering around Quartieri Spagnoli. Those mind-bending paintings decorate rusty gates, windows, and other unexpected corners of the Spanish Quarter.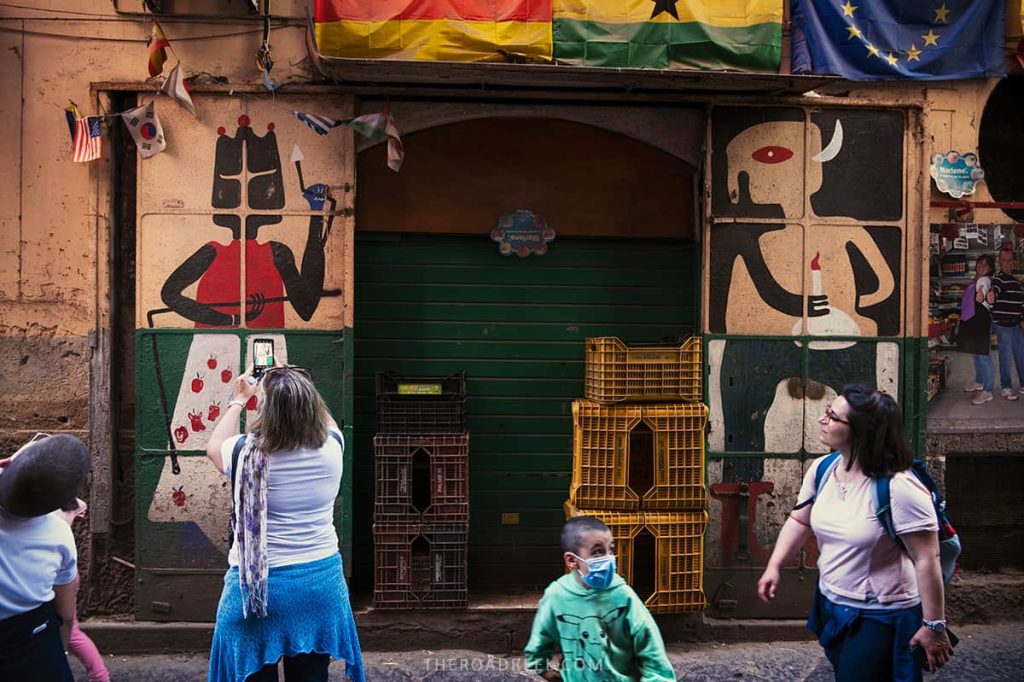 Finally, the Spanish Quarter is a perfect area to have cheap but tasty street food or a glass of Aperol spritz. At night, the area becomes even livelier with locals and tourists having dinner at many local restaurants.
4 PM: climb up or take a funicular to Sant Elmo Castle for sunset views
Why it is special: stunning panoramic views over Naples Bay and the Historic Center of Naples.
Cost: 2.5 euros to enter the castle, but views can be seen free from the Belvedere San Martino viewpoint.
Opening times: 8:30 AM-7:30 PM (last admission 6:30 PM).
Time required: 1 hour to visit the castle and 15-30 minutes to come up (depending if you walk or take a funicular), and a similar time to come back down to the city center. Budget 2 hours for this attraction in Naples.
A highlight on your first day of 2 days in Naples is the panoramic views of Napoli that unfold when you ascend to the Castel Sant'Elmo, a medieval fortress located on top of the Vomero hill in the Vomero district.
Holding the commanding position, Castel Sant'Elmo overlooks the Bay of Naples, including the historic center, also Sorrento Peninsula, and its majesty Mount Vesuvius. The utterly splendid 360-degree views over Naples can be observed from the walls of the fortress.
On the way, under the walls of the castle, stop at the Belvedere San Martino viewpoint. It is not the highest point yet but offers an equally impressive panoramic view of the entire Centro Storico and beyond. If you stick around till sunset, you will be rewarded with beautiful views of the Bay of Naples showering in golden light.
How to get to Castelo Sant'Elmo
You have two options to get to Sant'Elmo castle in Naples:
Take a funicular from Montesanto station on the northern side of Spanish Quarters to Morghen station. The funicular will bring you up to the Vomero district in less than 10 minutes. It is only a few minutes walk to the entrance of the castle.
On foot– it is a tough yet rewarding climb from the Spanish Quarters following Pedamentina a San Marino (an old concrete staircase). With every step up, you will see emerging panoramic views opening up. It takes around 20-30 minutes to come up, depending on your speed.
7 PM: Dinner in Vomero district (or back down in Spanish Quarters)
After visiting the castle and soaking up the views of Napoli, you may choose to stay in Vomero, explore the area, and have dinner.
Vomero district in Naples is an elegant and lively upper-middle-class residential area located on the Vomero- Arenella ridge. It is a very safe prominent area of Naples abundant with historical buildings, elaborated villas, tree-lined avenues, cozy squares, and lovely gardens.
The action of the district revolves around the square of Piazza Vanvitelli– the heart of Vomero. Here you will find eclectic coffee shops, bars, and restaurants.
For those who would like to experience the nightlife in Napoli, Vomero is a perfect place as it is known for its cool nightclubs, classy lounges, and cocktail bars.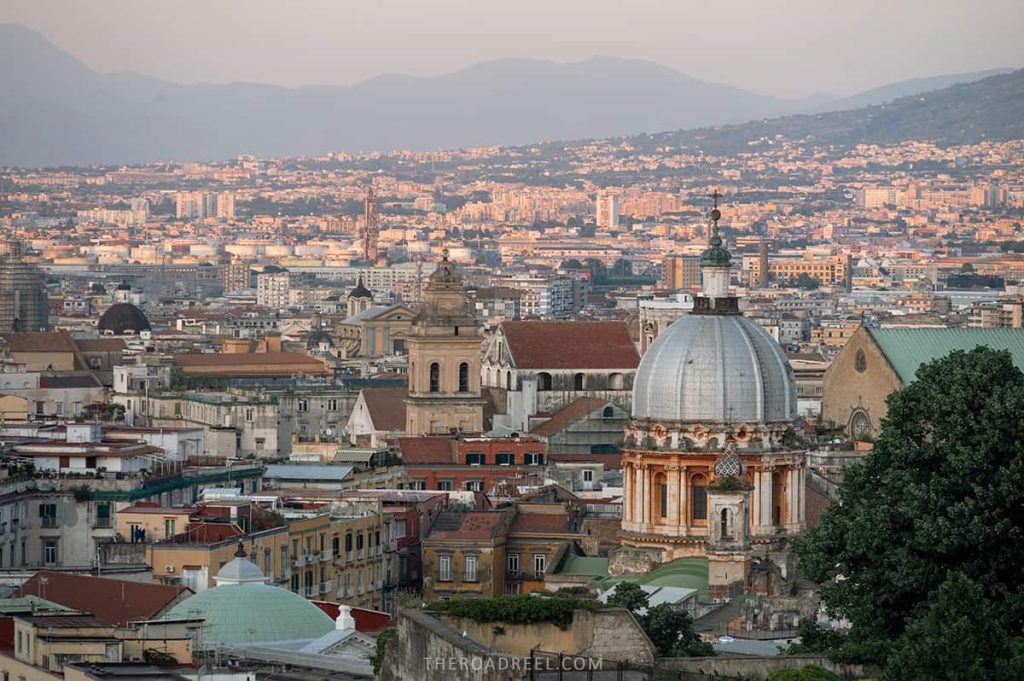 Dinner in Spanish Quarters
Alternatively, you can descend back to Spanish Quarters and have another fantastic pizza in Pizzeria da Atillo. Famed for its star-shaped pizzas, this family-run pizzeria opened in 1938 and is known for its innovative approach to pizza making (hence the star pizzas). Make sure to try pizza Appennini, with ricotta, provolone, and zucchini (vegetarian), or try something meat based if veggies don't count as food to you.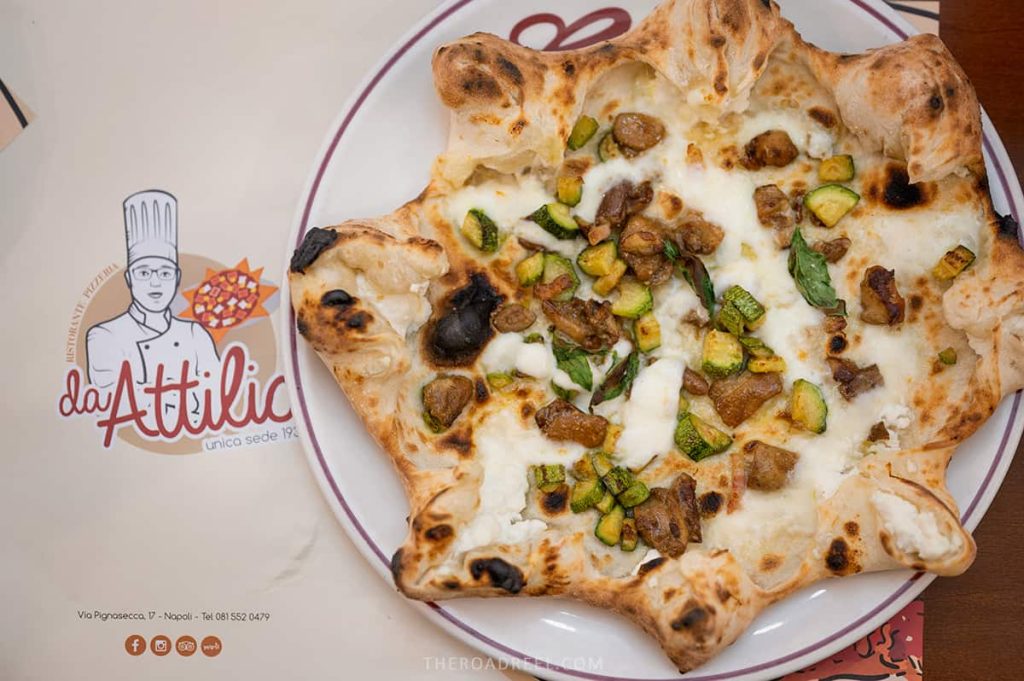 Note: you must put your name on the waiting list. Despite many hungry people waiting, the turnaround during our visit was pretty fast, and you will likely be seated pretty quickly.
Opening times: 12-3:30 PM, 7 PM-11:30 PM, closed on Sundays.
Address: Via Pignasecca, 17, Spanish Quarter, Naples.
DAY 2 in 2 days Naples itinerary
8 AM: Rione Sanità- the overlooked historic part of Naples, Italy
Why it is special: a neighborhood that encapsulates the essence of Naples.
Time required: 1-3 hours.
Start your day 2 in Napoli by exploring one of the most evocative neighborhoods,  the up-and-coming Rione Sanità. Here is where you get acquainted with the true Napolitanean spirit. It is an area that is currently going through a significant transformation- a cultural and artistic renaissance.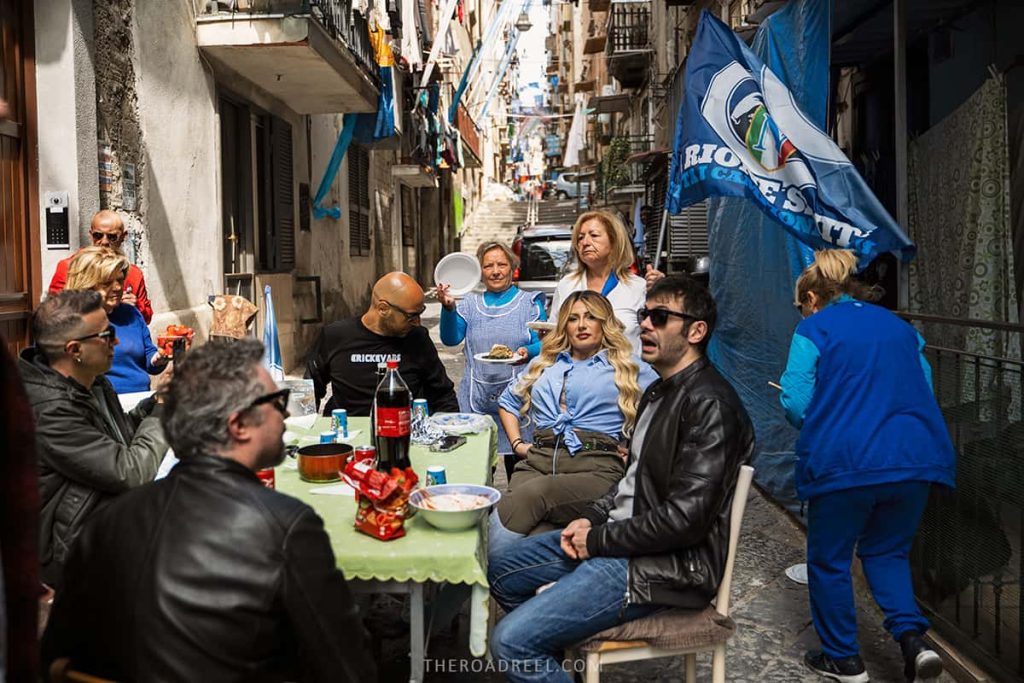 Located at the foot of Capodimonte Hill, at the northern edge above Naples Centro Storico (Historic Center), Rione Sanità fell on the crossroads of life and death. During the Greko-Roman times it was treated as an area behind the city walls and, thus used as a burial site. Hence, today you can explore the impressive Saint Gennaro catacombs.
In the 17th century, Rione Sanità was used as a lazaret when the city of Naples was battling the plague. Nearby Cimetero di Fontanelle was built to bury the victims of the Great Plaque in 1656.
Later on, in the 18th century, Rione Sanita fell on the route for royalties commuting from the city center to the newly built Royal Palace of Capodimonte. The Ponte della Sanità bridge was constructed above the Rione Sanita to shorten the commute between the city and the Palace. That caused the isolation of the district from the rest of Naples.
Ever since Rione Sanità has faced socio-economic challenges. It has been characterized by poverty, crime, and high population density (32.000 people in 2 sq. km). Nonetheless, it managed to foster a strong sense of community and resilience among its residents.
Over the centuries, it evolved into a residential area, with narrow, winding streets and densely packed buildings that showcase the traditional architectural style of Naples.
Less touristy than other areas in Naples, Rione Sanità packs a punch for a curious visitor. From colorful murals, lively streets, and markets, and great pizzerias to architectural monuments such as Basilica Santa Maria della Sanità and Naples Underground treasures. Those include before mentioned San Gennaro and San Giaudoso Catacombs, as well as newly unearthed Ipogeo dei Cristallini Greek tombs decorated by precious frescoes. The latter is considered an important archaeological finding, even older than Pompei ruins.
San Gennaro Catacombs tour
The Catacombs of San Gennaro tour is suitable for everyone as the site is fully accessible through walkways and ramps.
The underground area of San Gennaro Catacombs is much wider and larger compared to the Roman catacombs seen in the Naples Underground tour. The whole space is comprised of two levels, the lower of which dates back to the 2nd century AD, followed by the upper expansion in the 4th century AD.
During the tour, you will get to know the history behind some of the oldest in Europe and the most impressive burial sites, 5th-century mosaics, and impressive 9th-10th-century Byzantine paintings. Moreover, you will also participate in the support of the redevelopment of the Rione Sanita district.
Opening times: From Monday to Sunday from 10:00 to 17:00 (last admission 17:00 –closed on Wednesday).
Ticket price: 12 EUR (ticket includes San Gaudioso Catacombs) -> BOOK HERE.
Duration: 1 hour.
Sweet Tip: when exploring Rione Sanita, make sure to stop at Pasticeria Poppella and try their heavenly Fiocco di Neve pastry. Puffy pastries with absolutely light and decadent ricotta cream filling might be the best pastry you ever had in your life. At least it is to me, till date.
How to get to Rione Sanità: Rione Sanità is located around 20 minutes up north of the historic center (Centro Storico) of Naples. You can reach it on foot. However, you can also take a metro end exit at Museo Station. If you are heading directly to the Catacombs of San Gennaro, you might have to walk another 25 minutes or catch a bus 168, 178, or 3M from Santa Teresa degli Scalzi 38 station to Amedeo di Savoia 280.
12 PM: Lunch in the Rione Sanità neighborhood
Rione Sanità neighborhood might keep you busy for several hours, especially if you also go on another underground tour. I recommend having lunch in Rione Sanità- it has some great pizzerias to choose from. Below are my recommendations:
Pizzeria La Taverna di Toto– a down-to-earth family-run pizzeria with great prices and quality food.
Pizzeria Concettina ai Trei Santi is another famous pizzeria in Naples where you have to queue for a bit before you come for lunch. Takeaway options are available but finding where to eat in the busy street might be tricky. We did not want to wait in a queue, thus took the pizza away and found this shabby but at the same time gorgeous historical courtyard 100, where we had our fast lunch at peace.
National Archeological Museum (optional)
For history buffs, Naples National Archeological Museum 'Museo Archeologico Nazionale di Napoli (MANN)') is considered top-class of its kind. It hosts a large collection of antique findings, including those from Pompei and Herculaneum.
Opening times: 9 AM- 7:30 PM, closed on Tuesdays
Location: Piazza Museo, 19, southwest corner of Rione Sanita district, opposite Museo metro station.
Ticket price: around 25 EUR
Time required: ~2+ hours as it is huge.
Tip: Entrance to this museum (+ Pompeii and Naples Underground) is included in the popular Naples City Card.
2 PM: Naples historic center
Why it is special: an old town of Naples, a UNESCO world heritage site, home to the most important monuments.
Time required: 3-5 hours
After exploring Rione Sanita on your second day in Naples, make your way down south to the historic center (Centro Storico di Napoli). It will take you only 10 minutes to cross the invisible border between the two areas.
Napoli Centro Storico is not as polished and cute as we usually expect historical centers to be. Although it does not lack cobbled streets, and impressive facades can be admired at every turn, Naples's historical center is rough around the edges just like the majority of the city.
Walls (even those of churches) are covered in graffiti, dark alleyways are crisscrossing the main streets. It does feel dodgy and grand at the same time. It is sort of a confused corner of Naples, where the past and present overlap in the weirdest way.
The grand palazzi and impressive churches remind of the city's rich history, while the present of the city boasts a boiling like Vesuvius atmosphere. The lively historical part of Naples is filled with people buzzing around, cars and vespas competing in sound, and restaurants and bars that are open till late.
The whole Naples historical center is included in UNESCO's World Heritage Site list. In Centro Storico, you will find some of the most important piazzas, and buildings, including the most beautiful churches, historical monuments, palaces, and also iconic street of Via Tribunali as well as a so-called Naples "splitter" Spacanopoli.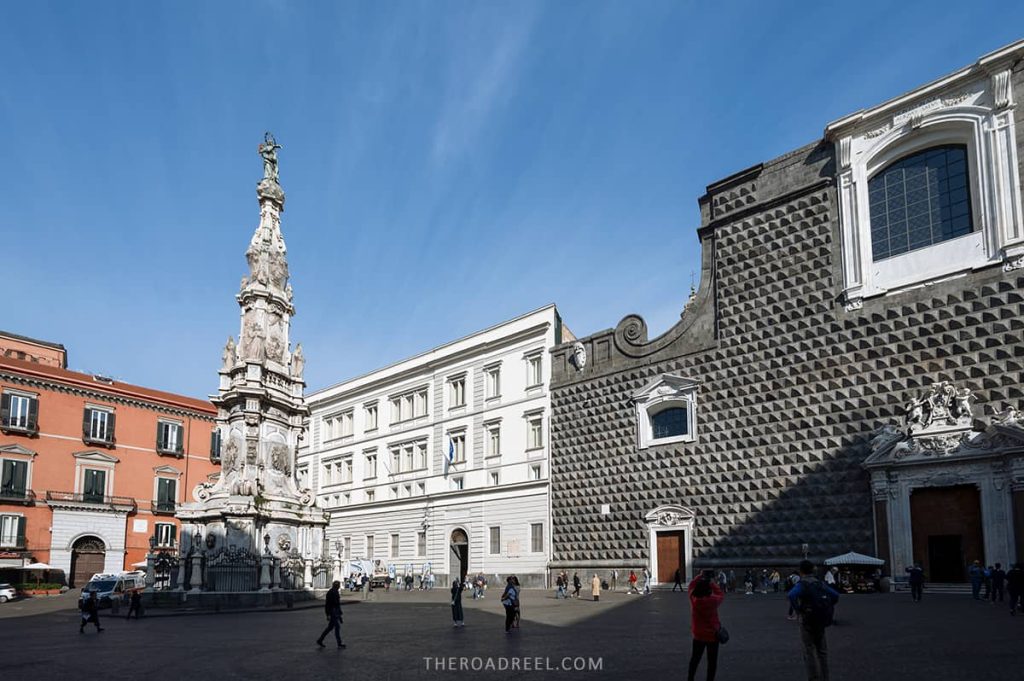 The main attractions in Naples historical center are located close to each other. Therefore, it is likely that in 4-5 hours you will be able to tackle them all, or at least a large chunk.
What to see at Naples historical center
Chiesa Gesù Nuovo church
Why it is special: one of the most beautiful churches in Naples.
Entrance: free.
Opening times: daily 8 AM- 1 PM, 4 PM- 7:30 PM.
Time required: 15-20 minutes.
Chiesa Gesù Nuovo (New Jesus Church) is one of the best places to visit in Naples. Chiesa Gesù Nuovo is located in Piazza Gesù Nuovo- a pretty Baroque square in the heart of Naples.
The facade of Chiesa Gesù Nuovo is quite unusual and monochrome. The walls are dotted with small stone pyramids that are reminiscent of the Casa dos Bicos building in Lisbon, Portugal.
However, the rather plain outside is a complete contrast to the inside. The interiors of Chiesa Gesù Nuovo church hosts some of the largest concentrations of Baroque paintings and sculptures. As expected from the ornate and opulent Baroque style- the detailing is taken to an extreme. What is fascinating, is that the overwhelming amount of décor is harmonious.
Santa Chiara Monastery Complex
Why it is special: famous majolica tiles, frescoes, and shaded escape from the street chaos.
Entrance fee: 6 EUR, discounted to 4.5 EUR for students and seniors 65+.
Opening times: Mon-Sat 9:30 AM-5:30 PM, Sun 10 AM-2:30 PM.
Time required: 30-60 minutes.
Just a few steps away from Chiesa Gesu Nuovo you can visit Santa Chiara Monastery Complex which is one of the top things to see in Naples, Italy.  Santa Chiara religious complex was built in the 14th century and features a Gothic-style church (in contrast to the predominant Baroque architecture seen all around Naples).
However, the main attraction of the complex is the impressive cloisters decorated with beautiful 17th-century frescoes depicting scenes from the Old Testament, and the colorful majolica tiles.
The inner garden filled with lemon trees serves as a shaded respite from busy Naples streets. It is also a photo-perfect spot. However, Santa Chiara Complex is no longer a hidden gem in Naples. That said, if you are visiting in the afternoon, the complex might be busy with many visitors.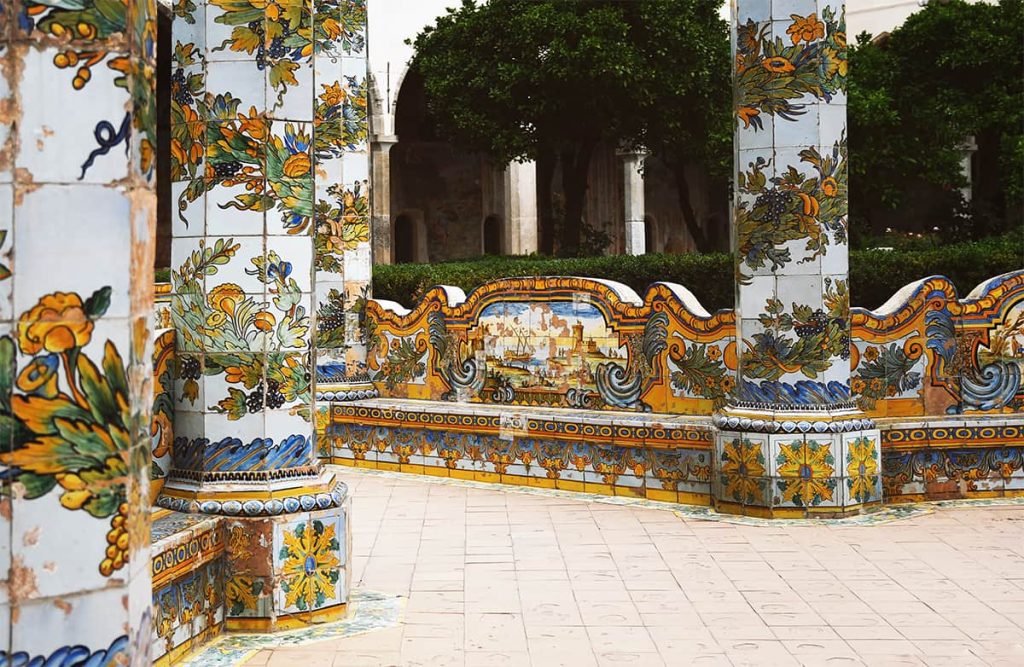 The Veiled Christ at Sansevero Chapel
Why it is special: sculpture masterpieces displayed inside an intimate chapel
Cost: 8 euros (+ 2 euros booking fee).
Opening times: daily, except Tuesdays, 9 AM- 7 PM.
Time required: 30 minutes.
One of the most important artworks in sculpture is The Veiled Christ sculpted by Giuseppe Sanmartino in 1753. If you are an art appreciator, on your day 2 in Naples, make sure to pay a visit to the converted petite Sansevero Chapel where the masterpiece is displayed.
Depicting the deceased figure of Jesus Chris covered in a transparent death veil, the sculpture is an example of the finest craftsmanship. The delicate fabric carved out of one piece of marble looks hyper-realistic.
Note that Sansevero Chapel is one of the most visited sites in Naples and can host a limited number of people a day. Thus, pre-booking tickets even a few weeks in advance is strongly recommended.
To enrich your experience, I recommend checking the highly rated Naples Downtown guided tour which provides an opportunity to learn more about the historical center of Naples along with a visit to see The Veiled Christ.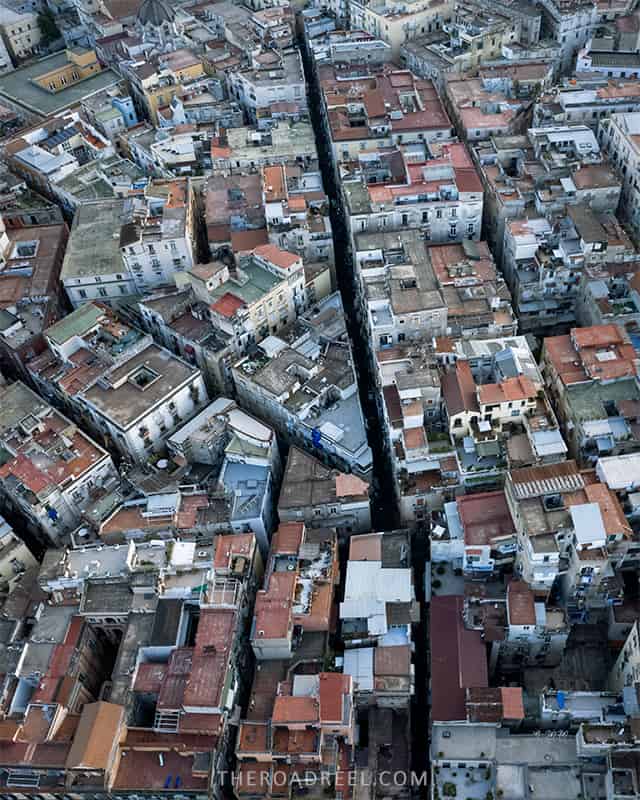 Spaccanopoli- the Naples splitter
Why it is special: a set of streets "splitting" Naples downtown into half.
Opening times: 24/7.
Time required: around 15 minutes, but really as much or as little as you wish.
Spaccanopoli, the "Naples Splitter", is one of the city's most important thoroughfares not to be missed during your two days in Naples. Spaccanopoli is a combination of several narrow streets seamlessly flowing into one another while cutting through the historical center and "splitting" the city of Naples into two.
Spaccanopoli's roots date back to Roman-Greco times. It used to be one of the 3 decumani (one of the main east-west streets) on the ancient Neapolis city grid. The length of Spaccanopoli is around 2 kilometers. It starts from Piazza Gesù Nuovo, crosses Via Duomo and continues for a little bit beyond Centro Storico.
Today's Spaccanopoli is one of the busiest places in the city. It is lined with countless cafes, tavernas, pizzerias, souvenir shops, and boutiques. A fair number of important historical monuments such as Sansevero Chapel, Gesù Nuovo Church, and Santa Chiara complex are part of the busy Spaccanopoli route.
Despite being very touristy, the Naples Splitter is still an awesome place to soak in the chaotic Naples' atmosphere and wander in and out of many connecting alleyways. P.s. you won't find Spaccanopoli on Google Maps (just a pinpoint) as it is not an official street name, but rather a combination of several streets and piazzas(Piazza Gesù Nuovo, Via Benedetto Croce, Via Pasquale Scura, Via Maddaloni, via Domenico Capitelli, Piazzetta Nilo, and Via San Biagio Dei Librai).
Via San Gregorio Armeno- Christmas street
Why it is special: the most characteristic street in the historical center known for nativity figurines.
Opening times: 24/7 (except shops).
Time required: 10-15 minutes.
Out of all alleyways and side streets branching in and out of Spaccanopoli, Via San Gregorio Armeno is one that stands out. Also known as Christmass Street, this short quirky lane is dotted with quaint old shops the windows of which along with the street stalls are filled with various figurines of nativity scenes (Presepe or presipio).
Italians consider nativity scenes more important decoration than a Christmas tree. Moreover, in Naples, presipio is taken to the next level. Known as the best nativity scene makers, Neapolitans treat presipio as a form of art. Cuciniello Nativity is one of the most famous presepi artworks hosted by Museo Nazionale di San Martino located on the grounds of Castel Sant'Elmo.
Although the main theme of nativity scenes is Bethlehem, in Naples, presepe features many elements of daily life. That is why you will find many different scenes and even figurines of characters of the current era (including celebrities) in Via San Gregorio Armeno.
Sweet tip: a famous pastry shop Sfogliate e Sfogliatelle is located in Via San Gregorio Armenio. Thus, do not miss it if you have not tried sfogliatelle yet or want to sample another one while in Naples.
Via dei Tribunali
Why it is special: iconic street known as pizza street is full of life.
Opening times: 24/7.
Time required: 30 minutes or longer if you stay for another pizza or a drink.
Via dei Tribunali is a decumanus major (east-west oriented main road) following the ancient Greek-Roman axis. Also known as pizza street, Via dei Tribunali is unmissable on any Naples itinerary as it is one of the most famous and lively avenues in the city!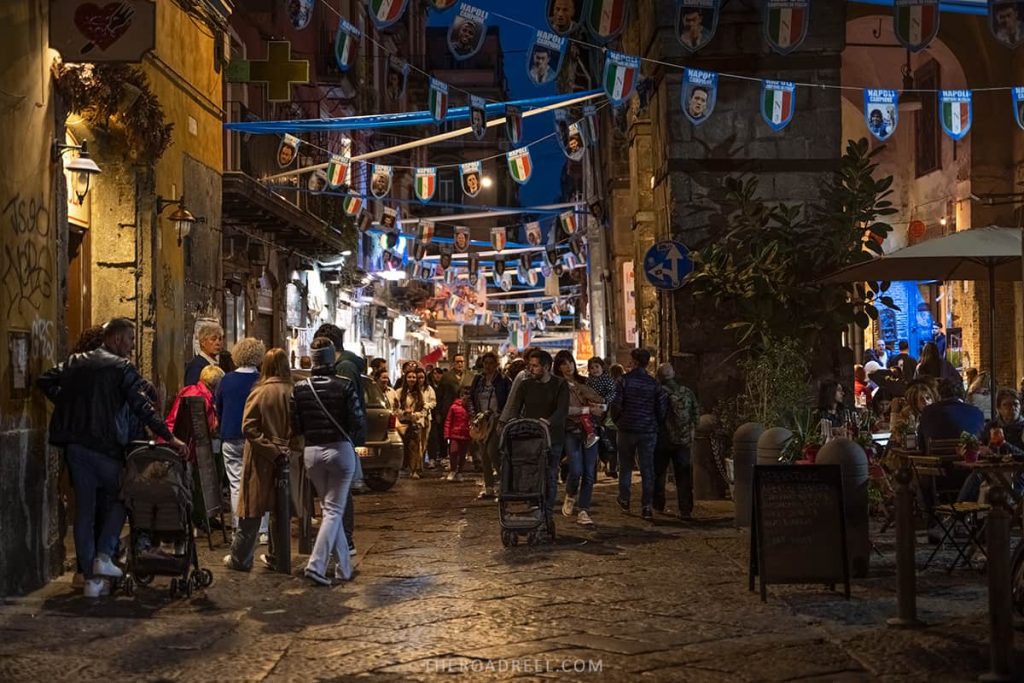 The lively and never sleeping ages old narrow-cobbled street handles more than its size has been made for. Not only people but also scooters and even cars try to make their way in a chaotic movement dodging street vendors, coffee shops, and restaurants.
Alongside this chaos, you will also come across some of the most important historical monuments such as Naples Cathedral and San Lorenzo Maggiore Basilica.
Via dei Tribunalli runs parallel to Spaccanopoli and can be also reached from Via San Gregorio Armeno.
Talking about pizza
in Via dei Tribunali, you will find the famous Pizzeria Antonio e Gigi Sorbillo. This popular pizzeria often has a long line. However, just a couple of hundred meters away Pizzeria dal Presidente (named after Bill Clinton's visit) is a great alternative. 
A must to mention is L'Antica Pizzeria da Michelle, THE MOST FAMOUS PIZZERIA in Naples, which is 10-minute walk southeast of Via dei Tribunali. The pizzeria was a set scene for Juliet Roberts movie "Eat, Pray, Love" and now every tourist wants to eat there. Regardless of the fame, the quality does not disappoint, and the prices pleasantly surprise. In L'Antica Pizzeria da Michelle pizza costs around 5 euros.
The downside, as you may guess, is the enormous queues, especially if you want to sit inside the restaurant. Often the waiting time reaches 2 hours. Luckily, take away option is there and is a good time-saver (still you may have to wait for 30 minutes).
Naples Cathedral (and Capella San Gennaro)
Why it is special: the largest and most important church in Naples.
Entrance: free.
Opening times: 8 AM–2:30 PM, 4:30–7:30 PM Mon-Fri, 8 AM–1:30 PM, 4:30–7:30 PM Sat-Sun
Time required: 15-20 minutes.
One of the important architectural and religious sites you might want to add to your Naples itinerary is Naples Cathedral (Cattedrale di Santa Maria Assunta), also known as Duomo which is the largest church in Naples and the seat of the archbishop. The Neo-Gothic exteriors of Naples Cathedral are elegant but rather minimalistic in comparison to more ornate Baroque facades seen around the city. Yet the interior is more awe-inspiring combining styles of three different eras- Gothic, Neo-Gothic, and Baroque.
Interesting to know. The vial of the blood of Saint Januarius (San Gennaro is the patron saint of Naples) kept inside the Chapel of San Gennaro is surrounded by mysteries. 3 times a year sacred festivities take place in Naples. During those days the blood is expected to liquify. If the blood stays solid during the sacred day, it means a disastrous time is awaiting Naples.
6 PM: Stroll along Lungomare Caracciolo for sunset
Why it is special: a promenade winding by the sea perfect for watching the sunset.
Time required: 1-2 hours.
An alternative location to watch the sunset in Naples with a fantastic panorama is Lungomare Caracciolo promenade which stretches along the Naples coast. Named after Admiral Francesco Caracciolo, a national hero of the Neapolitan Republic, Lungomare starts at Via Acton and crosses many areas, including the "fancy" neighborhood of Chiaia known for luxury stores and nightclubs.
However, the highlight of the Lungomare is the sea views with Mount Vesuvius in the background and the oldest fortification in Naples-Castel del'Ovo.
One of the main Naples attractions, Castel del'Ovo proudly sits on a small peninsula jutting into the Gulf of Naples. Translated as "the egg castle", fortification is tied to the legend of a secret egg that was hidden in the foundation of the castle. Breaking the egg would mean a catastrophe not only for the castle but for the city of Naples. Years go by, and Naples still stands strong, thus, the egg is apparently still whole.
Unmissable is a monumental 17th-century Fontana del Gigante (the Fountain of the Giant). The decorative piece of Mannerist art has been moved around the city multiple times until it was permanently set in a picturuesque position against the Bay of Naples, near Castle del'Olvo. A selfie or two here is a must for many tourists.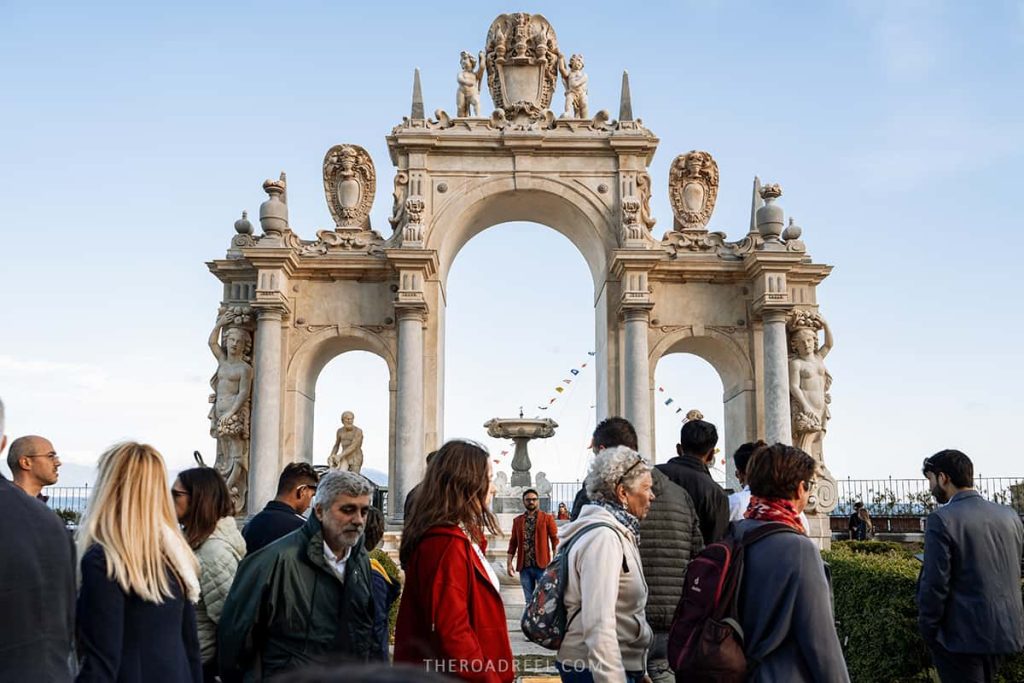 Lungomare is a busy and popular place in Naples- families, friends, couples and the elderly enjoy evening passeggiata along the Lungomare Caracciolo.
The promenade is lined with restaurants and bars, some of them are just low-key outdoor bars with a prime view of Mount Vesuvius. You can choose to have dinner at Lungomare in one of many restaurants.
How to get to Lungomare from Centro Storico? You can easily walk for around 35 minutes from Centro Storico to the seafront promenade. If you feel like you had enough footwork today, then you can catch tram 151 from Marina Duomo tram station to Vittoria station in Lungomare. The journey will take 20 minutes.
2 days in Naples itinerary map
For your convenience, the best things to do in Napoli in 2 days and areas to explore are indicated on the Naples map below. 
This wraps up your 2 days in Naples itinerary. If you are still considering taking a day trip from Naples, you may take a ferry to Procida for half a day to have a short respite from the madness.
Naples in 2 days Top 5 tips
Book accommodation early. The best hotels in Naples get reserved fast. As an example, I traveled during the shoulder season in May and struggled to find great value vs quality. accommodation when trying to book even 3 weeks before the trip.
Book your tickets. Some of the attractions in Naples are very popular and get booked out early. Thus, I recommended reserving your ticket as mentioned in my guide to make sure you do not miss the activity.
Wear your most comfy shoes. This itinerary is designed for walking. Although Naples is not huge, there is enough ground to be covered for one day. Forget heels, sneakers are the way to go.
Make use of public transport. Since you are walking a lot during your two days in Naples, save some valuable time and rest your legs by taking an occasional public link. Trams, metro, and funiculars are the best means of transport. While taxis and buses might get stuck in crazy Naples traffic, thus avoid using them.
Dress code. Although you can wear whatever you like in Naples, note that you must cover your shoulders and knees when entering churches.
Ah, and you must try at least one pizza in Naples!
More Italy travel guides
Italy Travel Essentials & Useful Links
Here are links to essential travel resources and services I always use when organizing my trips.
I hope you are enjoying my free travel guides & tips. You may support my work by using any of the affiliate links on this post to plan your own trip at no extra cost to you, or just buy me a coffee so I can continue creating more useful content from my favorite coffee shop in town. Thanks!