If you only have 2 days in Amalfi Coast, and wonder how to plan your time efficiently in one of the most beautiful places in Italy, here you will find exactly that. In this post, I share my 2 day Amalfi Coast itinerary that I personally completed and can confirm it is doable.
Bathed by the serene Tyrrhenian Sea and dotted with over a dozen beautiful coastal towns, lemon groves, azure beaches, and serene hiking trails, the Amalfi Coast has an overwhelming number of sights to explore. That being said, choosing what to see and what to skip is no easy task.  Luckily some of the Amalfi Coast towns are clustered near one another. Hence, having only two days in Amalfi Coast you can still visit a few of them at a comfortable pace.
We spent 3 nights and 2 full days on Amalfi Coast on our 10-Day Naples to Calabria road trip. Read on to find out what to do in 48 hours on the Amalfi Coast, Campagna region, Southern Italy. Make sure to stick until the end of the post where I share some practical tips on planning your perfect Amalfi Coast itinerary and map.
Disclosure: This post contains affiliate links, which means that I may make a small commission at no extra cost for you if you make a purchase by clicking a link. It helps to keep my blog growing and filling up with detailed honest travel advice for you.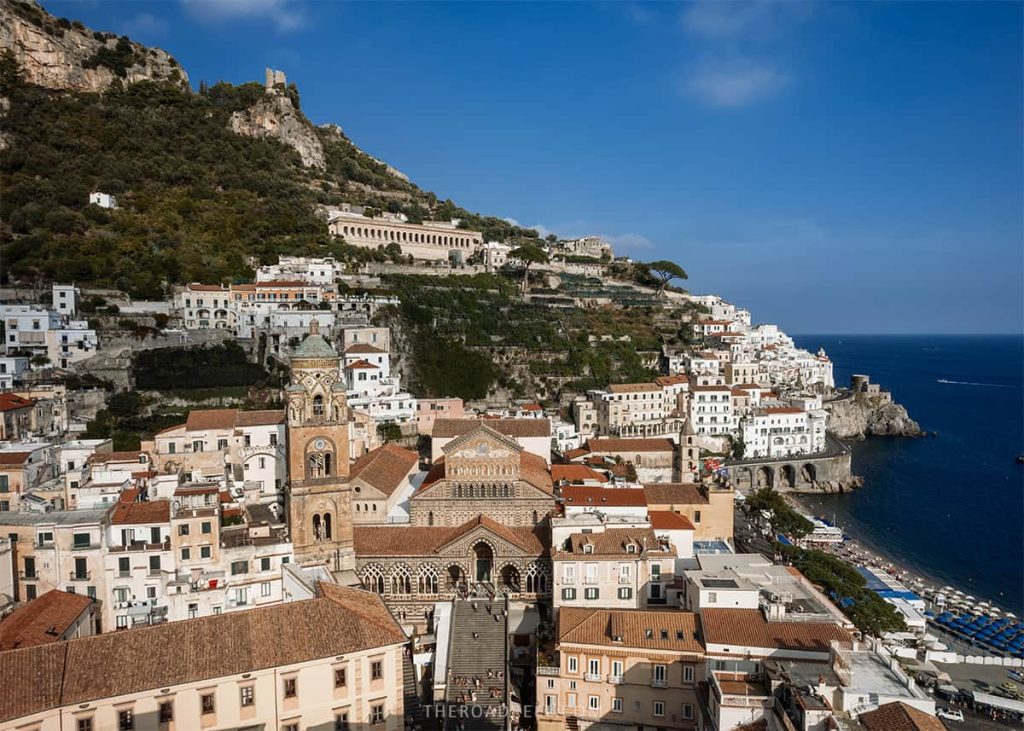 2 days in Amalfi Coast: travel essentials
These are quick links to travel resources for planning your visit to the Amalfi Coast.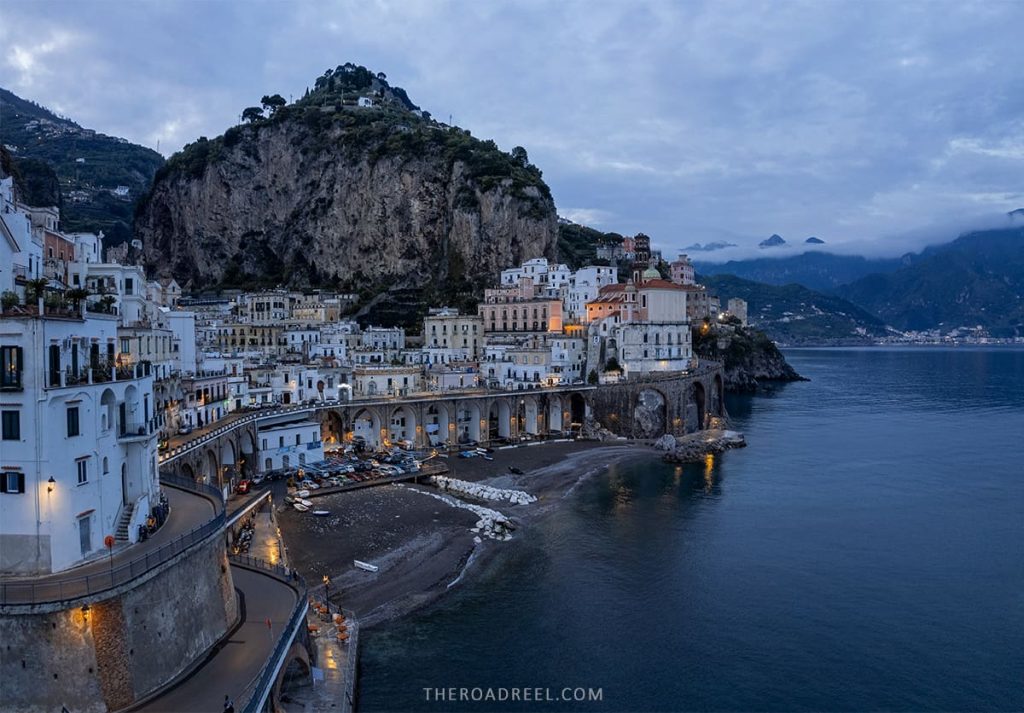 Amalfi Coast in 2 days: Overview
A beak down of Amalfi Coast 2-day itinerary:
Arriving on the Amalfi Coast from Naples (or elsewhere in Italy).
Day 1: Path of the Gods hike and explore Positano.
Day 2: Amalfi, Atrani, Ravello and/or Vietri Su Mare.
Departing the Amalfi Coast.
By following this 2 day itinerary on Amalfi Coast you will get a brief taste of Italian Dolce Vita and visit some of the most beautiful seaside towns, including iconic Positano and Amalfi. Moreover, you will even get to hike the Path of the Gods– one of the most beautiful hiking trails in Italy. If trekking is not your thing, I suggest alternative things to do on the Amalfi Coast.
Furthermore, I share handy tips on how to get around, where to stay and eat, a map of Amalfi Coast marked with sights to visit, and also some handy money-saving tips if you are traveling to Amalfi Coast on a budget.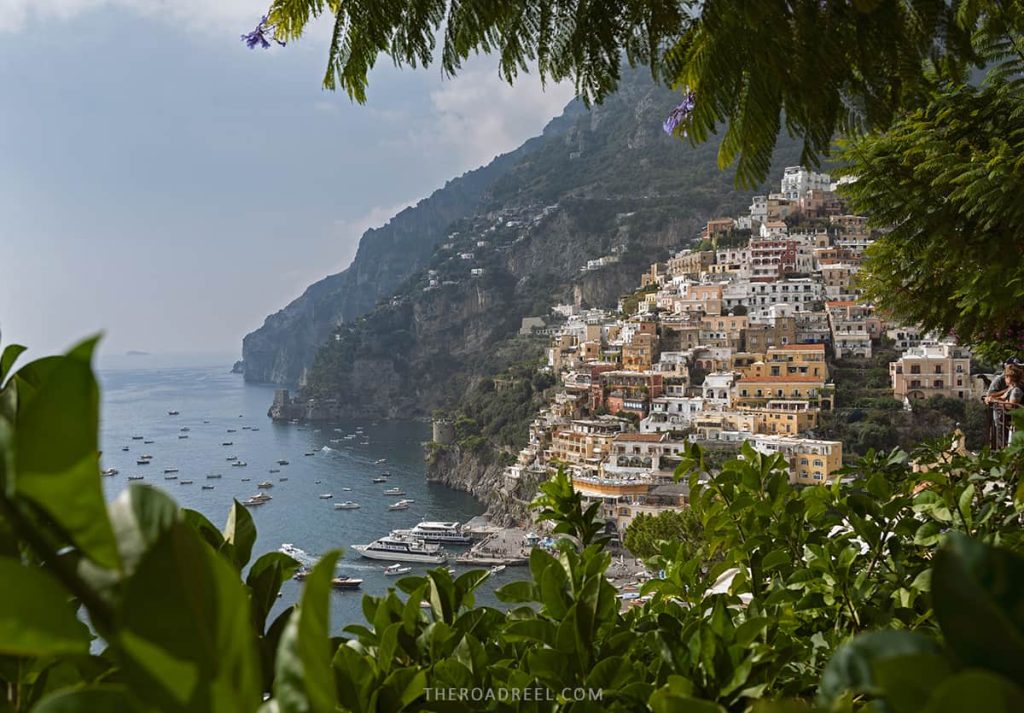 This particular 2-day Amalfi Coast itinerary is best to be completed within 48 hours (two full days). That being said, I recommend spending three nights on the Amalfi Coast. Nonetheless, you could also visit sights mentioned on this itinerary within less than two days if you arrive at the Amalfi Coast early morning, or leave late in the evening the next day.
You can also swap the two days around if that is more convenient. I would recommend keeping the sights included in each of the days as suggested for the best logistics. We arrived at Amalfi Coast from Naples in the evening, therefore our itinerary only started the next morning. If you arrive early morning, then you better off starting your route on the Amalfi Coast by visiting sights suggested on the second day.
Related article: make sure to check my detailed guide on How to get from Naples to the Amalfi Coast by public transportation.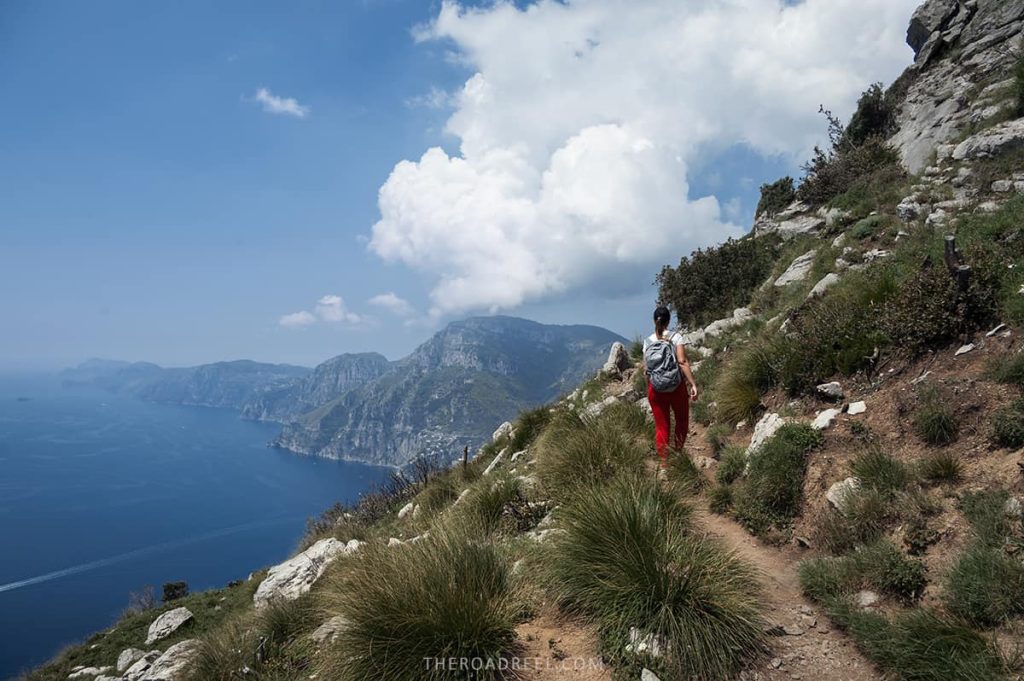 2 day Amalfi Coast itinerary: day-by-day
Here is a detailed breakdown of our 2 day Amalfi Coast itinerary.
DAY 1 on the Amalfi Coast
Hike Path of the Gods above Amalfi Coast (Sentiero degli Dei trail)
On your first day out of two days on the Amalfi Coast, I recommend getting active and hiking one of the most beautiful trails in Italy- the Path of the Gods (il Sentiero degli Dei). It was a highlight of our trip to the Amalfi Coast. This iconic trail offers sweeping views over the Amalfi Coast, Sorento Peninsula, and seaside towns dotting the craggy landscape (Praiano and Positano).
The trail starts in the village of Bomerano (near Agerola where we stayed) and winds high through the mountains to the village of Nocelle.
While many people stop here, I strongly recommend extending your hike and descending over 1500 steps down to Positano. In this section, you will be rewarded with even more beautiful views over the famous coastal town, which you eventually reach and explore.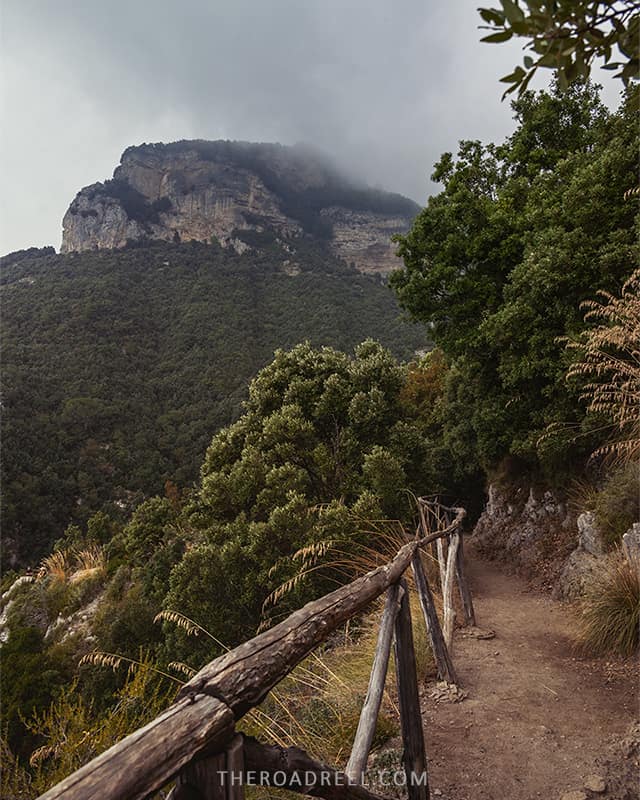 Hiking Path of the Gods is definitely one the best things to do on the Amalfi Coast for active travelers. If you are one of them, you will appreciate untouched nature and the beauty of the Lattari mountain range. Moreover, the difficulty level of the trail is considered easy to moderate. Therefore, almost any age group of people can do it.
Logistics to get to the trailhead, however, requires a bit of planning. That being said, I have written a very detailed guide on How to hike the Path of Gods on the Amalfi Coast.
Top tip: at the end of the hike in Nocelle you will come across a rustic sandwich and granita bar with a fantastic view. Take a break there and have a delicious panini, coffee, or orange and lemon granita. Prices there are very affordable and it will definitely feel like a reward after the hike.
Related article: make sure to read my Detailed guide to hiking Path of Gods in Amalfi Coast.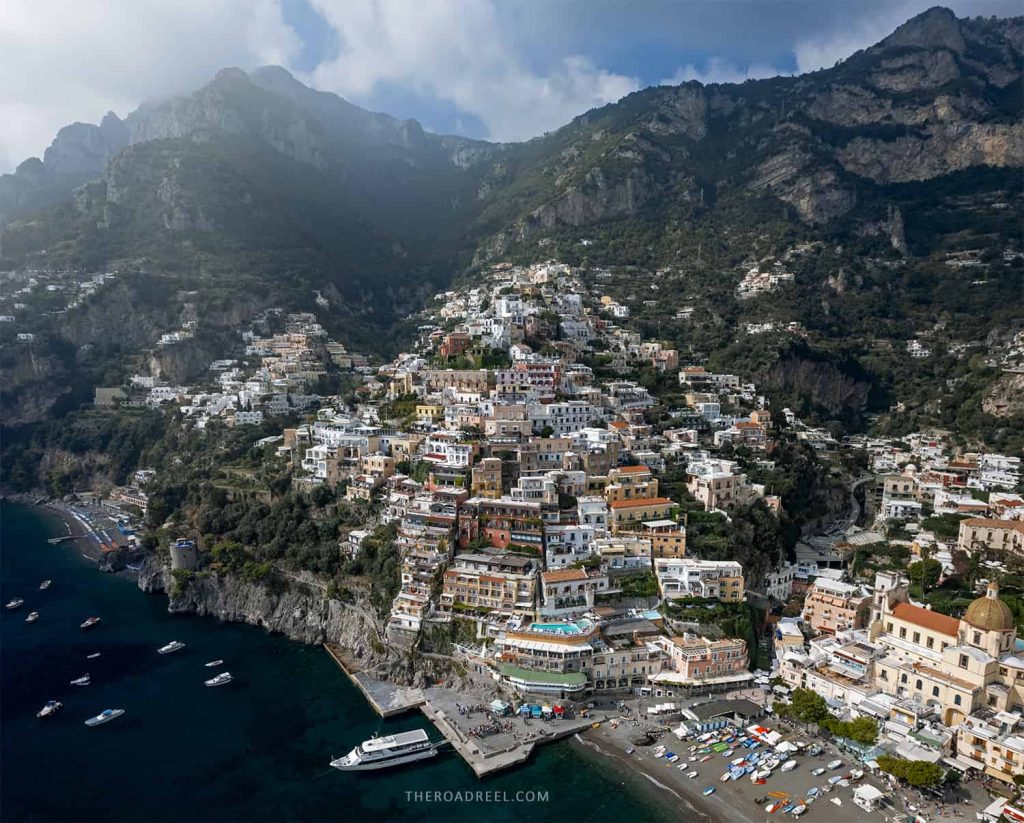 Visit Positano- the postcard child of Amalfi Coast
A great way to shoot two birds with one bullet (metaphorically speaking) is to combine the Path of the Gods hike with a visit to Positano- the most famous town on the Amalfi Coast. Once you finish the hike, you either can descend down to Positano through the stairs, or, if you feel tired, and want to save energy, catch a bus from Nocelle to Positano (bus stop marked on the map).
Positano town is famed for its colorful cliffside houses and insta-perfect panoramic views over the Mediterranean Sea. It is definitely the ultimate and most famous destination on the Amalfi Coast and hence the most touristy one. That said, the center of the action revolves around Amerigo Vespucci Square, Positano port, and its beach, as well as narrow alleyways that connect to them.
In that area, the quietest place you can find is the interiors of Chiesa di Santa Maria Assunta church, which dominates the landscape with its green and yellow tiled majolica dome.
On the busy streets of Positano, you will get dizzy by countless boutiques selling eye-catching colorful ceramics, clothes, and various souvenirs, including Limoncello liqueur famous in this part of the region. The restaurants in Positano are very tourist-oriented and heavily overpriced. We did not dine at any and instead ordered pizza and gelato in some bar.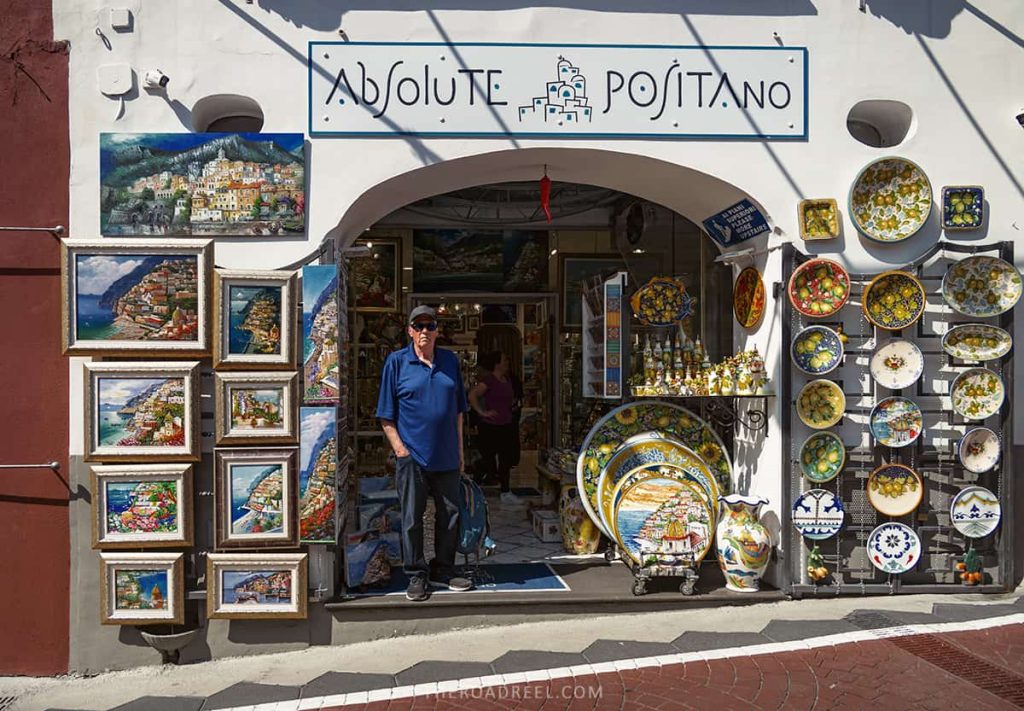 While in Positano, if you want to avoid crowds that gather around the port area, you will have to do some additional climbing. Continue west towards Sorrento and explore the streets that ascend the hill. You will get some beautiful perspectives of the town.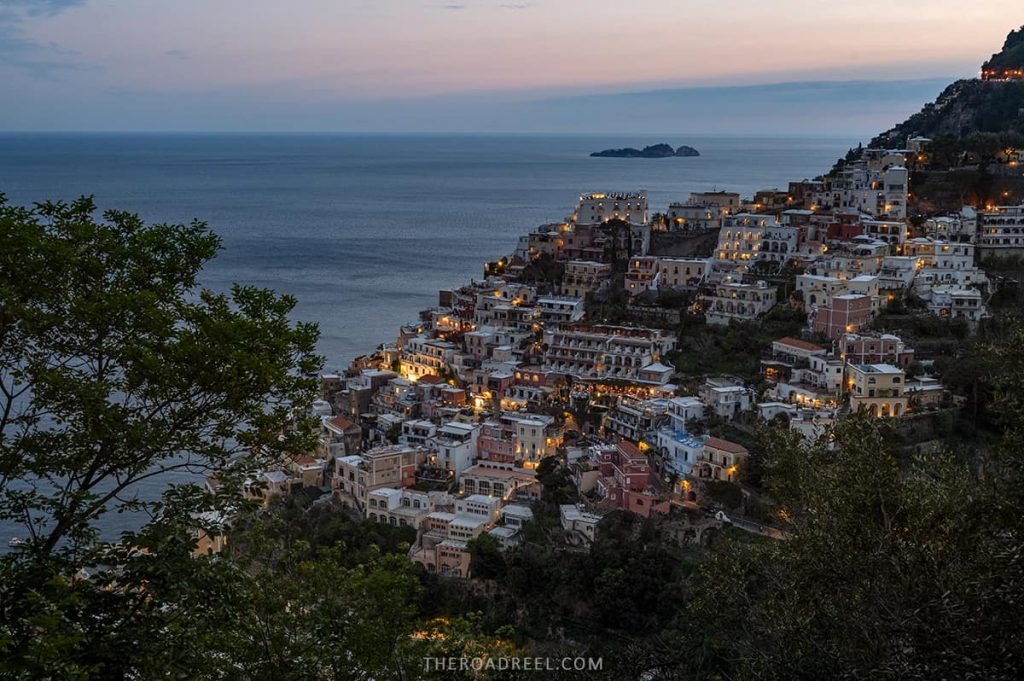 If you feel like swimming, instead of squeezing like a sardine in the can in the crowded main Positano beach (Positano Spiaggia), head to Fornillo beach which is only a 10-minute walk. It is much nicer and quieter there. You can also choose to rent a parasol or stay in a free public section. Note though that water in Positano and in Fornillo is not clean due to hundreds of yachts docking the port.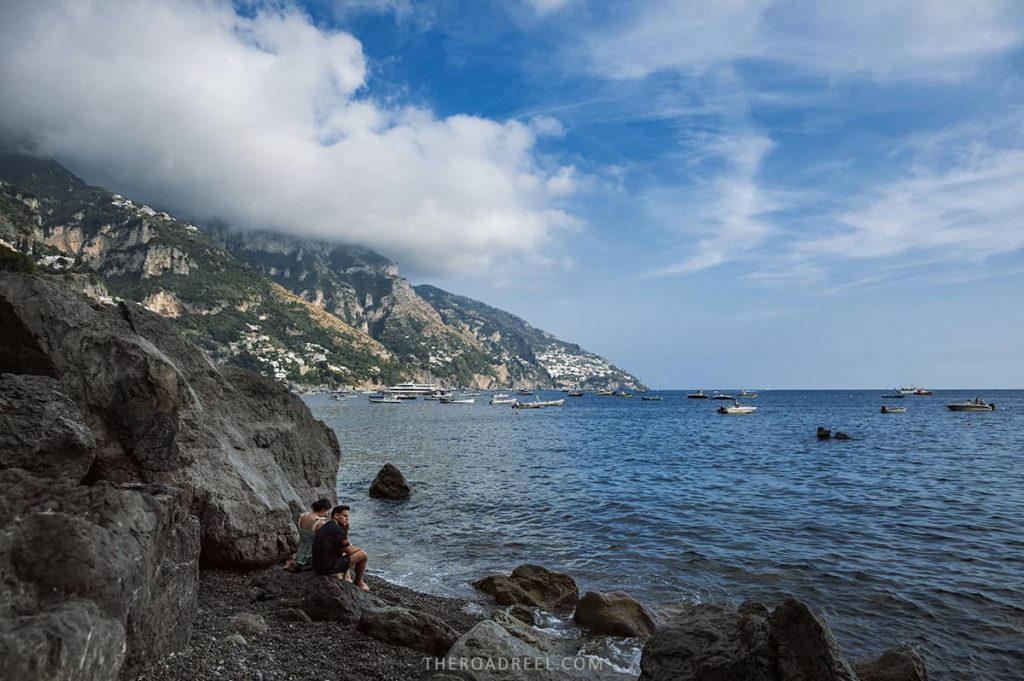 Top tip 1: Alternatively, you can go on a boat ride and observe Positano and Amalfi Coast from the perspective of the sea. It is a popular activity and many people love it as it takes you away from the crowds and you can enjoy swimming in cleaner waters away from the port with fantastic views of Positano and the coast. You can pre-book your boat tour through Getyourguide.
Top tip 2: If renting a private yacht is out of the budget, then I still strongly recommend taking a regular ferry from Positano back to your accommodation. It is reasonably priced (10 EUR from Positano to Amalfi) and allows you to witness the magical Amalfi Coast from the perspective of the sea. Moreover, taking a ferry is a much faster way to commute than taking a slow and crowded SITA bus.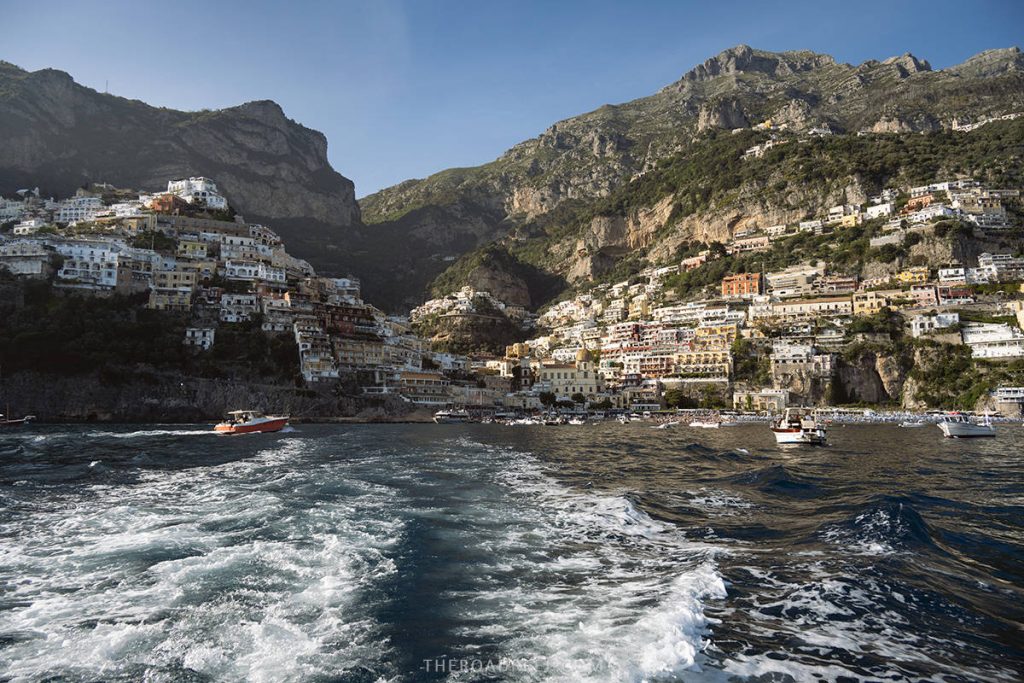 Is it worth visiting Positano?
Positano is hyped up. To me personally, Positano was disappointing. But that has a lot to do with how crowded it is. Yet I felt like the town looks better in pictures than in real life (again maybe because of the crowds and overwhelming number of shops selling stuff you don't need). My impression of Positano ended up with the conclusion that it is much more beautiful from afar than it is in person. Hence, don't miss a boat ride.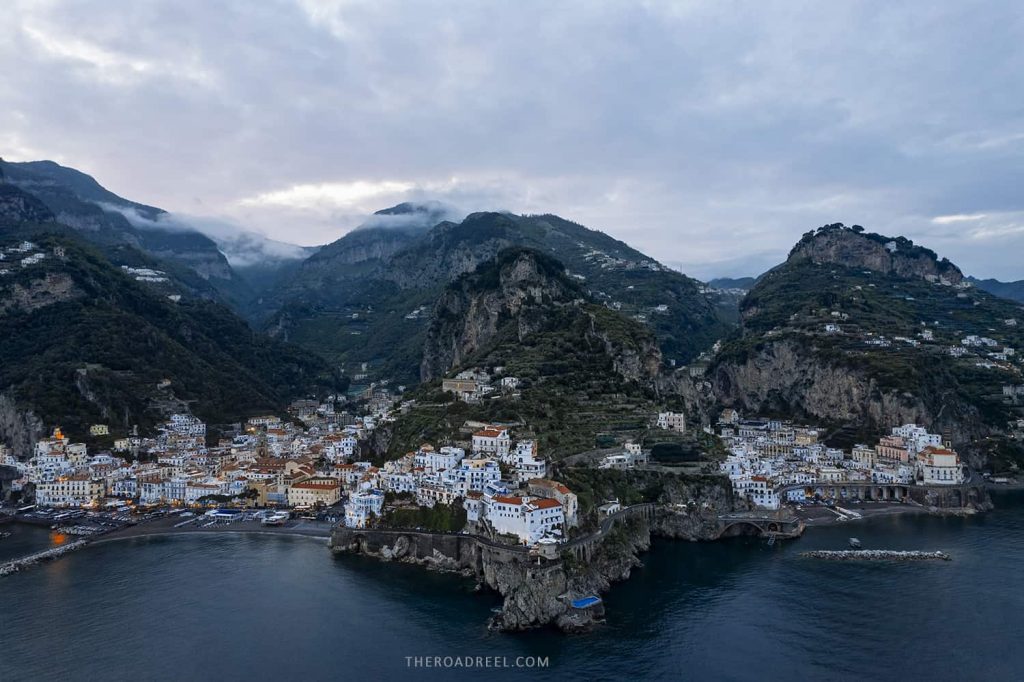 DAY 2 on the Amalfi Coast
On your second day of the two days on the Amalfi Coast, you will be exploring several small towns: Amalfi, Atrani, Ravello, and if time permits, Vietri sul Mare. Amalfi and Ravello are perhaps the most famous on this list, while Atrani (my favorite of all) and Vietri Sul Mare are somewhat hidden gems on Amalfi Coast.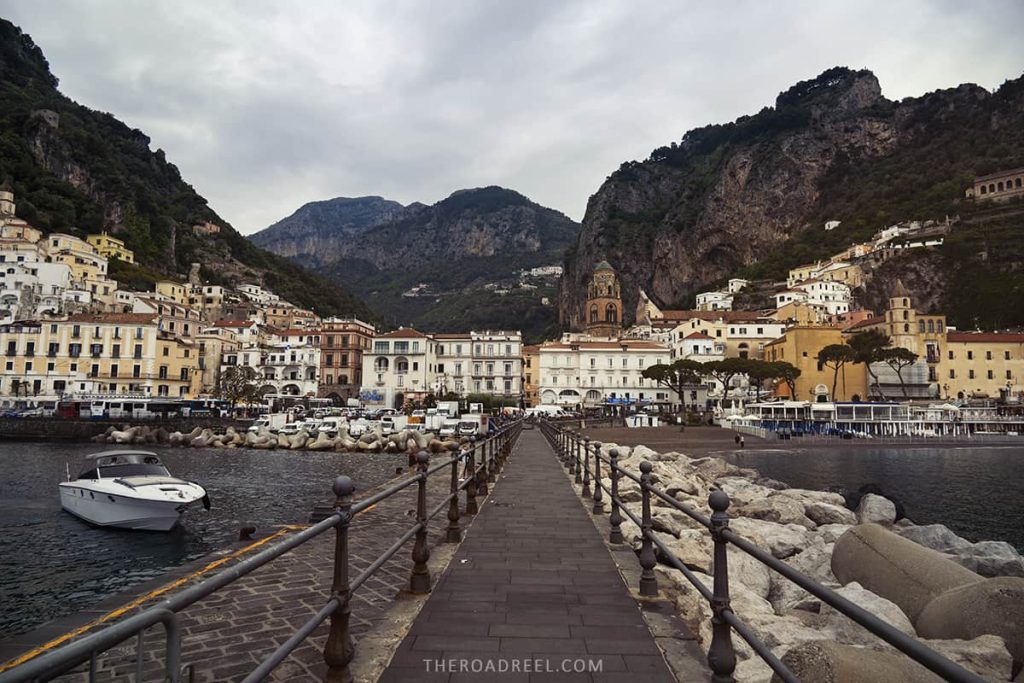 Visit Amalfi town, The Ancient Maritime Republic
Start your day early to beat the crowds and visit Amalfi town first (it shares the same name as Amalfi Coast).  The focal point of Amalfi town is its beautiful cathedral Duomo Cattedrale di Sant'Andrea. The square (Piazza di Duomo) gets very busy from 10 AM onwards, therefore coming early is crucial. Later on, you can explore the narrow streets of Amalfi, some of which lead to great views over the town (I have marked the viewpoint illustrated below on the map).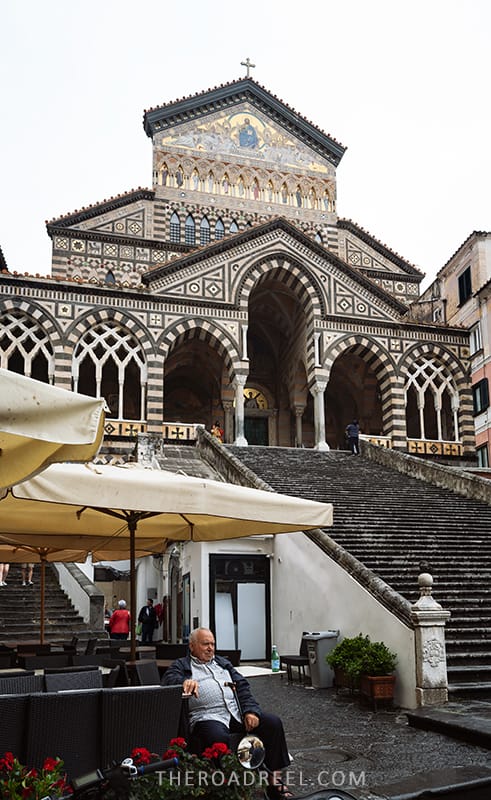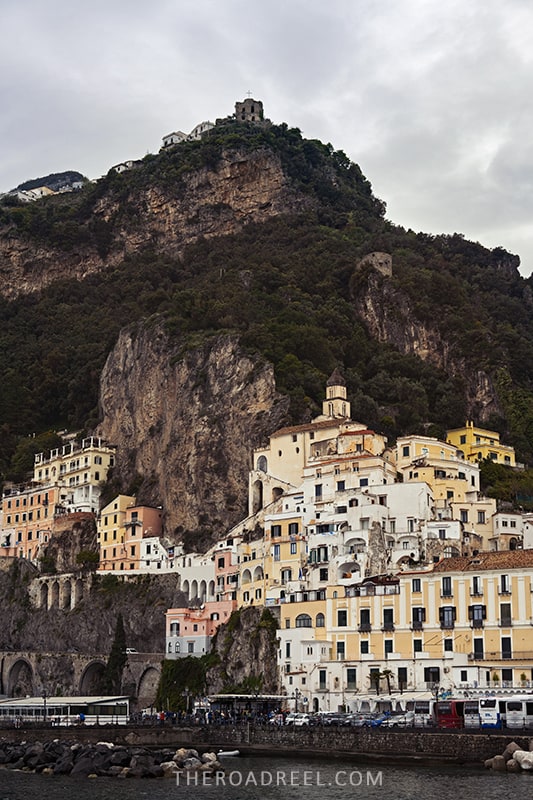 Tip: Amalfi town is also a great place to do some souvenir shopping. We bought very beautiful unique notebooks that were personalized with the initials of the person it was gifted for. Amalfi is known for its centuries-old handmade cotton paper that has excellent quality and also sustainable aspect to it. It does not fade and is also chlorine-free. We got our notebooks from Amalfi Tabula shop.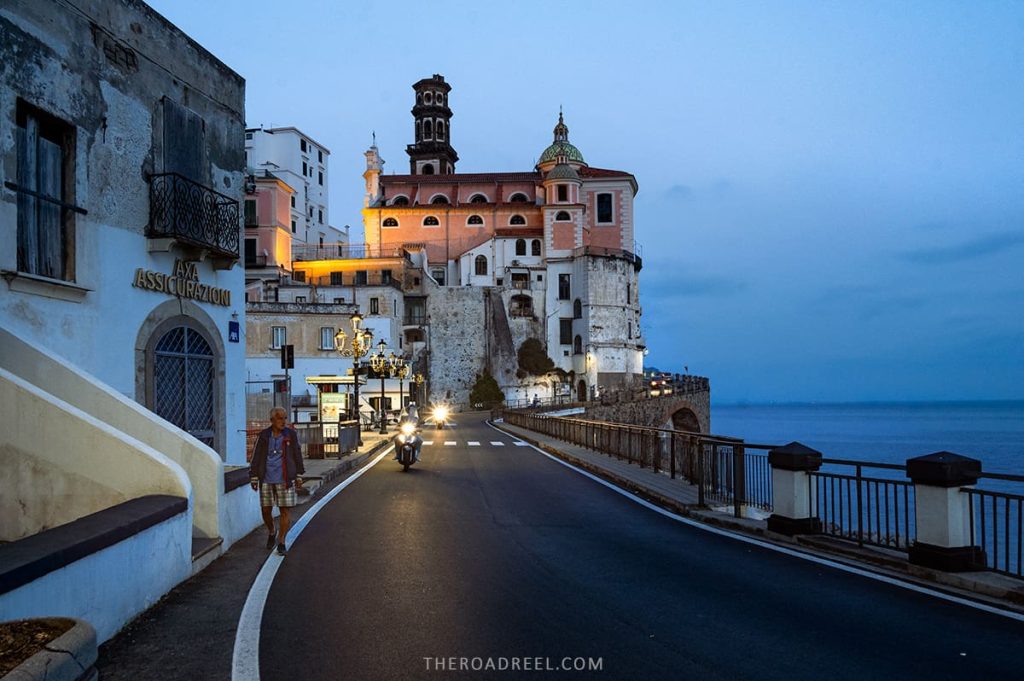 Visit Atrani- the most beautiful seaside town on the Amalfi Coast
A pastel-colored Atrani sandwiched between the sea and the cliffs is my absolute favorite town on the Amalfi Coast. Extremely picturesque and also very quiet (at least at the end of April and mid-October), Atrani is just a 10-minute walk from Amalfi. It feels like a different world. Not sure how this town managed to escape the crowds but I am delighted it did.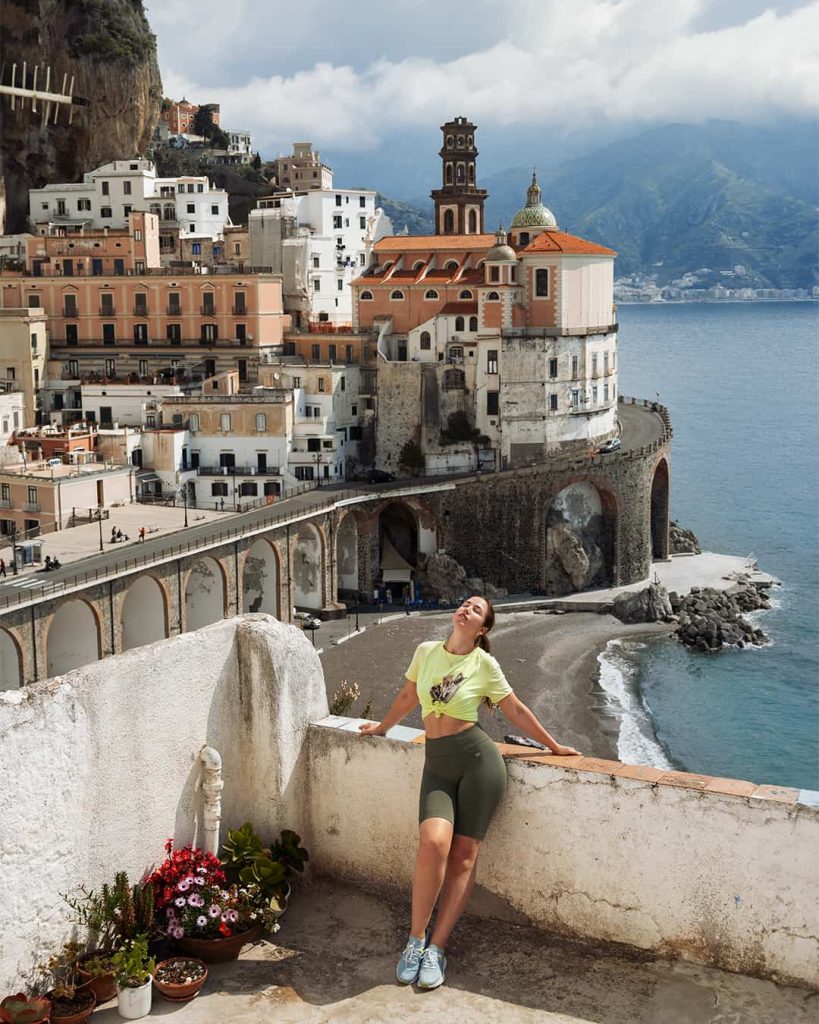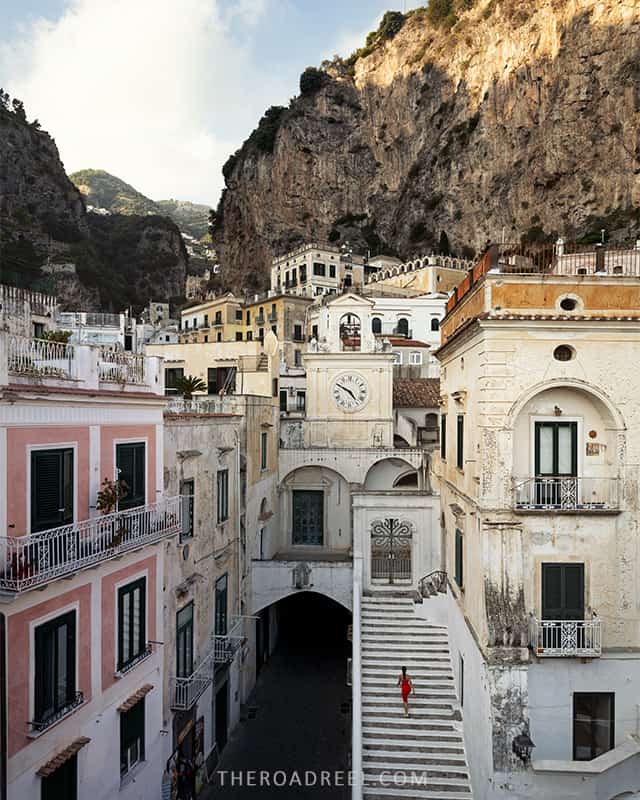 Again, some of the best things to do in Atrani are to explore the labyrinth of tiny alleyways some of which lead to hidden terraces with a picture perfect views, sip on cappuccino, and munch on pastry at one of the coffee shops in its main square Piazza Umberto I.
Also, do not miss the beautiful clock tower, and make sure to walk to the Collegiate Santa Maria Maddalena church that dominates that promontory. The church has a beautiful small plaza with a staircase from which you get more amazing views over the Amalfi Coast.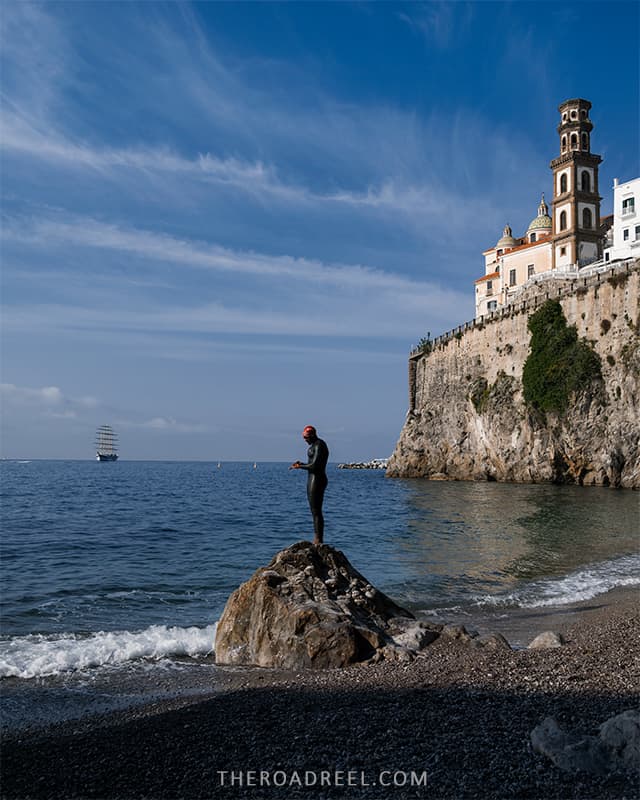 If you are looking for some downtime at the beach, then I recommend either staying on the main beach of Atrani, framed by the famous arches or making your way to Spiaggia di Castiglione (less than 10 minutes walk towards the direction of Salerno). The latter is a quiet beach and during our visit at the beginning of May, it was completely empty, even the section with paid parasols was not there yet.
Tip: to safely walk between the towns of Amalfi and Atrani, take a tunnel that connects them. Yet, if you choose to walk along the road, you will get some beautiful views of Atrani.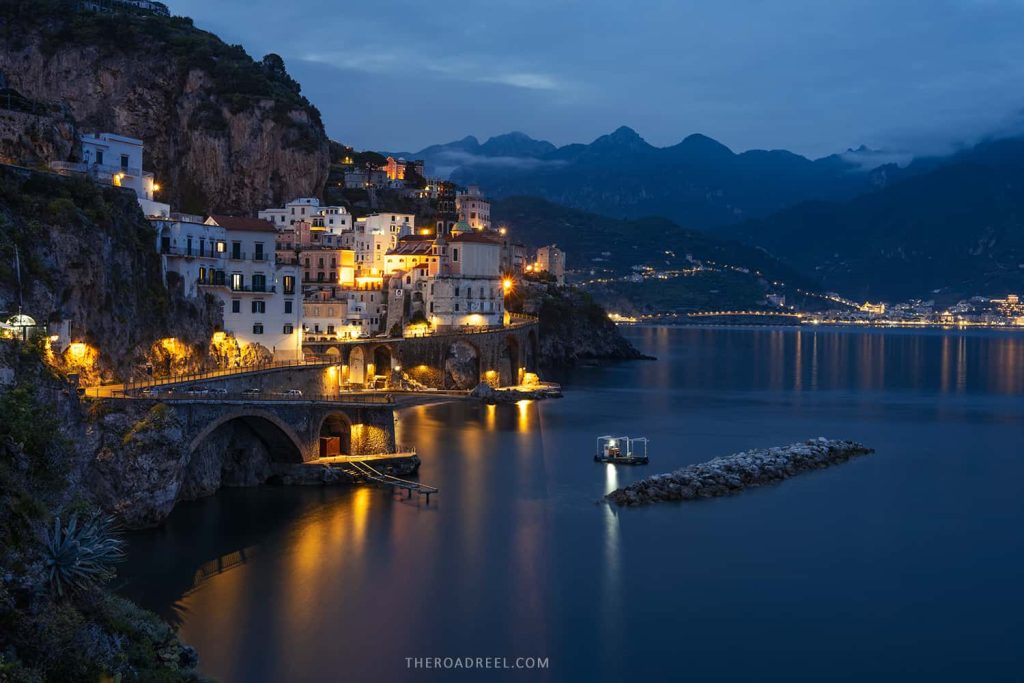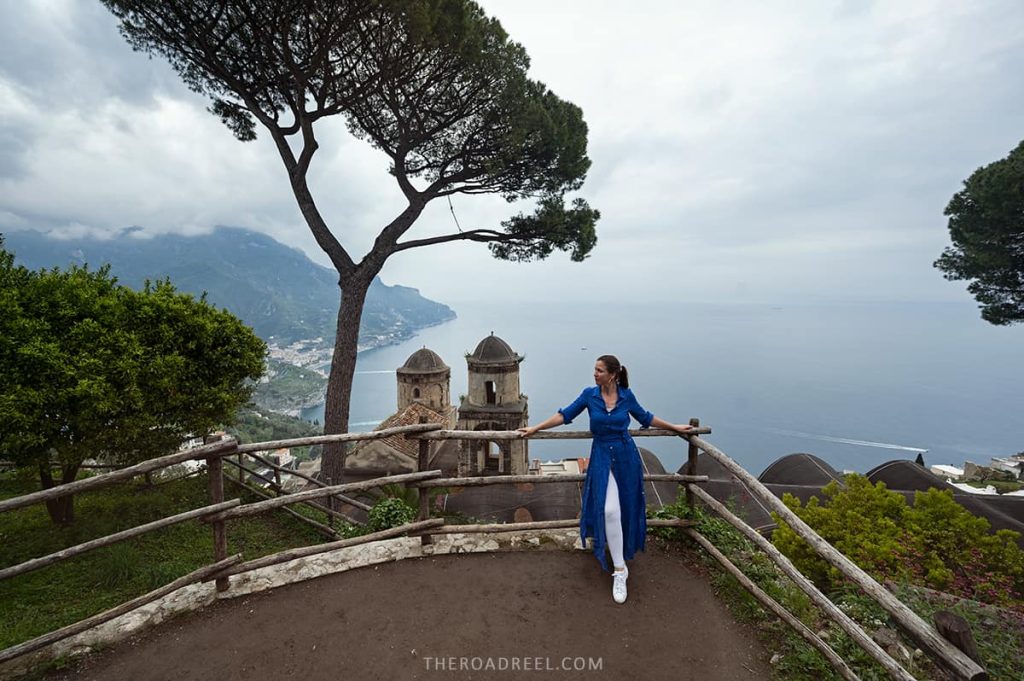 Visit Ravello- the hilltop town of music
Around lunchtime, I suggest grabbing a snack in Atrani before you catch a bus to Ravello. Atrani is more budget-friendly than Amalfi or Ravello.
To get to Ravello you will have to take a bus from Amalfi. The journey is around 30 minutes. The bus stop is located at the waterfront near the port, and the roundabout. It is easy to spot it as there are always a lot of buses.
Alternatively, you can choose to hike up from Atrani to Ravello. You can find indications directing to the town of Ravello when wandering the alleyways of Atrani. Note that the hike through the staircases is steep and might take you over an hour. Yet it can be a fun experience if the weather is suitable.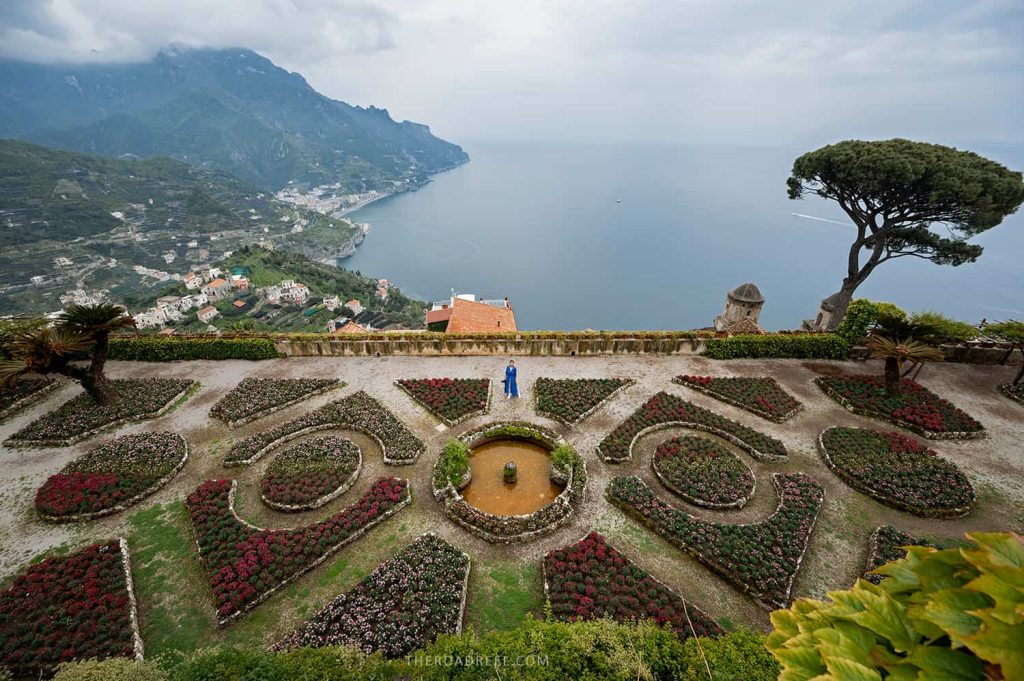 Once in Ravello, the highlights of this romantic but also very popular town are its villas with their gardens opening to majestic views over the Amalfi Coast. The two places not to be missed when visiting Ravello are the impressive 13th-century Villa Rufolo and the magnificent terraced gardens of Villa Cimbrone. Ravello is also renowned for its music festivals and is thus nicknamed "the town of music".
During our visit, we only had a chance to visit Villa di Ruffolo. It was a rainy day and we decided to cut our explorations short as it was pouring heavily. The rest of the town is also pretty but it is quite touristy and restaurants are overpriced.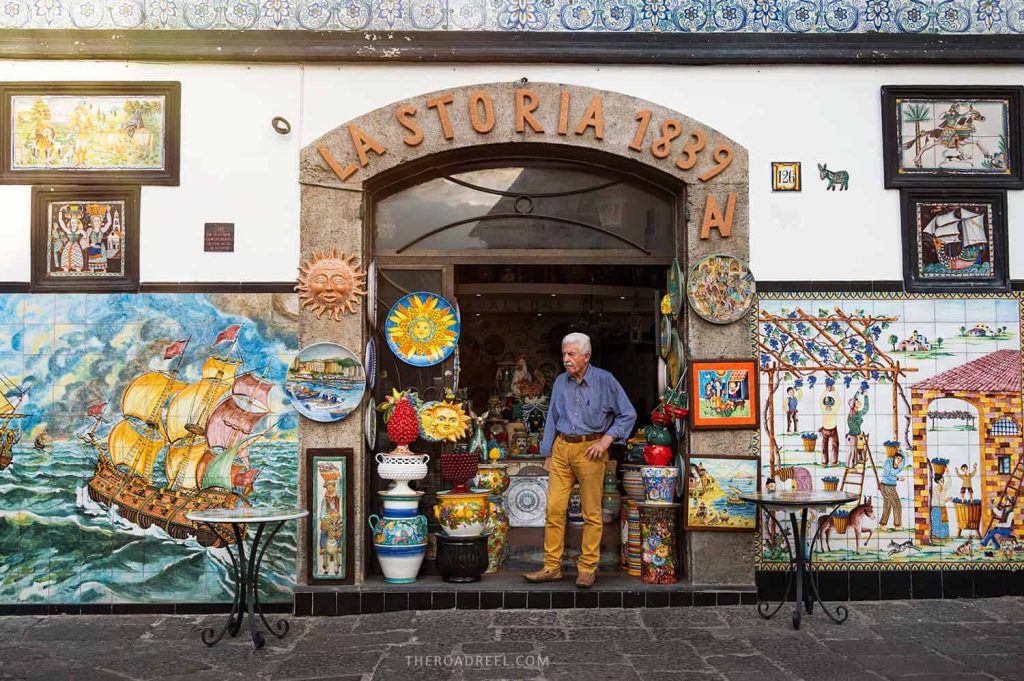 Visit Vietri Sul Mare
Vietri Sul Mare is the easternmost town on the Amalfi Coast located just before Salerno. It is known for its colorful ceramics and quirky streets. Also, Villa Comunale and its ceramic-tiled staircases. Vietri Sul Mare is also a somewhat off-the-beaten-path town on the Amalfi Coast. Thus, it is very well worth a visit if you still have time on your second day on the Amalfi Coast.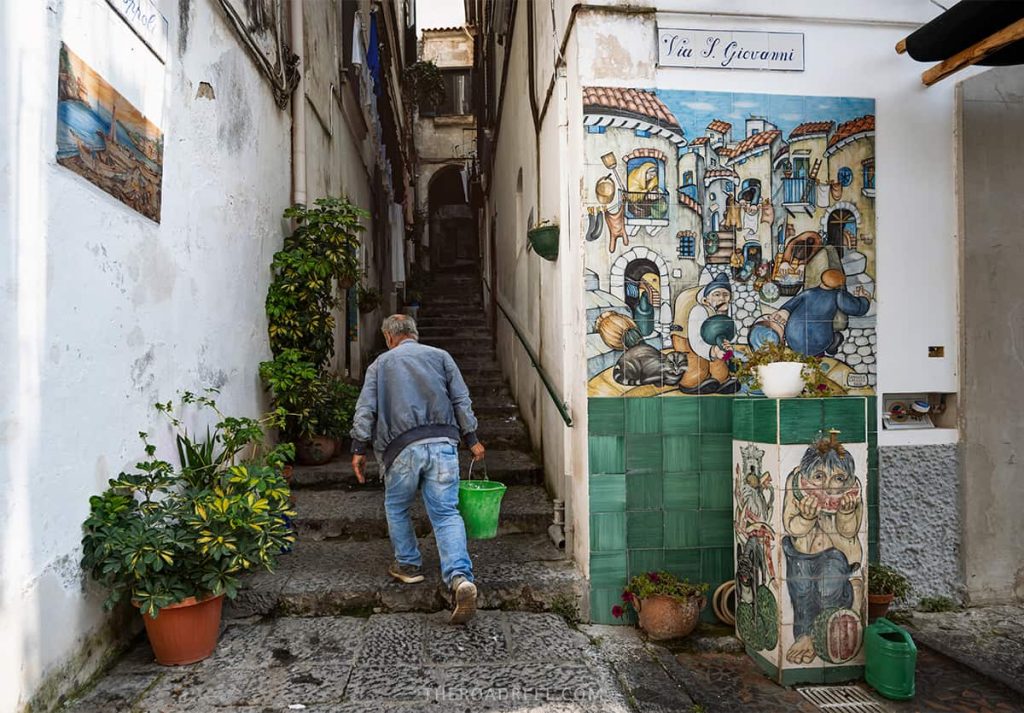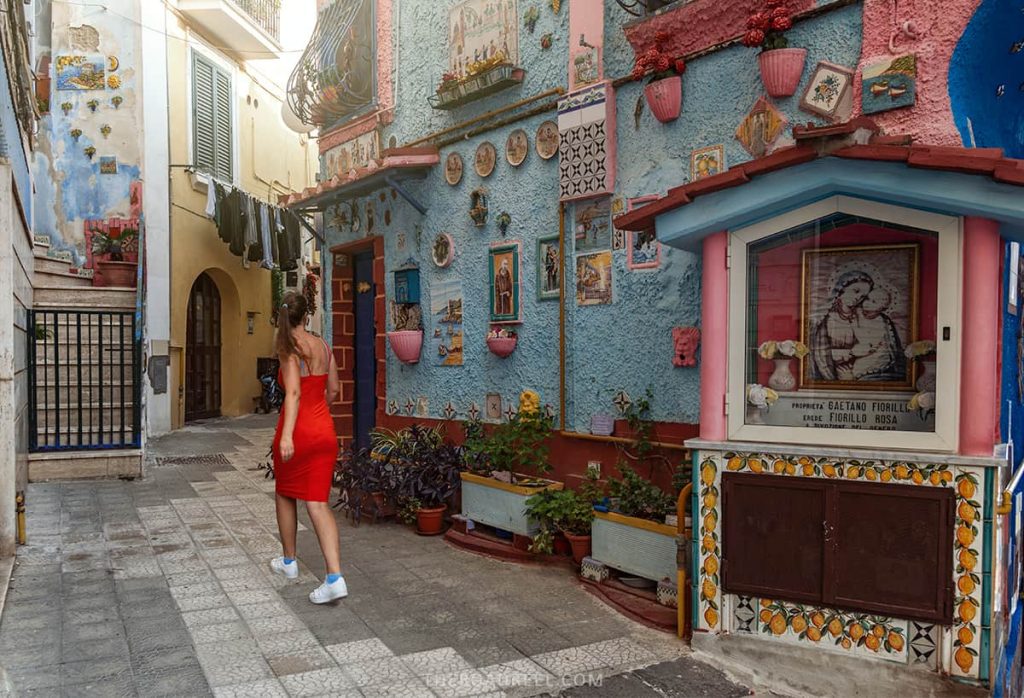 I strongly recommend taking a ferry from Amalfi to Vietri Sul Mare (you will first have to catch a bus from Ravello back to Amalfi). This way you will get to see the other side of the Amalfi Coast and a few little towns (Maiori, Minori, Cetaru) along the way, and also save tons of time as opposed to travelling by bus. The ferry ticket price is 8 EUR per person one way, and the journey is 50 minutes.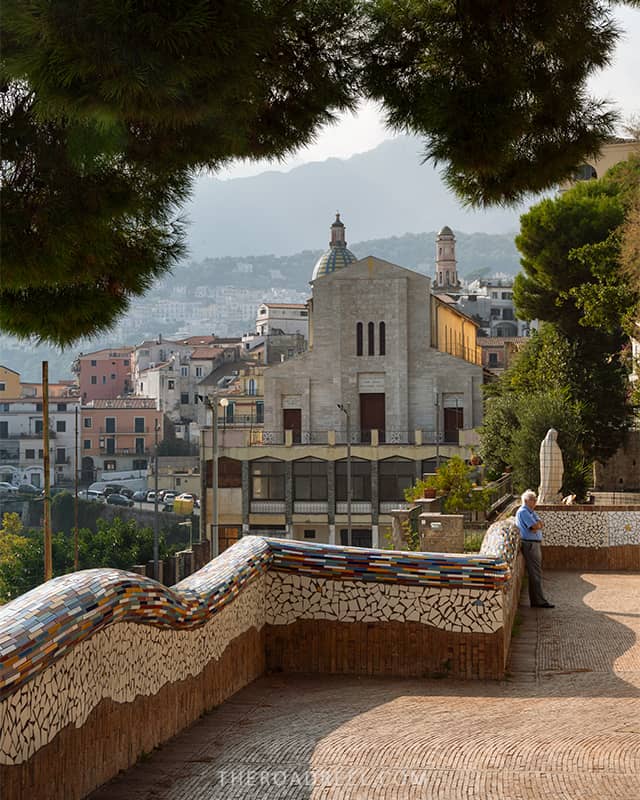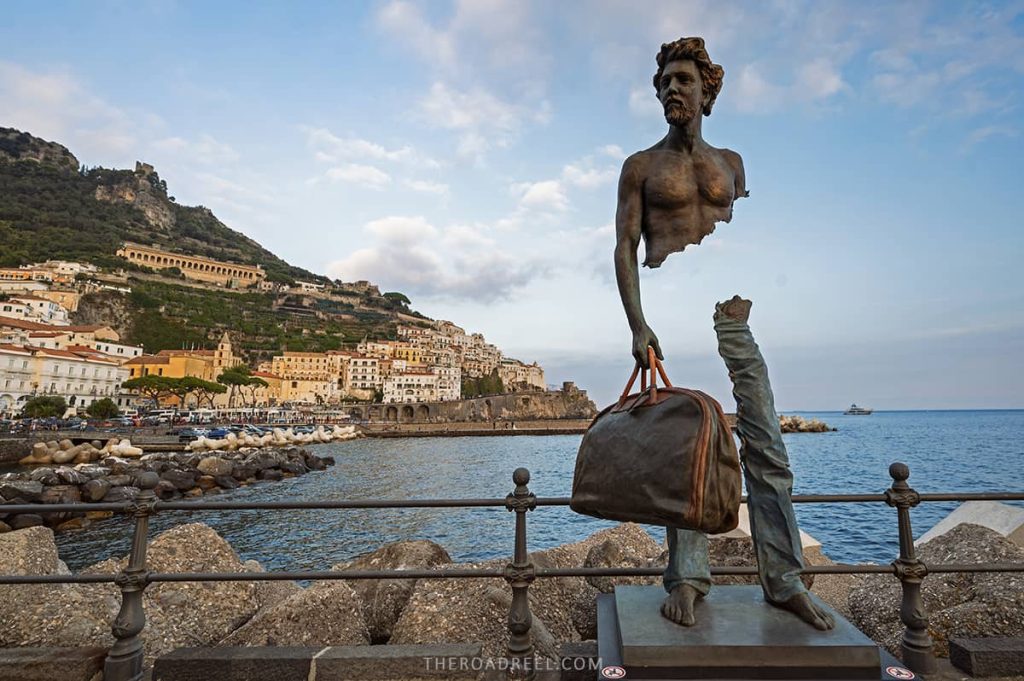 An alternative itinerary suggestion
If hiking Path of the Gods is not what you are keen on during your two days in Amalfi Coast, then as an alternative, you could take a boat from Positano to Capri Island and spend half a day there. For the rest of the half day, you could explore Positano.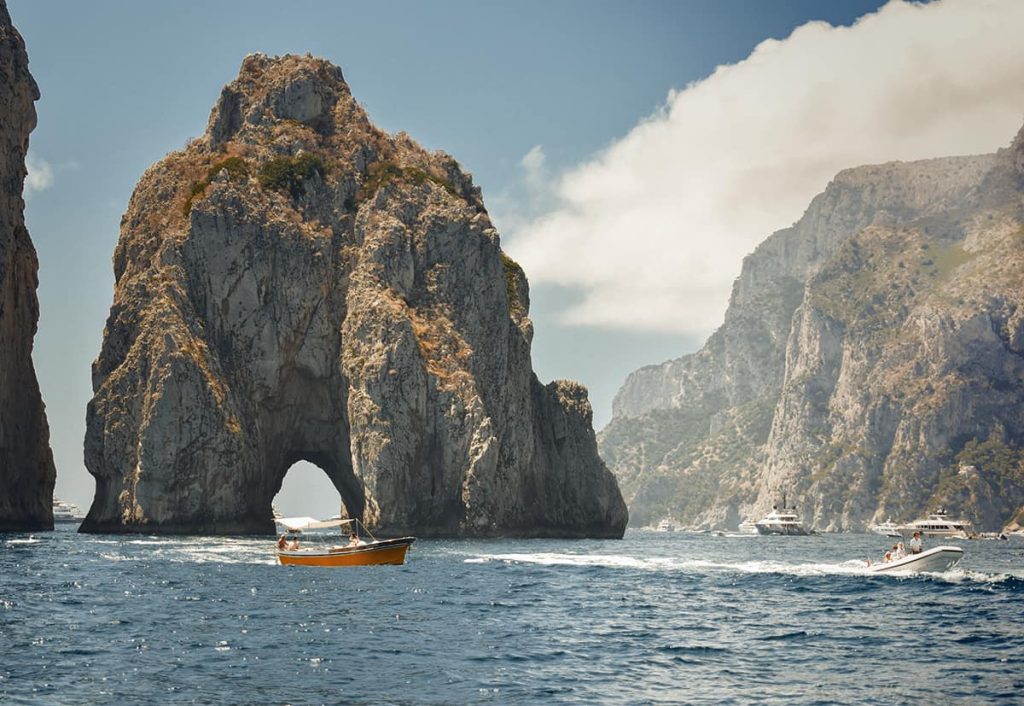 Also, you could choose to stay in Sorrento, the westernmost town, and visit Amalfi coast towns (Positano, Amalfi, Atrani, Ravello) either by ferry hopping or joining an organized tour. Sorrento is also an excellent base to depart from for a day trip to Capri. Sorrento itself has some nice spots you can visit nearby, such as Bagni della Regina Giovanna– a gorgeous cove framed by ancient Roman ruins. Several hiking paths are also available for exploring the surroundings.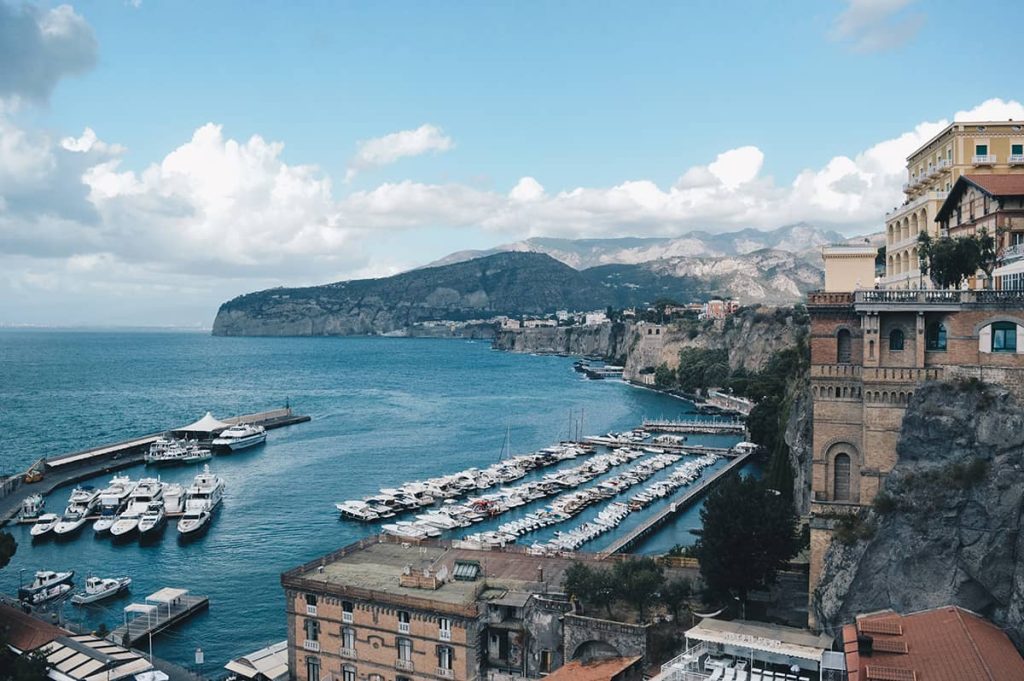 Travelers who base themselves in Sorrento also like to visit Pompeii as a half-day trip. However, with only 2 days on Amalfi Coast, I do not recommend that unless archeology and history are your passion and that is the only time you have to see Pompeii.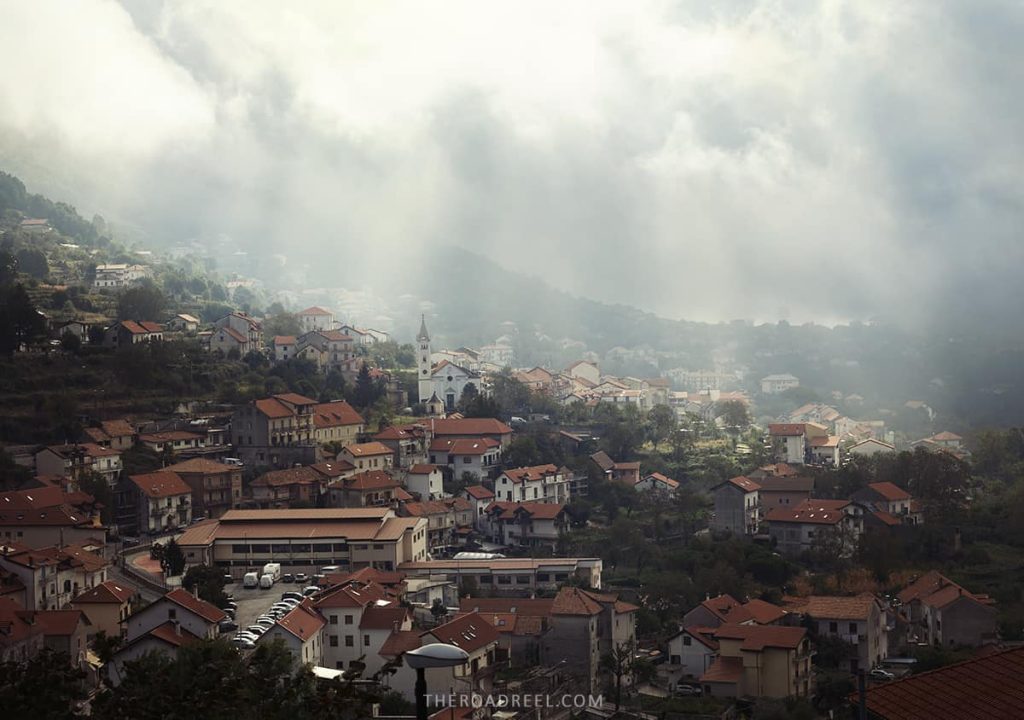 Where to stay on the Amalfi Coast for 2 days?
For this particular Amalfi Coast itinerary for 2 days, I recommend staying either in the coastal towns of Amalfi, Atrani or in Agerola which is located higher up in the mountain. The latter is where we stayed as we preferred to be close to the starting point of the Path of God's Hike (Sentiero degli Dei).
The down-to-earth Agerola turned out to be an amazing town boasting spectacular views over the Amalfi Coast. Agerola was so wonderful that we came back two more times and stayed in the same rental apartment.
Moreover, staying in one of the hilltop towns (except for the famous Ravello) is convenient if you drive and/or would like to save some money on hotels (free parking is offered by the majority of accommodations).
You could also choose to follow this Amalfi Coast itinerary from Positano. However, it is a very touristy and busy town. If you don't mind that and want to be out and about late, or are dreaming of staying in one of those pretty villas clinging on the cliff, then Positano might be a great base for you.
You can also find good accommodation options for 2 days on Amalfi Coast in Minori and Maiori. Those less popular coastal towns are beautiful and a little bit more budget-friendly than Positano and Amalfi.
That said, below are my recommendations for some great places to stay on the Amalfi Coast for 2 days (3 nights).
Book your accommodation early if you are travelling during the high season
I can't stress enough that booking accommodation on the Amalfi Coast early is crucial, especially if you are trying to save up some cash. The high season in the Amalfi Coast lasts longer than many other places in Italy. From my personal observations during multiple visits at different times of the year, the busy season in Amalfi Coast starts as early as April and finishes as late as October.
Where to eat during your 2 days on Amalfi Coast
Amalfi Coast is known for its high prices and tourist-oriented restaurants. During our trip, we ate dinners in Agerola, La Selva Restaurant which was an absolutely amazing and down-to-earth local pizzeria/tratoria.
We did not dine in Positano but I read online about a place called La Tagliata located high above the town. It boasts incredible views and apparently is highly rated by visitors. Note that getting there might require a bit of planning as it is outside the town. You would have to hop on a bus to Montepertuso.
For a nice pastry and cappuccino, we liked Bar Antico Café Vittoria in Atrani which is located in the main square.
Ideally, if you are visiting the Amalfi Coast on a budget, rent out an apartment with a kitchen- this will help you save quite a bit on meals.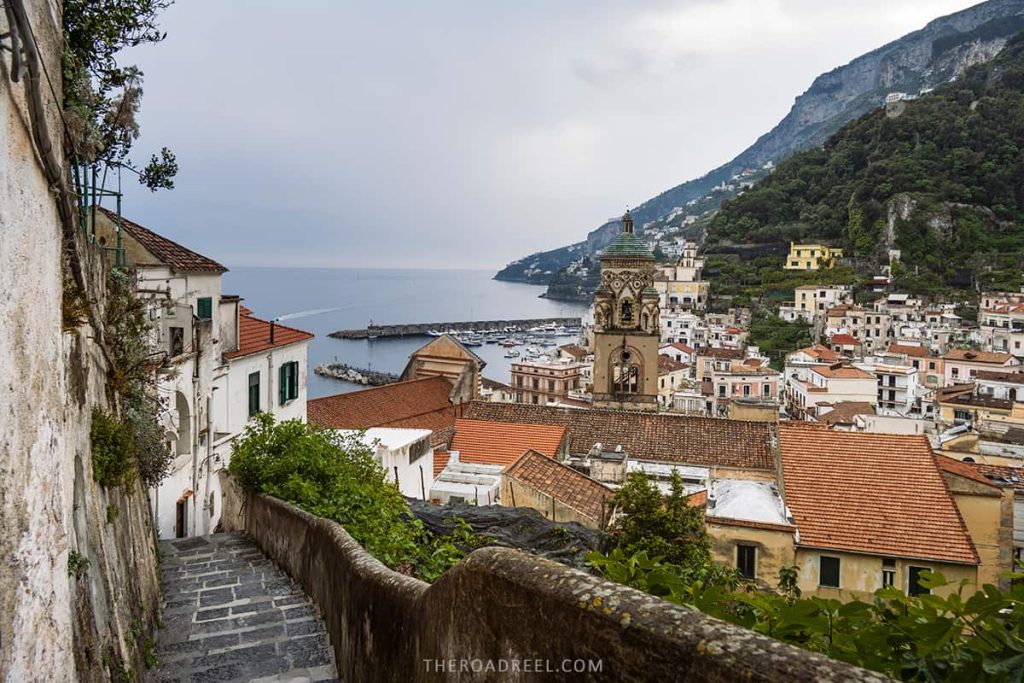 2 Days Itinerary Amalfi Coast Map
Below is an interactive map with all the locations mentioned in this post. You can save on your Google Maps.
How to use this map: you can zoom in and out the main screen. You can also click on the arrow on the top left corner to see the legend with the pinpoints. From desktop: click the star next to the title to save this map to your Google Maps account. To view the saved map later on your phone, open Google Maps app and go to "Saved", scroll down and click "Maps". From smartphone: click on "View larger map" on the top right corner and it will open on you phone.
Is 2 days on the Amalfi Coast enough?
If 2 days in Amalfi Coast is what you have, the great news is that you will still have enough time to see a few of the main highlights.
If you are able to extend your stay, then I would strongly recommend at least 3-4 days in the Amalfi Coast. You will have more time to explore either at a slower pace or travel faster and tackle almost all the main sights on the Amalfi Coast.
Meanwhile, 7 to 10 days on the Amalfi Coast is a great amount of time to explore this beautiful pocket of the Campagna region in Italy in depth.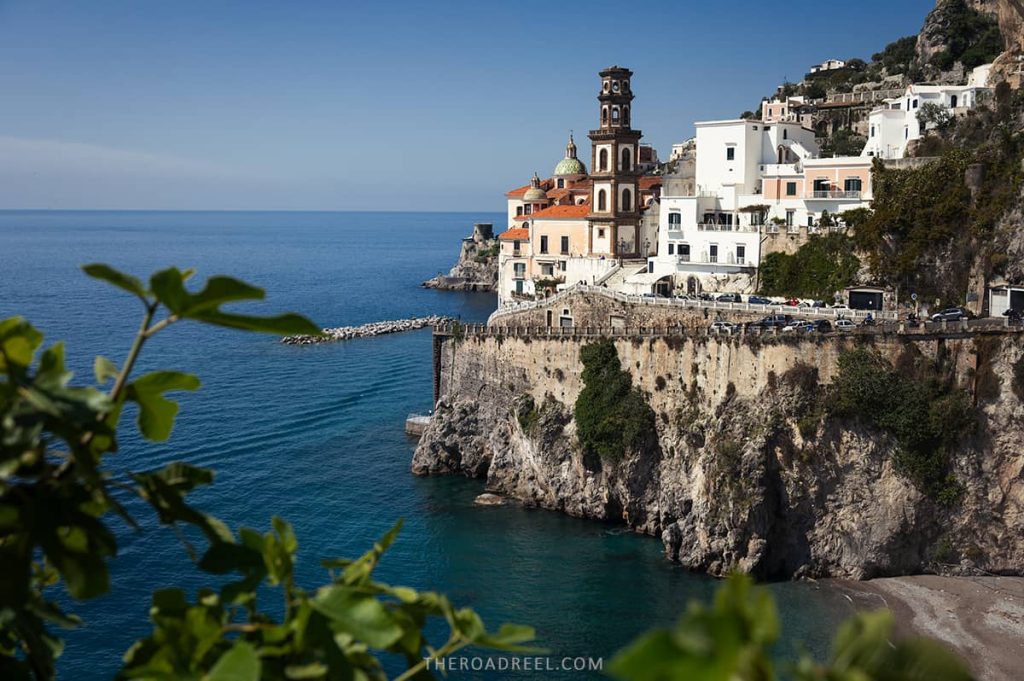 What else is there to see on the Amalfi Coast?
Amalfi Coast is a Unesco World Heritage Site stretching along the coast east of Sorrento Peninsula. The dramatic cliffs of Amalfi Coast shelter 13 main coastal towns and hilltop villages: Positano, Praiano, Furore, Conca dei Marini, Amalfi, Atrani, Scala, Ravello, Minori, Tramonti, Maiori, Cetara, and Vietri sul Mare. However, there are many more.
The Sorrento and Salerno seaside towns which lay on two opposite edges of the Amalfi Coast, are also popular places to visit. Add the Island of Capri, Ischia, and Procida and you have a good bunch of things to see on the Amalfi Coast, Italy.
That being said, things to do in Amalfi Coast in 2 days are plentiful. The main activities range from simply exploring the beautiful seaside towns or spending lazy days on the beaches, enjoying a romantic dinner with sunset views over the Tyrrhenian Sea, going on boat rides, zooming the windy Amalfi drive on a scooter or vintage car, visiting grottos and nearby islands, kayaking, to hiking incredible Lattari mountains that dominate Amalfi Coast landscape.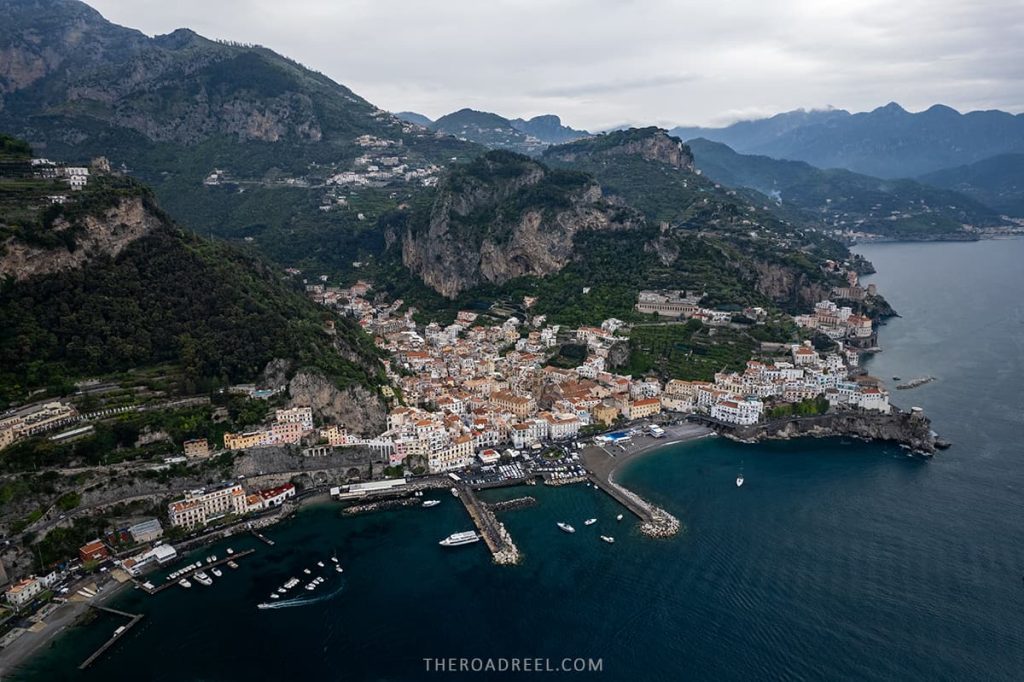 Do not try to see all of the Amalfi Coast in 2 days
Amalfi Coast stretches for only around 50 kilometers (34 miles from Sorrento to Salerno). However, do not get deceived by the distance that appears to be short. Travelling on the Amalfi Coast scenic road (SS163) is slow due to low-speed limits, many bendy turns, and heavy traffic. Constant congestion is a result of narrow windy roads and an extreme popularity of the location.
Thus, my main advice is do not try to see the entire Amalfi Coast in 2 days. Although it is possible to drive from one end of Amalfi Coast to the other in just one day, you will not have time to visit all the villages along the way. There are so many great things to see and do on the Amalfi Coast, that trying to squeeze it in 48 hours is absolutely unreasonable, and it won't be enjoyable.  
How to get to Amalfi Coast, Italy
Airport to Amalfi Coast
The closest airport to Amalfi Coast is Naples Capodichino International Airport (NAP). If you are not renting a car, or a private driver, and traveling to Amalfi by public transportation, you will first have to get to Naples City Center.
The best and cheapest way to do so is by taking the Alibus airport shuttle which costs only 5 EUR per person and runs every 20 minutes from Naples Airport to the Napoli Centrale station. If you prefer a taxi, it should not cost you more than 20 EUR (we paid 25 EUR at night from Napoli Airport to Napoli Centrale, which is an increased rate).
Getting to Amalfi Coast from Naples
You have several options to get from Naples to the Amalfi Coast: train, bus, ferry, car, or private transfer. I wrote a detailed guide on How to get from Naples to Amalfi Coast the best way. Below is just a quick overview.
Getting to Amalfi Coast by Car
Car is the fastest way to get to Amalfi Coast, especially if you are arriving outside rush hours (early morning, or late evening), or if your accommodation is located in Agerola (that is where we stayed), or on the edges of Amalfi Coast, namely Sorrento or Salerno.
If you are arriving at the Amalfi Coast by car, I recommend staying in Agerola, or Salerno and choosing accommodation that offers free parking. Small coastal towns like Atrani, Amalfi, and especially Positano are notorious for lack of parking. Hotels are not likely to provide free parking, and parking garages are also pricey (35-50 EUR per day).
IMPORTANT: an alternate license plate system has been introduced in 2023 to manage the tourist traffic on the Amalfi Coast. Make sure to familiarize yourself if you are planning to drive to Amalfi Coast.
I always find the best car rental rates using Discovercars car search aggregator.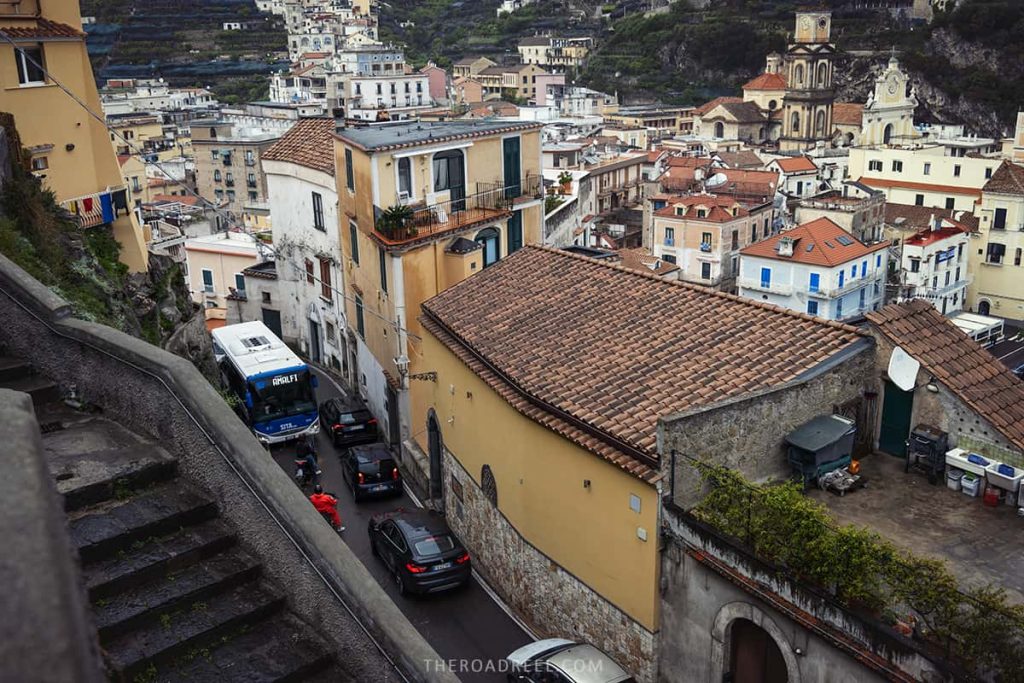 Getting to Amalfi Coast by public transport
Train and bus are perhaps the most budget-friendly means of transportation to reach Amalfi Coast. You can take Trenitalia train from Naples Central Station to Salerno and then hop on SITA bus to your accommodation on Amalfi Coast. You can also use Circumvesuviana or Campagna Express train to reach Sorrento and take a bus from there. Your choice will depend on where you book accommodation on the Amalfi Coast.
Note that SITA buses tend to get really packed during the peak season. Therefore, instead of bus you can use a ferry from Salerno and Sorrento to your accommodation in Amalfi. If you are staying in one of the hilltop towns, you will still have to catch a SITA bus to bring you up.
Good to know: Ferries in Amalfi Coast are operating as public transport. Although more expensive than buses, they are significantly faster (no traffic on the sea).
Related article: make sure to check my detailed guide on How to get from Naples to the Amalfi Coast by public transportation.
By private transfer
For a hassle-free commute, you can also opt for the more expensive but headache-free option- a private transfer from Naples Airport or the city of Naples to Amalfi Coast. If you are traveling in a group and are splitting the cost, it might make sense to just get driven to your base on the Amalfi Coast.
I found that Welcome Pickups offers an easy booking system and the most reasonable prices for a private transfer from Naples Airport to anywhere on Amalfi Coast.
How to get around the Amalfi Coast
To get around the Amalfi Coast, you have a few options: driving, buses, and ferries. There is no train line running along the Amalfi Coast.
Do you need a car on the Amalfi Coast?
Driving along the Amalfi Coast requires some serious nerves of steel. The main coastal road SS163 is extremely scenic and driving it is an experience but it is no joke if you are driving during the rush hours.
I have driven almost everywhere in Italy by a rental car and Amalfi Coast was the worst experience so far (driving in Naples is also similar). That is because of heavy traffic, windy roads, and crazy bus drivers rushing into the bends, making your heart stop every time you encounter one and have to squeeze through or reverse back to give the way.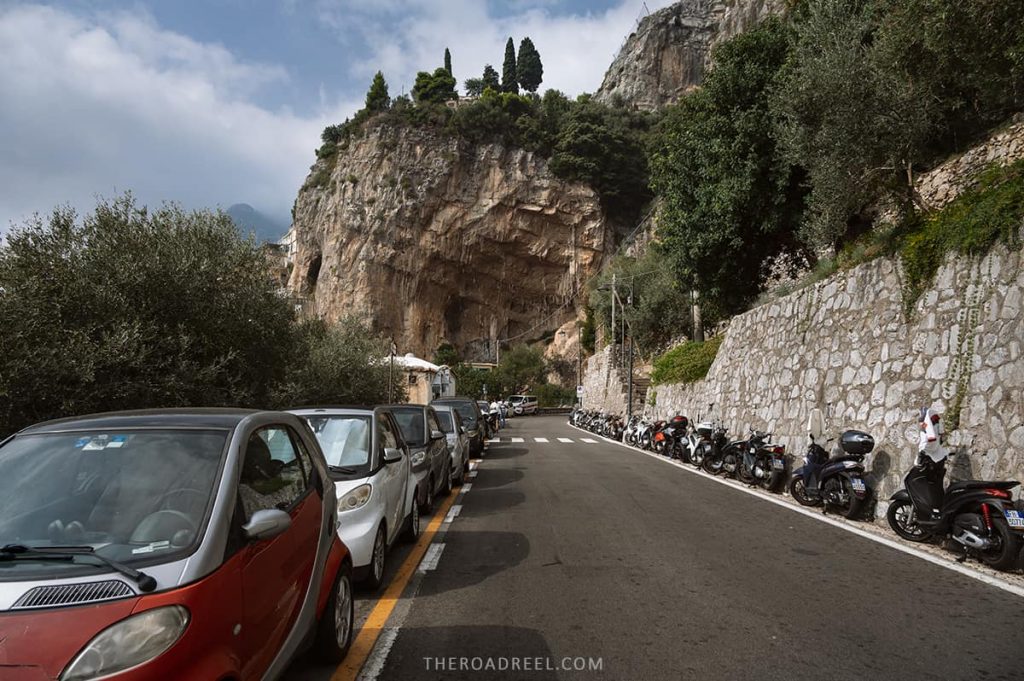 Moreover, parking on Amalfi Coast is very limited and difficult. Learn from my stressful experience of trying to visit Vietri Sul Mare from Amalfi during the midday. We wasted around 3 hours driving there and back without being able to explore the town on that day just because we simply did not find anywhere to park. And it was a shoulder season (April).  
That being said, you are better off getting around Amalfi Coast with public transport. If you have a car, just leave it parked at your accommodation and use buses and/or ferries.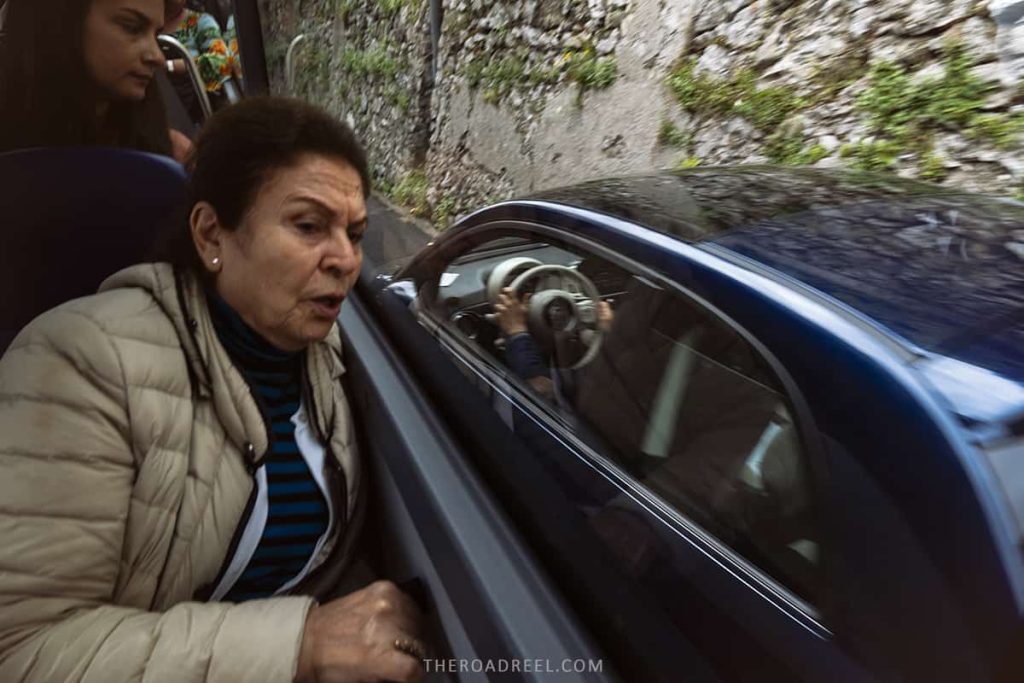 Getting around Amalfi Coast by bus
A cheap but also slow way to get around Amalfi Coast is by SITA bus. Those buses get packed during the day and evening in the high season and even during shoulder season. Thus, if you cannot get on one, you will have to wait for the next bus. Moreover, buses do get stuck in traffic, making the travel time longer.
Tickets for SITA buses: note that you must purchase SITA bus ticket at Tabacchini (Tobacco) shop. You cannot buy bus tickets from the driver. The ticket costs around 2 EUR one way, depending on the destination.
Getting around Amalfi Coast by Ferry
Ferries on the Amalfi coast are very convenient and in fact very scenic way to get from town to town. It is also much faster than by bus. This way, even with only 2 days in Amalfi Coast you can visit more places if you use a ferry.
The downside is that ferries are more expensive than a bus (starting from 5 EUR one way, depending on the distance).
Tip: book ferry tickets in adavnce if you are travelling in summer.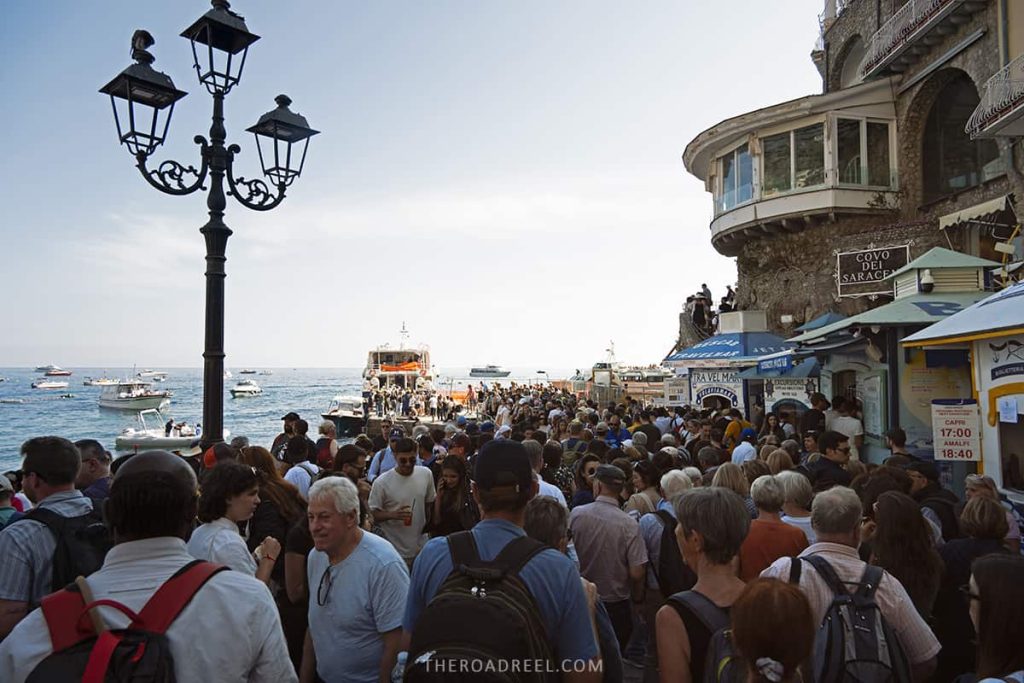 Getting around Amalfi Coast by Scooter
Perhaps the most brave-hearted method but also very convenient if you are an expert driver. Only rent a scooter to drive on Amalfi Coast if you have experience. It is a dangerous way, but if you are a good scooter driver, you will have lots of freedom and will be able to visit more than just using a bus, a car, or even a ferry. Moreover, parking a scooter in the Amalfi Coast is a bit easier than a car.
Getting around Amalfi Coast by organized tour
If neither driving, nor public transport appeals, getting around Amalfi Coast by organized tour is an excellent way. You can also join a small group tour or even a private one for a more personalized experience. While there are hundreds of companies offering Amalfi Coast tours from Sorrento, Naples, and even Rome, make sure to pick one with the best reviews.
With that in mind, I handpicked a few options that are highly rated by other travelers. Those are either full-day or half-day tours on the Amalfi Coast.
Amalfi Coast 2 days FAQ
What is the best time to travel to the Amalfi Coast?
Shoulder season is the best time to visit the Amalfi Coast. Shoulder season falls just before and after the busy season and is around mid-March to the end of April, and the end of September to the end of October. The crowds are still there but somewhat manageable, depending on where on the Amalfi Coast you are visiting. Prices of accommodation are average. The weather is generally nice, warm, and sunny, but it could also be hit-and-miss, especially in Spring. During one of our trips to the Amalfi Coast, we had a couple of rainy days that actually did affect the experience. Cloudy sky is dramatic but when it pours continuously it is a different story.
Off-season: November to March has the least crowds but also more unpredictable weather. Beach clubs shut down, thus take it into consideration if that is what you want to do in Amalfi Coast. Ferries to Capri are also limited due to turbulent water in the sea. Otherwise, prices of accommodation are the lowest and it can be a great time to experience the Amalfi Coast in its downtime.
High season is the worst time to visit the Amalfi Coast. The high season is from mid-May to the end of September, with peak times in July and August. This time, although offers great weather, it also brings an unmanageable amount of crowds, prices for all services shoot up exponentially, and traffic is unbearable.
Are two nights on the Amalfi Coast worth it?
1 full day and 2 nights in Amalfi Coast is a short time, but it is still worth to see this beautiful place in Italy. You can definitely visit a couple of places on the coast, or choose to enjoy one of the Amalfi Coast towns.
I hope you find this 2-day Amalfi Coast itinerary useful. Make sure to also check my other Italy travel guides (other Italy road trip itineraries, city guides, driving guides, and more).
I hope you are enjoying my free travel guides & tips. You may support my work by using any of the affiliate links on this post to plan your own trip at no extra cost to you, or just buy me a coffee so I can continue creating more useful content from my favorite coffee shop in town. Thanks!
More Italy Travel Guides
Italy travel resources
Here are links to essential travel resources and services I always use when organizing my trips.